Themes play an essential part in making your science and technology website presentable. You can install various free and paid themes and activate them.
There are multiple themes that you can find related to your niche. WordPress themes are easy to use, and you do not need prior coding knowledge to set up a piece.
A relevant theme is essential because it keeps your audience amused and adds to the aesthetics. Moreover, the theme reflects a part of your personality, and the audience might be able to relate. Here are the 11 best science lab WordPress themes.
There are quite a wide range of websites on science and technology. Each of them needs to find a suitable theme to explain what their company is about.
Even if you aren't an expert in designing and coding, you can still get the job done by using the above-mentioned science lab WordPress themes and customizing them.
You need to attract users and keep them interested, and for that, you know you need to be aware of these themes and their usage.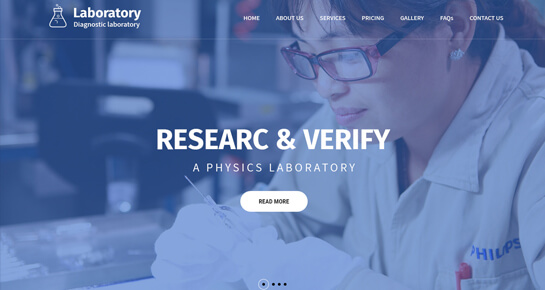 If your business deals with professional science, research, and technology, then Laboratory Pro is one of the finest science lab WordPress themes, suitable for your webpage.
It consists of an experts section that displays data about the experience of the professional expert, which can enlighten your audience about their experience and services.
In addition, the appointment section is conveniently placed on the home page, which allows the users to make appointments easily. This theme should be considered if your business is devoted to science and research.
Some of its features are:
Clean and flexible design
Availability of four different types of header and footer
The coding of this theme is in line with the SEO standards
Mobile-friendly
Unlimited support for one year
If your business deals with robotics, automation, and AI, then the SKT Robotics WordPress theme is the best theme for you. This theme is made so your work will be displayed in the most straightforward way possible.
You can also include your custom images in the header section of the theme. The modifications will be successfully applied in a matter of seconds.
It is entirely SEO optimized and designed with great detail to attention. It also gives complete authority to the site admin to control the existing menus. SKT robotics Is also widget-friendly, which would help you add widgets of your choice.
Here are some of its features.
Social icons included
Translation available
One year of unlimited support
Backup plugins compatible
Coding standards followed
The Laptop Repair Pro WordPress theme is perfect for your computer, PC, Mobile, Mobile Store, and Laptop repair service website. This layout is completely customizable and easy for new customers to navigate.
This theme helps customers make appointments, contact the agency, leave reviews, and care for their issues. One can also use the four types of header and footer options and choose any structure they wish.
Being one of the best science lab WordPress themes, it allows one to add or remove sections easily according to the needs of your business.
The following are some of its exclusive features.
Customer feedback plugin
Easily accessible call-to-action buttons
Supports online chat plugin
Works on multiple platforms such as Android, iOS, Windows, Mac
Translation-friendly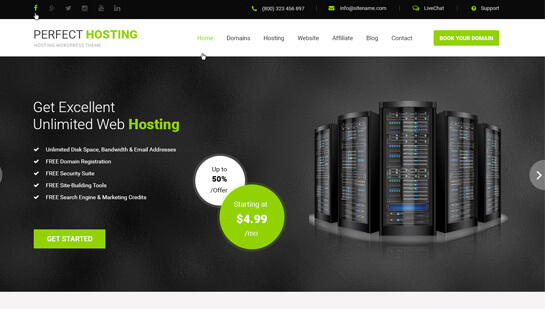 SKT Hosting WordPress theme is suitable for your web hosting company, a telecom company, etc. This theme works perfectly well with various devices such as mobiles, laptops, desktops, and tablets and is optimized for iOS, Android, Windows, etc.
It's a widget-friendly space that can house as many widgets as you want. Moreover, this theme comes with social media icons in the header, which is an effective way to increase your social media traffic. Finally, it is entirely customizable, allowing you to change its appearance anytime.
Below given are some of the features of this theme.
Speed-optimized
Fast loading templates in the front end
SEO-friendly
The header, footer, and sidebar come with call-to-action buttons
Coded as per the codex theme review standards.
If your business is related to selling art, then the SKT Printing WordPress theme is the best one for you. This theme is alive with colorful and vibrant colors and best suits your art business.
It features multiple widgets and sections which you can customize easily. You can also add images along with your text to give a better insight to your customer about your business. You may design user-friendly online items to sell a variety of printing products as well as digital products.
This print shop WordPress theme is built with the Elementor page builder, which includes many sections and widgets that you can use to personalize your website to your preferences. It comes included with social icons and is translation ready too.
Here are some of the features offered by this WordPress theme.
Free installation
Email and support forum
Search engine friendly
Complete documentation provided with the theme
Mega Menu plugin compatible
Spirited is one of the finest multipurpose science lab WordPress themes that is compatible with WooCommerce, which is useful for your E-commerce site, banking site, etc. This theme is purely for your business, commercial, or industry purpose.
It is tested for cross-browser compatibility. It also comes with various contact forms so customers can take quick action if they need to contact you.
This theme was validated with a theme check for coding reference and a theme authenticity checker for secure coding. It's also been put through its paces regarding optimal WordPress code practices and debugging.
The following are some of the features of this immersive theme.
Copyright editable
Speed-optimized
Compatible with the latest version of WordPress
Retina ready
One year of unlimited support
Cyber Security WordPress theme is best suited for your cybersecurity company, web protection agency, digital security agency, etc. It is a user-friendly theme that enables users to navigate from one menu to another with ease.
This theme is Search engine optimized, letting you reach out to more users at a given time. The theme layout and functionalities are presented so that your company's products and services are offered in the best way possible without any ambiguity.
It displays your cyber security services in various ways, and you can select the one which is visually appealing to your standards. It also comes with a service page to show your pricing plans and description of the products and services to attract more users to your business.
Here are some of the unique features of this theme.
Customizable
Responsive
Compatible with the latest version of WordPress
Integration of Social media sites
Supports Retina ready display feature
SKT Directory is one of the best science lab WordPress themes you can choose for your directory website. This theme comes with a Search and filter option that helps your customers find what they are looking for without having to explore and wasting time.
You can further customize this theme and your website by adding an industry category, a geographical category, and a particular type. This will assist your visitors in finding more precise information. Payment gateway functionality is also available, allowing for faster and more convenient online payments.
The following are the features of SKT Directory.
Booking plug compatible
Translation ready
Retina ready
Donation plugin compatible
SEO-friendly
SKT Drone WordPress theme is a beautiful theme for your photography business. This theme is carefully curated to highlight your services in Aerial photography, drone services, wedding drone photography, Aerial photography, etc.
You can display some of your finest footage in the background header. When you look at the demo, you'll see that the colors are set in a way that appears sharp and bold, as well as some additional aesthetic accents that make your site's part more unique.
SKT Drone is explicitly designed for the professional drone industry. The theme comes pre-loaded with several niche-specific capabilities and features. Options to change the font, blog layout, and font color are also available, enabling you to customize your webpage to the finest detail according to your needs.
Here are some features of this theme.
Free installation
Sidebar, footer and header, and widget friendly
Easy to navigate panel and sections
WP hosting compatible
Speed optimized
The Air conditioner theme best suits your air conditioning, chimney repairing business, etc. This theme comes with social media icons that you can link to your social media accounts and increase traffic to your social media handles.
In addition, the Air conditioner theme is SEO optimized which attracts more customers and improves your business significantly. Running a company might be financially stressful.
But you can reduce the cost of the website, support, and updates because the theme comes with one year's worth of free customer support and updates.
The following are some of its features.
One-click demo import
Image copyright free
Header or Footer sidebar available
Retina ready
Appointment plugin compatible
SKT Software Pro is one of the most popular science lab WordPress themes that suit your software companies, corporate businesses, IT start-ups, etc. There is a lot of competition in the software market, and your business must stand out among others.
This theme comes with stunning visuals, which help garner more visitors. It is search engine optimized, so you do not have to worry about search engine rankings.
Take your business internationally with the translate option, which consists of more than 20 significant languages. SKT software Pro also supports images and videos, which you can use to create visually stunning images and videos to capture your audience's interest.
Here are its features.
Compatible with the latest WordPress version
Translation ready
Blog posts sidebar
Comprehensive documentation
Free installation