The roundup of record label WordPress themes is uncovered in this article for record label, music recording, music videos and music marketing companies and agencies, brands and production studios.
Record label is the brick and mortar, the oxygen of many success stories of musicians and bands, singers and artists. From classical and jazz to rock and soul, music of every nature and taste has to do with record label in order to find its way to the customer.
As one of the central aspects of the modern music industry, those institutions and companies are engaged in a series of activities and functions, including an individual artist or band recruitment and development, music publishing, planning and implementation of different marketing strategies, enforcement of copyright and much more.
It will not be an earth – shattering evidence if we persist on a fact that the digital realm has radically altered the way music is created, published, served and disseminated.
With the emergence and development of the philosophy of record label the global networking system has shifted the music industry for good while giving tons of new opportunities for the artists on the one hand, and for their fan – base on the other.
In case you are a record label company founder, manager or representative and want to increase the public awareness of your business, you don't need to know the digital platform and its output from A to Z.
Moreover, WordPress content management system comes with a host of record label WordPress themes which are inherently smart and easy in usage so that you can control and manage them even intuitively. Let's cast a glance at each of them separately in the pursuit of true beauty and perfect usability.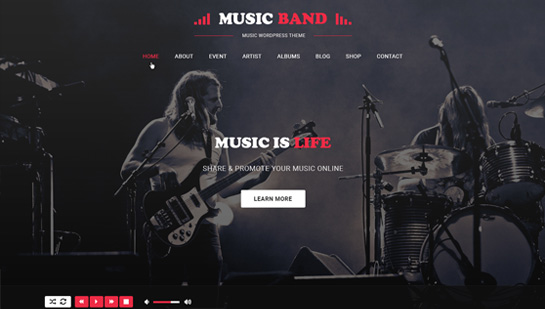 Music Producer is the latest and dark record label WordPress themes that can be used for a professional music website. This template is suitable for music studios, bands, radio, singers, music, and other websites related to the music and sound industry.
This theme comes with a demo importer option so that you can design the same looking website in few clicks. You won't need to design a complete layout from scratch.
Music Producer is very easy to use that does not require coding and technical experience for the customization process. You can easily highlight your specialties by utilizing slider plugins, page builders, form builders, testimonial, booking, and other functionality.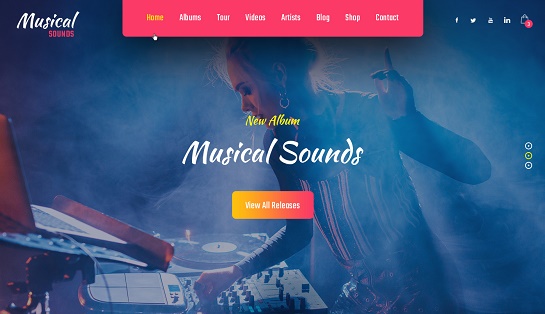 Musical sounds is a trendy and current updated and well-designed template used for musical and brand-related websites. It comes with the default feature such as portfolio, header, footer, slider, icons, valuable content, and more. This template has very impressions and engaging layout.
It comes with some features that will help you to gain more customers by boosting sales in a short period of time.
It has a well-optimized and responsive design that will help you to display your website content beautifully on any device and browser. Musical Sounds comes with the one-click demo importer and one-click installation setup process.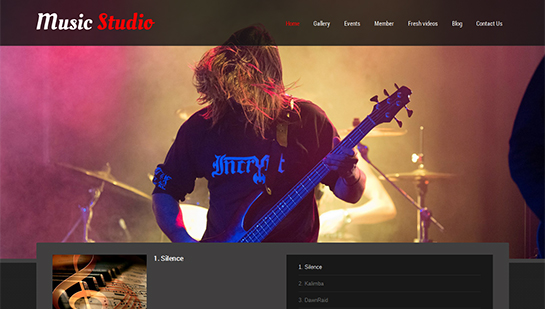 Melody is basically created for singers, musicians, harmony, and other sound-related business to get an online presence in simple few steps. This template will provide a stunning look to your website. With WooCommerce, the melody is ready to use.
You will be able to sell your tracks online with secure online transactions. It also has a one-click demo importer option along with some other essential features such as Google fonts option, color picker, social media integration, contact form, call to action feature, and so on.
Melody provides you the easiest way to make your business reachable to the clients globally.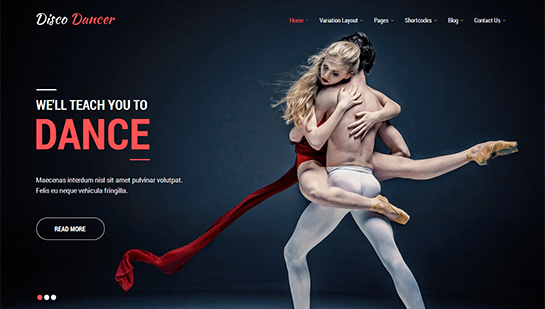 Disco Dancer is the most reasonable record label WordPress themes available for dancers, producers, directors, and other creative industries to explore their expertise and talent. Disco Dancer is very easy to use and customize.
If you did face any of the difficulties while customizing then you can take the help of developers from SKT Themes or can follow the guidelines mentioned in the detailed documentation.
If you are looking to attract more audiences to your dance album and portfolio then you should go with Disco Dancer because it is created by considering all these factors. You can make the use of the Gallery section to showcase upcoming videos and releases.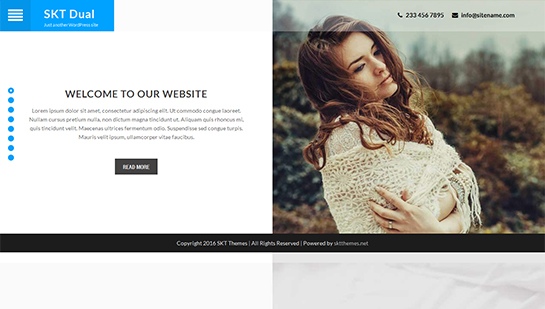 The first template worth our attention comes launched as SKT Dual. Serious – looking and energetic, functionally advanced and avant – guard, SKT Dual of SKT production has been coded and launched to celebrate near – to – perfect integrity and precision.
It shares all the prerequisites to be an ultimate solution for every record label initiative to market its services and expertise and engage more and more clients.
This website builder is accurate and neat enough to showcase all your relevant information in competent areas and sections.
It means that you don't need to overburden your website for the visitor to trawl through but are able to organize everything in an easy to find fashion. Additionally, SKT Dual has passed all the tests of responsiveness and mobile – friendliness with excellence.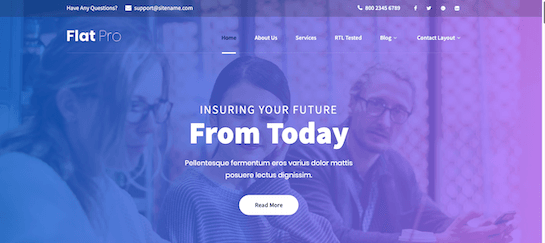 Clear and elegant, pixel – perfect and visually legible, Flat Pro is one of the best record label WordPress themes designed and developed with ultimate care and professional dedication of the specialists.
Put your content in the hands of millions of consumers and clients within minutes and create a stunning website to stamp your identity in the musical arena.
It is an all – encompassing toolkit accompanied by the modern flat design solutions for more precise and streamlined performance of your future website.
This toolkit includes user and client – optimized working atmosphere, flip boxes and convenient footer and header variations with calls to actions and social media icons integration to be instantly moved to different social media platforms, etc.
Flat Pro is also as responsive and cross – mobile compatible as it is SEO – friendly and plugin – compliant.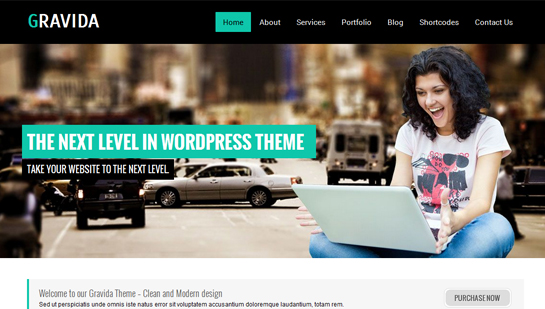 In case you want be the godfather of the music industry, look no further than Gravida. It is one of the most attractive, visually stunning and functionally cutting – edge products of WordPress nurtured with traits of contemporary design and graphical solutions.
The only downside of this template is that customizing and managing it can be challenging for you since the given platform is already seems to be unbeatable.
However, if you will ever feel the necessity of playing with the color schemes, default layout, extend the given functional horizons, translate the website content and serve it to the international market, you are free as in freedom to do so.
When it comes to establishing and promoting your record label online profile, SKT StartUP Pro does not skip a beat. It is also among the top – quality record label WordPress themes available at an incredibly affordable price.
Provide the most comprehensive list of your services, showcase the famous artists and celebrities working with you, specialize the areas you are best in, share the best images of your activities and leverage your efforts into more tangible deliverables with this template.
Organize your online meeting with millions of people across the globe as professionally and presentable as you are doing for your clients.
Make your content easy to find and digest, choose your unique style and exemplify your best qualities through your digital profile based on SKT StartUp Pro in the simplest way.
Whether you are an individual working with a laptop and with limited financial mans or a seasoned label company or music production agency with a large budget and large stuff of workers, specialists, producers, distributors, marketing experts and others, Design Agency Pro will never let you indifferent.
This clean and energized, simple yet powerful template unites whatever characterizes a website as user – friendly, admin – optimized and clear – coded.
Without any shred of suspect, this template is custom – built to satisfy all the needs of any corporation or agency, private contractor or agent with far – going plans and shallow developing knowledge.
Last in sequence, but not last in importance is Blendit as one of the widely advisable and highly recommended record label WordPress themes in the repository of WordPress community.
This website building tool is all about stability and harmonic fraction for the organized performance and accurate publication with the help of convenient relief zones and parts.
The overall dynamic and eye – catchy design of the theme is intervened with a top – notch operational field that is e – commerce ready and search engine – optimized.
The arts industry has also not been untouched by the internet craze. There is no way possible for them not be bitten by the bug which has affected every form of business.
The record labels are known as the foundation of many successes in the music world. The bands, individual singers, artists all have a lot to thanks these record labels for. Music from all corners has to go through the record labels to reach the end users.
The sheer volume of the listeners which is sky-rocketed for every music is not possible without a simple inclusion of the record labels.
The websites do a lot of work in this field and thus the popularity of the record label WordPress themes are thus increasing.
Record labels are the brick and mortar of the industry and they engage in many activities and functions. These various activities include
1. Marketing
2. Strategy building
3. Band recruitment
4. Copyright management
5. Planning for events
6. Managing artist etc
The list goes on but what these activities mean is that any musician who wishes to make it big and reach millions of listeners will have to use the platform. The combination of technology and music has lead to a revolution in the field.
This has altered the way music is created and even presented to the audience. The music industry has seen a major shift with this new combination which has been a win-win for the artists and the fans.
The main question that now stands in front of the record companies is the use of the right form of a theme to ensure that the visitors are excited about the music and they find it inspiring.
Yes, the online presence has a major role to play in how the customers and the fans feel about the whole thing. The record label WordPress themes is a very simple and straightforward way of ensuring that the record companies get a website theme that will alter the way people view them.
Since these websites are created with an idea that non-technical users will be using them they are designed with ease of use.
The website themes which are available are many and the users can be assured that they will find something that best describes the theme of their business. Since the requirements would be very specific these themes are designed with a lot of flexibility.
The users thus get a lot of power to make changes and mold the whole website's look. The record label WordPress themes are a simple way of creating an effective website. Since we are talking music then many high-quality videos can be added to them.
The process of finding the best of these themes could sometimes feel like a huge task for the users and thus there an effort made to choose the best amongst the top 10 rated websites. What this does is makes the website owners jobs easy.
They can choose any one of them by reading their features as all of them have been hand-picked which contained high quality.