The best pet sitting WordPress themes have been separated by us for pet and animal related businesses and services.
Hence, those templates are, first and foremost, suitable for pet walking and sitting, grooming, care and training, animal adoption, pet rescue and shelter, as well as veterinary websites and blogs.
Finding a perfect pet sitter or trainer to take care of our lovely friends is primarily done through the digital channels.
People are used to browsing all the available options, profiles of specialists, verified sitters, veterinary clinics websites before making a final decision in turning to this or that offer.
Hence, creating your valuable presence online and making sure your relevant business does not miss any single client is of paramount importance.
Gone are the days when the creation and maintaining of a professional business website have to do with tons of money and stressful processes.
With the affordable pet sitting WordPress themes available for the clients now, anyone will be capable of jumping into the whole new world of opportunities and craft his online presence in the most economical manner.
All of those pet sitting WordPress themes will greatly help you raise the bar and join the WordPress community sharing the worldwide fame and client loyalty. They are as simple and convenient in usage as they are functionally stable and dependable under different working conditions.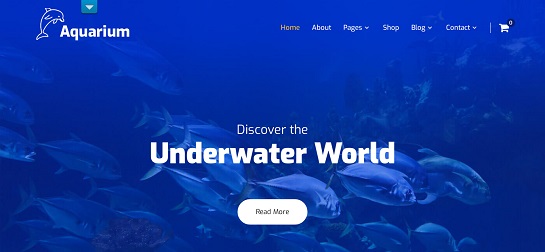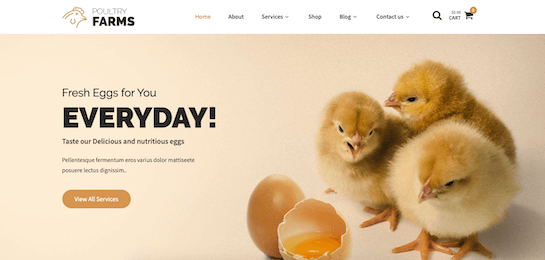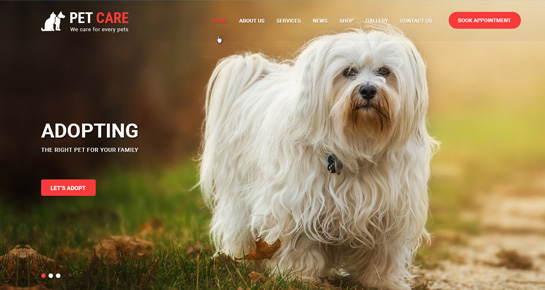 Pet Care is one of the leaders among animal and pet sitting WordPress themes. As a mixture of modern design approaches and stable HTML 5 coding, this template is competent enough to point you in the right direction to market your animal shelter or animal relates services.
Showcase all your sitters and other professionals, trainers and veterinarians, their expertise and ratings in the regularly sorted theme sections and areas, as well as use the homepage slider to display the cute animals and pets under your care and surveillance.
Apart from being simple and lightweight in usage for the website admin, this template is also ready made to tailor to the web visitors' needs, from mobile and desktop requirements to multilingual content or commercial platform needed.
The next multipurpose and visually crisp template that unites high quality form and function comes loaded as Ele Pet.
Thanks to its clean and elegant face, this template can be successfully applied in relation to veterinary clinics and medical centers, pet rescue centers and animal shelters, pet walking and sitting businesses and not only.
All the legal aspects are well taken care of while giving you an ultimate freedom of putting your creativity into action and change the theme as per your needs, since Ele Pet is fully GPL based.
It means that you can apply and test boundless color matches and typography controls, shortcodes and icons, add and remove plugins and more. As for the compatible plugins, there are many, from commercial and SEO ones to social sharing, events and gallery ones.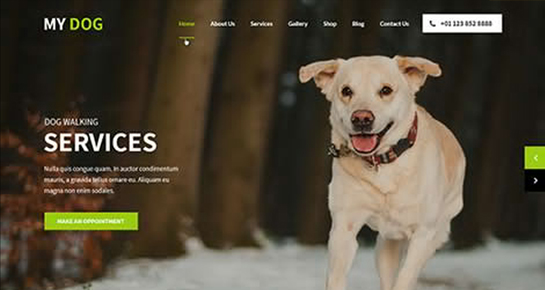 Whether you run a pet centric organization or center offering diversified pet care and sitting services, own a pet store or organize non profit campaigns and donations for animal protection and rescue, My Dog will be the basis to make all your initiatives virtually well formatted and highlighted to draw the attention they deserve.
This strong and serious looking, immensely versatile and mobile optimized template comes bundled with all the required elements and theme ingredients to make it totally affordable for you to exercise page builder settings, control widget friendly areas disposition and deployment, fonts and colors, homepage slides and more.
PO file is reasonable included within the theme aimed at making your animal or petting zoo, pet health clinic or pet training website ready for diverse translation processes and multilingual content.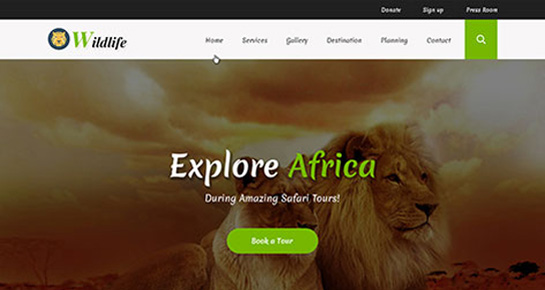 WildLife is one of vigorous and spirited, ambitiously nice looking adventurous website builder you can find among the best pet sitting WordPress themes.
With WildLife you don't need much to stir up your web visitor's interest and emotions since the overall design and form of the template is engaging and attention seizing.
All in all, this shortcodes and fonts armed template grants you with a quick and easy to follow customizer performance enabling you to track every single part and portion of your theme, change and preview its look and feel instantly.
Full social media optimization is done to prove your website is totally sociable with sharing and commenting possibilities in case you add the relevant plugins to the theme.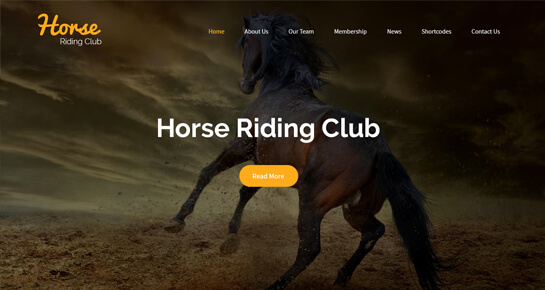 Horse Riding is astonishingly beautiful and creative, functionally unbeatable template ready to go smoothly with any kind of fitness and gym, sports and training, sport complexes and golf clubs, animal shelters and pet sitting websites and blogs.
Hence, from grooming salons and training services to hostels for animals and rescue centers, doggie day camps and animal hospitals, veterinary diets and food stores, any kind of animal centric business can be valuable presented via Perfect Golf Club.
Take a look at the demo version of this child theme and you will be amazed by the versatility of the controls and layout options it has to offer to its users.
From page and post controls to typography management options, HD and retina readiness and mobile optimization, Horse Riding celebrates all the top qualities and characters.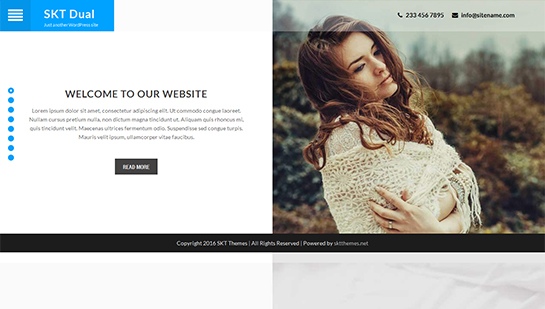 SKT Dual is the last entertaining and promising website ecosystem that has its unique place in our assemblage of pet sitting WordPress themes.
Save your precious time and hard earned pennies while working with this complete web solution and increase the effectiveness of your animal centric business or agency. Smooth navigation levels and serviceable framework that is adaptive to any specific mobile or device resolution are top priorities for SKT Dual.
Based on the modern Customizer, the theme makes the whole process of the site's building and decorating simple and agreeable. You can also choose whether you want your website appear as a one page profile or share multiple pages.
In the earlier times, it was a hectic job to find a pet trainer or a veterinary doctor for your pet nearby. You have to browse through various websites and places to find the right one. Also, going online with a pet-related business was a very tough job, as one had to build a website with some crazy amount of money.
Those days have passed now, and with more options now available for building websites for pet-related businesses, meeting up with more clients and expanding your business is very much an easier thing to do.
Clients could now easily find your service and website, and thus contact you faster. All this is possible due to Pet Sitting WordPress Themes.
With the use of HTML5, building a website makes so much sense and becomes also easier too. From being very simple in looks to being lightweight too, this website can easily be accessed from various devices. From desktops to mobile devices, every one of your clients can access the website via any device of their choice.
There are huge customization options too so that you can tailor make the website according to you and your clients' liking. There is also support for content in various other languages too so that you can target audiences from different regions as well. All possible due to Pet Sitting WordPress themes.
There will be options to fully utilize your own creativity when building the website, along with the use various plugins for SEO or Search Engine Optimization, so that you can expect your clients to find your business and services easily. That will help you to expand your business more and gain more profits as well too.
There is also the inclusion of Social Media plugins also so that your websites' social media reach also increases ten folds.
With its immense versatility of the whole website, along with extreme optimization, the website will be built nothing like anything. That's how Pet Sitting WordPress Themes can change the whole showcase for your website.
With the extreme functionality and control options, you can even start setting up various recreational options for pets out there like pet food stores, or set up doggies' day camps. Make your website fully functional and impressive looking with the inbuilt customization and improvement options.
Pet Sitting WordPress Themes will make your website much more fluid in browsing, thereby making browsing much more enjoyable for your clients.
With various plugins to make your website more commercial, you can now earn more from your pet business. Even users who are on various social media channels will also come to appreciate your service and again ask for more such services like these.
The possibilities are endless with the help of Pet Sitting WordPress Themes. That's why it has grown so much popular in these recent years. Without breaking your bank, you can really build a fantastic website for all your pet services. It is to say, this option will never disappoint you.