Let's delve into the basic characteristics of media WordPress themes designed for online news and magazines, e – journals and periodicals, as well as social media platforms.
The kingdom of digital media is skyrocketing day by day and so does the urge of multi – service businesses in that platform. The digital platform is one of the most dynamically developing arenas for any kind of business or personal initiatives to monetize its performance and gain lots of profit.
The digital form of today's magazines and newspapers shares tons of advantages when compared with the paper- based traditional forms. The first one is more cost – effective and will keep your "newsroom" aligned with the rapidly evolving online reality.
Since the merits of running an online news – portal are boundless, in this article we have compiled only the best of media WordPress themes for online publications and media streams in the forms of texts, audio and video files, images and more.
With each of those templates you are lucky to have all the trump cards at your disposal to make your website as unique and attractive as you wish. In addition to the aesthetic part, all of them share a wonderfully simplified framework to rely on and manage it whenever needed.
With the obvious resemblance with the worldwide famous YouTube platform, this template is destined to success when applied and managed in the right way.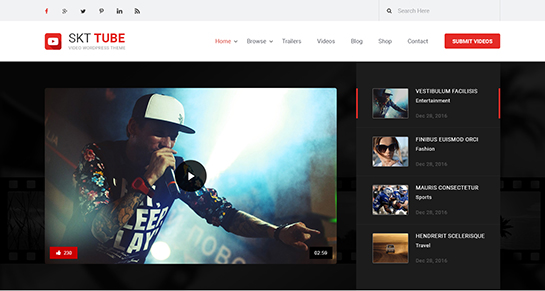 SKT Tube is one of the entertaining and lively media WordPress themes for running any kind of video – based websites.
Every condition has been ensured both for the future theme owner and the website end – user. From simple and flexible nature to rich toolbox with practical features, everything is included in SKT Tube.
Video slider is pinned in the theme homepage and celebrates 32 variations to result in the best visualization of your target video materials. Moreover, you are capable of controlling pause time, animation and much more in relation to the slides.
No fuss around deformed videos and other content in case your website is browsed with the help of law – powered devices. Responsive web design is successfully applied during the development of this theme.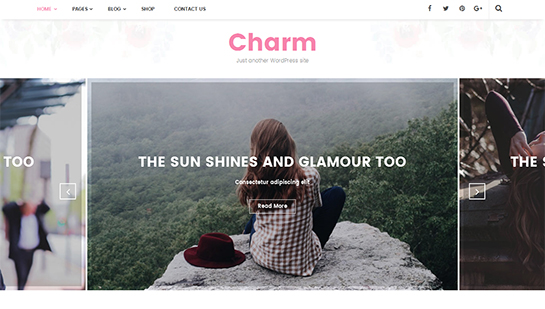 Charm is the next influential and eye – catchy magazine and blog – style WordPress templates to convert your paper – based media into the digital one.
Another option is to start everything from scratch and establish a highly populated and results – driven personal or corporate blog.
The digital world is changing at a pace hard to keep with. However, this does not apply to Charm. This template has been coded with all the modern web standards and requirements in the author's mind.
It means that Charm delivers all the primary touches – from responsive and mobile – friendly design to admin – friendly dashboard and much more. These will make your website not only ready for today's performance, but will make it totally future – scalable.
Lots of shortcodes and Google fonts are given within the theme, as well as sidebar, page and blog layouts. Social icons are also loaded to make your content more social media friendly.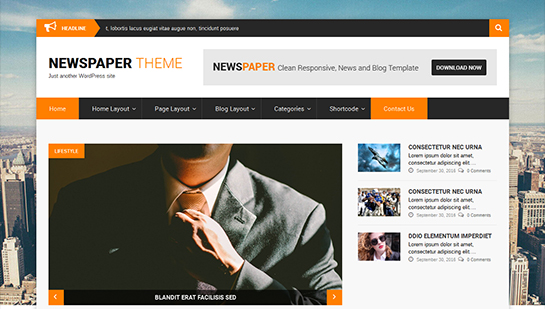 The next results – driven sample having its special place in this collection of media WordPress themes is called SKT NewsPaper Pro. This template is going to be the cornerstone of your presence.
With this theme you will not only build your informational or entertaining media website or portal, but will be able to build a mutually beneficial cooperation with your audience and partners.
GPL- based and open source, SKT NewsPaper Pro comes with fully color changing options to showcase your content in brighter tunes.
Other useful features are page layout variations at your fingertips to choose from or make your own one by the application of pre – enabled shortcodes easily.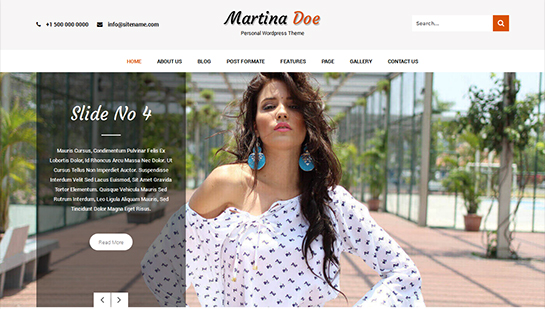 Character is unbeatable when it comes to taking your content and serving it to the target groups of audience across the globe. You don't need to be an expert to understand the working mechanism of this template.
It will be much easier to catch the glimpse of this elegant website than you think. Energetic and accurately managed, Character is optimized for the categorized or classified content dissemination.
It means that the themes structure is processed to share different parts and content areas to neatly publish your content. PO translation file can be found in the theme, which means that your news website is always ready to be translated into any target language.
As from the financial viewpoint, the purchase price of Character as one of the best media WordPress themes is pretty affordable for the majority of web owners.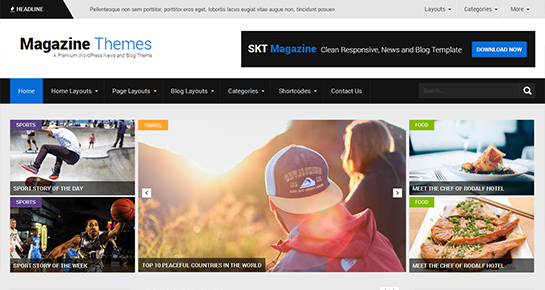 SKT Magazine Pro is another magazine and journal, newsletter and news – centric website building solution.
It is custom built to effortlessly tailor to the needs of every uncluttered and well – dressed online magazines and newspapers.
From visually pleasing touches to advanced technological framework as a basis, SKT Magazine incorporates it all at one place.
Easy to use and play with, this user and admin – friendly template knows all the ins and outs when it comes to providing you with the best working environment in the theme backend.
All in all, you are the only one to manage various blocks of content, select the best layout from the given types, translate your content or add eCommerce functionality to your website.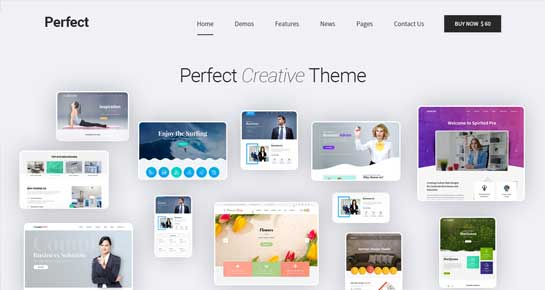 Find awesome and unmatched features to control and use loaded with SKT Perfect. It is one of the smart and intelligent yet pretty simple and lightweight patterns one can find in the library of media WordPress themes.
No matter what kind of content you are going to publish, SKT Perfect is durable and persistent enough to keep your website at the highest level of performance.
Moreover, the said caters not only to the desktop version of your media site, but also to its mobile version for your magazine readers on the move. Ultimate font and color, plugin and SEO management are available with SKT Perfect as well.
Given the digital revolution that seems to be the mainstay of our times, it is but natural to expect every business to have an online presence.
This applies more in the case of digital media; this is not to imply that traditional media are on the way out but if you are still running a press and printing papers for a living, then perhaps it is time that you opted to migrate to an online format.
You may want to check out some of the multimedia WordPress themes and see what they are all about. Here's why digital media is much better than traditional media.
Cost: The overall cost for printing a single day's paper or magazine can run into several thousands, depending on the circulation and how many copies you plan to publish.

However, with the digital format, all you need to do is to set the site up, optimize it for SEO, get some good content in along with requisite link juice and you should be set.

As for the traffic, as long as your site features original content along with great media work to go with it, you should be good.

Time: The process to print regular magazines and papers, often involve hours of labor – from designing the layout to giving final approval, before it goes in to the press.

Whereas with the digital media, everything is instant – you can develop your copy, run it through various edits and get it uploaded in a matter of seconds, that's it.

Subscribers: With consumers preferring to read the latest magazine 'on the go' or on their various androids or other hand held devices, it makes more sense for them to opt for digital media.

That's why most of the online media houses have set up dedicated WordPress sites to cater to this segment. It is not that no one wants to read traditional papers but the number of people opting for the same is falling down each month.

You are more likely to get more subscribers with a site that integrates one of our Multimedia WordPress themes

Environment: By opting for digital media vs. traditional print media; you would actually be doing the environment a good turn. As more people opt for digital formats vs. traditional printing formats, there would no longer be a need to cut down more trees for paper.

It is a step in the right direction and while no one is claiming that doing so would save the environment single handedly but the fact remains that migrating to a paperless environment at the earliest, would indeed do this world a lot of good.
These are some of the reasons as to why you may want to migrate to a digital format at the earliest; moreover WordPress comes with a lot of cool themes, tools and customization options that you can use to refine your website so that it looks just the way you wanted it to.
After all, at the end of the day, you need more subscribers and you are likely to get more with a WordPress site than anything else.