A handy collection of the most interactive WordPress themes for multi service websites and blogs, online storefronts and service provision, creative and personal profiles and more is shared in this article for any website admin to showcase whatever is needed under the bright light.
The interaction with the target audience, attraction of new customers, advertising of new goods and services – you can use a variety of means for all this.
Until recently, the most effective tools for promoting any business were newspapers and television.
However, the advertising through such methods has lots of flows, the main ones of which are high cost and fragility of contact.
As for comparison, outdoor advertising is more competitive but is aimed at all types of consumers and not the target ones. Additionally, there is also a regional binding.
It's not a secret that one of the most relevant platforms for advertising any product and contributing to the promotion of any undertaking is the Internet. Only Internet marketing allows you to get a return on the maximum number of consumers.
This contemporary digital method is not only effective but a bit complex. The thing is that you need to prove your online audience that your offers are worth their consideration, your goods are of high quality and your services are professional.
In this relation, all you need for the beginning is one of the dynamic and interactive WordPress themes to start your unforgettable journey online.
Whether you need a certain emphasis on the visual design of your site or its advanced functionality to offer ultimate convenience to your clients, these interactive WordPress themes will leave you speechless with their unique blend of form and function.
Why interactive WordPress themes are the best? In the online market, countless businesses are running. Hence, to stand out from the crowd you need to come with uniqueness and interactive features that no one have.
It doesn't matter which website niche you are working on, your customers engage in your business only when you give them best user-experience.
To fight with your completion you need two things i.e. unique product and brand that sells transparency. Well, it's true no WordPress themes improve sales, but using interactive WordPress themes can engage your customers and show your product in the best way that easily boost your ROI.
Here we have listed best Interactive WordPress themes that have all the features your business need. So, have a look.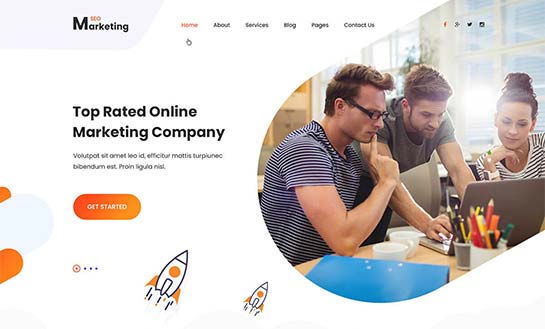 Digital Agency is the best interactive WordPress themes that will create your website seamlessly and easily. Once you use this digital agency theme, you will create attractive website related advertising, freelancing, Google advertising, mobile app development, content marketing and many more.
This is especially skilled with unique features that easily target your audience. Further, it increased unique elements and features, so you can reflect the business Motto.
 
The Other best thing about the theme is it includes more than a thousand of Google fonts and color theme options. Also, it provides one-year customer support via SKT Themes builders, who will provide you with live chat support to solve your question.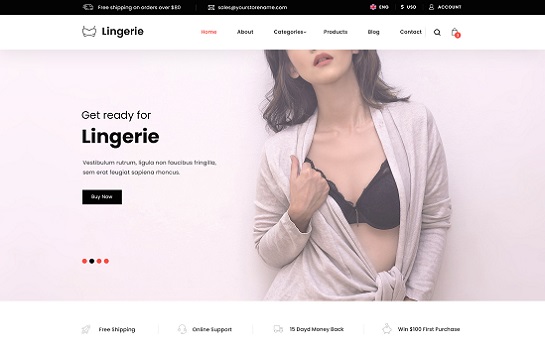 If your website is about selling online nightclothes, women products, nightwear, inner ear, lower Garments, clothes and more than SKT Lingerie Pro is one of the best interactive WordPress themes you can choose.
It includes an amazing template with our flexible, versatile, and innovative feature that allows the customization.
This is made with an Elementor page builder that makes sure your theme load faster and run smoothly on the web. Templates are made up with elementor page builder, which make your website responsive and mobile-friendly.
The theme is based on one-click demo import option. Additionally, it includes images which are copyright free, comes with GPL license, coding standards and more. The header area also includes sticky menu, customization options, and header.
Also, it comes with layouts with copyright editable and customization options. Along with that, it comes with 12 months customer support so you find your queries with the SKT themes. Try this now!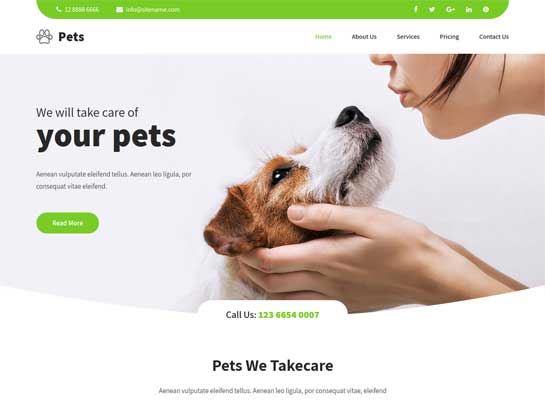 Pet Care is yet another preeminent interactive WordPress theme you can pick for creating a website the deals with animals.
Similarly, it includes various kinds of features especially easy of loading homepage, multiple sections in the home page, cover custom post type gallery, Dr Team, testimonials and many more. 
The special feature of this theme includes appointment form inbuilt with contact form. Also, the donation plugin is inbuilt that support your nonprofit organization that highlights your services related to pets. 
Moreover, this is also compatible with WooCommerce plugin. So, if you want to use this theme for selling pet grooming products, working and other services you can go ahead with this.
Pet Care is a multi-purpose and responsive plus translation Ready theme, which takes your business to the next level.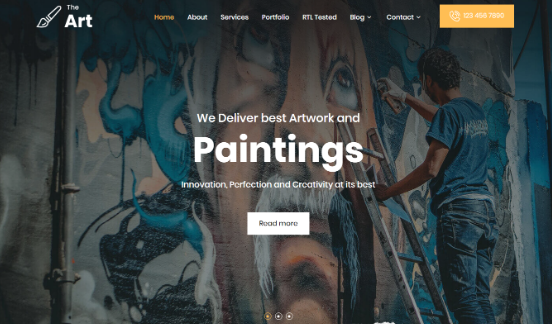 If you are an artist and want to showcase your skills online for generating some money then nothing is better to pick the Art interactive WordPress theme.
It is loaded with several variations in header and footer along with several page templates which develop your website fully responsive and highly creative. It also includes inbuilt contact form with compatibility with Ninja forms. 
The art theme includes two types of galleries compatibility with NextGen gallery. Also, it includes a custom post with various gallery testimonials and others.
It is translation ready and multilingual ready theme that supports your business to target audience across the world. 
The art is the best theme which can showcase your unique and modern oblique and creative professionals easily. Along with that, it comes with fast loading time and cross-browser compatibility. 
SKT Beach Pro is also a best interactive WordPress theme you can choose for your beachcomber resort and hotel business this is the multi-page and multi-concept theme.
It is tested with WooCommerce plugins, commerce portfolio plugins, and contact form 7. It is very simple and easy to use WordPress theme by anyone. 
Further, it includes a lot of shortcodes that make your content building easy and website User experience fast. The inner banner includes 5 creations with a header. The various styles of buttons and many more are included, so you can customize according to your choice.
The Google fonts are integrated with 600+ font types as well as social icons. Choose the best that give you the best! 
Photodock is also a professional and best responsive interactive WordPress theme you can choose for your blog, portfolio, etc.
The team is Google tested as it includes translation Reddy committee LinkedIn Reddy and personal portfolio of features that allow the user to use multiple sclerosis in homepage and inner pages also it is tested with several gallery plugins as well as shortcodes contact forms and team members pages as well. 
The theme is also compatible with shortcodes and ultimate plugin so that you will enjoy the business forever. It is RTL tested include various templates and layouts, which work on various options after changing colours, background and many more.
This is also SEO friendly and social icon supportive plugin, which works on the contact us and location map pages as well. This provides a fancy looking gallery in various styles. Moreover, it is compatible with the latest version of WordPress so, try its demo today! 
App Pro is most easy to use a theme that includes many features to improve the functionality of your theme. It includes page templates, number of pages, portfolio gallery, and contact form with captcha.
This further includes Google fonts, background changeability, widgets friendly applications, and easy-to-use theme options that naturally increase your experience of using this theme.  
Along with that, it includes default portfolio and contact form 7 as standard pages like 404, blog, and searches that easily enhance User experience. The theme is coded with HTML5 and css3 so that you won't find any issue while choosing this application.
The basic idea of creating the theme is making the business world easier for the product and application services. Moreover, with various slider options, you can change it looks easily as per your needs. 
If you are trying to launch your hair salon website online then beauty cuts are the most interactive WordPress theme that takes your business to the next level.
It is because it includes HD ready and retina ready templates, major plugins, standard pages, local businesses, SEO optimized plugins, social media icons, documentation and customer support. This also provides your pictorial area for displaying your skills and testimonials with images. 
The banner slider is also available that help your user to find about your transparency in the work. It is coded with HTML5 and css3, so there is no issue of responsiveness.
This is a complete website that gives your hair salon a business you need. Moreover, it is available in free installation, so give it a try right now! 
A marketing agency is also the best interactive WordPress theme you can choose for your business. While working on the theme you can find this includes in the header, footer, colours, fonts, layout for tweak the website and make it more user engagement.
It also includes inbuilt shortcodes with hundred plus types of functionality. 
Also, this includes standard pages like 404 and categories that enhance the user's experience in your website. The social media plugins and SEO optimized plugins are also great to keep your website running smoothly on the web. 
Bony is an interactive WordPress theme which is responsive to create Medical and health-related website. It is compatible with WooCommerce, so that you can run any shop online.
Moreover, it is integrated with 650 + Google fonts, 580 + social icon packs as well as shortcodes for the gallery, tabs, drop caps, buttons, text, tables, and many more
Bony is a mobile-friendly and highly supportive theme which can be used to develop the theme into multilingual languages. This is the latest WordPress theme designed to give you complete access and easy navigation to the users. 
If you would like to create a website for your attorney office, then Lawzo is the best theme for an attorney, law firm, legal Consulting, etc. It includes full-color changes option, inbuilt shortcodes, Google fonts, and social media gallery. 
This also includes a gallery section to showcase the testimonials to your clients.  The theme includes about us section which you can edit as per your choice. 
If you are just starting up your new website related to an eBook etc the SKT launch Pro is interactive WordPress theme you can choose hassle-free.
This is product friendly, blog style, compatible with the latest version of WordPress. Also, it includes 600 plus Google fonts and 580 + social icons.
SKT Launch Pro is coded with an Elementor page builder that keeps your website more responsive and user-friendly. Moreover, this can be easily run on any device and browser, so you can go ahead with the theme and choose it for a startup. 
Beer and Pub is one of the freshest interactive WordPress themes the professional specialists at SKT Themes have launched for the public usage.
Expand the reach of your café or restaurant, brewery or pub, lounge bar or tavern with the assistance of this strongly coded yet flexible website builder.
It is custom built to boost and compliment your choices and preferences, as well as make them dominant within your high quality profile.
Capturing the needed attention to your business and its advantages with the right color choices, page and post controls, typography, responsive design and plugin compatibility Beer and Pub offers will never be a challenge.
As a luxurious and interactive template, Yacht and Cruise is designed for cruise and travel, tourism and venue websites and blog, travel agencies, hotels and resorts to accept bookings and reservations, etc.
Interactive web design suggests is focused on creating a truly convenient atmosphere both for the webmaster working on the backend of the theme, and website users enjoying the results of the webmaster's work from the frontend.
In this relation Yacht and Cruise is no way hesitant to provide a stunning framework that is easy to customize for the web admin with footer and header layouts, sidebar choices and page builder compatibility.
On the other hand, it is well formatted to comply with the most important requirements of the users, from responsive design to sleek navigation and quick response time.
If you think your commercial website looks old dated and needs a facelift for satisfactory results, look no further than Toy Store.
As one of the most feature rich and interactive WordPress themes, this product makes it possible for you to use traditional web design and development principles in your site or turn to more extraordinary and exclusive solutions to make a greater impact.
Hence, from color dominance of your profile, typeface controls with preloaded Google fonts to available shortcodes and boundless customization possibilities with images and layouts, Toy Store is power packed with all the essential and problem solving components.
Your new online shopping website built on Toy Store is going to be ultimately responsive with all the compulsory SEO and SMO touches to guarantee the stable advancement of your site in all the possible directions.
Built for client engagement and conversion, compelling design and error free operation, Classified Ads is one of the growth driven interactive WordPress themes you can be lucky enough to have at your fingertips.
Despite being ready to ensure rich and interactive web experience for your audience, the theme is also well optimized for ads and advertising materials for having additional revenue through your website.
This multipurpose website tool is feature rich enough for you to make sure your website guests will not be bombarded by unnecessary information, excessive design or something else.
Instead, everything can be served rationally and with taste while working on the Customizer the theme comes integrated with.
Let your real estate, immovable and movable property website put its best foot forward with the help of Real Estate.
This modern looking and undoubtedly reliable website template is interactive from top to bottom, enabling you to exercise all the possible methods to persuade your clients that you are worth getting to know and be explored further.
Guide your website guests and prospective users with the help of strategically placed buttons, images, call to actions, contact form, posts and publications.
Choose between grid and list view options, arm the homepage slider with 10 slides and take the leading role in managing them with pause time, animation, etc.
We have tried to make this collection of interactive WordPress themes as diversified as it should be for complying with any kind of needs, including also those of NGOs and non profit activities.
Therefore, we have not forgotten about Donation to share with you that is wonderfully customizable and admin optimized.
NGOs, charity and donation, church and religious institutions and other relevant non profit undertakings can be sure to have an excellent online presence while paying almost next to nothing for this template.
All the crucial elements any homepage should share are included, from accurate content sections to homepage full width slider for making your textual content more vivid and talkative via images and photos.
FAQ's
Q1- What Factors To Consider When Choosing The Interactive WordPress Template?
There are many factors to consider when choosing WordPress themes, but here we have listed some major facts.
Blog niche
Features
Plugins they support
SEO optimized
User-friendly
customization
Q2- Can Interactive WordPress Themes Be Customized In The Visual Mode?
Yes, you can customize interactive themes in the visual mode. There are numerous drag-drop Page builder are available that help you to change theme layout in the visual mode. You can choose Elementor page builder, Divi, visual composer etc.
Q3- Why Should I Update My Interactive WordPress Theme?
Updates are highly important for interactive WordPress theme as it increases speed of the site, fixes bugs, and also you can find new features introduced by the developer. You can simply update the theme by clicking on the update button.