Great features of our cuisine WordPress theme
Cuisine WordPress theme has great look and feel and showcases culinary and recipes nicely
Retina ready, HD ready, Responsive ready as well as Google mobile ready and AMP ready
Unlimited possibilities due to changing of colors possible using color picker
Has its own recipe section with ingredients explained nicely
Compatible with other recipe plugins as well
Compatible with WooCommerce for selling items online as well as for orders compatible with various contact forms as well
Gallery and sliders given in built as well as many popular video and image slider are compatible as well as galleries too
Showcasing of chefs and their resumes and awards can be done nicely
Font based icons more than 600 in number are included for ease of social icons and including them anywhere on the website
Services, menus all of them has been nicely shown
Translation ready with PO file available as well as multilingual ready with any multilingual plugin working with this
All kinds of page builders have been tested and found to be working with this cuisine WordPress theme
Cuisine WordPress theme works with SEO plugins as well as other shortcodes plugins
In built 100+ shortcodes given and compatible with page builders and shortcodes builders and plugins for extra functionality
Page templates and blog templates have been given apart from the standard pages like 404, search etc
Header and footer variations have been given leading to several opportunities and possibilities
Drop down menus upto 5 level possible as well as possibility of mega menu
Fonts unlimited options with more than 800 Google fonts included with cyrillic and latin sub sets so that any language addition can be done
SEO friendly approach so that all meta tags and headers etc are linked nicely
HTML5 and CSS3 based and modern design trends followed with flat material design based approach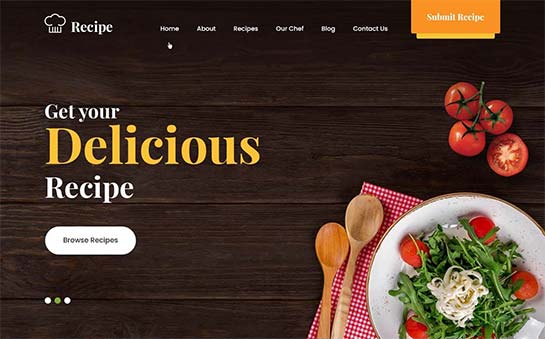 Cuisine WordPress theme has been designed and coded to have the best culinary website and recipe website to showcase one and only one thing and that is food.
Good cooked food need to be showcased nicely in order to increase awareness about the ingredients of the food and how it can benefit us from within and also why this type of food is good.
Also the chefs can have a great cuisine WordPress theme based website and showcase their talent in the form of food gallery and events section as well as show to the world the awards and other recognition they have won.
Culinary and recipes can also be shared easily using this theme because it has a blog section which can be used to get more traffic, comments about the recipes etc.
The main menu and its recipe can be listed directly along with the ingredients used in the making of the food.
Cuisine WordPress theme is responsive and has been coded to have compatibility with various devices and screen resolutions so that your food looks all the way good and natural.
Various chef resumes and their descriptions can be shown nicely.
It can also serve as a full fledged restaurant website with a nice slider on the top whose animation and default pause time can be controlled and the menu can be changed to mega menu as well as the default menu having 5 levels of drop down possible.
Also with ample call to action like phone number and timings given on the top and location also given.
And the footer also explicitly gives the same data along with social icons.
Various services can be defined and described nicely using this cuisine WordPress theme for culinary as we have font based icons which are more than 670 in number.
So not just social icons but all other food related icons are also present within this template.
Also typography can be placed fancy because the culinary WordPress theme has more than 700+ Google fonts and cyrillic and latin sub sets as well included.
Not just that the sections on the homepage are selected from pages and hence any type of page builder plugin can be used so that one can design his own template and layout as well as have any type of page displayed nicely on the homepage.
Also the inner pages have page templates and blog templates to choose from as well as several in built shortcodes are present within this template and one can add more shortcodes using plugins.
Also plugins compatibility with several types of plugins for slideshow, contact forms, fancy sliders and galleries, as well as WooCommerce for selling items online are also given hence any type of future addition can be done easily into this template.
Why cuisine WordPress theme are important for culinary and recipes?
Cuisine WordPress theme is important to showcase culinary nicely and also the recipes nicely and hence we have gathered some important reasons as to why these templates are important and can serve a website:
Food showcasing is greatly done and food can be showcased nicely only here with the help of unlimited slideshows as well as galleries which are available and are compatible as well as with the help of the other in built features like icon use and text and image use
Awards and accolades won by a chef or a restaurant can also be nicely showcased with the help of this kind of template meant for culinary and cuisines
Recognition can be gained with the help of this cuisine WordPress template and theme which works great and showcases every minute detail nicely and with font and color changing options given
Recipes can be nicely showcased with in built feature as well as with other plugins that are compatible
Traffic and popularity surge can be brought in with the use of this kind of template
Benefits of the healthy food can also be explained and good food benefits can be showcased nicely with the help of icons and other helpful functions given within this theme
The restaurant business is highly competitive. It is one of the most searched things on the internet and hence the effective website is a must for the owners to ensure that they do not miss out on any client. There are many things which go in to create something which is out of ordinary.
The cuisine WordPress theme is a good place to start if one is not sure what to do?
But this is just a starting point as you are required to understand what are the features that your website must have in order to create the impact one has been aiming for, this will not be an easy task as you will have to think about every small little detail.
The idea of this article is to help you identify the must-have feature which will go a long way in creating a website which will have required features.
Mobile optimization: This one is something which is overly discussed but still there are many websites which have not explored it to the fullest. When a simple search is made most of the cases are they are made using a small screen device your website should be optimized so that it connects with the search immediately.
Research shows that the use of mobile has increased and is likely to grow in the future hence this feature is a must. Even the Search engines promote and ranks the websites higher which are mobile-friendly.
Online bookings: Mostly with the restaurant website the users must be able to get as much of the job done as possible. This largely includes booking online for the table with the details to avoid any confusion.
Of course, this should not be charged and there should be proper service when one reaches. This can be done using the Cuisine WordPress Theme which allows online submission of details and use software to show and book tables.
This is also a great way to keep a track of the customer's activities and collect their details so that in need it can be used to share important information with them especially related to promotional events.
Social media integration: This goes without saying that without the help of social media one cannot tap the largest customer base online. Thus the website should have social media buttons which allow easy sharing of the content.
This is a self-marketing way in which customer's once aware share the information on their personal account creating awareness and brand name at the same time.
SEO optimization: This is important as the search engine will rank your website based on the SEO. The theme which is used to create the website should have all the elements so that SEO is not an issue.
There are many websites which suffer because of this despite the great content. Follow Google's guidelines if there is any confusion.
The creation of a website is not a difficult task but what is to create something that is popular and comes with all the functionalities. Use the right features and be ahead of others to let the business flourish.