The art of making ceramic pots and other similar articles is unique in its own kind. It has a massive demand for various purposes including industrial uses. Hence, ceramics WordPress themes have gradually become popular and are in demand for a considerable time.
Depending upon your potential audience and the type of services that you provide you can select a theme. There is a wide range of lists available online but this makes your job complex. Exploring hundreds of options and selecting the best one is indeed a tedious task.
Therefore, we have compiled this amazing list for you so that you can select the best from a pre-sorted pack.
Therefore to feature your engineered ceramic-based articles and products this is an ideal choice. Along with high definition and retina-ready output, the pre-designed templates are mesmerizing for direct use. Core functionalities include WooCommerce support and SEO optimization of all elements.
Setting up a blog to highlight the core features of your products becomes a simple task here. You can add all the finished products to the online store and ship them across the world. This theme will add an unbeatable value to your firm with an assured ROI.
Pottery and Ceramics Handmade WordPress Themes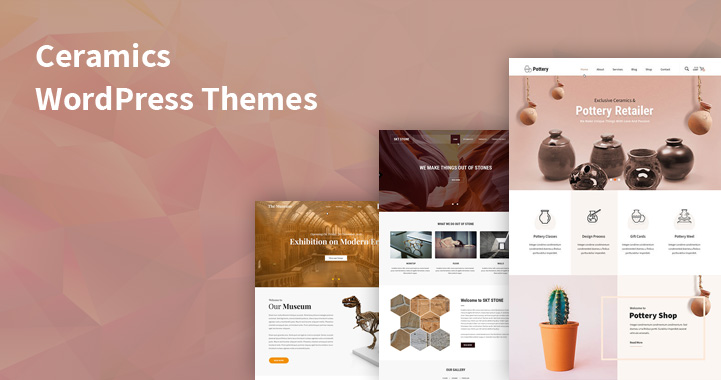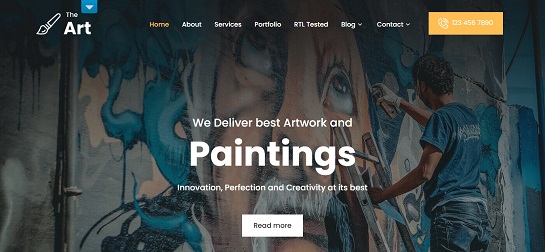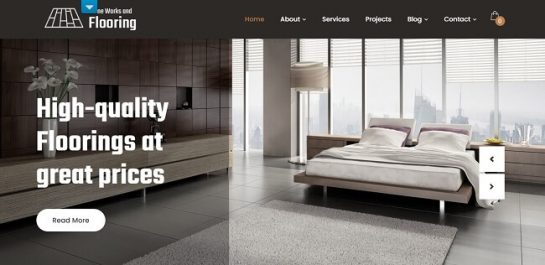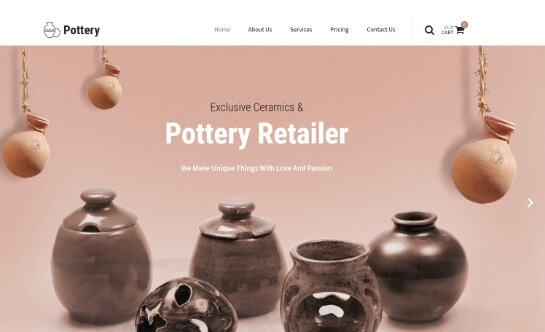 Pottery is one of the most essential and looked at articles in the range of all ceramics products. The demand is global and the artists are limited mostly residing in the countryside.
This is an exclusive result-oriented theme that helps you in showcasing your best products without any difficulties. It is optimized with SEO and comes with comprehensive documentation so that you never get stuck in the setup process.
In addition to that, all your products can be easily sold online to all the customers as it comes with WooCommerce compatibility. The basic design of the theme is sober, professional, and attractive.
You have full control to modify or customize all designs, layouts, and elements according to your convenience.
It is translation ready which ensures easy attraction and conversion of region-specific audience. Despite all the inbuilt functionalities, it supports all kinds of plugins so that you never have to worry about the features.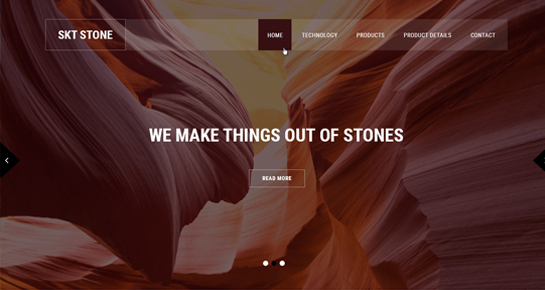 SKT Stone Pro is amongst the finest ceramics WordPress themes with elegance and responsiveness. The default landing page, graphics, and layout of the theme can make your audience fall in love with it.
It is neat and everything has been segregated to avoid confusion. Apart from the looks the functionality is world-class and comes with a retina-ready display.
This assures that despite the application of customized or default layout it remains compatible with all kinds of screens and devices.
WooCommerce functionality ensures that all your products can be accessed and shopped by the global audience through the online store.
The peculiar part is that you can use the pre-developed elements or manage to create customized versions for yourself. All content types and animations can also be used wherever required.
You can make the most of the default sliders, widgets, and sidebars by adding the related content and functions.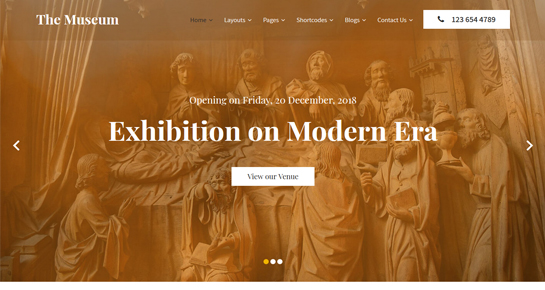 There are ceramic manufacturers, distributors, sellers, and collectors. Museum Pro is exclusively for the collectors.
Your passion for getting hand at some of the fines ceramic articles of the world can be showcased globally. All your collection can be easily featured in the digital space through this theme.
It will help you develop a responsive, attractive, and simple platform for users that enable them to browse through your collections. It is professional but more than that it comes with jaw-dropping designs.
The layout has been formed after significant research on user behavior towards such websites.
The default design is close to minimal but packed with features and tools to make your operations easy. It is optimized to perform excellently well on all kinds of browsers, screens, and mobile devices.
Lastly, setting up an online store to sell the replica or model of your collection is also possible with WooCommerce support.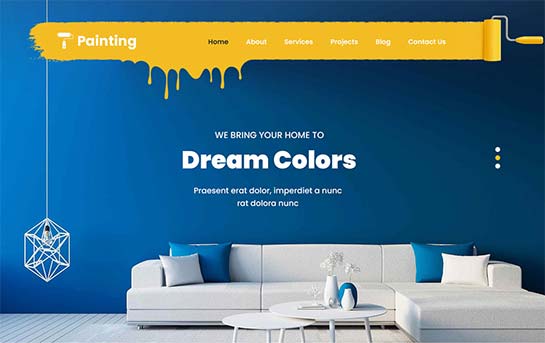 This is an exclusive artist theme that has made its presence felt amongst the most used ceramics WordPress themes. Depending upon any kind of business associated with tiles, interior decorations, ceramic articles, and others you can easily mold this theme.
It is recommended to use because the basic structure is perfectly suitable for the industry you are dealing with.
Further customization in the same adds more value to it. All necessary elements and features for the smooth functioning of the site are incorporated by default.
Every other important feature that is missing can be easily integrated with the help of plugins. Multilingual functionality helps you in ensuring that no language barrier interrupts your sales operations.
It is entirely documented so that you do not get stuck with any setup process. You also get one year's support directly from the developers to cope up with any challenges. It is HD-ready and customizer makes the modification process convenient.
All small and big houses in Canada, the USA, UK, India, and Europe focus on the home décor. Hence, home décor has slowly evolved to be one of the largest industries in the world.
The major elements of this industry are ceramic products that are manufactured and procured from various parts of the world. Décor is amongst the best ceramics WordPress themes with required features, and tools for your home décor business.
No matter how small or big it is, you can attract clients from anywhere in the world with proper setup, layout, and offers. You can easily add optimized photographs of the delicate ceramic showpieces.
You can highlight the best ceramic tiles along with its peculiarities. All kinds of plugins like social media, contact form, Google Maps, and others can be easily added.
You also have WooCommerce support so that creating an online presence for your firm becomes quick and easy.
Home Décor is another significant addition to the Ceramics WordPress themes compilation. This has been developed with the sole focus on featuring everything related to home décor.
It has out of the box layouts and templates that are retina ready and compatible with all kinds of browsers and screen sizes.
All of them are multilingual and translation ready so targeting specific audience groups becomes possible.
WooCommerce support ensures that your clients can immediately buy things they like through an online store. For establishing and maintaining good rankings it has been optimized for SEO and factors related the same.
All compliance standards are maintained during the development phase to ensure the best output. Customization is possible across all verticals and elements of the site.
You also get support from the developers if you are stuck at something. You can easily promote retail, wholesale, manufacturing, or your studio here.
This is a multipurpose, responsive, and elegant theme to make an amazing website for your business or firm. Pre-built templates enable you to save a lot of time as they can be directly used after modification.
You get a variety of options with layout elements and inner pages. Customization is simple with easy to use Google Fonts that are integrated with the theme by default. The trending concepts of sliders are included in its SEO-friendly coding.
Page builders help in creating customized HD-ready templates that automatically adjusts to different screen size. Documentation helps you in easily overcoming all hurdles during the installation process.
WooCommerce is supported and additionally, all other plugins that are required for extending features can be added. Social media and other features related to the same can also be integrated to enhance audience engagement.
A gallery can be set up without any difficulties for adding optimized images that do not affect site performance.
Businesses have their specific requirements for justified representation on the digital platform. Local Business Pro has been coded keeping this in mind which makes it a popular choice amongst the compilation of ceramics WordPress themes.
Your business or trading activity for all articles can be easily featured for client understanding.
The ready to use templates have a mesmerizing charm that can help in establishing a solid first impression. Moreover, the page builder helps in preparing customized templates that are retina-ready so that you can include elements to highlight your brand.
The overall background color is kept in light shades to highlight the professionalism and focus more on the content that you add.
It offers outstanding support for all kinds of plugins including social media and WooCommerce. Translation-ready and multilingual functionalities are offered by default so that irrespective of your demographics your work never stops.
Running a factory is a huge responsibility in itself. But when it comes to representing the core operations, products, and legacy of factories online then it is a complex task. Considering the requirements, traffic inflow, and segmentation needs Factory Pro has been designed.
Its peculiar design, significant responsiveness, and subtle charm have made it a popular choice for ceramics WordPress themes.
Everything that you require for representation in the online space is included in the tools and functions. User engagement and promotion of products have been kept at the sole priority. Basic segmentation of the pages is great but they can be molded as per requirement.
Background color, shades, style, fonts, and everything else will be under your complete control at all times. It is a reliable and trusted solution to highlight the operation techniques and monopoly of your factory.
Manufacturing Pro is next in the list of ceramics WordPress themes. It is a powerhouse of performance and never fails to amaze the admin and audience. For all your ceramics business related to manufacturing, this will serve as an ideal platform for its digital representation.
It is SEO optimized and you never have to write a single line of code for making any modifications or customization. The default provided template is flawless and can be directly used by making the required changes. If not that then customizer and page builder will help you in the customization process.
Its plugin compatibility is commendable and it also offers full support for WooCommerce. This allows you to include everything about your manufacturing activities and at the same time sell it through an online store. Other integrations like contact forms, social media, icons, etc. are also possible.
Creating ceramic products is not just limited to countryside workers today. Owing to its huge demand across the world designers from all over the world are interested in it.
If your design agency is directly involved in the first-hand designing of ceramics products then this is the theme for you. Design Agency Pro inevitably makes it to the shortlisted stand of ceramics WordPress themes.
You can experiment and mold the elements to create a fully-fledged digital agency for your firm. With simple navigation and hassle less user interface you can create a stunning website for your audience.
Creating a blog within the same website is easily possible and can be executed in minutes. Sliders and sidebars are provided by default so that you can keep up the present trends. It is highly compatible with WooCommerce and all other plugins so that you can utilize maximum functions.
Build is an acclaimed multipurpose theme and perfect for creating a website for unique concepts related to ceramics. The basic development criteria for this theme were to provide a robust platform for subtle business concepts.
Hence, all necessary features, tools, functionality, and elements are incorporated in it by default. Additionally, it is retina-ready, HD-ready, translation-ready, multilingual, and compatible with all kinds of plugins.
This gives you complete freedom to manage and control all aspects of the website as per your campaign requirements. The pre-built templates and graphics are superb and can be directly used after minor modifications.
Full support from developers for one year and comprehensive documentation ensures that you remain a step ahead of your competitors. Images of your work will speak volumes about your firm as you can easily upload an optimized version of the same.
Engineering Pro is the last feature in this compilation of sorted best ceramics WordPress themes. Engineering is evolving gradually at a faster pace and is tremendously impacting the lives of millions.
This evolution has reached to the ceramics industries as well. Due to this well-structured, high-strength, and durable products are ruling the market today.