List of the top rated animal shelter WordPress themes is presented in this article for animal shelter, animal adoption or charity – related activities, animal protection programs and events, pet shops and other pet centric businesses.
Ensuring the health and well being of animals or our four legged friends is of paramount importance given the fact that they live with us sharing the same residence or environment. However, animals which are adopted or have a family are not the only ones needing special care and consideration.
The situation of homeless, abandoned and wandering dogs, cats and other animals is even worse. If left without the relevant attention and veterinary intervention, they may become a real danger for the society and medium they are in.
Luckily enough, there are big hearted individuals and honest organizations which do not close their eyes or doors on such animal related issues.
The so called "no kill" shelters are widely popular at present and willingly accept the strays and abandoned or sick animals which need their help and shelter.
In order to fulfill their mission, they need to be in constant connection with public at large so that all the homeless and unprotect or unprotected animals can end up in having a temporary shelter before they are adopted.
This is where the importance of the niche specific website to spread a word about their activities come to the fore.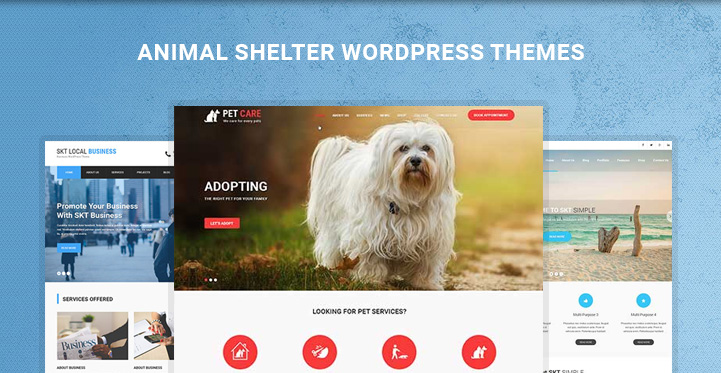 In this article, we have done our best to dig out the best samples of animal shelter WordPress themes for such organizations, shelters and animal protection companies.
Since such kind of activities are mainly spontaneous and managed by volunteers and contributors, they may have limited financial opportunities when it comes to building a website.
Therefore we have also paid attention to the affordability of the themes and included only those which are really cost effective.
Best Animal Shelter WordPress Themes for Animal Shelter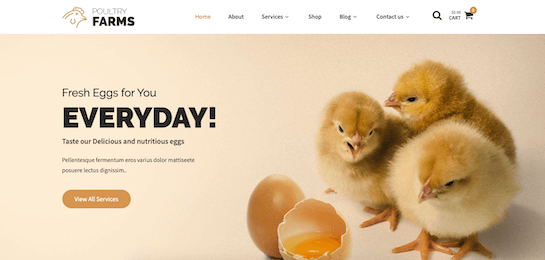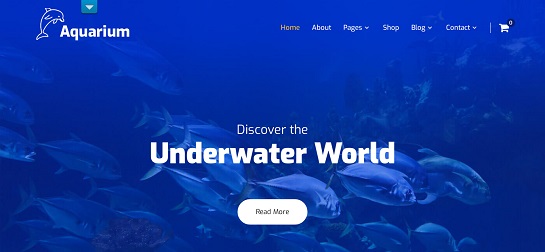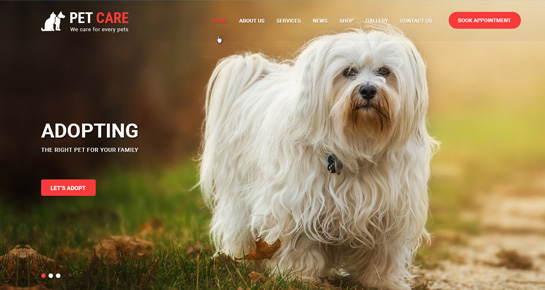 Pet Care is our bestie when it comes to any animal centric business or activity. Developed and stylized for this specific field, Pet Care is one of the top animal shelter WordPress themes well prepared and formatted to serve any kind of relevant needs.
Hence, from pet grooming and walking, training and keeping service providers to no kill or rescue shelters can highly benefit from this awesomely inspirational and engaging template.
Lots of practical features and customization options are scattered throughout Pet Care to simplify your workload and save your precious time.
Particularly, with this theme you will find easy to use and manage theme colors, fonts for the best typography going hand in hand with the overall design of your site and much more.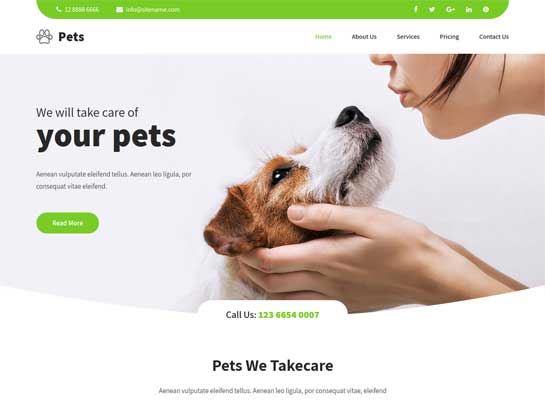 Ele Pet is the one to increase the level of the local social proof of your animal center or shelter. It is also one of the highly popular animal shelter WordPress themes for more localized share and recognition.
This deliberate and serious looking website building tool is equally convenient for other local businesses as well to tell their story, offer goods, products or services.
The intuitive visual interface highly contributes to customization options, shortcodes application, settings management and more. You can also add donation plugins to it and start accepting donations for the animals under your protection.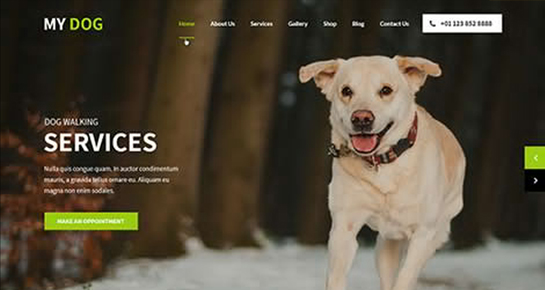 Since you are not going to fascinate your website viewers with an exceptional design or super functional solutions, My Dog is what you'll ever need.
Simple and lightweight, subtle and compact, yet bewitchingly beautiful and highly flexible in usage, My Dog shares a soft color palete from the frontend and admin friendly working platform from the backend.
It also features easiest theme options, a bulk of useful shortcodes, font based and social media icons, clear and modern coding integrated with complete responsiveness and plugin compatibility.
You will also find complete documentation and professional support along this premium quality template.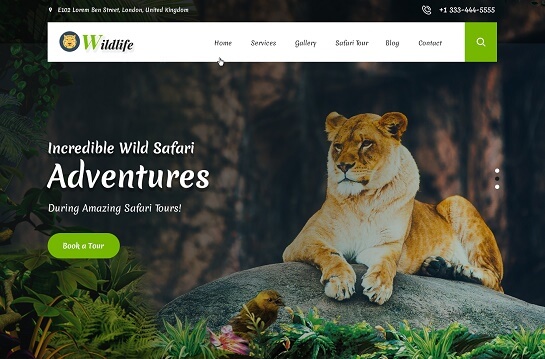 If supporters and animal lovers are the ones to make your organization thriving and effective, than Shopzee is what you are looking for.
This template is entirely commercial and well equipped to serve any commercial needs. You can organize live auctions, share your products and collect enough financial means to take care of your animals.
Hence, WildLife is one of the revenue generating animal shelter WordPress themes for you to run on your website and make the most out of it. It comprises everything you'll need to work productively online and modularly create wonderful posts and pages to keep your audience informed.
However, beyond any eye catchy design and color combinations, WildLife prioritizes functionally cutting edge framework and persistency in performance above all.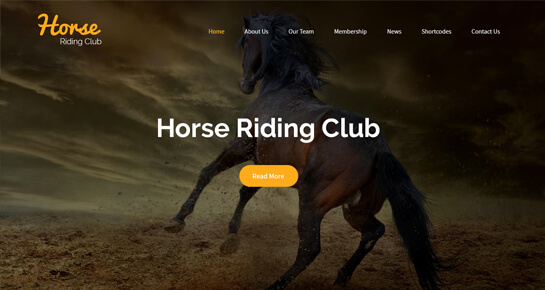 Horse Riding can easily pioneered by any charity or donation company or organization, including also those working for the animals and pets. The motivational and presentable design of this awesome template lets you be soft and polite without becoming overwhelmingly demanding to your audience and potential supporters.
There are several blog and page layouts with sidebar or without it to play with, gallery section to showcase your effective and results driven activities and events via images and photos, as well as social media integration to share your social media links and engage more donators.
There is hardly a shortage of smooth and sleek navigation levels when someone is making a journey over your profile. This user optimized navigation controls are also available for mobile and tablet users of your site whenever they browse your content via their portable devices.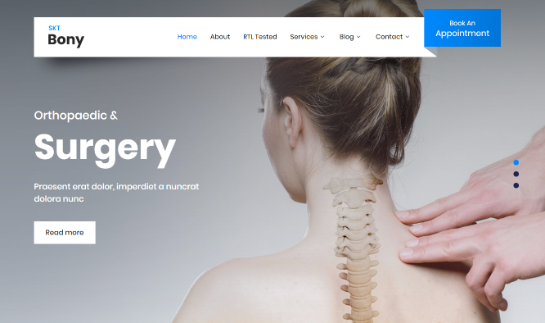 Bony belongs to the range of medical and doctor websites and hence can be beneficially used to cater to veterinary needs and clinics, private veterinarians and animal trainers.
Bony is fully editable and customizable with packs of icons and Google fonts, shortcodes for testimonials, gallery, tabs, accordions and more, widget friendly areas with footer and header, sidebar, etc.
Tested with major SEO plugins, this template guarantees a quick growth in SEO ranking and viewability. Other plugins like Contact Form 7, NextGen Gallery, WooCommerce, Shortcodes and multilingual ones are also consistent with Bony.