WordPress themes make changing your website look and feel simple and quick. They provide a fantastic technique to build a polished, cutting-edge, and welcoming website.
Without having to spend time coding or understanding HTML, you can rapidly make changes to your layout, style, and branding using themes. Also, WordPress themes have pre-installed widgets, page layouts, and navigation menus that make it simple to build a useful website.
It is good news for web developers. The availability of some WordPress WooCommerce themes Free with Sample Data can make their tasks easier.
The following list shows the free themes available for use: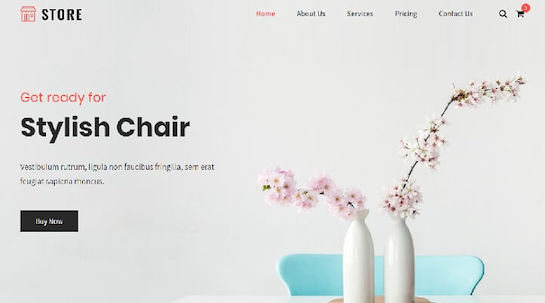 Regardless of the device or screen size, Ele Shop Lite is a completely responsive WordPress theme that looks excellent. With only a few clicks away, one will easily be able to change your website using its robust and user-friendly theme customizer.
The popular WooCommerce plugin is completely compatible with the theme. With this, creating an online store is simple. Also, you may select from a variety of color options to give your website a distinctive design.
Here is the list of some key features:
Contains a variety of homepage layouts
Provides your website with a distinctive appearance
Comes with better SEO-optimization
Aids in your rise to the top of search engine results.
Compatible with popular browsers such as Chrome, Firefox, Safari, and Edge
Allows the addition of custom widgets to the sidebar or other locations
Quick and simple make modifications thanks to its adjustable features.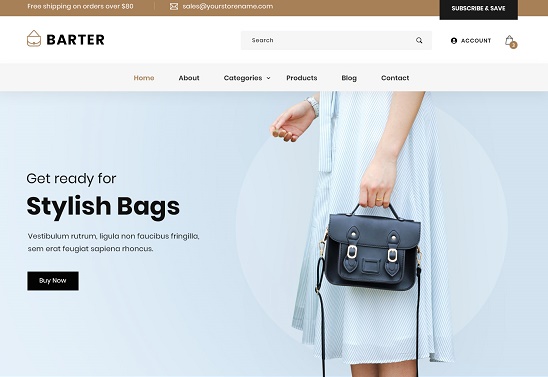 Barter is an intuitive WordPress theme that is simple to adjust for any website thanks to its contemporary, clean style and customization features. Because it is responsive, your website will look fantastic on all devices.
Developers can easily construct an online store because it works with WooCommerce.
Barter comes in the category of the WordPress WooCommerce Themes Free with Sample Data and does provide the following features to web developers:
Offers advanced customization options.
Helps better website development.
Allows better optimization as per SEO.
Appropriate for social media integration.
Comes with regular bug fixes, updates, and support from the developers.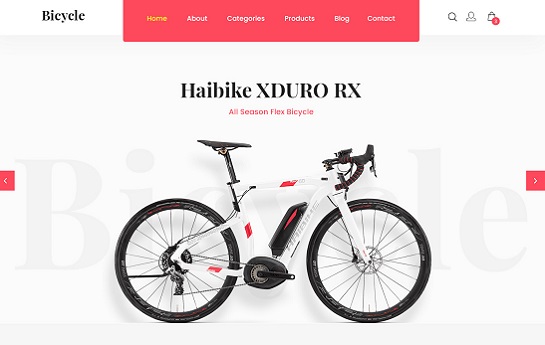 The WordPress theme of Bicycle Shop is a fabulous option. This theme looks fantastic on any device and is responsive on mobile and tablet devices.
With its simple-to-use custom header feature, developers can easily upload their logos, add their colors and fonts, and change the overall appearance of their websites.
It is a well-liked e-commerce plugin that lets developers set up a store quickly and sell goods on a website. Here is the list of some key features of the Bicycle Shop WordPress Theme:
Easy customization
Advanced theming options
Comes with custom widgets and website features
Easy to add custom CSS to create a truly unique look for your website.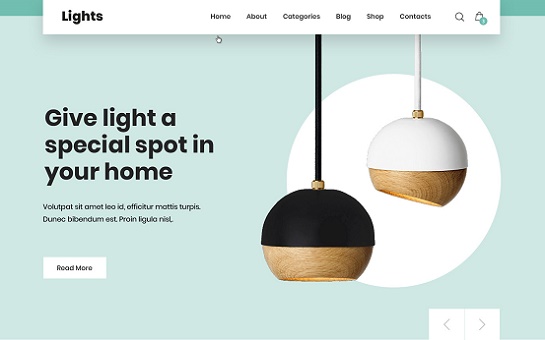 The Lights WordPress WooCommerce Themes Free with Sample Data delivers a wide range of page layout choices, allowing you to make one-of-a-kind pages with virtually endless combinations.
The theme has customizable header and footer settings. Therefore, developers can create a site with a completely different appearance and feel. Also, it has a strong theme options panel that makes the work simple to alter the appearance and feel of your website.
When developers prefer Lights WordPress Theme, it will provide the following features:
Responsive design
Better SEO optimization
Translation ready themes
Easy to create WooCommerce-compatible websites.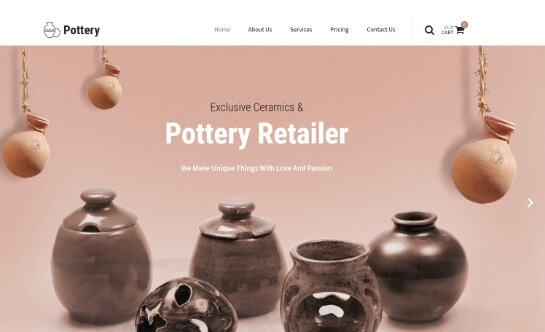 SKT Pottery Lite Theme is a responsive type of theme used by web developers. The theme is friendly for all devices, including PCs, smartphones, and tablets.
As it is optimized for SEO uses, your website will receive the best results in the search engine. Developers can quickly and easily alter the appearance and layout of your website with just a few clicks.
The SKT Pottery Lite WordPress theme makes it simple to connect your website to well-known social networking platforms like Facebook, Twitter, and Google+.
Here are some of its special features:
Cross-browser compatibility
Easy to use
Create your custom post and their varieties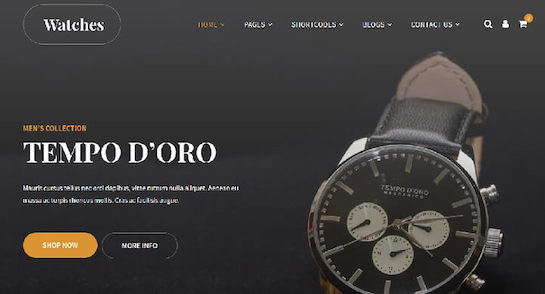 SKT Luxury is one of the WordPress WooCommerce Themes Free with Sample Data that web developers can easily add or create multiple adjustments.
It starts with the creation of some of the best, most unique, and most gorgeous slideshows that include video backgrounds, animation effects, and many other features.
They just have to perform a few changes and Bingo! Your website will be ready! With the SKT Luxury theme, developers get the following features:
Easy to add columns, buttons, lists, and other features. (Using shortcodes)
Custom widgets are available to add more functionality.
Allowing the use of shortcodes.
Do you wish to develop a website that won't cost you much? Well, here is the tool that can be useful for your requirement. With SKT Minimal of the WordPress WooCommerce Themes Free with Sample Data, developers can create a clean, simple, and minimalistic website for your company.
The theme is well-matched with the widespread WooCommerce plugin for creating an online store. It has a full-width slider and an easy-to-use customizer. It also has some features for creating multiple page layouts and custom widgets. This becomes a great choice for creating a simple and modern website.
SKT Minimal Theme has the following features:
Responsive website development
Add different advanced features
SEO Optimization
Better use of Shortcodes
Comes with Multiple Sliders
Custom Widgets
Use Google Fonts
Flexible Theme options
SKT Ayurveda theme is appropriate for building websites for Ayurveda businesses. Well, it is tricky but shows some multipurpose activities in its theming option. This theme comes with features like custom post types for treatments and services.
It allows developers to create different types of unique sliders for highlighting features. It has more utilities like custom widgets, WooCommerce support, drag-and-drop page builder, and more.
Here is the list of some advanced features available in the SKT Ayurveda theme:
Translation-ready theme (support multiple languages)
Custom widgets (add your desired design to make the website attractive)
SEO-friendly
Multiple color options
WooCommerce Compatible (Easy to create eCommerce Store).
Fully responsive to the WordPress Theme
Own a skincare company? It is time to sell your products online! Therefore, you need to develop a website. Well, it's free! With SKT Skin Care WordPress Theme, web developers can design a specific website appropriate for skin care-related services, products, and other purposes.
The theme has many advanced features to deliver up-to-the-mark results. It has a powerful theme options panel that can create unlimited sidebars. Also, custom post types are possible with these tools.
Apart from that, the following list derives the utilities of the SKT Skin Care WordPress theme:
Pre-build page templates
Slider revolution integration
SEO-optimized theme
Easy to customize for web developers
Better and responsive web design
Pre-build page templates
Slider revolution integration
SKT Plants is one of the popular WordPress WooCommerce Themes Free with Sample Data. The WordPress theme is perfect for creating a beautiful and well-functioned website, especially for businesses relevant to gardening, landscaping, and plants.
The theme has some beautiful functionalities, allowing website creators to create the best without any hurdles. It also comes with some amazing advantages providing web developers with the ability to build a new, unique, and super-responsive website for industries that deal with different plant production and services.
The following list provides the key features of using the SKT Plants WordPress Theme:
Responsive design
Customizable widget
WooCommerce compatible
Unique homepage templates
Support multilanguage pages
Allow Google fonts
Easy to use custom background
SEO optimized
Font Awesome integration
Ele Spa Lite Theme is a WordPress theme appropriate and elegant for creating websites for businesses that provide spa and salon services. The theme has some brilliant features that allow web developers to do the necessary upgrades while developing the websites.
Each website can get the best and most unique approach with its custom contact form. The design is always the key to attracting the attention of customers. Also, integrating social media is a vast source of promoting your business.
To achieve all benefits, the following features of the Ele Spa Lite theme are responsible:
Pre-built pages
Homepage slider
Responsive and mobile-friendly theme
SEO optimized
Easily customizable
Create modern and attractive websites
The Ele Fashion Lite WordPress theme is suitable and attractive for building websites for companies that offer fashion services. It has some fantastic features that let web designers develop websites to catch the attention of viewers.
The magnificent building of images of apparel and other fashionable items are the sources to use. They only make the required adjustments while working on the websites.
Each website's unique contact form allows for the best and most effective approach. The design is always the secret to getting buyers' attention. Also, integrating social media is a powerful tool for engaging your company with most of the audience.
The following features will come with the use of Ele Fashion Lite:
Integrating the best sliders
SEO-optimized theme
Pre-build page templates
Easy to customize websites
Comfortable for web developers
Pre-build page templates
Better and responsive web design
Do you own something related to plumbing businesses? Well, it is the type of theme that you wish to introduce for developing your website. SKT Plumbing Lite is one of the popular WordPress WooCommerce Themes Free with Sample Data.
This theme's significance is clear as it helps web developers add necessary customizations, conclude some unique features, and create a professional website.
Here is the list of some features:
Create visually-appealing website
Go for unique and custom widget options
Cross-browser compatibility
Secure
SEO-friendly
Responsive design
Easy to use and customize
Do you have a small florist industry? Are you interested in creating a website? Well, this theme is just for you. The Flower Shop Lite is the best one and has a free WordPress theme. Web developers that you wish to hire can create some amazing website designs.
You just need to pick the design that suits you. Using the Flower Shop Lite theme expands your website reach on the internet. It gives your florist industry a new line of hope in the online world. The theme extends your website's functionality and helps developers create the best one in return.
Here is the list of some mesmerizing features that the Flower Shop Lite theme delivers:
A powerful theme options panel,
Pre-built page templates,
A drag-and-drop page builder,
A range of widgets, shortcodes, and custom CSS options,
WooCommerce integration, and more.
SKT Spa Lite WordPress theme is a free plugin allowing business owners to create websites. Who are eligible to use this theme? Well, it is obvious; the ones who are providing spa, salon, and wellness services at certain locations can use this theme.
The theme comes with some amazing features as it is fully responsive. It has large collections of pre-built page templates as well. Additionally, the SKT Spa Lite theme has a booking system feature. It makes the website much more productive and friendly for users.
Comes with powerful customization.
Better and reliable WooCommerce support.
Easy setup for online store.
Options to receive payments for services.
A business becomes productive, reachable, and popular among customers via its online presence. The idea of owning a website is quite a productive need. If you own a café business, the option is also available for you. It is the best source to promote your business online.
The theme is appropriately designed to professionally and attractively explain everything about your cafes, like your shop menu, offerings, and products. The fully-customizable option allows web developers to make necessary changes to improve the websites design.
SKT Cafe theme from the WordPress WooCommerce themes free with sample data has some vital features to offer, such as,
A range of widgets and shortcodes
Use of custom CSS options for better functionality
Create a unique website for your coffee shop
Develop a responsive website
Compatible with both mobile and desktop devices.