In today's rapidly evolving digital-powered world, a compelling and efficient e-commerce website is the cornerstone of business success. And for a successful e-commerce website or online store, you need WordPress WooCommerce themes free with sample data, which enhances the overall capabilities of a website.
This article will look into some WordPress WooCommerce themes Free with Sample Data. Each theme has a visually appealing design and essential features to attract potential customers.
The following list shows the free themes available for use:
Ele Store Lite: Elevate Your E-commerce Journey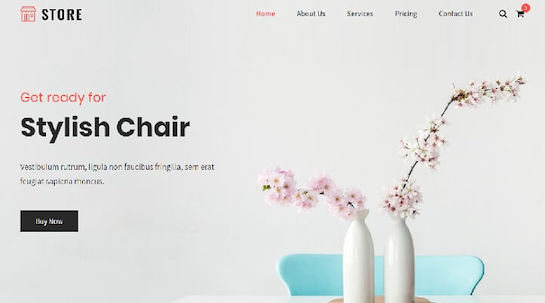 It is an outstanding WooCommerce theme designed to support your online shopping journey. With the help of sample content, this theme makes it easier to showcase products, services, and even your portfolio.
Key Features of Ele Store Lite:
Modern and Clean Design: The Ele Store Lite theme gives your products a contemporary and sophisticated look to attract visitors from their first click.
Works on All Devices: The Ele Store Lite theme ensures seamless browsing experience through all devices.
Easy Customization: The Ele Store Lite offers a user-friendly customization interface, letting you align your store with your brand's identity. You can personalize your store without dealing with complicated coding.
Barter: Breathe Life Into Your Online Realm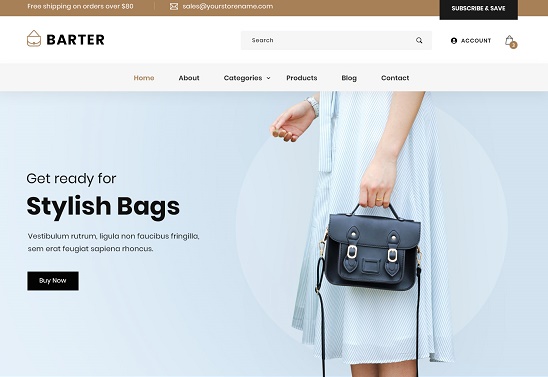 Barter is a lively WooCommerce theme that promises to transform your online business. The theme makes your business look profession and add appealing colors to the website.
Key Features of Barter:
User-Friendly Navigation: In the online world, smooth experiences are essential. Barter guides the way with intuitive navigation, guiding visitors through your virtual store effortlessly.
Compatibility with Page Builders: Creating a unique online store is now easier than ever. Barter works seamlessly with popular page builders, allowing you to showcase your creativity without coding.
Mobile Responsive: Whether on a desktop or mobile device, Barter adapts gracefully. Your online store maintains its excellent appearance and functionality, ensuring a consistent and immersive experience for visitors across different screens.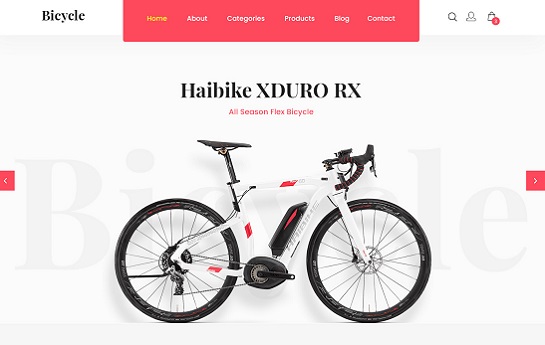 Whether you sell or manufacture bicycles, the Bicycle Shop theme is your pathway to success. This theme is simple to set up and brings captivating visuals to your website, enticing viewers to become your customers.
Key features of Bicycle Shop:
Targeted Design: The Bicycle Shop theme is intricately crafted to capture the true essence of outdoor adventure. Each feature of theme echoes the enthusiasm of sports and outdoor lovers.
Easy Customization: It allows you to effortlessly display the essence of your brand using user-friendly customization options. You can use a wide range color options and fonts to match your brand's identity.
SEO-friendly: Visibility is a key for success in the digital world. The Bicycle Shop theme makes your website visible on the search engine as it has a unique built-in SEO feature.
Lights: Illuminate Your Online Presence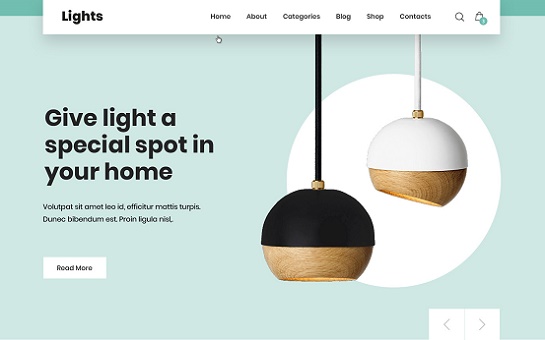 Lighting is crucial in highlighting products and even services in the digital space. The theme Lights make your online store visually appealing. It also improves the overall functionality of the website. The theme is compatible with the WooCommerce feature, making it safe to carry out financial transactions.
Key Features of Lights:
Clean and Minimalistic Design: The Lights theme is known for its simplicity. Its clean and minimalistic design ensures that your products are the center of attraction for a distraction-free shopping experience.
Seamless Responsiveness: The essence of Lights is in its adaptability, ensuring that your products look attractive on all devices.
Plugin Compatibility: The theme has essential plugin support to improve your store's functionality and capabilities. Whether enhancing the user experience or expanding the reach, these plugins are the cornerstone of your success.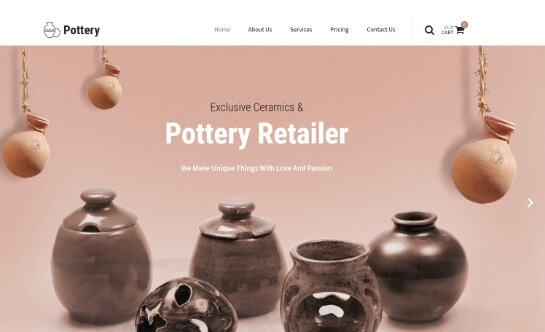 The theme SKT Pottery lets you showcase your inner artist and create an online audience base to present your work. Like the one mentioned above, the theme is WooCommerce compatible, which lets you seamlessly start your online store. The sample data feature of the theme motivates you to work harder ad create a virtual studio for your artistic products.
Key Features of SKT Pottery:
Elegant Design: SKT Pottery Lite is known for its elegant design, allowing an artist to showcase his work beautifully and attractively.
Versatile Customization: Whether you aim to showcase your art or create an online store for your art and craft-related work, the theme can be customized to meet your need.
SEO Optimization: Your website is home to your creative products, and SEO lets potential buyers reach and buy the product.
SKT Luxury: Indulge in Opulence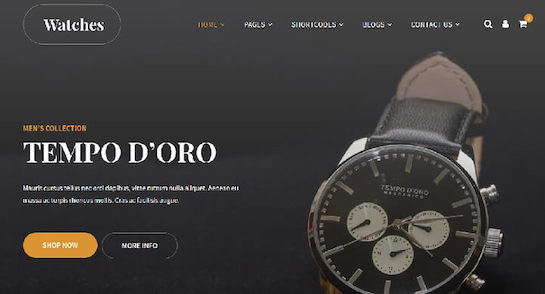 SKT Luxury is a specialized WooCommerce theme that redefines online elegance. Whether you're creating a high-end brand known for sophistication and prestige, SKT Luxury can help you look professional and stand out in the luxury product segment.
Key Features of SKT Luxury:
Sophisticated Design and Layout: Its design and layout resonate with the very essence of luxury, making it an ideal platform for brands that seek to embody extravagance in every pixel.
High-Resolution Compatibility: As well all know that luxury deserves the finest presentation. SKT Luxury ensures that your offerings are showcased flawlessly on high-resolution displays, allowing every detail to shine with unparalleled clarity and finesse.
Tailorable Options: The essence of luxury lies in its exclusivity, and SKT Luxury lets you infuse your brand's unique identity into every aspect of the theme. With tailorable options, you can align the theme seamlessly with your brand's aesthetics, creating an online presence that mirrors your commitment to luxury.
SKT Minimal: Embrace Elegance and Simplicity
This theme brings you a clean, stylish design that puts your content back and center. Whether you're an artist, a blogger, or running a business, the theme lets you showcase your work without any distractions. It blends good looks and practicality, making your website beautiful and user-friendly.
Key features of SKT Minimal:
Minimalistic Design: SKT Minimal highlights every product by eliminating distraction. Its simple design and layout make it easier to create an uncluttered website.
Responsive Layout: The theme ensures your website or blog is visible through all devices. Your potential buyers can easily look at the gallery, explore the website, and make a purchase.
Page Builder Integration: The SKT Minimal theme has a code-free page builder. You can effortlessly build a website using the WordPress WooCommerce themes free with Sample Data without prior experience.
This unique WordPress theme is tailored for practitioners, enthusiasts, and businesses in the Ayurveda and natural health industry. With its soothing design and thoughtful features, SKT Ayurveda creates an online presence or website where you can share ancient wisdom, promote well-being products, and connect with the targeted audience.
Key Features of SKT Ayurveda:
Calming Design: As you explore the theme, you will find that its color combination leaves a soothing effect on the eyes. The theme is designed to promote tranquility through its simple and sober page layouts.
Customization Options: The theme is fully customizable to match brand's identity. The theme is easy to use and hence doesn't require any professional aid. You can customize and personalize the website anytime.
Plugin Compatibility: SKT Ayurveda comes with essential plugins. These plugins are useful in adding informative content to seamless functionality.
SKT Skin Care: Radiate Beauty Inside Out
This theme is designed for skincare experts, beauty bloggers, and businesses promoting healthy skin. With its soothing design and purposeful features, SKT Skin Care provides a digital platform to share skincare tips, showcase products, and connect with a community that values self-care and radiant skin.
Key features of SKT Skin Care:
Customization Options: It lets you craft a unique online presence by aligning the theme with your brand identity.
Responsive Layout: It ensures consistent browsing experiences across devices for all users.
Contact Page: The theme comes with pre-build contact page allowing your customers to reach you online easily.
SKT Plants: Your Oasis of Nature Online
This WordPress theme is tailored for plant enthusiasts, gardeners, and businesses in botanical beauty. With its refreshing design and purposeful features, SKT Plants creates a digital haven to share your love for plants, showcase gardening expertise, and connect with fellow nature lovers.
Key Features of SKT Plants:
Plant Showcase: The theme is designed to beautifully display your plants, flowers, trees, and garden. You can personalize the website to match to showcase plants and enhance your brand's visibility.
Shop Integration: You can quickly sell plants, seeds, and gardening tools with the SKT Plants themes as it is one of the finest WordPress WooCommerce themes free with sample data.
Nature Blogging: The theme comes with a default blog page. You can share plant care tips, gardening stories, and more on the page.
Community Engagement: The theme lets you connect with fellow plant enthusiasts through social media integration.
Ele Spa Lite is one of the WordPress WooCommerce themes free with sample data designed for spa owners, wellness centers, and holistic healing practitioners. The theme offers a serene and inviting digital sanctuary. Its soothing design and purposeful features create a space to share your wellness practices, showcase treatments, and connect with a community that values self-care and balance.
Key Features of Ele Spa Lite:
Service Page: The theme comes with a default and customizable service page to showcase your offerings and services. The page saves time in creating a services page from scratch.
Creative Blogging: You can create blogs that inspire self-care and encourage viewers to take spa sessions. Blogging is a great way to narrate the many benefits of services.
Booking Integration: The theme comes with booking feature that lets the viewers or visitors book appointments for the spa. The facility of online booking helps grow a business.
Contact and Location: The theme lets you share your physical office location allowing potential customers to meet you and avail of the service.
The Ele Fashion Lite theme is designed for fashion enthusiasts, bloggers, and boutique owners. It offers a sleek and chic digital platform.
Its stylish design and feature-rich layout provide a space to showcase the latest trends, share style tips, and connect with a community that celebrates individuality and expression.
Key Features of Ele Fashion Lite:
Visual Look book: The theme lets you showcase designer outfits and ensembles in a visually appealing style. You can seamlessly display the hottest fashion trends and looks.
Customization Options: The theme has several customization options to echo your brand's identity in the online market.
Community Engagement: With this theme, connecting with the online audience is a piece of cake. It lets you connect with social media audience and direct traffic to the website.
Shop Integration: Like other WordPress WooCommerce themes, free with sample data, the Ele Fashion Lite makes creating an online store to sell goods and services easier. You can safely carry out the transaction and win the trust of customers.

Designed for plumbing professionals, contractors, and service providers, SKT Plumbing Lite offers a streamlined digital hub. You can use the theme to showcase your plumbing expertise, share maintenance tips, and connect with a community that values reliable plumbing solutions.

Key features of SKT Plumbing Lite:

Professional Design: SKT Plumbing Lite makes your business stand out. It adds a touch of professionalism and makes your services look promising and committed.
Seamless Functionality: Plumbing solutions should be as fluid as water. The SKT Plumbing Lite ensures that the website takes less load time, is easy to navigate, and has visually appealing content to showcase services.
Plugin Integration: The theme has essential plugins that make it easier to showcase your services, connect with your audience, and more. It also comes with Google Maps, which helps viewers locate your office and contact you.

Flower Shop Lite's theme offers a digital garden to showcase your passion. With its charming design and thoughtful features, this theme creates a space to exhibit floral creations, share gardening tips, and connect with a community that appreciates nature's splendor.

Key features of Flower Shop Lite:

Nature-Inspired Design: Flower Shop Lite's design captures the beauty of nature. Its charm and ambiance inspired by flowers appeals to flower enthusiasts and curious visitors.
Easy Customization: Like every flower is unique, your brand is too. Flower Shop Lite offers easy customization to match your brand's identity. This ensures a cohesive and immersive experience that showcases your floral creativity.
SEO-Friendly: Flower Shop Lite helps your creations shine globally. With built-in SEO optimization, your floral offerings are more likely to be discovered by those who value the beauty of nature.
SKT Spa Lite: Revitalize Your Online Presence
The SKT Spa Lite theme offers a serene digital space. With its calming design and thoughtful features, this theme provides a platform to showcase your spa services, share wellness insights, and connect with a community that values relaxation and self-renewal.
Key features of SKT Spa Lite:
Service Showcase: The theme lets you highlight your range of spa treatments and therapies in a visually appealing style.
Booking Integration: The theme is integrated with a booking feature that lets your customers reach and connect with you.
Community Connection: The SKT Spa Lite enables social media integration which lets you connect with like-minded people. You can use social media to attract people interested in self-care to contact you and avail of services.
SKT Cafe: Savor Online Success
The theme is specially created for café owners, food enthusiasts, and culinary artists. The SKT Cafe provides a virtual space to showcase your culinary creations. With its enticing design and thoughtful features, this theme serves as a platform where you can display your menu, share recipes, and connect with a community that appreciates the art of gastronomy.
Key features of SKT Cafe:
Menu Showcase: The theme lets you highlight your café's scrumptious offerings in an eye-catchy style.
Recipe Sharing: You can share your culinary expertise and favorite recipes with this theme that comes with a default blog page.
Reservations Integration: If you run a restaurant, allowing customers to book tables online is fantastic for growing your business. The theme lets customers make reservations online to avoid waiting outside the restaurant.
Conclusion:
The aforementioned WordPress Woocommerce themes, free with sample data, are a must to try if you want to grow your business online. The themes are mobile responsive, customizable, and have an engaging design.