Launching and setting up a personal website or blog have become so accessible and required at present, that a wide range of proposals has been formulated in relation to this.
Being one of the basic tools for website creation, WordPress themes offer innumerable options for the client to meet the goals, demands and requirements brought forward.
To this or that extent, those WordPress themes for personal websites represent a combination of flexibility, functionality, simplicity in usage and effective interface.
Apart from the qualities set above, each single theme tries to focus on certain type of activity to be covered or some categories of people, who can find the given theme suitable for their individual activity.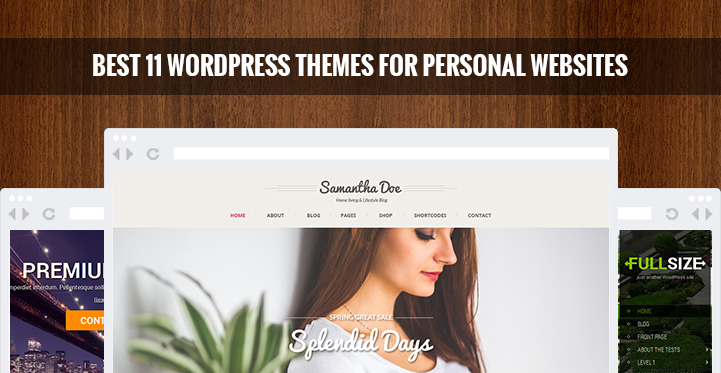 Keeping this in mind, we have to confess, that the choice of an appropriate theme for personal website becomes not an easy task to complete, and while making a selection of the best from the offered themes, each should try to find some kind of guideline for him.
We are going to present such a guideline to your attention, which for sure will be a great support to you. We have picked out best 13 WordPress themes, which can serve as a solid ground for your personal website.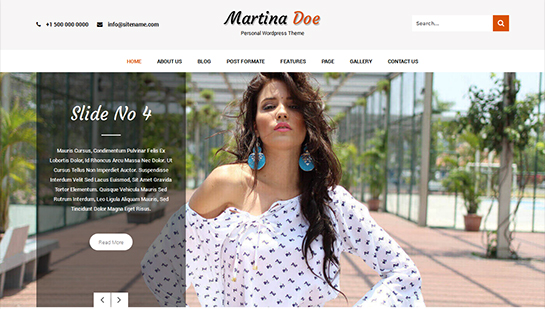 Character is the best WordPress themes for personal websites. With this template you can easily communicate with your potential customers and clients.
You can shine in the web world with this beautiful template. It will be well suitable design for every kind of single page or a personal website for any business niche.
It is included with demo content to know about latest trends. It is optimized with Gutenberg editor. Character is included with custom navigation menu, custom widgets and more.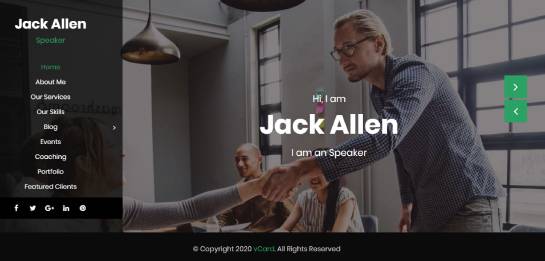 vCard is a simple but elegant WordPress themes for personal websites that looks great on every mobile device and browsers. The template is very easy to use and update. It will suit best for fashion industry, beauty, spa, and salon.
But it will not work for a large scale business because it is a type of business card that will have your own information. Because all images and videos are compatible with retina ready features you will get lots of traffic and conversion rate. vCard is coded with latest code.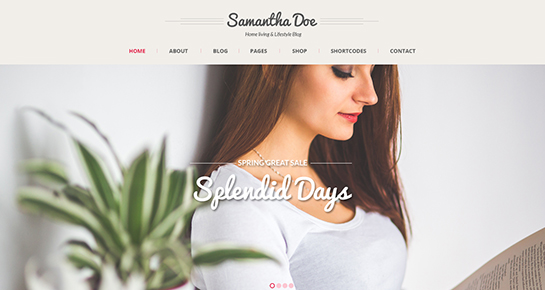 Girlie, as can be suggested by its name, is feminine-centric WordPress theme, designed for different kinds of girlie or women personal usage.
With the help of this responsive personal theme, one is able to launch her personal business, activities, like handmade products, photography, any kind of online store, etc.
This Google mobile and WooCommerce friendly personal theme comes with different sections, gallery area, default slider on the homepage, which are editable and customizable without any difficulty. Moreover, power packed theme options suggest text color, font and size changes and contact section management.
Some of its feature includes:
Google mobile friendly test passed
Team area for any members you have in your team
Compatible with latest version of WordPress
Coded with HTML5 & CSS3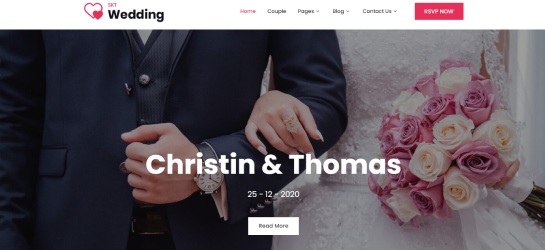 The next popular personal WordPress theme, which gains advantage over many other suchlike themes, is Nuptials.
This is visually impressive and sensitive theme, designed to highlight important moments of your life with all its elegance and radiance.
Nupitals is a perfect framework, on which on can build the online version of his or her beautiful life event, whether it be wedding, engagement or some other related event.
About us, photo album, blog sections, slider for large images can be easily filled with the appropriate information and photos.
The available pink color of the theme can be changed in order to suit your wishes and needs. Diverse font types and styles also will help you to create an emotional and bright atmosphere for the visitor.
Some of its feature includes:
Custom navigation menu
Animated Slider which also showcases content along with wide images
Events, Contact Us, and other features included to set up your wedding website easily
Family members area in About Us section so that one many explain about family members as well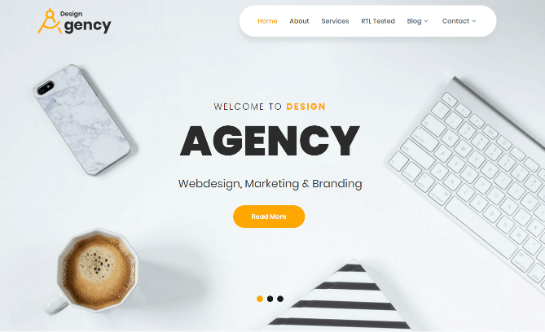 Design Agency is also among the best WordPress themes for personal websites. This responsive and Google mobile friendly WordPress themes for personal websites proves to be another useful framework for websites covering diverse personal topics and subjects, related to photography, portfolio, design activity, hand-made or other creative personal business and the like.
Design Agency multifunctional theme offers extended field of applicable features, options and sections, including services, portfolio, blog, shortcode sections to be edited and filled accordingly, e-mail, phone, font and other icons, dropdown level navigation, easy to change background, text and colors.
This personal theme shows compatibility with qTranslate X , Nextgen gallery, WooCommerce and Contact Form 7.
Some of its feature includes:
Portfolio section to showcase your work with links to details of the project
Widgetized sidebars and footer as well as header
1100+ Google fonts integrated
Blog area with changeable layouts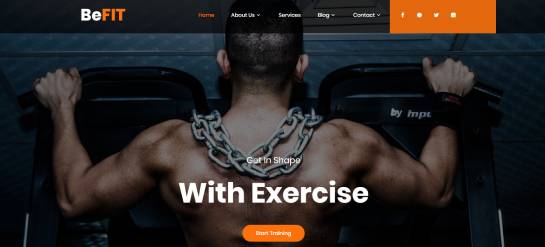 Having its visual accent on black and orange, BeFit is praised for being one of the best personal WordPress themes at present.
Functional characteristics of this free and graphically motivational theme are conditioned by all-inclusive options and tools, together with its easy to use and manage blocks on the homepage, slider with the availability of adding up to 5 images, functionality with WooCommerce, Contact Form 7, Nextgen Gallery and SEO standards.
Some of its feature includes:
SEO Friendly and SMO friendly
Integrated with 500+ Font Awesome Icons
Integrated with Google fonts (650+)
Integrated with shortcodes more than 100 in number
One more popular theme, which offers all the favorable conditions for personal website creation for gaining and maintaining a wide range of visitors, is Marvin.
This multifunctional theme can lay down the foundation of first-rate personal website, focused on any kind of topic. With its beautiful scrolling single page, profile section, available gallery plugin, skills section, pricing section, blog area and others.
Marvin can be used by photographers, designers, photo enthusiasts and many other individuals to make continual visual impact on every single visitor of the website.
Some of its feature includes:
Font colors can also be changed
vCard download option for easy contact info
Skills section to showcase skills
Pricing section to let people know your rates
Along with the rising popularity of innumerable websites, blogs, and different online platforms in general, the need of comprehensive IT or programming consultation also becomes of great importance.
IT Conslutant theme is also designed first and foremost as a convenient and functional tool for IT or networking consultants, agents, specialists to set forth their professional skills and services.
This useful WordPress theme for personal website comes with a default slider, easy to use homepage, social media integration, more than 1300+ Google fonts and more than 100 shortcodes to provide best functionality of the website.
Some of its feature includes:
Contact form with captcha and google map
Call to action with header and footer contact
Social Media Integrated for increasing social interaction
Blog section for increasing more awareness and promotional tips
As the name of this theme suggests, Resume pro is individual-centric WordPress theme, which perfectly suits for personal website creation and management.
This one page responsive theme includes homepage fancy slider, education section, blog section, gallery section, all-round skill bars, all of which are perfectly envisaged to explore the individual's strong points, performed and ongoing works, projects, provided services, etc.
Some of its feature includes:
Passes Google mobile friendly test
Fast loading theme
Looks fancy due to animated sections
SMO integrated and SEO friendly coding
The next famous and preferable WordPress theme as a framework for personal website, is Pen it. This Ebook Author WordPress theme offers the user all the necessary changes to be undertaken in order to achieve the target goals.
For sure, apart from Ebook authors, this Google mobile friendly responsive theme can be the best online tool for other authors, publishers, etc.
About author, books and shop sections can be successfully used to provide the website visitor with all the necessary information about the author, his or her books, other publications and the stores, from where one can acquire them.
Some of its feature includes:
Links to various ebook providers are shown for ease of linking
Author area for showcasing about the author
Full color changing theme set your own colors
Integrated with 600+ google fonts
In case you have set your mind to formulate a professional and solid personal website to showcase your individual business activity of a lawyer, Lawzo is for you.
This suitable theme suggests all the required sections, like about us, practice area, attorney profile, etc. to be filled with relevant information in order to make a full and comprehensive representation of the lawyer or attorney, to cover his or her professional activity, highlight the successful cases and overall experience.
This SEO friendly theme consists of a bunch of useful and applicable theme options and goes well with the latest version of WordPress.
Some of its feature includes:
About us section to showcase about lawyer
Social icons like avvo, rocketlawyer to show credibility
SEO friendly and well documented
Theme options with fonts change, color change etc.
SKT White, which is praised for its flexibility and eye-catching design, which appeal majority of the people, is also a convenient and presentable theme for personal website.
The effective slider with its available 10 images, different homepage sections and different theme options can create a strong and informative area, presenting the individual and his or her activity in details.
In contrast to other one-page themes, SKT Whites with its perfect navigation and easy management enables the user to keep his or her personal website under total supervision with very little effort.
Some of its feature includes:
Slider images upto 10
Filterable gallery set up
Retina and HD ready theme
Faster support using our support forum
Our list of best 11 WordPress themes for personal website concludes SKT Full Width. Large groups of people engaged in the pursuit of finding an appropriate framework for personal website creation, strongly recommend SKT Full Width for suchlike purposes.
Generally speaking, it's one of the most popular WordPress themes for personal websites at present, and yet many new individuals manifest interest towards this responsive and all-inclusive theme.
SKT Full Width comes with slider on the homepage with up to 15 full width images, which allows to visualize whatever is needed, widgetized footer, widgetized left menu, Gallery and Photo Album features and altogether is very easy to use and edit.
Some of its feature includes:
Responsive for all browsers and devices
50+ social icons are readily integrated
Choose among 600+ google fonts
Change color of the background as well as opacity
WordPress is a dynamic and open source platform, meaning that it's free to use which is why you may want to consider using the same as a platform for your personal blog.
There are any numbers of blogging platforms out there but none come close to WordPress and its flexibility, tools, options and the sheer diversity of themes available. This is the reason why you may want to check out WordPress themes for personal websites and see what looks good to you.
The fact that WordPress leads the rest of the pack when it comes to CMS should tell you why it is highly popular and moreover, some of the top companies from CNN to Tech Crunch have migrated to WordPress platform for this very reason.
What makes WordPress stand out from the rest is the sheer flexibility that you get with its many varied themes; and if you know coding quite well, then you can tinker with the layout and customize it to fit your preference.
But the icing on the cake is that everything is automated on WordPress, in the sense that you do not have to code in order to customize your website.
When it comes to WordPress themes for personal, there are a lot of themes to choose from and the process may seem a little overwhelming. That's why it is important that you check out these tips for choosing the perfect theme for your website.
Simplicity: The favorite WordPress themes for personal websites for web design this year seems to be simplicity; the fact remains that a simple design can be much more effective in conveying a point than a flashy graphic.
Cluttered content, flashy graphics conveys the image that you are trying hard to push information down a user's throat and that's bound to turn them away. So keep it simple and keep the focus on relevant parts.
Platform testing: Before you select a theme to use for your website, you may want to do a dry run and to be more specific, check out the platform on various browsers and see how it appears. Some of the themes appear differently on other browsers like Safari so it makes sense to test the themes before going ahead with the same for your website.
Plugins: It cannot be said enough that plugins are the bread and butter where WordPress sites are concerned; it is these plugins that make it possible for you to add and modify content on your website so whichever theme you select, make sure that it is compatible with all WordPress plugins.
Multi-lingual: Granted that the end user translation may not be perfect but still, it makes more sense to choose a theme that is compatible with multi-lingual plugins.
This would make it possible for users located elsewhere to view your web content in their local language. This may even result in greater traffic and more prospective leads.
Your personal website/ blog is one where you are going to post often and naturally, given this, you would want to add your various social media platforms to your website so as to increase your reach.