Let's cast a top – down glance at the best mobile friendly WordPress themes valid in the current marketplace of WordPress products.
Digital technologies are developing at a pace hard to keep with and the digital world adapts and widens to accommodate those technologies. And the truth is that it is also happening at an exponential rate.
In the diversity of the above – mentioned digital world and its output, responsive and mobile – compatible web design style has become one of the baselines leading to stupendous traffic coming to the target website or blog.
Increased user and visitor engagement and better leads and prospects to convert to customers later.
The philosophy of responsiveness lies in preparing your website to unexpected mobile and device accesses. It makes easy for the website to fit both content and images into a mobile or tablet solution for the same pixel – perfect look and legible texts.
Each of them can become irreplaceable for your universal and flexible website performance across different platforms and when accessed by any portable device.
With those templates you don't need to create different versions of your website specifically for desktop, tablet and mobile – users.
Instead, you give a rise to one and only responsive web profile that will be flexible enough to adapt to any suggested screen size – from small to large, and everything in between.
Mobile Friendly WordPress themes and the best ones are listed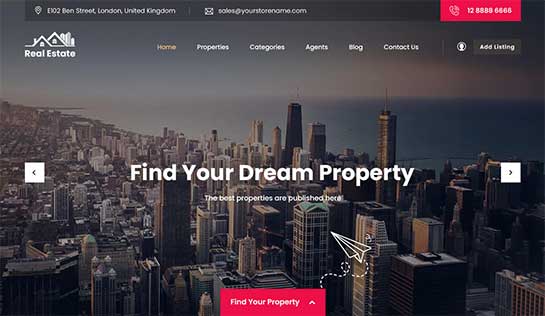 Real estate is one of the most versatile and mobile friendly WordPress themes that will be best suitable for accommodation, real estate, and hotel-related businesses. The template is so light weighted and gets loads quickly on all popular devices and browsers.
The template supports the multimedia content so that you can appeal your thoughts greatly to your online audiences.
It is also SEO-friendly in nature so that your online business will surely rank on the top of search engines. This will automatically boost ranking on Google and other top search engines.
In addition to this Real Estate is also supportive of powerful third-party and free plugins such as page builders, WooCommerce, contact form, cache plugins, security plugins, and much more.
Using these all features and powerful plugins you can build a perfect website within no time. It is even supported with Gutenberg plugin so that you can create a website with the block editor feature very seamlessly.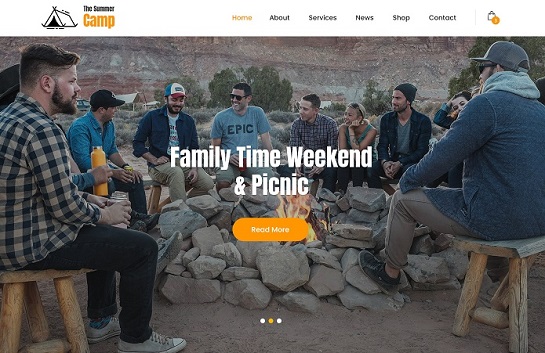 Another multipurpose template for beginners is Summer Camp. this theme helps you to create a website within few clicks. The theme is friendly with users that means they don't have to be experienced in coding for developing or designing a website as per their needs.
However, with its outstanding features, you can customize the theme template as per your imagination. The changes you made will surely look good on major browsers and devices. You even don't need to worry about operating systems.
The demo of Summer Camp is created with the Elementor Page builder but if you are compatible with other page builders such as SiteOrigin, WPBakery page builder, and more.
Also, the theme is fully supportive of the shop widgets however you can add eCommerce functionality by integrating WooCommerce plugins and multiple payment gateways for easy and effective online transactions.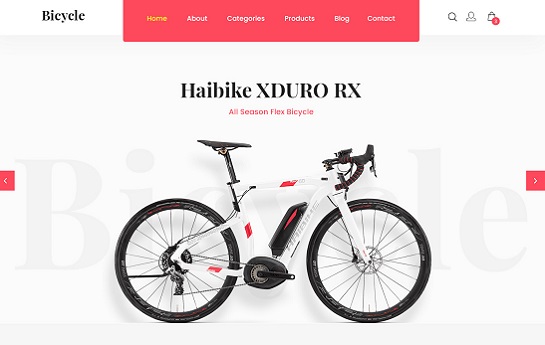 Another excellent option from the list of mobile friendly WordPress themes is Bicycle Shop. If you are a travel person then you can use this theme to start blogging and sharing your experience with the world.
It comes with a demo and different layouts for creating a unique website. It supports the drag and drops page builders so that you can create your dream website without wasting a lot of effort or time.
The template is also Gutenberg optimized to give a flawless customizing experience to your customers. the template supports video, audio, Google maps, call to action, and another type of multimedia content too so that you can provide a flawless user experience to your customers.
However, the content presented on your website will look good on every small and widescreen. Additionally, bicycle Shop is SEO Friendly and works great with major social media platforms.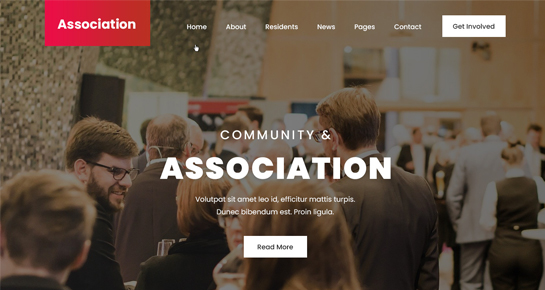 SKT Association is a powerful theme that gives your customers a flawless user experience. It is designed so neatly and carefully plus it comes with so many customization options, gallery, demo content, complete support, documentation, smooth scrolling effects, background colors, and so on.
The template comes with a user-friendly page builder so you can work with this plugin to edit the inner page even without having a piece of technical knowledge. However, you can create a website super-fast and reliable.
Along with the lot of customizing features, it offers free installations and comprehensive documentation. With the live preview customizer, you can take complete control of your overall website's appearance. you can also check what how your website looks like on the latest mobile devices and browsers.
It is totally optimized for SEO and good performance speed that will help you to draw maximum user attention to your website. The complete layout is customizable from your end. Click on the demo button to know how it works and the list of features it offers.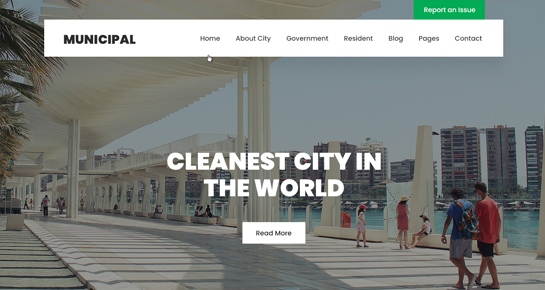 SKT Municipality is another superbly designed mobile friendly WordPress themes that are perfect for creating a website for social activity, municipality city government, nonprofit organizations, and welfare-related websites.
The template is supported with the free and premium version of most popular page builders plus the template is the best suitable latest WordPress version and other software components. The template is made 100%responsive so that it looks good on handheld devices and browsers.
In addition to this SKT Municipality is best known for user-friendly, light weighted, and fast. If you are totally a beginner then you will find that how seamless the process is to work with SKT Municipality.
With its customizer features, you can create a website for large organizations as well as for small organizations. Along with this it also showcases the graphics, of high quality and videos.
It is well optimized to offer you a website that is more flexible, and good in performance.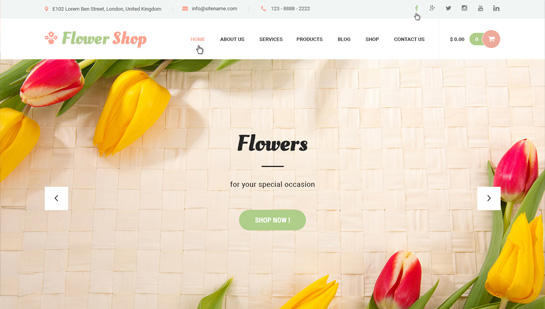 Flower Shop is a multipurpose and flexible template that supports multimedia content to divert more user attention and engage them for a longer time with your content.
The flower shop is more flexible in nature so you can add the WooCommerce plugin in just one click to start selling products online.
Even you can add an appointment plugin to start taking online appointments or reservations. However, you can say that the Flow shop is beautifully managed, sleek and modern layout for flower or photography website, blog, or a store.
Flower Shop's layouts are created by considering all the latest trends and requirements. However, to satisfy user demand it comes with different layouts for blogs and pages. For SEO and good speed, the template is already optimized.
The basic features of Flower Shop are embedded with Elementor page builder, WooCommerce, contact form, color options, Next Gen Gallery support, slider revolution, in-built Nivo slider, SEO optimized, and more.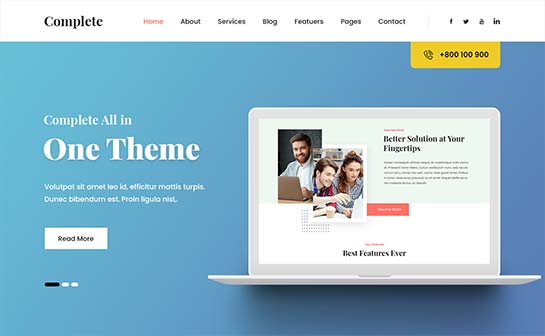 Another clean and completely responsive and flexible template is Complete Pro. This template is suitable for different eCommerce and business websites.
As the name delivers its meaning it a complete template that opens up an opportunity to create any type of website, blog, magazine, store and landing pages.
Also, the template is highly customizable. As it comes integrated with Elementor page builder you can now create a professional and good-looking website in no time.
Complete Pro is created by ensuring all SEO practices in mind. However, it will increase the chances of getting listed on top of the search engines.
You can use its demo content to start getting an online presence for your business in no time. some salient features of Complete Pro are one-click demo content importer, easy installation, page builder friendly, revolution slider, customizer option, layer slider, custom typography, and more.
Home Theatre is the most resourceful template as it can be used to create a service-based or a product-based website.
The theme can be used for a variety of business needs. However, it can be used by bloggers, beginners, or professional developers. The best thing is that the template comes with different plugins which makes a website development task easier.
Along with this, the template is very easy to customize and easy to enhances the website functionality. To customize its appearance and functionalities you can easily integrate a page builder plugin in just one click.
However, you can utilize the theme's features to create a stunning website to simple landing pages.
With parallax scrolling, you will be able to ensure that your website looks great and professional on every device and browser.
If you are looking for a responsive template to create an online store to sell hardware items then the PVC Pipes theme is for you.
The theme adapts every screen resolution and browser that means PVC Pipes is just perfect for providing a great user experience on your website.
Along with this variety of options are available that will make your website more overwhelming. to make your customization process easier, the template supports the strongest and feature-packed page builder i.e. Elementor, WPBakery, SiteOrigin, and more.
The powerful full-width slider will make your header area more alluring and attractive. The features of PVC Pipes are Slider plugin compatible, responsive material and flat design based template, WooCommerce ready, third party plugins compatible, call to action feature, quality support, custom colors, translation ready, live customizer option, and more.
CCTV Camera is one of the best responsive and mobile friendly WordPress themes that is particularly designed for making electronics items available to the customizer worldwide. The template follows all SEO and WordPress guidelines to make sure it delivers results as per your customers' requirements.
While creating CCTV Camera, all the latest HTML5 and CSS3 code is used. However, the template is totally optimized for search engines and it helps you to generate better earnings and additional traffic.
A beginner, agencies, professionals, marketers, or a business person can use this theme to create the number of websites, blog or a store for their businesses. The CCTV Camera is also a 100% responsive and mobile-friendly template that adapts all devices' screens.
It promises you to provide regular updates to make sure your website remains high-performing and visually optimized every time.
Hammer your future website into any proposed screen size and resolution with Photodock as one of the best mobile friendly WordPress themes available for now.
Image and portfolio – optimized, user and developer – friendly, this lively and well – dressed template will never leave you astray when it comes to taking your content and resizing it to fit any mobile or device screen.
From boosted conversion rates to Google – approved performance, bonuses of this responsive website builder seem to have no end.
Multi – purpose at its pure nature, Photodock is all dressed up to cover any topic or niche and provide its precision and usability in case of both desktop and mobile usages.
Next in the list comes SKT Trust as serious – looking and compact, responsive and mobile friendly layout for charity purposes, charity and fundraising campaigns and organizations, religious institutions and other relevant activities to be explored online.
Based on the modern coding and styling mixture in the form of HTML5 and CSS3, this template is never clueless of how to behave when someone tries to browse the website on his or her mobile or tablet.
Stay in the forefront of all donators and fundraisers all the time and easily promote your humanitarian and philanthropic activities. Let your voice be heard across different platforms and bring the expected results with this wonderful template.
SKT Food is ready made to generate mobile optimization of any WordPress – based website. Attractive and refined, easy to use and control, this template comes bundled with polished and precise theme sections to share your content.
About your restaurant or café, pub or tavern, bakery or coffee shop and allure the potential clients with fetching and appetizing images.
The best ones can be hosted by the homepage slider and welcome your web visitors with their unique charm as soon as they land on your website.
The responsiveness of this template as one of the mobile friendly WordPress themes does not only speak for the convenience of your mobile users, but also will let your website appear higher in search results and rankings.
Elegant and artistic, subtle and eloquent, The Art is a powerful web tool to render an experience tailored to portable devices and major browsers.
This general – purpose and wonderfully elastic website building solution is in full compliance with every single requirement of the modern WordPress ecosystem and its codex.
It means that your website is simple and lightweight for the web admin, but invulnerable distorted look and feel no matter what kind of mobile or another low –powered device is being used to scan the website.
Packed with lots of shortcodes, page and post templates, the theme is also Customizer – based, plugin compatible and translation – ready.
As recent statistics and reports witness, mobile Internet consumption has already surpassed the desktop usage. Moreover, the percentage ratio between them speaks in favor of mobile consumption.
With this in mind, responsiveness and mobile – compatibility should be a top – priority of a website of any kind or description.
SKT Medical Pro is one of the best mobile friendly WordPress themes designed and coded for medical industry and its representatives.
From clear and streamlined appearance to smooth navigation and unbeatable inner operation, this template knows how to keep your medical or another business up to date and affordable for mobile access tries.
SKT Fitness Pro will for sure win the storm of applause by your website desktop and mobile visitors equally.
This motivational and efficient, thoroughly processed and designer – made template celebrates maximum responsiveness and mobile friendliness, thus eliminating the need of creating a separate mobile version.
With this template you will have one unified performance all the time with required editions and resizes, as the case may be.
From gym and fitness industry to dance and music, corporate presentation and marketing, absolutely any kind of content will shine with its usability and sensibility when based on SKT Fitness Pro.
SKT Full Width Pro is among the best mobile friendly WordPress themes for photographers and designers, portfolio owners and other image – based performances in the digital platform.
This top – quality website builder is ready – made to deliver perfect mobile viewing experience for all the website visitors of present and even of future.
Hence, present and future – scalable, SKT Full Width Pro is easy to scroll and navigate, visually pleasing and functionally precise.
The theme has been checked for it compatibility with a set of practical slider and other plugins and shares fantastic e – commerce ready platform.