Everyone's jumping on the bandwagon of becoming a blogger. As the world is getting more connected than ever, everyone has something or the other that they need to say to the world.
Even moms around the world want to get into blogging. Moms are nothing less than superheroes. By its looks, they are into food, travel, fashion, and every other niche but sometimes need a great website to showcase their skills.
With WordPress, they can quickly kickstart their blogging career. Following is the list of themes they can use in WordPress to make their website quite appealing to the potential audience base or visitors. Here's a list of themes these superhero moms around the world can leverage:
Also, you'll find a search box on the homepage only to make it convenient for the users to search for anything they want on the website.
The themes mentioned here will cater to your needs to bring out the best of your ability to connect with your potential audience.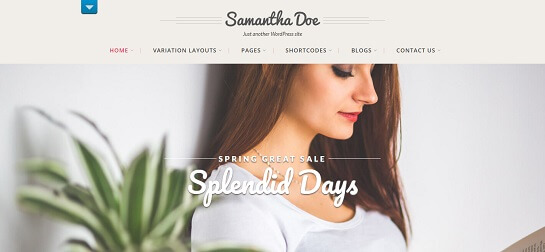 SKT Girlie Pro, is currently running on more than 285 websites. Like many WordPress themes for mom bloggers, the theme is highly responsive and specifically designed from the ground up to cater to the needs of female users worldwide.
Moreover, the theme is incredibly adaptable, flexible, business-oriented, and exponentially simple. You can use the theme to make an eCommerce website or even a business website as it serves multipurpose use.
If you're a mother who likes to be on her toes to showcase a distinctive portfolio, this theme will make me incredibly satisfied. In addition to this, you can also use the theme if you're running spas, salons, and even massage centers.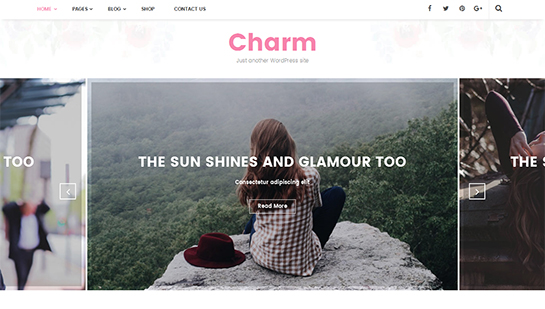 If you're looking for a theme for your website with astute minimalism, then Charm is something you should go ahead with.
From business blogs to blogs for generating revenue and even for a personal blog, Charm is the perfect WordPress theme for mom bloggers if you want your content to circulate lifestyle, fashion, recipes, and feminine, among others.
You can also use the website if you're an interior designer, home renovator, or architectural professional. If you want, you can also use the theme in the form of a journal or set up a travel blog altogether.
The name of the theme is pretty much self-explanatory. SKT Journal is perfect for moms who like to write, publish, author, or co-author pieces to share with the world. The theme is immaculate and acts at the best offering theme for writing.
Also, the theme does make the user feel fantastic. By the looks of it, when it comes to the theme for bloggers or writers, among all WordPress themes for mom bloggers, this is the obvious choice among many others on the list.
Also, irrespective of the kind of blogs you're working on, you'll get loads of options to make your website look great to everyone. Even if you're new to writing or quite an experienced person, you can leverage the theme's design to produce the best content.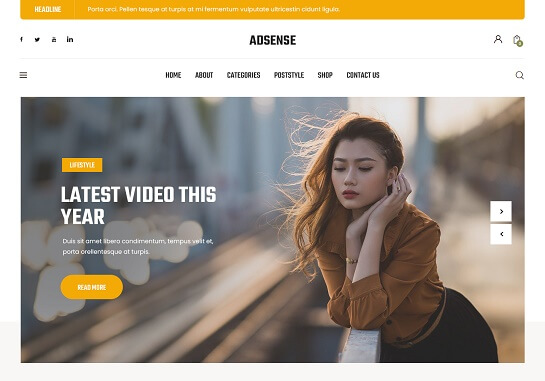 The theme was to provide users with a high CTR rate to ensure the content is pouring money back into their pockets.
Many mothers who are on the lookout for WordPress themes for mom bloggers look for ways to monetize their content. The AdSense-friendly theme comes with an ad-friendly layout keeping the professional aspect in check.
This theme also supports the popular WordPress plugin "WooCommerce." It also comes with tons of features to control ads throughout the website. You can also use Elementor or Gutenberg templates to push content to the interconnected world of the internet.
The Blog and Shop WordPress theme has been designed using CSS3 and HTML, the core programming languages in existence.
The website that you create using the template is filled with significant animated effects, and at the same time, it gives you a feeling of the contemporary era.
The template comes with advanced typography, supporting RTL/LTE languages alongside Google fonts. You can use WooCommerce and other popular plug-ins to make your website help you make money.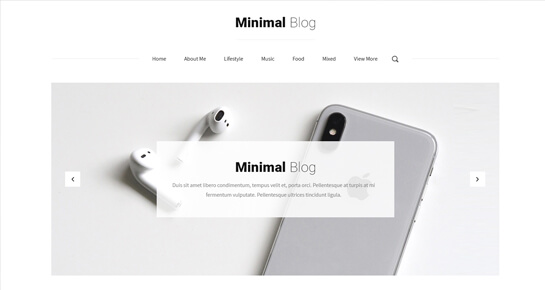 If you're looking for an ultra-responsive, clean, modern, and 100% retina-ready WordPress theme, then Minimal Blog is an excellent theme for your needs. The blog is suitable for moms running review sites or even online newspapers.
Moreover, the theme also comes with tons of essential features such as a slide show, a homepage template that looks like a magazine, and a layout spread out in two columns.
With hassle-free installation, you can leverage over 100 functionality types that add seamless contemporary functionalities.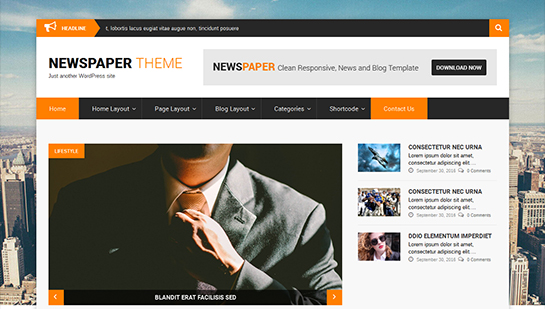 These WordPress themes for mom bloggers come with a great design function and elements targeting a particular segment that can be customized easily. The design layout is 100% responsive, and it works perfectly on all types of devices.
You can get started with the theme in just a few minutes with pre-configured styles, plug-ins, and demo content that will give you an idea about what you can explore with the theme.
Also, the theme is exponentially optimized for SEO, and this further takes care of indexing blogs and articles or news articles that you curate on an everyday basis.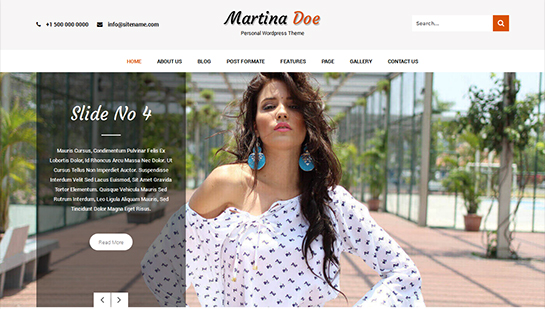 The WordPress theme is essentially a travel theme perfect for blogging, affiliate marketing, fashion, and lifestyle. As per the official website, the theme is widget and Adsense ready and is extensively used by photobloggers followed by corporate and commercial people globally.
As one of the excellent WordPress themes for mom bloggers, you can share everything from the recipe, adventures, apps, topics related to tech, and styling tips. The theme is engrossed with reliable and robust coding to appeal to the mass readers on the internet.
You can start your journey to get an online presence in just a few seconds. The mobile responsive theme is ideal for all browsers, screen sizes, and devices. With Gutenberg's support, you can install plug-ins, demo content, and leverage the genesis framework that comes with state-of-the-art online security.
If you like to spend your time on the internet, this theme will give you everything you need to put you forward on the threshold of publishing content online with a high-gloss look and great theme.
The theme is synonymous with the best web designs to get you to jump on the bandwagon of Hot Trends, Lifestyle News, Events, and Celebrity style to bring out the fashionista to the world.
Additionally, the theme is perfect for neophyte internet users and handles it entirely with ease and effectiveness. It is extremely user-friendly and comes with a free installation option.
The theme supports Google fonts with unique characters and all kinds of languages embedded into the theme from the beginning. If you are already running a successful social media journey, you can redirect your social media handles from the website and vice versa to reach out to the audience better.
Many mothers are getting into astrology and tarot reading to build a distinctive clientele base. Even if your clients don't use a laptop, you can still use this site as it comes with mobile support alongside laptops and tablets. The theme is coded, keeping the SEO aspect of getting organic traffic in check.