Typical WordPress Themes for hobby and professional blogging websites
The parallel progress of global digital networking system and technological products has an expected tremendous influence on all the aspects of the current life, somehow even forcing us to have a serious presentation in the online environment. And as WordPress software platform with its truly dependable look and feel offers a stunning selection of website creation themes in diverse categories, which have been thoroughly worked – out by relevant experts in the way to be easily accessible and exercisable for everyone, as a result, getting the effect he is striving for, creating and developing a hobby or professional blogs and websites has long become totally accessible and affordable for large groups of audience.
With a few simple clicks, every single user will be able to transform any template into the product to fix all his needs to the most possible extent. Keeping this in mind, in this article, we are going to focus your attention on some of the dynamic and typical WordPress themes for all those individuals and company representatives, who anticipate all the success and popularity which their online profile may lead to within the shortest period of time.
1. Character: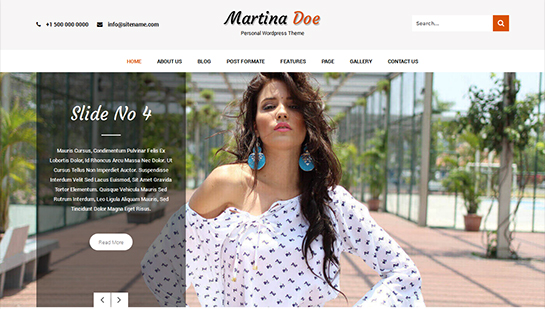 Character with its dynamic and interactively stylized interface, conveniently arranged typical WordPress theme sections and areas can be a perfect selection for pro – bloggers or enthusiasts, who have perspective objectives in relation to running a powerful and multimedia content – rich blogs. The whole process of making daily posts and keeping the blog always interesting, highly informative and visually eye – catching will not be a boring task at all, since the admin panel has been implemented to be totally user and developer – friendly. With this multipurpose and multiconcept template optimized mobile version of the blogging website will also be available for thousands of mobile and device visitors.
2. I Am One Pro: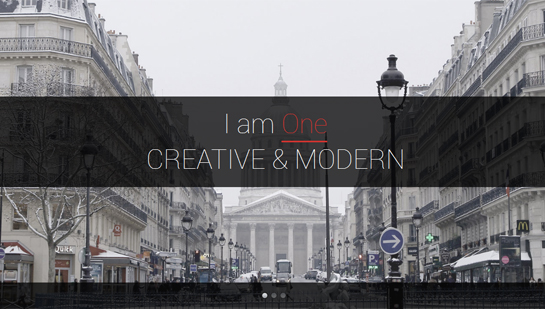 The next seriously though – out and stylishly crafted one of the typical WordPress themes for all the novice or experienced bloggers is I Am One Pro to cater to any relevant multimedia content. This highly integrative and adaptable, truly dynamic and practical, aesthetically polished and pliable, smoothly navigable and easy to access template armed with expressively elegant and modern external touches and shades, as well as featuring handy package of user – optimized tools and features is a tried-and-true way leading to online success and lots of people's conversion into your permanent readers.
3. The Trip:

The Trip is considered to be an excellent blogging platform with its trendy and alluring, beautiful and stylish appurtenance combined with truly flexible and smartly intuitive framework to be a resilient instrument at the user's hand. Established on stable and strong Customizer, this WordPress related, translation – ready and WooCommerce compatible, fast loading and theme color changing template is specifically convenient for running a blog with high – quality and credible content about traveling, tourism, hotels and other relevant topics.
4. Me: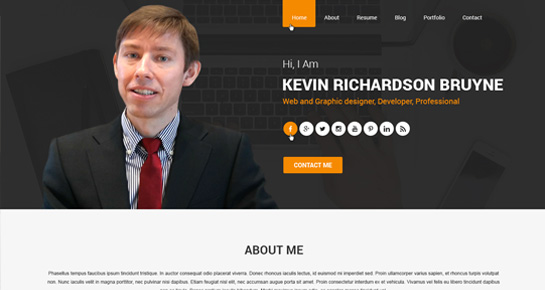 Me is especially comfortable for all those bloggers, who appreciate precision and neat structure of their digital profiles to embrace interactive and interesting blog – based content in the most professional way. The specialists and designers working on this one page typical WordPress themes have taken every care to meet all the target standards and requirements, so that it can be well – optimized for a number of practical usages, be it a mobile or device usage, or well functionality with the majority of modern and useful plugins for better functionality and website commercialization, as well as any other necessary utilization.
5. SKT Magazine Pro: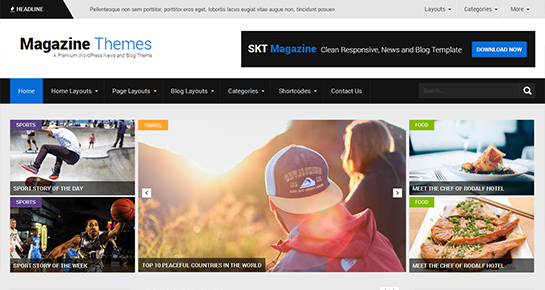 Technologically advanced and totally innovative, ambitious and thriving, SKT Magazine Pro is one more out of the typical WordPress themes for hobby or expert bloggers and blog representatives, with the professional assistance of which forming success and strong communication ties with your target audience will become a habit. This interactive and functionally feature – rich, intuitively stylized and readily responsive blogging layout can be used for an ultimate number of purposes, be it personal, corporate, business, commercial or whatever it is.
6. Nature One Pro: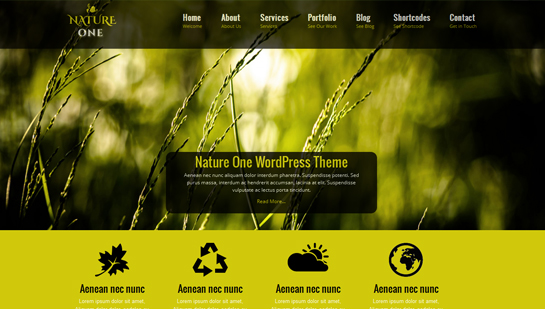 Nature One Pro balances between fresh and bright design colors, fresh – faced and awe – inspiring appearance, super functionality and excellent performance mixed with an intuitive platform for bloggers and blogging website owners even in their initial or experimental stages in the online environment, as well as for the people at large to satisfy all the aesthetic and operational needs any blog readers and subscribers may have. This awesome and strongly packed typical WordPress theme has been tested with all the major smartphones and tablets for its impeccable visualization and adaptation to the target screen dimension, as well as for its search engine optimization to publicize any evolving blog existence.
7. Panaroma Pro:

Panaroma Pro is really comprehensive and flexible as a whole on the one hand, and as a unity of diverse integral parts, on the other. Being precise and complete in every single part and portion, this minutely crafted and seriously designed, well – supported and well –developed, responsive and strongly coded WordPress – powered blogging tool will grant every blog owner with unlimited possibilities to make the most of his online initiative, when empowering the interactive content with the most effective visualization and personalization. All the customization and optimization procedures are exemplified, so that you'll have incomparable freedom in distributing your posts and let them be inspiring for your readers and subscribers.
8. Fitt:

If there is a clear intention to create a fitness, gym, yoga, personal trainer or online coach, diet and nutrition or weight loss blog and transforming it into something exciting and motivational, look no further than Fitt. The advantages of this template over many others are endless, however, one of the most striking points, making Fitt so outstanding is its incredibly webmaster and blogger – optimized nature, allowing them to execute all their blogging ideas outside of the borders of traditional blogging strategies. Since SEO and SMO – friendliness is guaranteed with this responsive and highly versatile theme, all your efforts will lead to optimized results in search engine rankings.