The brightest collection of summer camp WordPress themes is shared in this article for summer camps and outdoor activities, tours and travel agencies, hotel and hostel, vacation and venue websites and blogs, etc.
Mapping your lively and dynamic summer camp or travel business can be highly challenging, but so is also its online version to bring all your potential clients and customers closer to your business.
In the diversity of proposed summer camp WordPress themes in the relevant online library of templates, it can be really bewildering to leverage each of them and understand whether this or that theme is worth purchasing.
Therefore, we have surfed the Internet for the best and reliable snorkeling WordPress themes so that you don't need to waste your time on the long quests.
Running a fruitful and client centric website is totally possible with any of those summer camp WordPress themes which are all well laid out and designer made to be visually and functionally excellent.
Hence, whether you are going to share your profile catering to summer camp activities, facilities, destinations and more or showcase your tour agency services, adventurous tours and venues, vacation rentals, etc, those templates can be just perfect for your needs.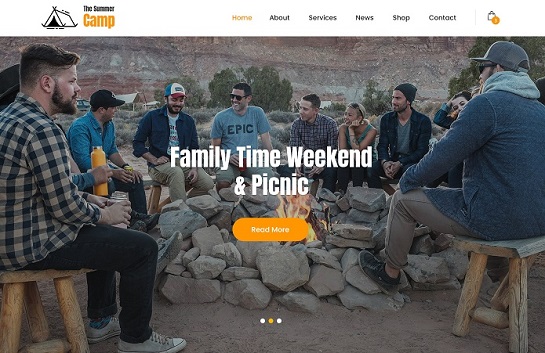 Summer Camp theme by SKT Themes has a friendly and clean style. This template Would be the best selection for building websites for outdoor activities, summer camps, and other camp services.
You will be able to enjoy various content and layouts sections if you add content regularly to this theme. You can make your blog active by adding relevant content that engages your visitors.
Summer Camping theme does have a variety of colors and thankfully those colors can be customized easily with a live customizer.
Along with the color, you can also tweak into the layouts, custom fonts, logo, and more. The Summer Camping theme is all about summer camp and fun tours.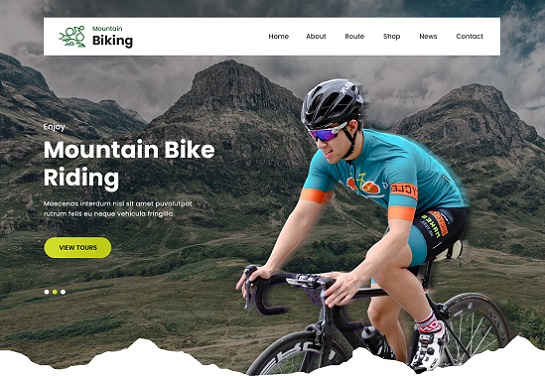 You can use the Mountain biking theme to create a website for your outdoor activities center. You will have a better user experience while using this theme as it offers the easiest way to advertise your offers and discounts related to your organization.
You give the easiest access to your menus you can add it on top of the header and footer section. You can also make the header or menu section sticky. However, the theme is suitable with mega menus and 5 level drop-down menus.
You can make your website multilingual by just adding the WPML translation plugin to your website. By the day the theme is multilingual ready as well as translation ready.
SKT Extreme is a gorgeous summer camp WordPress themes for the latest camping and other outdoor activities organization. You can update your visitors with new events details also the theme allows your visitors to schedule an appointment as per their availability.
One of the best features of SKT Extreme is its WooCommerce compatibility that means in just one click you can convert your service-based website into an eCommerce store. Also, the theme permits you to start an online transaction by integrating suitable payment gateways.
The good news is that you can sell both digital and physical products sales are possible. The SKT Extreme theme features a lot of transitions so that you can make your website appear and feel unique.
Also, there are great sets of colors and fonts that can be used to make a simple but creative camping website.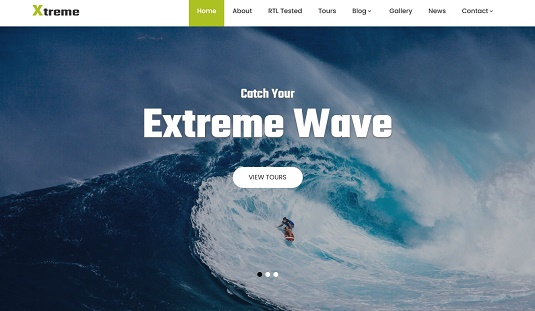 Icons are the most important aspect in design that makes your website appear totally different as compared to others. You can add icons in the website created with GB Extreme, related to the camps on the site. Also, some different fonts are supported including mega menus, shortcodes, etc.
Besides the basic features of customization, the GB Extreme theme comes with some amazing tools. However, the theme is based on Gutenberg blocks so that one can establish a website easily.
You will find that an online appointment manager has been integrated so that your visitor can schedule a tour as per their availabilities.
Also, there are some registration and contact forms, plenty of page sections, premade pages, etc. The GB Extreme theme is more suitable for camping facilities, kid's activity centers, summer camps, and outdoor activities centers.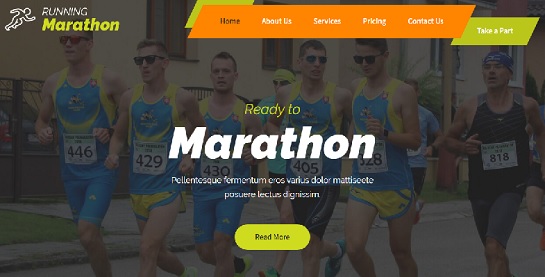 SKT Marathon is one of the thriving and future scalable outdoor activities, golf and cricket club, leisure and summer camp WordPress themes ready to go with any of such niche specific businesses and not only.
Visually clean and colorful, technically savvy and well secured, SKT Marathon comes armed with tons of useful elements and features to get access to a large assemblage of fonts, colors, graphics, templates, layouts, widget friendly areas, shortcodes and more.
SEO and SMO friendliness of the theme is carefully done to generate new leads, prospects, as well as new streams of clients and customers coming from search engine results and social media platforms.
SKT Marathon offers seamless flexibility and sophistication of this template make it possible for you to add any required functionality via plugins and extensions to make your profile more productive and results-driven.
From commercial activities and online bookings to translated content and categorized gallery area, everything is achievable.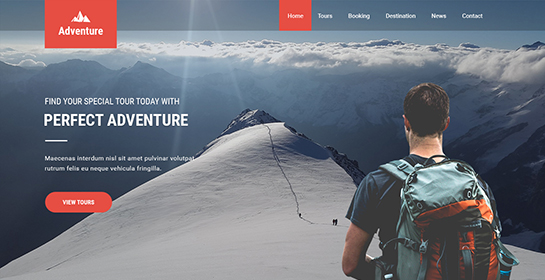 Adventure is the next bright and intelligent, effortlessly resilient and well coded template convenient for covering a variety of topics, from kid and child related websites to leisure and traveling.
Hence, this website builder is perfect for summer camps websites and directories enabling their users to search for, find and book the best offers for their schoolchildren and kids. Web summer camps, adventurous tours and traveling packages can also be fantastically hosted by this theme's sections and areas.
Homepage slider is the best deployment for large scaled images with the relevant transition, pause time and other controls possible. Moreover, these images and not only will for sure keep their stunning look when viewed by different browsers and devices, gadgets and mobiles.
Hotel Booking is the next useful and revenue generating tool for summer camps and programs, hotels and hostels, apartments and destinations, beaches and resorts to increase their enrollment statistics and rates.
When it comes to advertising your summer camp services and destinations, there are boundless tools and management options at your fingertips Hotel Booking shares.
Whether you are running a public or private, religious or non-profit summer camp, keeping contact with your audience is of primary importance to keep things going in the right direction.
Therefore, Hotel Booking plugin is suitable. The theme comes with very suitable content sections and areas, contact form available, footer and header variables which are widget friendly, as well as sidebar areas to establish an easy to follow path for your web user's online journey.
Charm is a multifunctional and deeply versatile, deliberate and robust website and blog establishment framework ready to go well with absolutely any kind of profile and topic.
Your relevant summer camp blog or website should be attractive and informative all year round with news, press releases, events, programs, packages, services and more.
Thanks to its stable coding and secure layout, Charm is highly competent when it comes to granting you with a hassle free working platform 365 days a year.
It means you can use all your creative ideas and fantasies to change the look and feel of your website, modify its typography and color palette, add ecommerce activities to it and more.
SEO friendliness, as well as cross mobile and browser compatibility of Charm can never be underestimated when it comes to bringing more and more clients to your posts and pages.
Play School is one of the kid and child centric summer camp WordPress themes that can joyfully host your niche specific website and keep it stunningly beautiful and up to date all the time.
This cheerful and user centric, visually engaging, flexible and scalable theme is professionally designed and polished to serve your content in a nice fashion with right color matches and font choices for the legible typography, etc.
Nice looking homepage slider can also contribute to the presentation of your business with high quality images. Apart from the default slider, you can also try other compatible slider and select the best one matching your expectations.
Multiple page and blog layouts, pre enabled shortcodes for blog and more are also given within Play School to make your workload much lighter.
SKT Beach is the last elegant and modern looking, visually captivating and retina ready ecosystem among summer camp WordPress themes you are advised to give a try.
Preloaded color and font choices, shortcodes which are quick in performance, customizer controls for constant changes and instant previews are all part of SKT Beach.
There are also widget friendly layout choices for sidebar, footer and header areas, header choices for inner pages, as well as it is suitable with free translation plugins, to publish your web content in different target languages.
SKT Beach will also perform awesome with a wealth of practical plugins, from SEO to commercial ones.
Running a summer camp must seem easy to many but then again, so was climbing mount Everest; running a summer camp, organizing activates for the kids to last the whole summer, organizing the camp from scratch is hard but what may seem harder is to get it all online.
Given the intense competition that seems to have become more ubiquitous of late, summer camp directors often have to do a lot more than print the odd flier.
And that's why you need to setup an online website on WordPress so that you can target your key demographic and make sure that the message gets through on time. Just check out some of our summer camp WordPress themes and you will see that they have all been designed especially for summer camps.
Some of these themes are multi-purpose but the summer camp WordPress themes should suit you perfectly and help to bring out the dynamism of your camp alive.
Once you have selected your theme, you can then move on to setting the website up and start marketing the same. But before you do that, you may want to take a closer look at some of tips posted below as it can help you market your camp better.
Add videos to your website: It makes more sense as recent studies have highlighted the fact that videos are much more effective than images which in turn are more effective than textual content.
So make sure that your website has high-resolution images and videos of your camp as it can help other parents get a good idea of what to expect with this summer camp.
Personalize the experience: It is not that big a deal to personalize a video or a message; so if you are planning to market your website, to a certain group of parents, you may want to include a personalized video in the message as that makes for an emotive appeal that they would respond to.
Provide adequate information: Granted that minimalism is the new black but summer camp websites happen to be the exception in the sense most parents expect the website to feature all the information right on the front page.
You may want to avoid doing that, while no one is telling you to stick with the minimalist UI design, you may still want to restrict the amount of content you put on the front page and instead retain it for the other pages.
Gallery: You can use your gallery to list out all the activities available at camp and even get other to sign up for the same in advance.
These are some of the points that you need to keep in mind when building your website and marketing the same, later on. Parents will appreciate comprehensive information regarding the various activities and even about the menu, so make sure that your website lists the same.
With these themes to choose from, you should be able to reach out to more parents and make a favorable impact as well.