Your Renovation company can win a lot of new projects with the help of a powerful website. Visitors who view your website will know everything about your company's mission, vision, and completed projects.
A website for a construction company needs to be video and image friendly, as you may want to upload videos of construction work done by your team. Images will highlight the success that you achieved for your clients.
It can be considered a visual portfolio, and if someone is impressed by your past projects, they may even call you to discuss a new construction contract. You can simply use a website to describe your skills and unique selling proposition if you are new.
Before building a website, you should decide which CMS you will be choosing. WordPress is the most powerful CMS worldwide, and nothing beats it regarding SEO, designing, content creation, and plugins. However, you need a good theme to build a website for your construction business, and not every theme is meant for your business.
Here are some of the best renovation company WordPress themes you can choose for your business's website.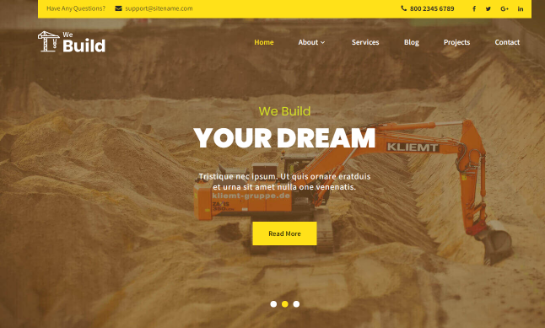 This theme gives the feeling that your construction company can turn any idea into a physical reality. Clients looking for more ambitious projects will be attracted to your business if you use it.
The theme is based on Gutenberg; without any technical knowledge, you can create a killer website for your construction business. Gutenberg has now changed the way of designing websites.
Instead of building websites with custom codes, you can design them with an easier drag-and-drop method. You can even change the default style option, making this theme your own.
If you have a better idea of how to gain the attention of website visitors, you can try it out by customizing this theme. The need of construction-based ventures was first considered while building this theme. It is considered one of the greatest renovation company WordPress themes.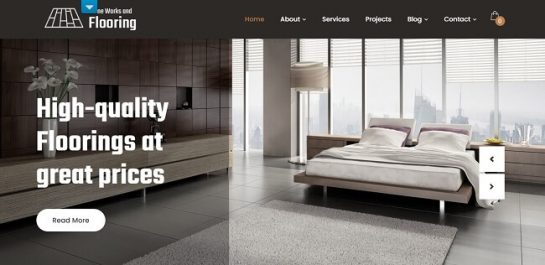 If someone needs flooring services, after asking their friends or family for any professional contacts, the next thing they will do is look on the web for companies that provide such services. Your flooring company needs to be on the search result.
However, first you need a professional looking website that can represent your flooring business. This theme has business plugins, responsive design, and an amazing display style.
That is why it will be perfect for your flooring business, other than that it can also be used by construction or interior designing companies.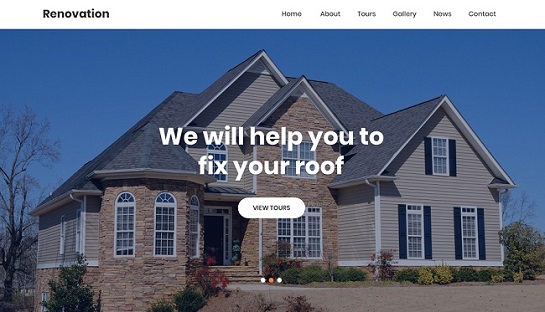 Human beings have the capacity to make any place their home. However, a house can get some problems which is why it may need renovation. This theme is for businesses that provide services like renovation. The line of business does not matter, people prefer a human touch.
This theme allows you to display your renovation team on the site. This way, people will know the experts who will be working in their home. While this theme was designed with simplicity in mind, you can always customize it if you have something else in mind for your business.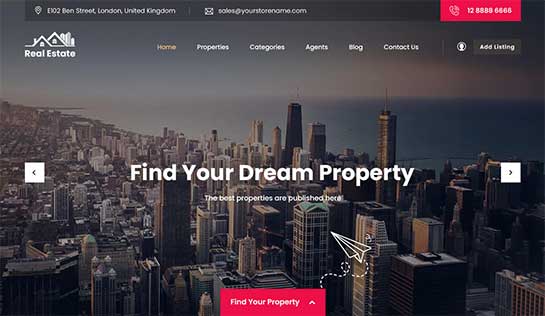 Real Estate is a growing industry and there is no better place to list properties than on the web. However, you need a website that can handle a lot of visitors and a theme that makes the user experience smooth.
With the help of the Real Estate theme you can create a website that lists properties. One of the most powerful feature in this theme is that it provides users with the option to apply filters while searching for a property.
If your construction company also wishes to list properties for rent or purchase, you can use this theme. This is one of the rare state of the art theme made specially for the real estate business. That is why it should be considered as one of the best renovation company WordPress themes.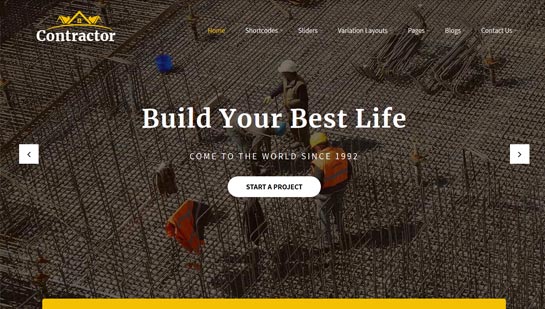 This is one of the themes which was made for the construction industry. If you have a business that takes up contracts for construction, then this theme will represent your business online.
You can feature the projects that you are proud of on your website. This way visitors will view your most impressive projects first, and then make their mind about your business.
It is important to create a resource on your website, so that your website will have a good amount of backlinks. You can do that as this website comes with a blog posts sidebar. You can show your expertise by publishing case studies that matter in your industry.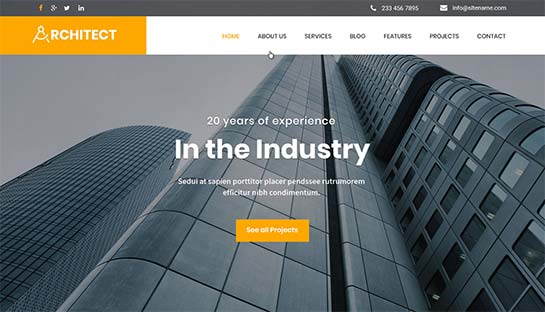 SKT Architect Pro is a modern looking theme which is perfect for architects that have a vision for their studio. It is video friendly and quite easy to build with the help of elementor. When someone views your business, they may have questions on how they can get started.
That is why this theme comes with an FAQs section. Answer the questions of your clients, so that they have an idea about your studio before the discovery call.
You can add many plugins to make your site more powerful. Now you can take bookings online, get newsletter subscriptions, and sell products online too.
If you run an interior design business, your website needs to be as attractive as your professional work. This theme comes with a dark black background, so that your projects can be highlighted. It is image friendly, you can add your projects and write about them in detail.
Your potential clients will know about your experience in the industry. In Architecture, personal branding can go a long way, this theme allows you to highlight the members of your interior design studio.
If a prospect knows the architect in your company, they will trust your brand. One of the best thing about this theme is that it is optimized for speed. This gives it an edge over the other renovation company WordPress themes.
This theme really helps you display your leadership in the construction industry. You can display your services with appropriate images and videos. Other than that, an entire section is dedicated to highlighting your unique selling proposition.
In the construction industry, multiple award ceremonies take place, if your company has been recognized you can display that recognition because of the theme. If you are not completely satisfied with the structure, you can customize it to meet your needs and even add shortcodes.
Painters have the power of making your home as you wish it to be. If you have a company that provides house painting services, this theme will be perfect for you. This theme is specially designed for companies that provide interior designing services.
You get a lot of amazing animated effects because this theme is made with HTML and CSS3. How will you attract customers if your website is not visually appealing? That is why this theme is as appealing as you wish to make your client's house.
If you wish to provide your PVC Pipes company an online presence, this theme is for you. Nearly everyone you know utilizes plumbing services, but a lot of people are looking for services like this on the internet.
That is why it is important to have a responsive website which is optimized for speed. One of the standout features of this theme is that you can take bookings online.
It has an interesting footer option, where you can add forms, email option, and calling option. You can display the testimonials of your customers which provides visitors with a sense of confidence.
The WooCommerce plugin allows you to sell plumbing related products online, so that when your professionals arrive the customer already has the needed equipment.
This is one of the most premium engineering related WordPress themes available. You can highlight your entire work process, which notifies your potential customers on how you approach a project.
If visitors are impressed, they maybe they will be converted into customers. You will be able to highlight areas where your organization has expertise. Give your potential clients, reason to choose you as their construction partner.
This theme provides you a lot of space to sell yourself, you can say that it is sales oriented. Highlight the team that is actually doing the work out in the field.
This humanizes your brand and can work as a good technique in the long term. It creates a connection between the employees and the company.
This is a lightweight theme, which provides the opportunity to highlight the content. It is image friendly, which means that you can upload the best projects that your company has ever done.
With that, you will also be able to add customer testimonials and your customer base highlighted on the global map. If your construction company has happy customers, this theme helps you highlight that.
It helps you make a power move by using positive feedback as leverage to win trust. That is why it can be considered as one of the best renovation company WordPress themes out there!
This is a theme which was designed for companies that build houses. The microniche of this theme is for builders that build cottages. However, you can customize it according to your niche.
It has a rustic feeling about it which is what someone would want in a website if they want to build a cottage for the holidays.
The whole layout of the website is simple, you can see the houses that were designed by the company, project images, and in the footer you have a form where customers can fill their details. Your team can reach out to the potential customers and provide a pricing quote according to the project demands.
This theme is useful for stone and tile manufacturers as well as companies that deal in the industry. You can add images of structures that can be built with stones and tiles. This theme is filled with sections where you can add attractive imagery.
Visuals impress people and it can make them want to stay on your site. This theme is based on the concept of building modern homes with high quality stones and tiles. With the help of WooCommerce, companies can even sell products like tiles and stones online.
If you provide a wallpaper service, this theme is perfect to promote your brand. You can highlight your expertise, because a whole section is dedicated to that. With that, you get animated elements which help describe your business.
You can highlight how easy it is to get your service. This makes the transition process easy for your customers. If you have happy customers, you can display their testimonials and boost confidence of the visitors in your brand.
If your company or you alone provide services like plumbing, carpentry, or repairing services. SKT Handyman Pro is the ultimate theme that can be of use to you. It allows you to feature your services, team members, customer feedback, and your unique selling proposition.
It allows you to target a lot of customers globally as it is multilingual, which means that your users can choose the language in which they view your website. This enables you to build a global brand.
This theme is focused on sales, as the main header includes a call to action. It also includes an image with which you can communicate what your company does. It can be used by construction companies, repairing companies, architecture firms, etc.
You can enable plugins that can keep your site secure while also offering products online. If you have had the good luck of serving famous companies, you can highlight them with this theme. While this theme is extremely powerful on it's own, you can also use codes to customize it further.
You can focus on running your business and serving your clients, let this theme make it easy for you to design a website. Not everyone is a technical wiz, that is why this theme has a high demand.