A search based assemblage of Reiki WordPress themes for Reiki practitioners and specialists, relevant service providers and alternative medical centers, Reiki training and healing therapies, as well as any other medical and doctor based websites and blogs.
Reiki is one of the popular branches of the modern alternative medicine that fosters the idea of using life force energy.
The combination of self-energy and the vital power of the organism with the ever going energy of the Universe is the basic principle of Reiki.
Basically, Reiki does not oppose itself to medicine and does not replace the latter, but complements it.
The specialists believe that if you treat a person according to the laws of this energy, you can heal not only the human body, but the soul.
With its help, you can also extend the period of use of shoes, clothes, knives, razors, household appliances, watches, etc.
In this article, we have done our best to collect the most practical Reiki WordPress themes for covering any kind of Reiki related website.
Whether you are going to propagate your Reiki center and its services, run a personal blog revealing dozens of advantages of this form of energy based healing, each of the Reiki WordPress themes you will find in this article can be an indispensable tool at your disposal.
Each of those Reiki WordPress themes is custom built to deliver more clients and patients thanks to its user centric layout and controls simplifying the web user's journey on your website.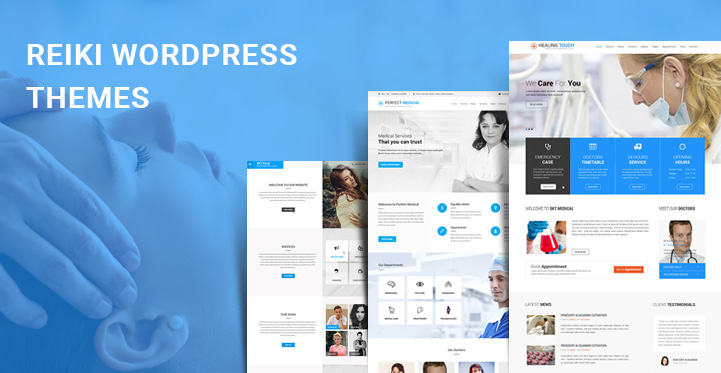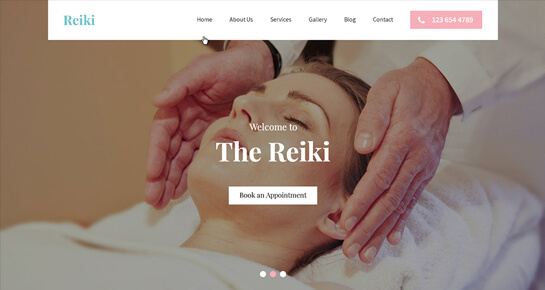 Reiki Pro is the next clear cut and visually legible, functionally and technically savvy template catering to the modern medical world and all its demonstrations.
Spread your best words and images via the given platform and make them easy to find through your homepage, posts and pages.
The homepage full width slider will take the role of the hostess of your site while greeting your patients with awe inspiring images and photos.
You have also about us and services sections to showcase your business profile and services you offer, from pain and injury management to emotional processing, from stress and energy management to natural pain relief therapies, etc.
This template also delivers the best responsive and mobile compatible touches, as well as translation ready layout and SMO/SEO integration.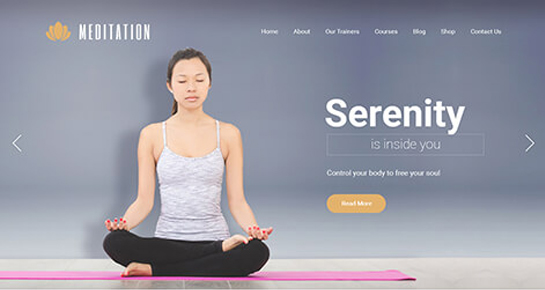 Meditation Pro is also among the best Reiki WordPress themes that looks serious and functions hassle free across different platforms and browsers.
Promote your Reiki healing practice on all levels through Meditation Pro and use the prebuilt sections to insert all your services and treatment sessions, run a blog with useful posts about the advantages of this non invasive energy healing method and more.
Tons of gallery and album management variations are given with Meditation Pro especially when supported by the relevant gallery and portfolio plugins. Font and color choices are also at your leisure to take care of the serviceable and caring look of your medical profile.
Well equipped from top to bottom, Meditation Pro shares so attractive dual screen and includes PO file making your site ready for translation processes.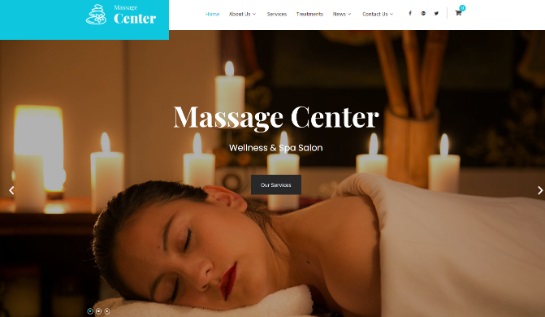 Massage Center is the most popular reiki WordPress themes as it is lightweight, and faster that suits every fitness business niches.
This template has included dozens of features like 1 click demo content importer, 1-year support, free updates, free installation, unlimited customization options and so on that will help you to set up a website for your fitness niche very quickly and effectively.
It gives you access to the page builder plugin to customize the website freely. Massage Center is created in such a way that your audiences will be able to find the right information while navigating your website. You can add details on sessions, reiki classes, pricing plans, etc.
Thus Massage Center is all in one solution for various fitness-related business niches. The template goes perfectly with gym, sports, yoga, reiki, spa, meditation, and other fitness industries.
Ele Yoga is all set to reach your maximum audiences. Ele Yoga is not only HD ready but also it is completely responsive, multilingual, RTL ready, retina ready and among others.
No matter which type of native visitor is viewing your website, does not matter which type of device they are using, does not matter if your visitors are technical experts or not, they will be able to view and understand your website very easily.
Your visitors will be able to get advice on fitness, they can register for online classes, they can view opening and closing timing, pricing plans, and can signup the contact form without any barrier.
It comes in handy with an important area i.e. call to action that can be used to invite your audiences to book an appointment. This template is the perfect way to deal with your customers and building trust among them.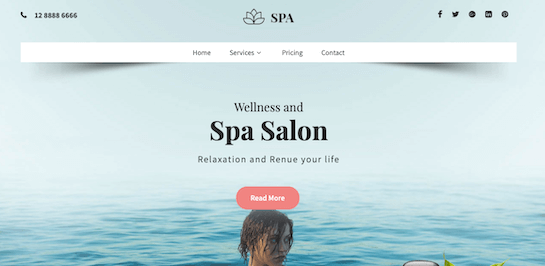 The next reiki WordPress themes on our list is Ele Spa. It has perfect spa website layouts including services, portfolio, blog, shop, and contact page.
It comes in handy with the page builder that makes your website look responsive and every small and large device. It has whitespaces that appear very appealing and easy to understand. This template is very easy to customize.
Smooth parallax effects and beautiful inner pages make your website more attractive that will easily grab maximum user's attention. You can add a newsletter subscription and start creating the list of targeted audiences.
Very easily you will be able to notify them about your new sessions, new stock, new treatments, and in the free time you can also start blogging.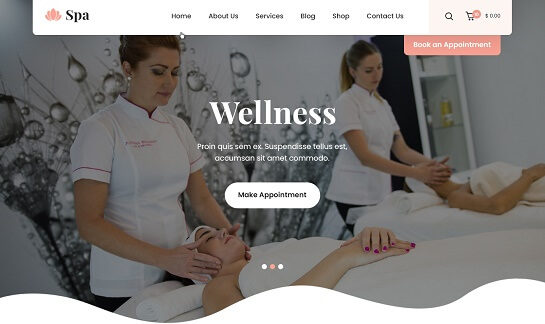 SKT Spa can be used for wellness and fitness websites including health, yoga, beauty, meditation, fitness studio, skin treatment, etc. This template has a very elegant design with the most attractive animations effects.
You can feel animations while scrolling the pages. Different pages are available that can be customized for showcasing information such as timetables, pricing plans, trainers, treatments, etc.
The template is already integrated with social media to stay connected with your social media connections and target them to experience your service or spa products. SKT Spa comes with some readymade content that will give you an overview that how your web pages will appear on search engines.
The basic and advanced features are included with this template such as retina ready display, documentation, free support, updates, access to the most popular and useful plugins, etc.
SKT Gym Pro is a creative and overwhelming responsive reiki WordPress themes. It is created for such people who are willing to start an online business without website building experience.
The theme comes with outstanding features such as drag and drops page builder, layer and master slider plugin compatible feature, demo content, free installation, and so on. with demo content you can get your online business started off right away.
This template is more suitable for fitness magazines, fitness centers, gyms studio, fitness bloggers, fitness stores, and so on. It has almost every required feature to showcase magnificent visual content to target wider audiences.
You can add testimonial blogs to take your customer's reviews and start building trust in your brand. You can display rates on your different services and products.
SKT Herbal Pro is a fitness estore reiki WordPress themes that can be used to make fitness items available to people widely. The template comes with the demo and some inbuilt functionality that make your website creation work easier.
A different section is created for products that can be used to list different natural herbal products such as gravida convallis, sapien purus, molestie lacus, and so on.
It features a one-click content importer option to launch a website just like a demo very quickly. It has created SEO optimization in mind so that your website should rank on search engines and boost traffic in a short period of time.
To clear misconceptions on your business niches you can create an FAQ section. Also, you can use blog sections for listing recent blogs, contact page for adding contact information, Google calendar for advance booking, and so on.
It does not matter which device your customers are preferring. Your website content will be viewable easily on various devices and browsers.
If you are planning to launch a health and fitness store then SKT Nutristore is the perfect option for you all. This theme perfectly works with the WooCommerce plugin so that you can establish an online store for fitness and nutrition easily.
The theme comes with some enhanced features such as unlimited product details layout, responsive design, stylish blog, user friendly, portfolio layout, and so on.
It gives you access to inner pages and gives you full control of its layouts. You can start customizing its inner pages as per your requirements with any other page builder option. It has smooth hovering effects, retina-ready images, and appear good on every small and large device.
The homepage can be included with the service section, details on your staff, videos of nutritious products, photo galleries, and so on. The main features of SKT Nutristore are unlimited domains/websites, responsive design, white-label, latest WordPress version compatible, site and custom layouts available and so on.
Win the attention of more and more patients through your website based on one of the leads generating Reiki WordPress themes out there. Healing Touch will best describe the philosophy of your Reiki services and prove their positive influence on the human body and mind.
This responsive and mobile optimized website building ecosystem is well specialized in bringing you tangible and quantifiable results.
Get ready with this awesome yet easy to use template and be sure to meet your potential patients and cases at the point where they are looking for your services.
Otherwise stated, this theme is totally SEO friendly ready to take your profile higher in search engine rankings and attract more attention in search results.
The theme is also rich with pre enabled shortcodes, color changing options and typography controls, compatibility with a wide array of extensions, additional tools and plugins.
The clear and elegant design of Simple can really reflect the philosophy of your energy based medical services. The seamless execution of the theme's navigation and mobile optimized nature make Simple highly appealing for your website visitors.
Simple makes sure your website design is pixel perfect and simple to navigate. The authors of this fantastic template have not underestimated the importance of custom imagery on your homepage, therefore they have added a default nice looking slider to host different images of your staff, healing procedures, satisfied clients and more.
The choice is also yours when it comes to the website's typography, color palette, shortcodes applications and plugin support.
With SKT SEO you don't need to go far beyond its surface to understand what it has to provide you with. Simple and lightweight, accurate and stable, SKT SEO is one of the multipurpose templates of SKT origin ready to present large and HD hero images on the homepage.
Another section that is going to make strong visual experience on your potential clients is the available gallery section to have categorized images and albums.
With SKT SEO you will take a unique kind of dignity in communicating your message to the clients since it is going to be fully legible and presentable when browsed on any browser or accessed by any portable device.
Handy is the last healthcare and medical related template among Reiki WordPress themes you can utilize for your special needs and business promotion.
Building a high quality and strongly communicable digital profile will be easy peasy with Handy since it is bundled with a convenient admin area for working behind the scenes.
By the application of this shortcodes armed and Google approved web template you are free to make any brainstorming idea a reality in order to boost your client's engagement into your business.
From running a blog for keeping your audience well informed about your news and practices to enhancing your site's SEO results with relevant plugins, everything is up to you.