This article discusses all the office WordPress themes that can be used for corporate office websites.
Companies spend so much many to get the design agencies to design mind-blowing offices that can create an aura of healthy workplace environment and motivate the employees to get the maximum output.
If you are a construction company, furniture seller or interior designer, you need to showcase your office designs using office WordPress themes.
Similarly, any company selling products to design offices can use these office WordPress themes.
These are graphically appealing and have various functions as one would require in the development.
CoWorking is a highly responsive office WordPress theme it has all innovative and stylish design layouts that will help you to make your customer aware about your brand.
The elementor page builder will be responsible for stylish your website as you want. Countless opportunity is there to make your homepage sections more beautiful and functional.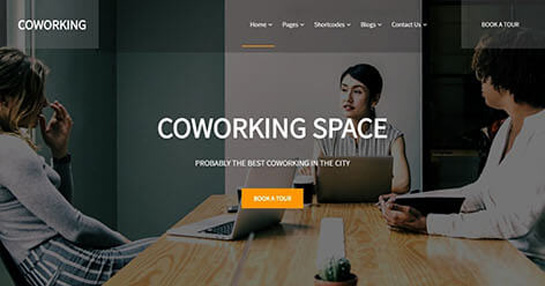 Some premium features like premium animated sliders, elementor page builder, WooCommerce and more are compatible. You can start customizing website within few minutes as installation process is just one click away. It has tons of theme setting option to make your dream come true.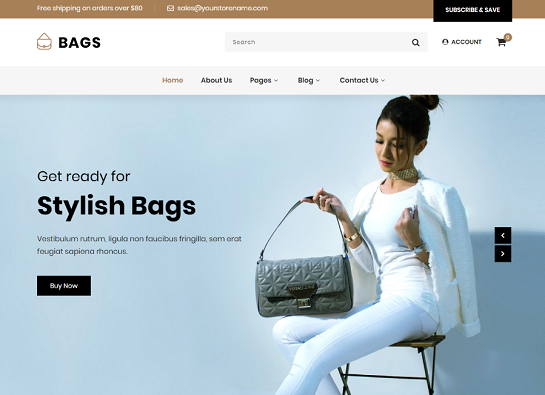 This is a perfect theme to set up an e-commerce site to sell products that will make the office look awesome with decoration and product addition.
It has all the features of premium shopping cart site with stunning layers and robust functionalities.
There are filters for users to search different ranges of products. The theme is mobile-friendly and supported in all browsers.
You can customize the theme completely starting from color combination to UI elements.
It has WooCommerce support and you can feature products on the slideshow. The theme is also SEO-friendly.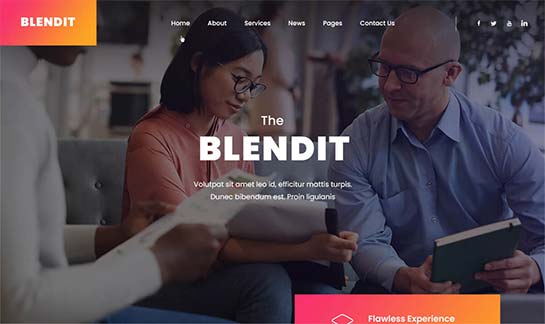 This is one of the perfect office WordPress themes that can also be used purely as a blog to give entrepreneurs and corporates the creative ideas to design their offices and provide affiliate links to buy the products out.
It is a combination of blog and a general website but it looks extremely eye-catching.
It is absolutely flat in design and has various sections to represent all the required information with visual aids.
There are multiple templates available to choose from.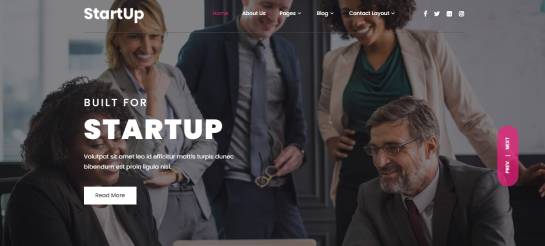 This is one of the most amazing and useful office WordPress themes on the list for start-ups.
Start-ups are the ones who come up with different ideas to design their offices that will make them different.
Accordingly, they invest money in designing awesome offices and hire contractors and designers after checking out their samples and past works.
This theme is best for design agencies to attract the attention of the start-up companies and get projects easily.
The theme looks stunningly beautiful and has all the different sections to provide samples and showcase past works in the best possible way.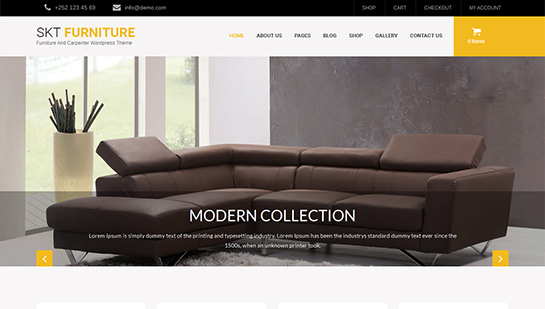 Furniture is the most important that beautifies a room or workplace. This is one of the most eye-catching office WordPress themes for furniture sellers to have an exclusive section for office furniture and the innovative designs that will go perfectly with certain themes.
One can also use the blog section and separate gallery section to showcase how beautiful a workplace looks with different types of furniture. You can customize the theme in real time with no prior experience.
The theme is also highly SEO-friendly. It has passed Google's mobile-friendly and fast loading speed test.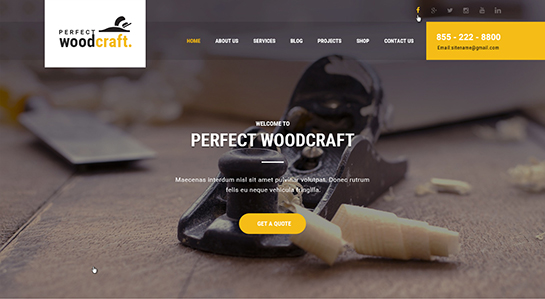 Woodcraft is different from furniture and it is getting highly popular in today's world.
Woodcraft design is considered to be sound absorber and the longevity is greater. The theme is a perfect combination of general and e-commerce theme.
You can showcase products and sell them directly. There are unlimited icons, buttons and shortcodes to beautify your website so that it can captivate the visitors at once and increase the sales figure easily.
It is retina ready and there are multiple variations available for the layouts.
Banking offices are designed wonderfully to create the trust factor and simple set the customers into awe state.
This is the great theme for design agencies who are expert at designing banking workplaces according to the theme of the company.
The layout is beautiful and there are almost all possible sections on the homepage to captivate the users with visually appealing information.
There is no dearth of designing elements and it has WooCommerce and multilingual support.
There are two ways to use this beautiful theme. It can be used by yoga trainers to represent themselves and corporates are hiring yoga teachers to teach yoga and various other aspects and making them health.
On the other hand, you can also showcase design stuff as an interior designer. The theme comes with a blog section which would be critical to driving a lot of customers who would understand your necessity.
It has one of the best designs that grab attention at once. There are multiple gallery options available to represent everything perfectly.
This is one of the best office WordPress themes that have the corporate look. It is fully responsive and you can change the color scheme easily.
It has a minimalistic approach yet it looks stunning visually. It is a very SEO-friendly theme and hence, your website will get listed higher easily.
There are multiple useful and attractive sections of the home page. The boxes and blocks are well-designed and importance has been given to the slider and gallery option.
This is one of the tailor-made office WordPress themes with stunning design and robust features. It is probably the most appealing theme on the list and it will represent a design agency properly and get customers limitlessly.
There is no dearth of shortcodes, buttons, icons, tabs, gallery and slider plugins. There are also options for call-to-action buttons to increase lead generation and unique plugins to make the theme more eye-catching.
This is one of the lightweight office WordPress themes on the list. It has a minimalist design but awesome galleries.
The theme is clean and modern and it is easy to spot anything the user must be looking for. There are various shortcodes available which will help to embed stuff correctly.
The slider is robust and there are animated blocks to attract the attention of the visitors. It is a widget friendly theme and you can write blogs as well. There are unlimited icons and fonts for use to decorate your website gracefully.
These are the best office WordPress themes you will ever find. You can use them to create office furniture websites.
You will get free support to set up the theme on your website and launch it instantly.
These office WordPress themes will definitely bring you more leads and customers with your appealing design and organic search.
Building a good company isn't at all easy. You not only have to look at the outer views of the customers but also the inner views of the employees too. And that's how a successful company is born. It is also important to create a good looking workspace too.
No one wants to work in a sub-par co-working space and environment. That's why companies spend so much on building great designs and create a good and healthy environment for the employee so that they can get motivated so much.
Doesn't matter which type of company you are building – be it construction or selling or something else – these are some of the basic principles that need to be followed. Combined with that, you need a website, which will showcase your company's special and unique features.
The website should be custom made to suit that specific need of the company only. And that's where Office WordPress Themes comes in and should be able to surprise you with numerous features.
For starters, if you are trying to sell products that will make office spaces look good, then you're on the right track. With the addition of e-commerce plugins and various other features, selling products like these is easier nowadays.
There will a premium shopping cart feature, along with functionalities that are robust and plays to the company's strengths. The website will also be mobile friendly, making it easier for users to access via portable devices.
There is also a whole lot of customization involved so that you can tailor make the website according to your own liking and requirements. There is also support for WooCommerce as well as SEO or Search Engine Optimization.
Woo Commerce will take care of all your commerce or business related things, while SEO or Search Engine Optimization will make sure that you get more customers.
SEO helps in ranking your website more towards the top of the Google Search every time. All of these are possible with these themes.
If your plan is to create a blog and give creative ideas to corporates, you also have that option as well. Creating a nice looking website, along with all the required pieces of information, and as well as providing all the affiliate links, to guide them to all the required products.
All of these can be done is just a jiffy. If you're targeting startups, then you also have the option to create past samples of your work, on your website.
This will help you and business get a head start into the startup world, where every startup wants to be different. And to be different, you have to showcase them, just what they want to see. Customizations are easy, with no prior experience needed on website building.
Not only that, you can even target banking sectors and companies with your website, by fine-tuning your website, to adjust according to your clients' needs. Creating attention-grabbing yet simplistic websites have never been this easy, with the use of Office WordPress Themes.