Irrespective of your segment, type, industry, and aesthetics of your site, what is its mutual requirement in everything?
It is nothing else but responsiveness. There has been a terrific revolution in technology in terms of mobile phones and their capabilities.
Hence, to develop a website the need of the time is selecting one from the mobile responsive WordPress themes.
But what is so special about them? These themes are compatible not only with mobile phones but with different types of screens, devices, and browsers. They have been tested for performance and are amongst the best.
In this read, we have included mobile responsive themes from multiple sectors, industries, and domains. You can easily explore the details and use them for your site.
All sections of the theme are completely flexible for all kinds of personalization to maintain your brand identity.
To get in touch with the local audience it comes with RTL support and multilingual support. Google Fonts are integrated by default and you can easily add other features as required.
Best mobile responsive WordPress themes 2023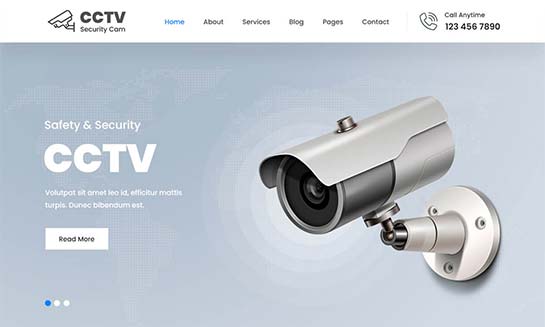 The importance of surveillance in industries, shops, public places, offices, and other areas has become important today. Certain SOPs by the government also make it mandatory to install CCTV for particular functions.
Hence, this theme helps you make a perfect and industry-specific website that is fully responsive. The default template will make the task easier for you like the images, content, and other things related to this field.
Moreover, you have complete control over everything and can modify all aspects as required. Page builder and customizer will be your best friends in ensuring that all kinds of customization can be executed.
Considering the target audience of this niche popular and essential features have been offered by default like WooCommerce support. But, you have complete liberty to rely on external plugins for enhancing functionality.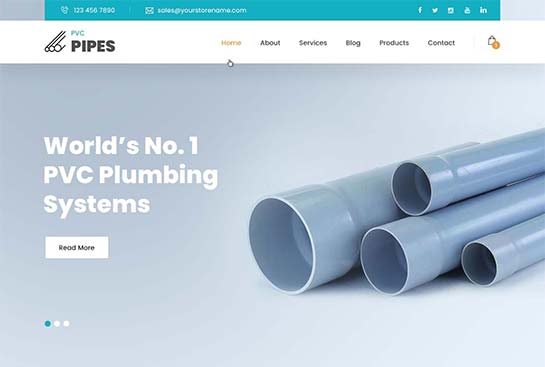 The next interesting option in this collection of mobile responsive WordPress themes is PVC Pipes. It has become inevitable in the present times to take your retail, wholesale, manufacturing, or distribution business online.
If you have a business linked to PVC Pipes and similar other products, then this is the theme for you. It is easy to install given that the developers have offered a one-click installation feature.
Any kind of coding will never be required for executing any tasks or adding/removing functions. Drag and drop customization is offered to ensure ease of modification and accessibility.
Additionally, hundreds of shortcodes are offered that help you in adding the desired features. WooCommerce support and translation-readiness make it feasible to attract an audience across any demography.
This is an exclusive theme in this collection which is full of aesthetics as well as responsiveness. As the name suggests for any of your small and big ventures related to sound systems, this can be an ideal option.
Moreover, it will also help you in making a terrific online space if you are into the business of electronic gadgets and devices. The overall layout will enable you to add all kinds of products and descriptions related to the same.
You can also include client testimonials and feedback. With the help of the slider, you can promote new products, discounts, and festive sales. The added advantage is that without any extra effort setting up an e-commerce store will be possible.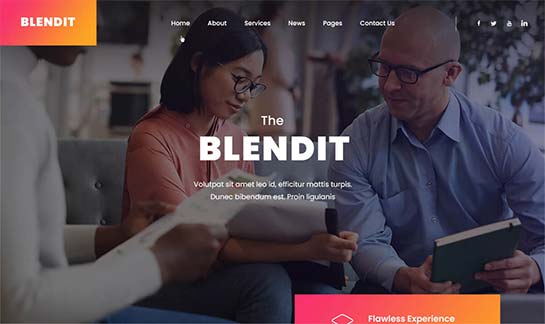 Blendit is one of its kind multipurpose theme in this compilation of the best mobile responsive WordPress themes. It has been developed with flexible and attractive graphics that can suit multiple niches.
Creating a website for your business, startup, office, store, etc. is now simplified with Blendit. All integral aspects of customization are possible here without any technical knowledge from the admin.
Hence, the personalization of all elements from the core makes it possible to mold the space as desired. Inbuilt features ensure that you can create a powerful online space that separates you from the rest of the competition.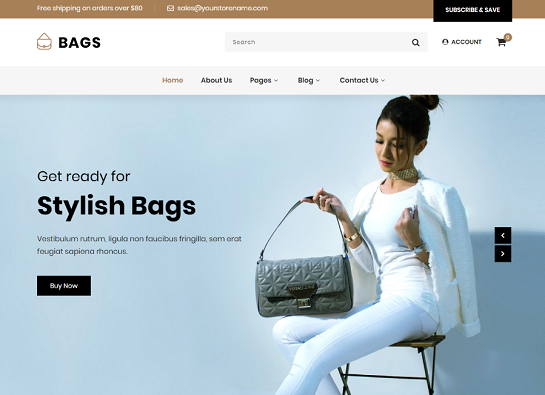 The trend of online shopping and the e-commerce industry has revolutionized the concept of shopping. The launch of the products, international sales, and marketing techniques have advanced with this.
Shopzee enables you to create one such powerful e-commerce website where all kinds of products can be sold. You can use it to feature your exclusive range of products.
Additionally, you can also connect with multiple vendors and offer them a terrific platform. All kinds of customization in the setup process are easy to manage and quick.
Integrating payment gateways and modifying the checkout window is also simplified.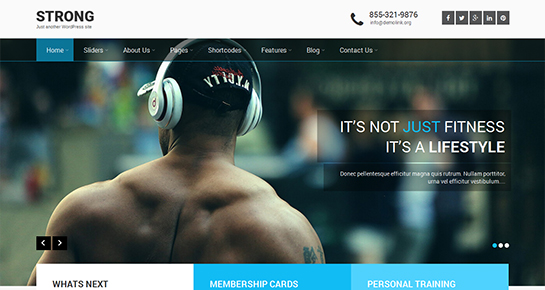 In this entire collection of best mobile responsive WordPress themes, one of the most popular options is Strong Pro. This is an ideal gateway for anyone who is considering developing a fitness-based website.
The advantage here is that everything starting from graphics to the core framework has been exclusively crafted for this niche. You can create an amazing and responsive online space for your gym, meditation, yoga, and fitness classes.
All kinds of content including videos, audio, and photographs can be added. In addition to the default functionality, other features can be added as required from third-party plugins. Integrating a payment gateway for accepting membership fees is also possible.
This is one of the widely used and most liked themes in this collection. It is 100% responsive and serves its purpose of crafting a terrific website for nightclubs.
Enthusiasts across the globe are targeting to visit the most happening nightclubs in the town. Hence, the competition in this domain is cutthroat.
A website that is powered by the SKT Night Club theme helps you emerge as a clear winner from your competitors. All intricate details, photographs, services, and specials of your club can be added online.
You can also conveniently integrate social media handles for dynamically engaging with the audience. It also allows adding Google Maps and other features from external plugins.
One of the most looked at moments in life in the present trends is traveling to exotic locations. For a travel agency, booking agent, or tour company this is the finest of all the mobile responsive WordPress themes.
You can easily feature all your trips, adventure destinations, and travel packages here. It has been crafted by considering the taste and preference of the target audience which makes the development task easy for you.
You can easily use the default copyright-free images in your content and conveniently modify the elements as required.
Full documentation is offered so that you can easily resolve any queries that you face. This is the most ideal option to attract adventure enthusiasts across the world.
Painting is an exclusive theme in this compilation of the best mobile responsive WordPress themes. It has everything starting from aesthetics to features that are essential to feature the creativity of an artist.
Apart from featuring paintings, it can be used by photographers, musicians, and writers. Its artistic approach and design style help all kinds of artists to feature their work.
Everything including the layout, photographs, colors, and other elements can be modified with a page builder and customizer. It is translation-ready, offers RTL support, and is WooCommerce compatible.
The best part is that adding external plugins for enhancing features and productivity is also possible. You can be relaxed as your work will be featured in the best light.
Expert professions require specialized themes that can help in setting up the right vibes and aura for the audience. Bony is one such special theme that has been created exclusively for doctors.
Doctors in private practice or hospitals can utilize Bony for a terrific and responsive online presence. It will enable you to add all kinds of specialties that you hold.
Adding photographs of the state-of-the-art medical equipment, operation theatre, ICU, and other facilities is manageable. The overall background color has been kept white to promote calmness and peace but it can be customized as required.
All the details can be added and features like appointment booking, medical reports, and payment can be set up easily.
Photodock is a one-of-a-kind niche-based and yet multipurpose option in this compilation of the best mobile responsive WordPress themes.
Any industry, organization, or individual that is looking for a website that is governed by photographs can use Photodock. Even artists and photographers can use it to showcase their professionalism.
Photodock ensures that all the photographs are represented in the best manner and their true color. Additionally, you also have the option to modify all elements and also add other sections like blogs and online stores.
It offers tons of inbuilt functionality like multiple menu options, translation-readiness, copyright-free images, HD-ready templates, etc.
Photodock is also the answer to your requirement for a stunning portfolio for modeling, acting, etc.
This is one of its kind aesthetically pleasing and well-designed theme for a fashion store. SKT Lingerie Pro not only helps you in featuring the best undergarment products but also all kinds of products of your brand.
Its WooCommerce compatibility ensures that the best fashion products of your firm can be accessed and ordered by anyone. Everything related to this like textual information, photographs, product specifications, and technical details can be added.
You can also add reviews and ratings for your products from previous purchases. According to your target audience and region, it is also possible to easily integrate all kinds of payment gateways.
Moreover, full room is offered for modifications of all kinds so that the brand identity of your firm remains intact.
All institutions or privately held firms need mobile responsive WordPress themes for hosting their business online. Whether you are a bank or certified private financer this theme can help you create a terrific value-based website.
The overall design is elegant and professional while the functioning is smooth and flawless. This helps the users in exploring all the information along with terms and conditions.
Setting up forms and call-to-action buttons for special offers can also be managed. Moreover, standard pages like About Us, 404 error, contact, company profile, etc. have been offered by default.
As per the requirement, you can add or remove pages and conveniently modify their style. It has an unbeatable loading speed and terrific responsiveness on mobile phones.
Food and food enthusiasts have made the most of the online space. It would not be wrong to claim that the food enthusiasts have had significant learning from the recipes online.
Here, chefs, restaurant owners, and food enthusiasts can cater to the interests of a large audience. This can be done by creating a recipe-based website or even through a food blog.
Recipe will enable you to add all kinds of information, videos, and photographs that can attract your target audience. Whenever required you can modify different sections and layouts as per your taste.
It also offers WooCommerce compatibility so that you can sell e-books and hard copies of the same.
The importance of mobile responsive WordPress themes has garnered attention even for organizations governed by hard skills. Contractor Pro enables builders, building agencies, and contractors to create a stunning and terrific website.
It will enable you to add all kinds of details in terms of qualifications and machinery. All your previous projects and best work can be highlighted here.
Testimonials from clients can also be added to build trust and credibility amongst potential clients. Modifications of all kinds are possible and all other external plugins like specialized galleries can be added.
Details and portfolios of engineers and your workforce can be included along with awards and recognitions. Modifications of all kinds are possible and significant changes in all aspects can be made.
This is another prominent and widely used theme in this collection of best mobile responsive WordPress themes.
If you are into the business of manufacturing or distributing premium air conditioners, then creating a website is no more inconvenient. A 100% mobile responsive website that is feature-rich and professional is possible with this theme.
Additionally, even if you are an electronics dealer then you can create a multiple gadget website also. All details about your firm, its legacy, and USP can be added.
Moreover, WooCommerce support helps you set up a virtual electronic or air conditioner store. Other prominent and peculiar features will help you swiftly modify, design, and publish your site.
Bathware is a niche-specific and one of the most powerful mobile responsive WordPress themes. One can easily create a website related to bathroom products, fittings, stores, accessories, and even fashionable restroom designs.
For the convenience of the creator, multiple ready-made demos are made available. On top of that one-click installation, one-click demo import, and comprehensive documentation will make your task simple.
Everything that you need to add in terms of textual context or photographs and videos is possible here. Even setting up a virtual store will become possible as Bathware is compatible with WooCommerce. It helps you stand out in the industry and make an impact on the audience.
Digital Agency is a one-stop solution for all digital marketing agencies, startups, and even freelancers. This helps you in creating a fantastic and professional website to showcase your digital services.
Everything in the default template is crafted to serve the needs of the niche. All kinds of modifications in terms of a template, layout, structure, colors, fonts, etc. can be made to meet project requirements.
Creating blogs for popularity amongst audiences is also manageable without any extra effort. You can flexibly set up an e-commerce store to sell your products and accept payment for digital services.
Pet Care is another niche-specific and amongst the most dynamic mobile responsive WordPress themes. One can use it to manage an online presence for pet shops, animal conservation groups, pet care, veterinary doctors, etc.
So basically any kind of profession, service, and activity related to pets can be represented here. It is colorful, dynamic, and professional with complete possibilities of modifications.
As per your services or products, you can make customizations without writing any code.
Some of the peculiar features include RTL Support, WooCommerce compatibility, SEO-friendliness, and HD-ready templates among others. Do not manage with ordinary when you can choose the best responsive option.
Fitness and health remain the most essential priority after the experience of the Covid-19 pandemic. Zym helps you in creating a powerful and aesthetically appealing site for your gym, fitness center, exercise group, etc.
It includes all the basic functionalities, images, graphics, and other components required for this industry. You can easily create and launch blogs relating to exercise, diet, and client feedback.
Sliders, widgets, and sidebars are offered by default to help you add multiple functionalities as needed. According to the demand of the brand, you can modify all aspects and mold it.
Lawzo is one of the most professional mobile responsive WordPress themes in this collection. It is suitable for developing sites related to law firms, legal advisors, legal firms, attorneys, etc.
Lawzo is all about the law and hence professionals related to it in their daily lives are the direct beneficiaries. Lawzo enables you to quickly create a website by adding relevant content and some suitable photographs.
It has been customized to ensure that all specific requirements of beneficiaries are added without the need for the plugin. In case it is required you can use third-party plugins as it will not impact the performance.
It is optimized for unbeatable speed and performance that ensures that the target audience is always happy and approachable.
Shudh Pro is the best multipurpose theme in this compilation of terrific mobile responsive WordPress themes. Irrespective of your industry, sector, or niche you can create a powerful and completely responsive website with Shudh Pro.
This theme has everything that an ideal and strong website demands. It offers one-click installation, one-click demo import, and multiple templates relating to different industries.
Modification of HD-ready templates is possible to ensure that the core requirements of the project are met. WooCommerce support helps in creating an elegant online store.
Blogs can be created, updated, and managed easily. There are zero restrictions on content type and adding external plugins.
This is a new, pretty, responsive, and cat-breeding theme that can be used for creating different kinds of websites. One can create sites related to a pet store, pet grooming, cat training center, cat adoption, etc.
The complete focus of each segment here is on cats. Therefore, if you are looking to write an exclusive cat blog series, then this can be the perfect template for it.
If you are dealing with cat products then SKT Cats helps you in promoting them through the online store, blogs, and accurate information.
All kinds of modifications are possible and the addition of plugins to enhance features is also manageable.
Massage Centre is a widely popular and adopted option across the globe due to its terrific performance. In addition to being dynamic and powerful, it is SEO-friendly and completely responsive with all kinds of devices including mobile phones.
You can set up a site related to massage centers and spas here with complete freedom of personalization. The default settings and layout perfectly match the industry requirements but one can customize it to meet the desired needs.
Colors of all elements can be changed and other modifications related to fonts, style, etc. can be made. The developers offer complete support for one year which ensures that you never remain stuck on issues.
WooCommerce compatibility ensures that the in-demand products, accessories, and essentials can be sold through online stores.
The last theme in this one of its kind compilation of best mobile responsive WordPress themes is Beauty Cuts. This is a completely responsive and dynamic option for hair saloons or hairstylists.
If you are looking to create a simple, engaging, and user-based website then Beauty Cuts will suffice for all your needs. The most engaging content in terms of textual ones, photographs, images, videos, etc.
can be added here. Setting up a photo gallery to showcase different styles is manageable without dedicated efforts. You can also take WooCommerce compatibility to your advantage and set up an online store for products.