Are you someone who is looking for the best missionary WordPress theme for your charity organization? Do you want a responsive and professional looking theme which takes your charity house to the next level?
If yes, then you're on the right page. Here in this article, you will find out the best missionary WordPress themes, which are in budget and best in features.
But Before jumping on the themes collection, first, you should learn about why the theme is necessary for your charitable trust. 
If you are running a charity house or a nonprofit organization, then using an online platform is now necessary these days.
A nonprofit organization needs to create a website for spreading awareness, collecting donations, and attracting optimistic attendees to their events.
Moreover, the nonprofit Organization can publish its site immediately by using a fantastic theme that delivers awesome results in a meantime.
By choosing the correct theme for your business you can customize the appearance and behavior of the elements easily. In addition, you do not need any technical person to do all the things for you.
If you don't know what's the right theme then must check theme has background, graphics, testimonial, etc features so you can easily reach your goals.
So, what are you waiting for now? Let us find the best theme that grows your genuine cause worldwide.
Top 10 Missionary WordPress Themes 2022
Holy Chruch is one of the outstanding missionary WordPress themes introduced by the SKT Themes who knows how to design elements that can represent your unique idea with your website.
This is a translation Ready and POT file supported theme which is easy to convert the current website template to the different languages.
So your user won't find any issues with languages. More than that, it includes Woocommerece plugins, which can help to start sales from your website that make some revenues.
It is a complete solution and a website development setup that gives super-easy features to access the theme with ease.
Promising features: 
Include a sidebar layout with a blog post.
Provide an unlimited possibility to create a multi-purpose website.
Its easy navigation menu solaces your users.
Material and Flat style theme.
Coded with HTML5 and shortcodes friendly theme.
Religious is yet another incredible non-profit WordPress theme that can be used for supporting the cause 'God is one and every human is the same'.
This theme is compatible with the latest version of WordPress to supports news, events, and blog section easily. Moreover, it includes a color-changing theme that allows users to enjoy customizable features promptly.
This game is integrated with 360 plus icons and 600 plus Google fonts. The theme has the various responsive plugins that help one to establish the strongest Charity house of yours online.
You can also open up an online store by selling the religious prayers from there because it is a Woocommerece compatible theme as well. So now, it's time to design a church website or genuine cause supportive site with it.
Promising Features:
Comprise sample content so one can easily set up the theme.
Encompass theme files with zipping.
Include a constantly cool look to your website.
Easy to set up sections and customize it.
Integrated with social media icons as well as Search engine optimization.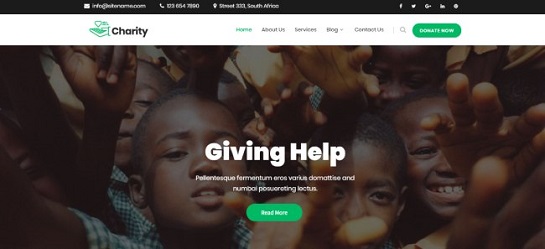 SKT Charity Pro is one of the best missionary WordPress themes that was designed to create NGO Websites, charity events and more easily. It is extremely responsive and coded with elementor page builder theme that fits with your website needs.
The theme includes SEO friendly design and social media supportive plugins that help you to connect the users worldwide and you can reach to the potential people who would want to invest in your organization.
On the other hand, the theme is tested with the latest version of WordPress. This creative and supportive theme consists of all the elements that could help you to meet your goals successfully. So, why don't you try this?
Promising Features: 
The theme has translation-ready features.
It includes fundraising events and Woocommerece for selling tickets.
Include sidebar header and footer with a full edit feature.
Include shortcodes plugin that makes easy for you to develop and customize theme easily.
Fast to load & easy to understand.
Include 650 Plus Google fonts and an 8plus page template.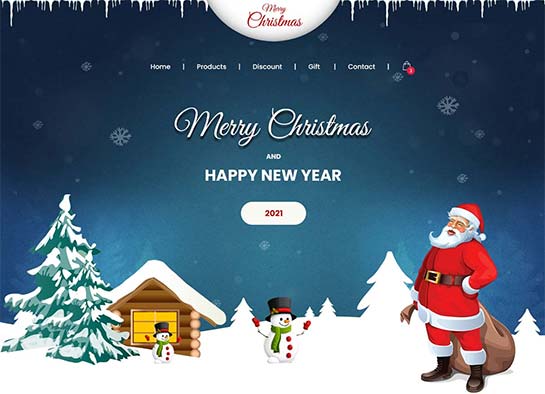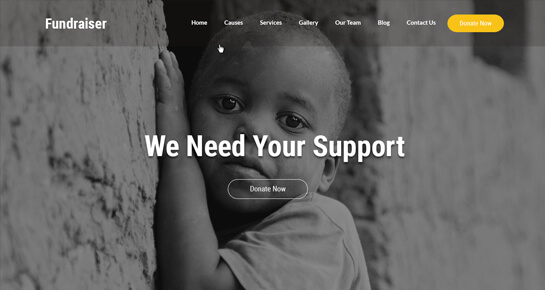 If you are looking for a missionary WordPress theme that raises your funds and provides you outstanding contribution to the foundation as well as a fund-raising concept then choosing the Fundraiser theme can be a good decision.
The theme is specially designed for the organization, which is moving forward in their charitable growth by representing their cause's events.
In the digital era, you have to be online as this interests your users because they will easily find out your address and raise your funds to support your organization.
Furthermore, the theme is tested and supportive with an operating system that will work in different Windows, Android, and IOS.
The theme is designed and gives you a full layout professional look that's perfect to grab the user's attention. In short, Fundraiser has everything to support your Organization.
Promising Features:
It is a social media-friendly theme.
One year customer supportive theme.
Multi-purpose and four layout variations theme.
Include coding which has been designed with codex theme review standards.
Faster to load and friendly with every device.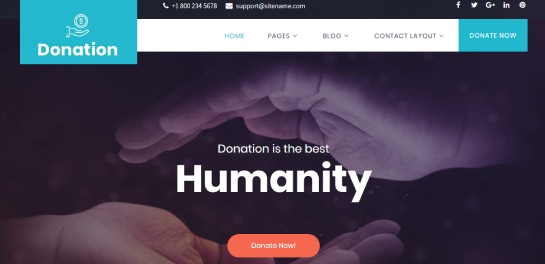 Donation is most-trusted and best selling missionary WordPress themes designed to build a high-quality website related to Charity events, functions, fundraisers, and related types of website.
The donation theme is coded with the latest WordPress standards that are constantly updated and compatible with every device. It has color-changing features for both elements and the sections.
Moreover, the theme is very simple to manage and easy to understand, so you won't find any issue while using this. More than that, this theme includes the various templates, which include the tags to support your social media channels.
The home-based section is also impressive that is easy to use and customize. It's ready with documentation step by step procedure so you can set-up this theme easily.
Promising Features: 
The inner pages are coded with HTML that can be used in any section of the area.
Include 5 level dropdown navigation menus.
This is a multilingual friendly theme.
RTL compliant theme that supports various languages.
SEO and SMO optimized theme.
If you are running a charitable trust then it is important to build user's trust that your organization is really fighting for the needy people.
This is why you look for missionary WordPress themes, which sounds professional and gives seamless outcomes. Hence SKT trust Pro is the best to get started with.
It is translation ready, multi-concept, and multipurpose theme which can be best for every industry. The theme includes inbuilt default animation effects, portfolio plugins, a blog area, and skill bars that easily increase your donation amount.
Additionally, this theme has enough features which improve your responsiveness and give you 100% best outcomes.
Along with that, it includes 580 plus fonts, which is important for any business campaign that helps you to reach more people. The SKT trust pro is proved as the best as it includes supportive call to action buttons as well.
Promising Features:
Include non-profitable templates with a professional appearance.
The theme is very easy to use and documented.
It has a changeable header and footer pages and also defaults slider timings.
Include inbuilt shortcodes for plugins and pages.
Supportive call to action buttons.
Woocommerece compatible theme for non-profit donation.
SKT Funeral is one of the recognized and most trusted missionary WordPress themes you can use for your charitable house.
This is the most awaited features based theme that includes premium plugins and supports the SEO Optimization features.
The theme has an advanced price table and price list, and also it encompasses the Woocommerece compatible plugin that your organization to the next level.
Besides, it comprises a lot of features as in custom themes, option panels, Woocommerece ready, shortcodes generator, speed, and many more. Also, it supports the Google web fonts and form, so you can create your website in a fantastic mode.
While building or customizing this theme, you won't find any issues. Hence, you can enjoy the best User experience and engaged people worldwide.
Promising Features:
This includes ready-made templates that work great to support your services.
It is coded with a coding standard that keeps your website running smoothly.
It will provide robust and fantastic features to fulfill your niche goals.
24/7 customer support is available for 1 year.
SKT Recycle is a multi-purpose non-profit WordPress theme you can use to beautify your business-related with recycling articles.
This is an elementor page builder theme known to provide complete demo content on setting up the website. This powerful theme has customization features.
Moreover, it includes very handy and translation features, so you can reach the audience globally without any language barriers.
One can use these themes to better improve the User experience. Hence, it includes 20 supportive widgets along with coding for separate blogs and sections.
With this, you won't find any issue in installing the website because it has a supportive call to actions and volunteer action that just improves your User experience as well as yours while assessing the theme.
Promising Features: 
Provide live preview options in any modification.
It is a supportive and colored theme that can modify any time.
Compatible with various Browsers and devices such as opera, safari, and Firefox.
Include high terms of support and security.
Include different styles for the blog layout.
Ele Nature is a powerful theme that is related to the environment. If you are supporting the cause of saving the world and growing more trees then it is a very special theme which you should try for your benevolent house.
The theme is reliable and functionally designed. Also, it includes the patterns for creating the multiple websites such as adventure, recycle, organic causes, and promoting handmade products.
This theme has a consistent feature for supporting the E-Commerce channel, and also it is designed to promote your natural work professionally.
More than that, it includes a sidebar on the left and right side, so you can connect with the audience easily. One can use this theme for design framework and most importantly it has various advantages you should claim.
Promising Features:
The social media icons are supportive such as Facebook, YouTube, and email.
This is a multipurpose theme used for various channels.
It includes technical support with a helpful beginner.
You will get full access to delete always show the items.
It is a one-click installation demo contains a theme for download.
If you are running an organization that supports baby care services or orphanage then Babysitter is one of the best missionary WordPress themes you can use.
It includes 360 plus awesome fonts and 650 Plus Google fonts, where you can choose the font of your choice. Additionally, the theme comes with standard layout and compatible with the latest version of WordPress.
If you are the person who is giving kindergarten services, nursing parents, and bloggers who want to write for the kids then go ahead with it. This high design and fancy with css3 animation effects theme help you to reach your customers easily.
Promising Features: 
Include a contact form for spam protection.
A standard page is included such as a blog, search pages, and 404.
Compatible with the latest version of WordPress.
Integrated with SEO and SMO functions.
Easy to use by anyone.