Are you looking for the best broker WordPress themes that give proper integration between broker and your real estate website? If yes, then your search ends here.
In the market, your only goal is to achieve higher success and to accomplish this goal getting your business online is a perfect choice. Creating a website, adding content, pictures, etc can be easy, but how to display them that easily reach your targeted audience is quite difficult.
This why choosing IDX broker WordPress themes is crucial. After all, this theme comes up with fantastic features that build a stronger relationship with your customers as well as displays the outstanding appearance of the site. These themes are modern yet simple to use, so you won't need the third person to do everything for you.
IDX integrated themes are highly customized, have strong SEO optimization features, and best CRM options for best results.
If you are thinking to have this kind of theme for your real estate business, so we have collected top IDX themes. All the selected themes are handpicked and turn your business to the next level. Go and choose the best theme.
IDX Broker WordPress Themes for Your Real Estate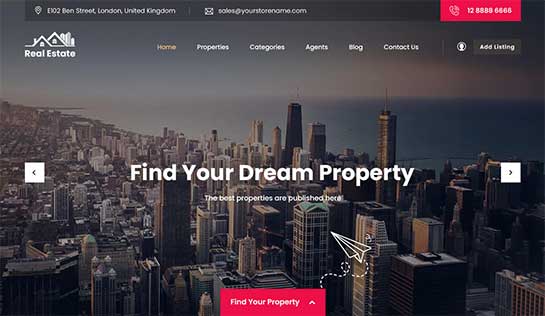 Real Estate is one of the popular IDX broker WordPress themes that used for any kind of business-related to real estate.
This includes several types of property listing and delivers extensive search to the users, so they can easily get to know about the type of property, location, images, area, and many more.
This generally provides you great analyse the view of the property listing, so you can choose the list in the way you want to show the customers.
On the other hand, the search-related has been provided and give you the inner pages on the sidebar for the property listing spaces. This is also the best website theme which includes the number of fonts and Google fonts more than 800 plus that basically encodes as per your choice.
Moreover, it includes page builder plugins and block layout options with translation-ready features, so anybody can reach your page and you'll get most out of it.
Key Features:
It includes a number of header and footer layouts that provide a unique approach to your site.
It is fully documented and step by step manual theme.
Social sharing plugins are also available to reach more audience.
Include a home page with a number of the section so you can edit and add things accordingly.
Easy to navigate and simple to use.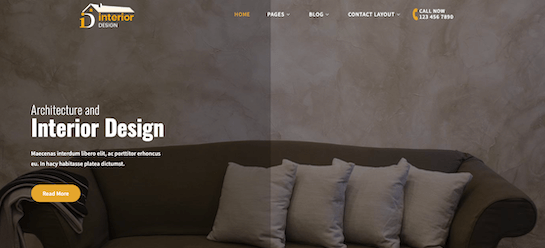 SKT Interior Pro is yet another best IDX broker WordPress themes includes countless features and flexibility that do not require any technician to set up your Website with this theme.
This theme is coded with elementor page builder and provides fantastic sections and preloaded contents specially the testimonials, contents, team members and other content blocks which you can easily customise as per your requirement.
More than that, the theme has a nice parallax background in section, ability to include and edit 20 sections. This is a colour changing theme that includes a hundred Plus shortcodes and various plugins to support your unlimited pages range.
It also comes up with captcha code and compatible with woocommerce plugin so you will enjoy the SEO friendly features and the contact form plugin as well. This is coded with HTML5 and css3, so you can enjoy the multiple graphics and the picture quality of the theme.
Key Features:
It includes PSD design files and you can modify the team accordingly.
It is available on free installation.
1-year customer support is also available.
Cross checked with multiple Browsers and devices.
Include pause time and animation control feature.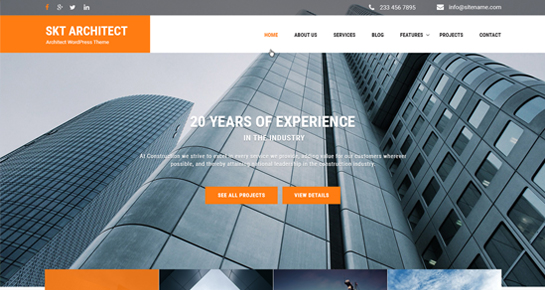 SKT Architect Pro is a fantastic and ultimate multi-purpose WordPress theme that comes under various designs and flexible options that make your website more user-friendly.
This team is a fantastic supporter which come up with a fantastic range of features that it is easy to set up, translation Reddy and PO file available theme, on the other hand, It is encrypted created with 500 + font-weight icons and social media plugins.
These are the best actions that include home page and you will practice the best of the theme. Moreover, it contains a number of inbuilt functions like an accordion, tabs, and other fancy content which you can customise as per your choice.
On the other hand, the portfolio option is also available with an incredible call to action for lead generation.
Key Features:
Both single and multiple blog layouts are available.
Provide you clean and 100% tested theme.
It is SEO optimised and woocommerce supportable theme.
Provide an elegant and impressive design.
It includes a number of themes for various industries and domains.
The Build is the most responsive and elementor page builder IDX broker WordPress themes, which is easy to readable and customizable. This is highly integrated with social media for promoting businesses to your company. On the other hand, build theme improve showcase area that actually helped to engage a number of audience in your projects and company.
This also comes up with the sliders option to showcase your project. Additionally, this will provide you with an important theme which can help you reach the targeted audience most successful.
The services section is also very editable and you can list all the services of your company in a detailed way. This is the most amazing and a free installation WordPress theme that mainly work on the wide process and you will enjoy the theme results easily.
Key Features:
The user can set up the website easily.
The user can customise write images about page and details of the services.
The contact details come up with the captcha code.
Include hundred plus shortcodes to support your business
Contractor Pro is the best and ideal WordPress theme that you can pick for your business related to builders, construction companies, renovation, construction sites and many more.
This theme includes the Jetpack plugin which is ready to enhance security and faster speed of the website. This includes Guttenberg plugin which supports the Gutenberg editor. The Google navigation is easy to use and you can optimise the website with the Yoast SEO plugin.
This is a retina-ready and highly great theme which comes up with a number of slider plugins such as meta, revolution and the master.
Additionally, it provides blog and posts layout options which integrated with a number of social media responses like Facebook, Twitter, and more. On the other hand, it includes header and footer layouts with multiple options, so there is no language barrier to it.
Key Features:
Include smart slider with three displays.
Provide Ninja forms that are super easy to load and come up with great functionality.
It is an RTL language supported theme.
Provide retina ready and fantastic appearance theme.
Uses Google XML sitemap for better search engine responses.
Maintenance Services Pro is extremely fantastic and designer theme which improve your electrical business, plumbing and home services related website. This is a very simple and easy to issues that are available on free installations and provide you with best customer support.
This is designed to give a multipurpose theme which will help you to solve your problems quickly because it supports you reach the targeted audience comfortable enough.
This is extremely responsive and a perfect theme, so anyone can use this theme without any stress. More than that includes standard pages like 404 categories and achieves which can help you to give standard look.
This is designed to provide with tweak colours, layout and fonts option which can give you a supportive theme to better your overall performance. The website can be easily vendors that can protect you from the attackers.
Further, it provides you with various operating systems support with multiple devices, so you'll enjoy the best results.
Key Features:
Provide you social media widgets and sidebar options.
This is a multilingual affable theme.
Include different fonts and subsets.
This is designed with social media sharing plugins that are used to enjoy the huge traffic.
This can make your website visually impressive.
SKT Stone Pro is the unique and most trusted IDX Broker WordPress themes you can pick for improving your business easily. This is highly responsive to the tested theme with multiple Browsers and devices.
More than that it is SMO friendly and SEO optimised theme, which can help you to start your online business for selling items using the Woocommerece plugin.
The theme is comfortable and provides dynamic inner pages sections along with iframe, images, banners and more so the user can ample their choices while navigating. Also, this makes it easier for you to access the theme.
The sections are provided for the home page, so you can manage it comfortably. The colour changing option is also available that you can customise as per your requirement.
Key Features:
It is the super easy and compatible theme.
This has easy navigation menu with five-level dropdowns.
This is a material design and Flat style theme.
It provides you with 4 types of header and footer layouts.
Provide extraordinary landing pages for the users.
SKT Construction Pro is the most powerful theme which is mobile friendly and responsible for every browser, so you won't get any issue while working on the theme.
The plus point is it includes animated sections so the user can easily get into your content, which helps you to get more traffic and clients as well.
In this, you will get a customisation option, so you can change the colours and edit the elements as per your choice, with the help of colour picker.
Additionally, it has animated columns that you can use it anywhere on the website. This is a page builder plugin and elementor page builder supportive theme you can use it for getting the fancy and easier content.
This also provides you with multiple the science touches with layouts in college so to share a template that perfectly suits your choice.
Key Features:
You can set the background, images and fonts easily.
The inner pages are more page builder friendly.
Include several shortcodes to support the setup comfortably.
Include top slider with pause time and animation control features.
The theme is checked with high speed and other features.
If you're a person who is related to the wooden work, furniture stores, and construction business then WoodCraft is highly user-friendly and SEO optimised theme. This is well documented and coding standard theme which includes the number of header and footer operations.
On the other hand, this works nicely on all the cache plugin, so you won't get any issue while using this. It is translation ready and Google compatible theme that includes a number of service actions on the home page. More than that, it includes default controls and slides which keep your content more impressive.
Key Features:
Available at both paid and free installation.
By default blog section is available with various layout options.
Easier and controllable shortcodes for various templates.
The inner pages are easy to manage.
Well documented and commenting supporting the theme.
If you are running a painting company or you are related with the painting businesses such as house decoration, painter, home decor, shops and be like then it is the most appealing and fantastic theme designed to use as a multi-purpose theme.
This comes up with one year of support and full documentation with various sections of the website. It is more convenient and the referring site which includes a number of font options and colours.
Moreover, it has five types of header and footer variations along with a number of standard of pages as 404, categories, and more. This can also provide different layout variations with sidebar variations.
On the other hand, It is compatible with woocommerce, so you can easily sell the products and get the payments from various channels.
Key Features:
Fully compatible with contact forms and membership plugin.
Treated with social media plugins and icons more than 2000.
Fast to load and simple to use.
Support multiple plugins like analytics, gallery, maps, and more.