What difference can full page WordPress themes make for your visitors?
When you want to create a distinct website full-page themes are the ones you are looking for. They will make your visitors feel wow with eye-popping images and photographs. Creativity can be featured in the best possible medium through these themes.
But, the most turn around query is why choose such themes over multi-page options?
The reason is that it provides photographers, artists, illustrators, writers, and other professionals a fantastic platform to display their portfolio.
The options included in this compilation are multipurpose and also niche specific. In common, you can expect a stellar website development theme and best in class support in all of them. Give them a look, explore their features, and find one that suits your requirements.
Full Page Pro is one of the most popular options in the collection of best full page WordPress themes. This is because of its responsiveness, flexibility, and performance. It is a multipurpose theme that can be used for various industries and sectors.
The default designing includes the color combination of black and white that is perfectly matched with a contrasting red-colored picture. An inbuilt slider is provided so that dependence on plugins can be avoided.
Best Full Page WordPress Themes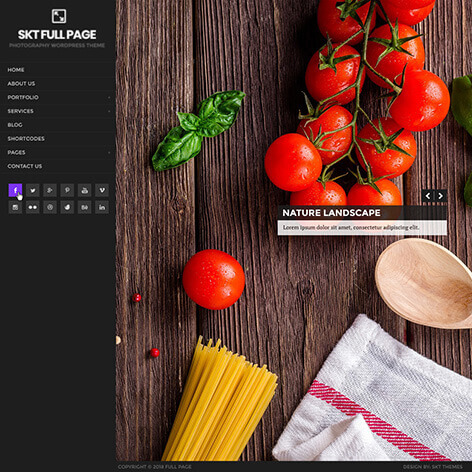 The default templates are compatible with all the latest versions of WordPress and other plugins. Additionally, all fresh templates created with the page builder will be retina-ready and HD-ready.
Shortcodes are present and assist you with enhancing the features without extra efforts of manual coding. It is SEO-friendly and can be easily integrated with social media handles to boost audience interaction and engagement.
This is another marvelous option in this collection and does full justice to the one-page theme concept. It will be amongst the most aesthetically appealing creations ever. The basic tone of engagement throughout the theme is in White color. This helps in creating a soothing aura and ensuring that all images are showcased in proper colors.
Everything from colors to layout, sections, templates, fonts, elements, widgets, etc. can be modified. This enables you to create your personal digital space without any limitations. It falls in the multipurpose segment so that any kind of website can be developed.
You also get access to exclusively pre-developed 30+ blocks in the page builder to create a desirable screen. The right and left sidebar can be activated and deactivated at any time. Google fonts and shortcodes are integrated and it is also compatible with WooCommerce.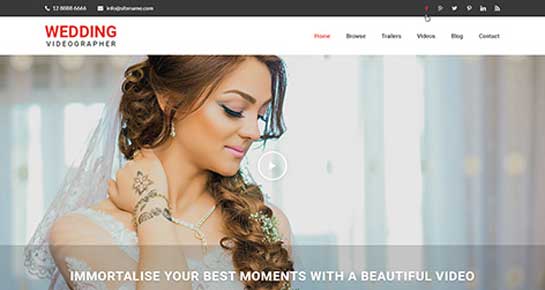 Wedding Videographer is amongst the finest full page WordPress themes. It can be used by professional wedding photographers or videographers and also for creating a wedding website. To your advantage, the basic layout has been created after thorough research and experiments.
This ensures that you do not have to work extensively on the layout. All you will require will be minor modifications.
All kinds of functionality like social media integration, newsletter, RSVP, etc. can be easily set up on the site with the help of plugins. All graphics, images, and content provided after the installation can be directly used on the website.
It is fully responsive and modifications of all kinds are possible. Gallery plugins of different types are compatible so that you can choose the best one. It comes with multilingual and WooComerce compatibility.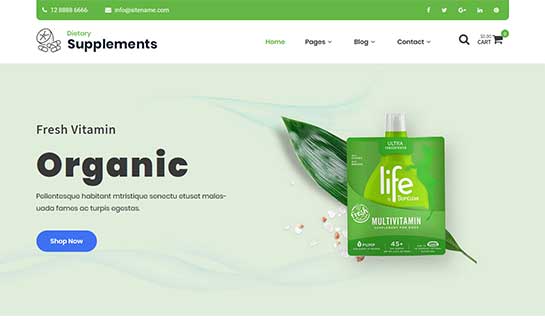 This is next in this compilation of full page WordPress themes which is a stunning and responsive Nutristore theme. It is the best in class option for diet coaching, nutritionists, natural products, healthcare, etc.
You can conveniently create a distinct website that mesmerizes your audience with natural activities and products. It is compatible with WooCommerce so that setting up an online nutrition and supplements store becomes easy.
All the desired information regarding the diet or the product that you offer can be easily included. There are no constraints related to the content type. Customized social media buttons are provided for easy linking with various social handles.
You can add dropdown menus if it is required and can also add inner pages. Font integration comes with more than 700 options and Google Maps is also supported. The loading time is faster and compatibility with browsers and screens is best.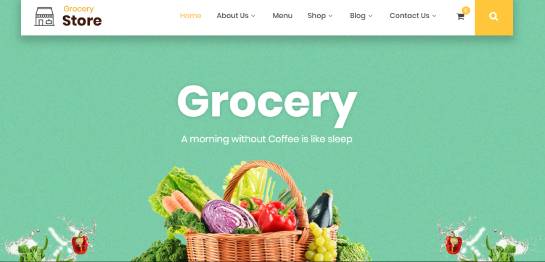 The online and eCommerce market has seen rapid growth in the previous decade. Grocery Store is one such dynamic theme with WooCommerce compatibility that can help you in setting up an online store. Modifying layouts and customizing widgets, sliders, and other elements are easy and quick.
There are various images and graphics provided by default that can be directly used in your online grocery website. Integrating payment gateways have been worked out for a swift experience. The final checkout page and the cart can be customized to make the entire process simpler for the visitors.
The inbuilt functionality enables you to add as many products as required. The menu colors are countless and you also get tons of widgets. Compatibility with browsers, plugins, and screens is awesome.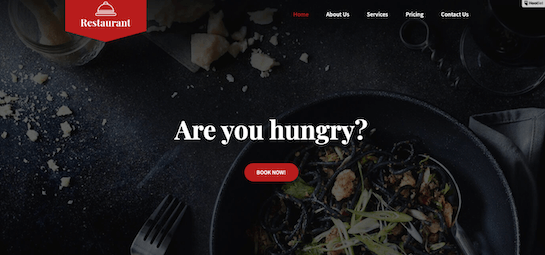 Ele Restaurant is next in this collection of full page WordPress themes for creating a restaurant's digital presence. The one-page module of websites has been trending in the restaurant industry. Despite the trend, there are major performance issues in hundreds of websites.
Ele Restaurant offers a customized solution for creating a user-friendly and powerful digital space for your restaurant. All settings, layouts, and templates will be under your control.
Modifications in all elements, colors, and fonts are possible. Additionally, for all users, one-click demo and one-click installation options are also offered.
The default layout is dynamic and can be used to create a fully responsive website. A wide banner image with a dynamic link is also provided. Images, icons, and texts are provided with animations to make it more interesting. Full compatibility is offered for WooCommerce.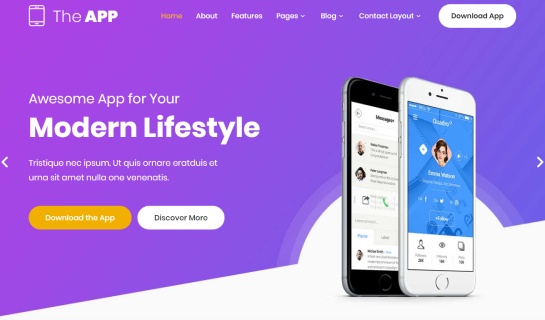 The App Pro is a powerful and secure theme that has made it to the compilation of full page WordPress themes. Any type of color combination can be achieved in this theme.
In addition to the inbuilt features and functions, shortcodes can be used to add and improvise the same. You readily get the features of contact form and gallery with captcha verification without any plugins. Social media icons are provided and can be directly used after integration with social channels.
Google Fonts option is provided and it is widget friendly. Background, template, layout, and other elements can be customized without any limitations.
One can easily create an aesthetically appealing powerful website to promote an app or product. All the required details, images, videos, and information can be added smoothly.
Shopzee is a one of its kind one-page responsive resume WordPress theme. It has been tested for compatibility in all kinds of devices including hand-held ones. It is compatible with all popular plugins including but not limited to WooCommerce, Netgen Gallery, Contact Form, and others.
It has passed the Google mobile-friendly test and offers full freedom to modify colors across the layout. The response time is quick and the loading time faster.
For showcasing portfolio you also get a fancy filterable gallery area. A blog section is also offered in the inbuilt sections for your convenience.
The coding is SEO friendly and is SMO integrated. Changes can be easily made with the provided options. It is multilingual and translation-ready apart from being able to use it as a Shopzee. There is no ideal theme than this to create an online resume in the digital space.
To showcase and highlight the best product and service of your hotels and beaches SKT Beach Pro is a perfect choice. This theme has included all features, functions, and necessary requisites essential for industries by default. This has ensured that it made to this compilation of full page WordPress themes.
It gives out a professional, elegant, and bold look for all your corporate and retail visitors. All colors can be modified and Google Fonts support with 600+ fonts is also offered.
All the inbuilt shortcodes can be easily added to the theme for enhancing the features. It is tested for SEO compatibility and tested with other popular plugins as well.
You can also apply and manage the five-layer deep drop downs and hover effect. Carousels for testimonials and filterable gallery can contribute to making an impactful website.
Photodock is one of the most impactful full page WordPress themes which is used by independent Photographer consultants and freelancers.
It falls in the multipurpose segment for use but is mostly used professionals with the aim to create a responsive digital space. A distinct section for the homepage is provided with vibrant colors.
This means that without any other issues from the backend itself the homepage can be setup. The design is basic, minimal, and effective with full provision of modifications as required. Fonts are loaded via Google and a multilingual and translation-ready facility is also offered.
It is WooCommerce compatible and WordPress coding standards are maintained in the development phase. Certain blog layouts are also provided so that the one that best fits your requirement can be selected. Documentation is provided that includes step-by-step guidance for all processes.
Beauty Cuts is amongst the phenomenal full page WordPress themes for creating responsive hair salon and hairstyle website. With a restricted footprint this can contribute to creating a stunning digital space for a local business.
The user-navigation is efficient and simple and the setup process is quick. It has been checked for compatibility hundreds of plugins, browsers, and screen size. A pictorial area is also provided so that the skills can be displayed through images.
A contact form is offered in the in-built features along with a map for spotting the location. Standard pages are included and it is SEO-friendly.
One year customer support is provided to ensure that you can publish a well-performing website. A dedicated service section is also offered so that all services can be featured in one place with all the necessary details.
This is a unique full page WordPress themes for animal, pets website with an impeccable blend of responsiveness and power. You can rely on the backend for managing and controlling all aspects.
Colors of all elements can be modified to ensure that you can create the representation of your choice. In addition to being multilingual and translation-ready, it also offers RTL support. It is integrated with hundreds of Google fonts and 360+ icons. You also get access to fully integrated social media and related icons to boost traffic.
A dedicated blogging area is also provided and updates in the same can be published through the inbuilt slider. 100+ shortcodes are also offered and it is also compatible with a wide range of plugins.
Marvin is the last in this compilation of best full page WordPress themes. It can be efficiently used to create a resume, portfolio, or illustrative one-page site. It is highly responsive and compatible with mobile devices and all browsers.
The templates are customizable, color-changing, and easily modifiable from the backend. An options panel is provided for ease of control. Google fonts are integrated and the ease of use framework makes its application convenient and easy. For contact info, the vCard download option is also available.
Sections like skills, testimonials, and pricing help in clearly communicating with the audience. A blog section is also offered which eliminates the requirements of coding for the same. All latest WordPress versions are compatible and it is SEO-friendly.
Nuptials is one of its kind stunning and responsive wedding-based one-page theme. This enables you to create a niche-specific website for wedding agencies, wedding blogs, wedding photography, and tours & travels.
The added advantage that you gain here is that all photographs, graphics, and layouts are designed to suit our subject. This reduces efforts to find the right copyright-free images for your site.
By default the central color is white but it can be adjusted and modified as required by your brand. Customization ranging from font style, layouts, elements, to templates is possible.
Handling becomes easy for even novice users and documentation helps in successfully installing it. In addition to all basic features related to the niche, all plugins are supported so that other features can be added.