There is a certain sequence of steps one has to follow in order to ensure his success, while launching and presenting his business.
One of the most important steps nowadays seems to be the online manifestation of any kind of business, primarily used as a well-known marketing tool, which can promote your business in a very quick way.
Subsequently, in the process of prioritization the required steps within the scope of building up your new business or promoting small one, designing and running a convenient and easy to use website has to be in the first ranges.
Nevertheless, however easy it may seem at first sight, actually it's a responsible task to perform, so that your website will meet all the set requirements, at the same time working in an easy and fast way.
The most useful tool in building such a website undoubtedly can be a well chosen and flexible theme, particularly convenient for any kind of business manifestation.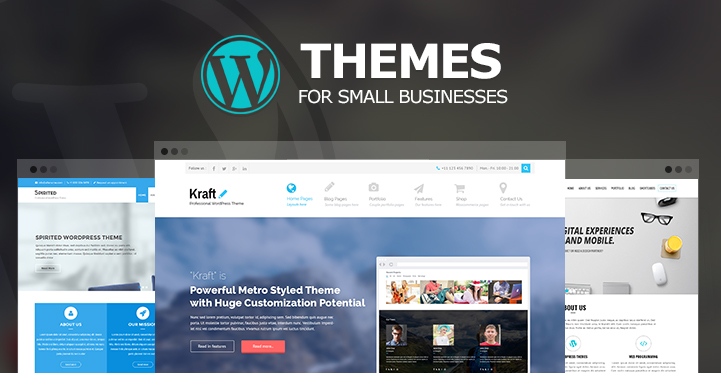 Having in view all the above said, we are going to uncover the most popular and high-ranked free WordPress themes for small business, specifically suitable for small businesses of any kind and description. We do hope our efforts to help you with this regard will truly be successful!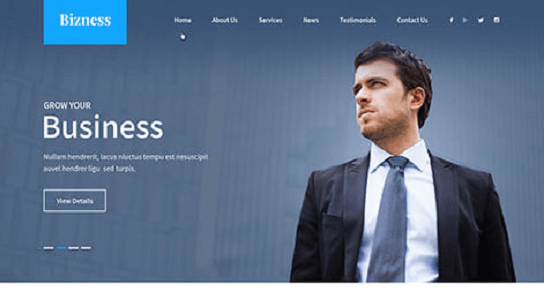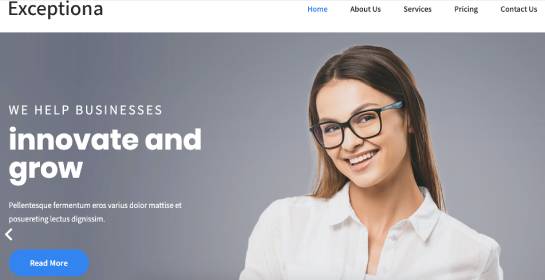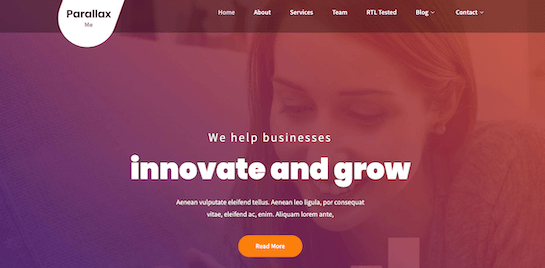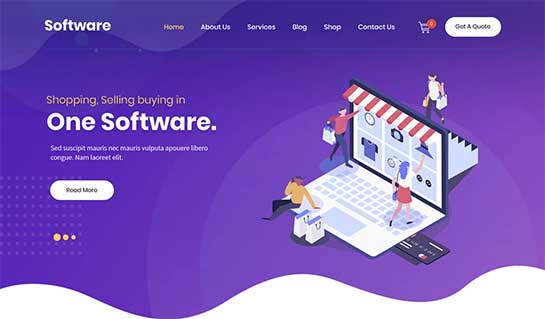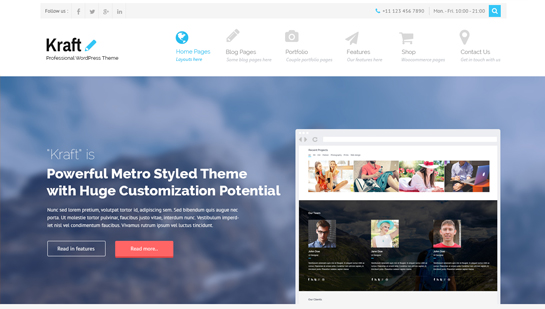 Let us start with this easy and simple, yet elegantly designed and flexible free WordPress Themes for small businesses. Kraft Lite is ideal supporter for your corporate or individual newly started business or any kind of business related activity.
Several sections, like home, about us, blog, portfolio, features are incorporated in the homepage, and every single website user can easily get access to those sections search there the needed information about the presented business.
This responsive theme appears in front of us with popular and applicable features and options, including default slider with possible 5 slides, widgetized right sidebar, perfect navigation, blog template, basic social icons and documentation integration and famous for its functionality with popular plugins.
Some of its feature includes:
Google mobile friendly theme
Super fast loading WordPress theme
Slider with upto 5 slides working
Comes with complete documentation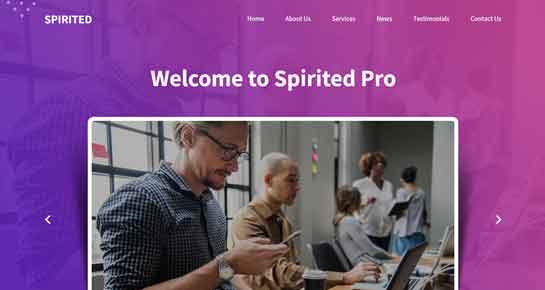 Another reliable business or corporate platform for any kind of business presentation will be Spirited lite. This small business WordPress theme for free is also among the preferred ones to be your promoter in connection to your successful and strong business website.
Spirited lite is offered with ready slider, widgetized sidebar, easy to use and manage homepage sections and boxes, social media icons, standard pages, color change availability and is checked with WooCommerce, Contact Form 7 and WordPress latest version.
Some of its feature includes:
Easy to set up using Customizer
Default slider included with the theme
Check changes done live as you work with the customizer
Compatible with latest version of WordPress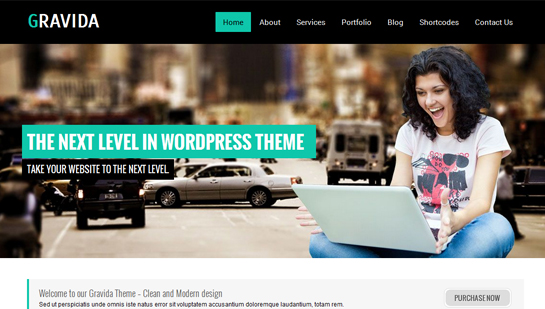 Let's pass on to another responsive and multipurpose free WordPress theme, particularly convenient for small business, industrial, commercial or any other business oriented websites.
Gravida Lite goes with all the essential theme sections, options and manners, including, but not limited to slider with 5 slides availability, perfect dropdown navigation, about, services, portfolio and blog section to provide the website visitor with all the required information about your business activity and suggested services, social media icons and standard pages.
The theme is utterly configured to go well with all the major devices, WooCommerce and WordPress latest version as well.
Some of its feature includes:
Get 5 slides and a nice slider on top
Supports upto dropdown level 5
Social media integrated
Compatibility checked with popular plugins like WooCommerce
Another dependable and business centric WordPress theme for free is SKT Launch. As it can be suggested by the name of this theme, SKT Launch can be perfectly used for boosting your running small business website with launching and presenting new relevant products.
This responsive and Google mobile friendly theme comes with beautifully and functionally designed homepage with different sections, default slider, link color, text, image and background change availability, works on the coding of HTML5 and CSS3 and shows compatibility with popular plugins.
Some of its feature includes:
Responsive and passes Google mobile friendly test
Also passes Google page speed test
Theme check passed and also codex standards followed
Compatible with qTranslate X for multilingual site
Here is SKT Corp with the whole package of diverse proper and functional tools at your disposal. One can build every kind of website in relation to your newly launched or small business, which will have all the required qualifications to be called a professional and successful one.
The package of this eye-catching designed and flexible WordPress theme for free includes image and content slider with 5 slides availability, which means that along with the selected image relevant text or description may appear.
Up to 10 sections can be added on the homepage. Inner pages come with 3 different types of templates, the theme also includes standard pages and functions well with the standards of WooCommerce and WordPress latest plugins.
Some of its feature includes:
5 slides with transition effects
Blog and other page templates also available
Multi-level dropdown available
Standard pages like 404 and search
Another graphically appealing, functinally saturated foundation for your small business website.
This blue and white reponsive theme proves to satisfy all the specific demands put forward for the certain website of any business kind. SKT Biz comes with default slider,where one can add up to 5 slides, many useful theme options, ready page content loaded, which can undergo some changes and appear relevantly.
This multipurpose theme goes hand in hand with WooCommerce and Contact Form 7 plugins.
Some of its feature includes:
Comes with a default slider with 5 slides and transition effects
Home Page manageable using theme options and sections
Easy to use blog and other page templates
Popular WordPress plugins supported
In our list of free WordPress themes, especially suitable for small business presentation and promotion, SKT is deservedly placed among the best. This elegantly designed and all inclusive theme will for sure be a great support to your business realization on the online platform.
SKT White is also easy in usage and one can build up, design and develop very flexible business or corporate related theme with little efforts.
This professional looking theme includes beautiful slider on the top with the availability of adding up to 5 slides, different easy to manage sections and options, dropdown levels up to 5, social media integration, standart pages and supports popular plugins.
Some of its feature includes:
Animated theme which looks very good when browsed
Fully responsive with 5 slides ability on the top
Looks good on any device
Supports dropdown navigation levels upto 5
Just like the previous one, SKT Black is also praised to be the right hand of many people and corporates in developing their small businesses. This simple, easy to use and manage theme can be a solid ground, on which any kind of business website can be built on.
SKT Black comprises manifold relevent sections and blocks on the homepage, homepage fancy parallax slider with up to 5 slides and shows great performance with SEO, SMO, Contact Form 7, WooCommerce and WordPress latest version standards.
Some of its feature includes:
Compatible with all major browsers
SEO and SMO ready theme
Easy to use theme options with sections of homepage set up given
WordPress theme handbook code compliant and secured
Another quite trustworthy and presentable free WordPress Themes for small businesses is SKT Panorama. This responsive theme can be used to accentuate the priviliges of the target business company or any kind of business activity by means of 5 different slides along the whole homepage.
Apart from that, this multipurpose and animated theme supports dropdown level navigation, includes blog template, page template, ready contact details and shows compatibility with major plugins requirements.
Some of its feature includes:
Easy to use no brainer theme options
Default footer also set up with location and social media icons
Default templates and standard pages also available
Easy to use Theme options
Our list of free WordPress Themes for small businesses for free concludes SKT Design Agency with its lively and animated design and sufficient technical possibilities offered.
This multiconcept and responsive theme is deemed to render a stable groundwork for realizing any kind of business performances in your website.
SKT Design Agency with its proposed simple and easy to manage homepage, widgetized sidebar, 5 levels dropdown navigations, standard pages, complete documentation and many other features and options is considered to be a preferred one among many other suggested themes for small businesses.
Some of its feature includes:
GPL compliant no copyright issues
Extend functionality by adding shortcodes plugin
Documentation complete and available
Links color can be changed easily