SKT Corp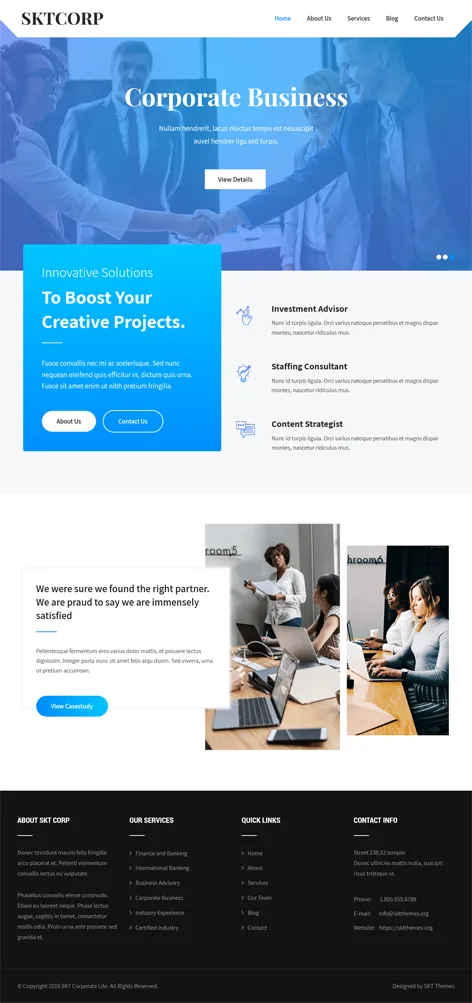 Free
Demo
360+ Themes for $69
Comparison
Free Theme
Less homepage sections
No inner pages
No Support
No Typography Options
No Icon Options
No Header Layouts
No footer Layouts
Less plugins compatible
Less updates
Less flexibility
More Time for Website Build
Features of free business WordPress theme
Free business WordPress theme SKT Corp works in all devices
5 slides with transition effects
Home page easy to set up and use with the help of sections
Blog and other page templates also available
Multi-level dropdown available
Standard pages like 404 and search
SEO and SMO friendly theme
Codex and WordPress handbook used to code the theme with set standards
WooCommerce ready theme
Compatible with latest versions of WordPress
Coded with HTML5 & CSS3
SKT Corp is a free business WordPress theme which is suitable for any kind of business purposes. It has a well suited slider which has 5 slides available. It has an image and content slider so one can have text written with read more links to inner pages or external links along with the picture/image.
SKT Corp is based on white with a green color to have a good professional look and feel. Has 3 blurbs just under the slider which can be used to display any kind of html content mixed with images or text.
Has featured content area, recent posts and other sections. One may add upto 10 sections on the homepage of such areas.
Inner pages have 3 types of templates: Sidebar, Full Width and Blog template. Comes with search pages, 404 pages and other standard pages.
Compatible with latest WordPress plugins. Is Ecommerce ready free business WordPress theme and is compatible with WooCommerce plugin.
Why consider using a free business WordPress theme?
WordPress is by far the most used CMS in the world and due to its easy to use and easy to understand backend one gets the most out of it. Also the learning curve for understanding how WordPress works is very simple and hence people can get started within a week's time on their new website.
Plus posting pages and posts is like copying and pasting from a Word document so it doesn't take any efforts for the same.
Here we have laid out the points important for consideration of a free business WordPress theme:
1. Doesn't cost you anything: Free is totally free and doesn't cost you anything apart from the time you need to spend to understand how it works and whether it is worth the time to go ahead if it fits your needs.
First step is to identify your needs of a website and if its a simple website and in case you don't have that much of a budget then free business WordPress theme is really worth the try.
You can just try it out and see if you are able to edit it as to how you want it to become and if it does have the potential then of course you can go ahead and make use of it.
2. Easy to Use: Free ones are also easy to use and hence one doesn't have to perform several steps to get to the climax of how the demo has been shown.
One just needs to load up the theme and do additional few steps and is ready to make use of the free business WordPress theme for their own business purposes.
3. Get Support for free: Support can be taken for free in case the developer allows email support.
If they respond to the emails then you understand that the free theme developer is quite better and will support when you go for the premium as well.
4. Many people want to try out free before they purchase because its a tendency to see and check whether the company is good or not and whether their coding is better in terms of standards or not.
If the coding standards are how WordPress codex has laid down and if the theme passes theme check standards then of course people would be glad to give it a try.
5. Can use to develop simple website: Of course people can use such free business WordPress themes to develop a simple website which doesn't include any budgetary involvement and only time is involved.
Simple websites don't demand much in terms of look and feel either and with a sidebar widget friendly and logo and text and image change with one or 2 header widgets for social icons and phone number and email you are good to go with your business website which can be simple and does the job of providing information to the people about your business.
Steps to identify the best free business WordPress theme
1. Reviews: Reviews are a great way to judge whether the theme is worth the try or not. And for our free business WP themes one can easily check out the reviews in WordPress.org and check their authenticity and judge by them. Most of the times reviews are a great way to judge but many times theme developers can manipulate the system as well. Hence one can follow the next steps for additional safety.
2. Support: Support for any template can be judged by sending over an email via contact form on the website and asking several questions about the theme. If the theme developer answers them in a timely manner and properly then one can understand that the company is better when it comes to support.
3. Responsive: Of course responsive website is not optional anymore and one should check whether the theme is fully responsive and Google mobile friendly or not. If the template isn't responsive then you shouldn't be wasting much of your time with it.
4. Cross browser compatibility: Cross browser compatibility should be checked because if the free template for business isn't properly coded for all browsers it won't give an unified experience to the users and some users may face problems because of using some typical browsers.
5. Plugins compatibility: Plugins are a way to add more and new features and functionality into your website instantly. They are also a way to have your future website secured because in case of security also one can add a security plugin and be at peace. One can increase functionality whenever required like adding a contact form or building newsletter subscription by adding a form or having eCommerce using WooCommerce plugin and several other functionalities can be added just like that.
6. Translation / Multilingual ready: If the free business theme is translation or multilingual ready then it would mean that it can be used for any type of other language websites. Also it can be changed for use by any other country domain as well as can have a multilingual website easily by use of a plugin. Thus it is a big positive when it comes to building such type of websites.
7. SEO friendly: SEO friendly is essential because your website should be visible to the public and local area people because that is what would bring you more business and hence SEO friendly free business WordPress theme is essential and necessary. It also increases the chances of sales or leads from the website.
8. Page builder: Page builders are useful to building any type of layout for your website and most of the cases normal users who do not understand HTML get a lot of help using page builders so if the template offers compatibility with one of the page builder plugin or with most of them then its a win win situation for you.
9. Documentation: Extensive documentation would mean that people don't have to keep on asking questions again and again to the theme developer and the time will also be reduced for going to and fro and checking here and there for most of the things. True that custom requests need to be dealt directly with the developer.
Change Log
Updated December 2023
Working With Latest WordPress Version
Updated Google fonts for GDPR and Other Country Privacy
Updated to work with PHP 8+
Updated to work with at least one page builder (Elementor, Gutenberg or SKT Builder)
Compatible with popular plugins of SEO, contact form and WooCommerce
Updated performance to work with popular cache plugins and Cloudflare