SKT Photo Session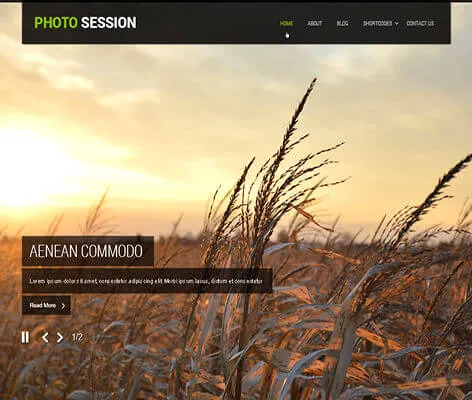 Free
Demo
360+ Themes for $69
Comparison
Free Theme
Less homepage sections
No inner pages
No Support
No Typography Options
No Icon Options
No Header Layouts
No footer Layouts
Less plugins compatible
Less updates
Less flexibility
More Time for Website Build
FREE Premium photography WordPress theme
Photo Session is a FREE Premium photography WordPress theme
Comes with a default slider to add up to 5 slides
Easy to use theme options make it super easy and manageable
Default gallery and templates load up. Also blog can be set up by default using Settings> Readings
Responsive theme looks good on mobile phones
Supports dropdown levels upto 5
Social media integrated theme
Supports popular plugins like WooCommerce, and Contact Form 7
Standard pages like 404 and search and blog available
Compatible with latest version of WordPress
Coded with HTML5 & CSS3
Photo Session is a premium photography theme for FREE. It's said that images can speak more than words and this is what applies in the case of our theme. We have a beautiful slider on the home page which shows nicely shot images. One can have up to 5 full width images on the home page to showcase along with the title and description and read more links to any inner page or external link.
Photo Session WordPress theme also has a full width page template and blog template. Setting up a blog and other pages is so easy on this theme.
This theme has been created for ease of use by customers.
These options are so easy to use. We have a slider and other basic colour settings via theme options.
The footer is widgetized and can be edited/removed.
This theme is best suitable for photographers, photo bloggers, photo enthusiasts, portfolios, and corporate as well as business websites.
This theme is responsive and is fully compatible with WooCommerce for shopping experiences as well.
Nowadays, photography has become such a common thing. As we are aware of it from the very beginning or we can say from our childhood days. And, these days with the emergence of smartphones it has become much common. This is one of the reasons we take photography for granted. But, in earlier days photography was not so common. Only a few people were aware of it and only some were having cameras. That time people observe the beauty of nature with all their heart. And, when that is captured in a photo it seems so magnificent. Can you imagine thwarting a certain special moment and to capture it for progeny?
Now, all smartphones have cameras incarnated in them. But, still, there are also some people who are having an ardent interest in photography. From earlier times till now there is an immense growth in types of photography. And, now we can say that photography is totally a new domain. Now, we can keep our memories with us and that too with numerous decorative patterns. Picture quality has augmented to an extent that even a painting can be compared to a picture. If you also possess the talent for taking alluring pictures then need not worry.
Photographic blogs or photography as a career have much scope and they do not have any prospects of slowing down. If you want to showcase your talent to a wider population then one of the best ways is to design your website. In this digital world, people are much tech-savvy and prone to do an online search. So, by building your online presence you can reach to a wider population. If you are in a quandary that how to design your photography website, then need not woe. We are here to help you out with this sublime free photography WordPress theme.
This is made available to you with a lot of features and functionality. This is impeccable for designing websites for photography, portfolios, photo sessions, nature scenery photos and related. This is coded with the latest programming languages, HTML and CSS3. Hence, your website will be available in a standard compact format and professional and modern look. It will be visually splendid for your visitors with the loaded animated effects. Your photography website will appear to be eye-catching and as elegant as your tantalizing pictures and your talent.
The backbreaking efforts of our designers can be seen in the palatial design of the free photography WordPress theme. You are getting this amazing theme without investing any money. Compatible with the WooCommerce plugin so, you can open an online studio and can take orders for photo shoots online. Also, you can accept payment from your customers via an online medium. So, you need not worry about online transactions. All that will be taken care of by the WooCommerce plugin.
In the online marketplace also there is much competition. Could you do anything to be at the top in the online marketplace? Yes, of course. With this theme, your photography website will have good search results. As we have adopted SEO optimized coding to design this theme. Along with this, you can also make use of SEO plugins. The theme is also congenial with various SEO plugins.
Free premium photography WordPress theme is just impeccable in all aspects no matter its technical features or contemporary look. Designed affable with social media so, you can also use social media plugins while designing your website. With the unique design of your website, you can be at the top among your competitors. Design your photography website with this theme and take your career to new heights.
Tags: celebrity, portraitist, camera addict, camera-man, journalist, photoshoots, artist, videographer, aesthetic pleasure seeker, photo lover, artist, press photographer, photographing, camerawoman, woman, photography enthusiast, photographer, freelance photographer, assistant, independent photographer, camera operator, photo maker, cameramen, artist, camera, photography, illustrated, producer, photoshop, picture, photo taker
Change Log
Updated December 2023
Working With Latest WordPress Version
Updated Google fonts for GDPR and Other Country Privacy
Updated to work with PHP 8+
Updated to work with at least one page builder (Elementor, Gutenberg or SKT Builder)
Compatible with popular plugins of SEO, contact form and WooCommerce
Updated performance to work with popular cache plugins and Cloudflare