Photo Session PRO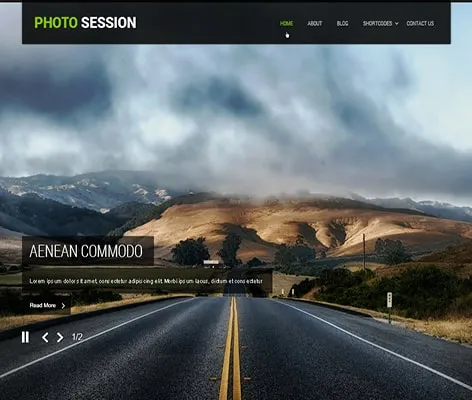 For

$39
Demo
360+ Themes for $69

Features and Advantages of Photography WordPress Theme Photo Session Pro
Fully responsive photography WordPress theme and checked on Mac, Windows browsers apart from Mobile and Tablet browsers
Color changing theme via theme options
Can change opacity as well of the theme
Transparency thus create a lot of nice content over nicely shot backgrounds
Integrated with 50+ social icons
Completely widgetized with footer, sidebar all in control
Additional dual sidebar layout available
Better Support via support forum, email, Skype
Gallery area to support your image display needs
Photo Album facility available
Compatible with WooCommerce and Contact form 7 and other popular plugins
Fully SEO compatible
Sortable gallery also available via plugin
Lots of shortcodes as well as theme options make this theme powerful and super easy to manage and customize
Social media is integrated into this theme
Easy to use theme options
Default contact form with captcha available
Standard pages like 404 and search and blog are also available
Compatible with latest version of Wordpress
Coded with HTML5 & CSS3
Photo Session PRO is a premium photography WordPress theme created and crafted to meet all expectations of business, corporate, photographer, portfolio and photo enthusiasts.
Photo Session PRO comes with a beautiful slider on the home page which has the ability to change upto 15 slider images.
It also comes up with other pages like full width page template and layout change options in inner pages whereby you can change the navigation to either left or right.
Also it comes with gallery area whereby you can have 3 types of gallery.
We also recommend using other gallery plugins in order to have more gallery options in this theme.
Differences with the FREE version are given in features. This is a premium version so you will have full support from the theme developers regarding any issue with this theme.
Comes with default contact form with captcha.
Also Included with every Photography WordPress theme
Theme Files Theme files are included in the zip you get when purchased
PSD Design Files Includes PSD format file so that in case you need any design changes first in order to modify the theme you can do so
Sample Content Homepage content gets loaded default and rest of the content pages can be easily set up using documentation
Support You will get login for our support forum and our email id and skype ID after purchase of a theme
Free Installation You will get free installation if you request us to install the theme on your server with demo content
Why is Photography WordPress theme important?
Photographers always need an online portfolio or a website to showcase their talent and portfolio.
Also they need to also store their previous client photos so that they can showcase them later on. This is the reason why we have built up this great photography WordPress theme which does justification for needs and requirements of the photographers.
Mostly photographers are independent and work independently. They also are not always wedding photographers and are wild life photographers or nature lovers and shoot various shots.
Now they need some website where they can upload their profile regularly or a website which integrates their flickr and instagram feeds and showcases their online portfolio in a nice way.
A website acts as a common platform for someone to have all pages like about page, booking page for contacting photographer in case they need to be hired or other useful info and blog pages for sharing and getting traffic.
Thus online social profiles aren't enough as they don't give much info about your business but photography WordPress theme can act as an online showcase portfolio which gathers all your info and shows them in a nice way and acts like a resume for photographers.
The one given in one of the best WordPress photography themes which has a nice full slider on the homepage and thereafter transparent pages for inside.
Inner pages templates and blog templates are also given.
Several popular gallery plugins and shortcodes plugins are compatible with this world class WordPress photography theme.
Also slider and slideshows of unlimited amounts have been tested and found to be working with this template.
Colors can be changed from the current black one to anything you like and one can use any language of their choice.
Also the photography WordPress theme offers multilingual functionality as well.
Main reason why WordPress has become so evidently popular is because the way it is very simple to manage and very simple to extend functionality. With the help of fancier slideshows and fancier photo gallery plugins one can easily extend a portfolio section.
Even better one can have multiple types of portfolio showcased as per their ease of use and requirements.
Hence our Photography WordPress theme has been created which is suitable for all types of photographers, portfolio owners, profile holders who want to showcase to the world their creations.
Creations need to be showcased very nicely and neatly so that the person who checks them out likes them and understands the real importance of these.
Hence photography WordPress theme has been created to cater and adhere to the growing demands and requirements from showcases who want to showcase their portfolio.
Architects want to display their building as arts, interior designers want to showcase interior profiles.
A graphic designer would like to showcase their logo creation, brochures and standees and other print and flyers.
Similarly different personnel would like to showcase different creations they have created and hence a photography template should have the ability to showcase portfolio in anyway that the user wants to display themselves.
So it should have full wide slideshows and slider capability.
Video sliders as well should be able to play and run easily on the website. It should have the capacity to showcase gallery as well which can include variety of items in a great fashion and whichever item the visitor likes can click on them to open them up in a lightbox and easily take care to verify and check the item.
Photographers around the world want to showcase different portfolios they might have shot for baby shower or marriage function or engagement.
They can also have variety of events they might have captured and want to showcase them to the world.
They also have variety of model photoshoots they do and want to showcase them to the world. These photographers don't have time to upload these photos separately on social media as well as on website.
Hence they would prefer a website where they can showcase their Instagram feeds as well as Facebook feeds and also can share their gallery which they have shown to the world via their website be able to share them on social media as well.
This way one way or the other worldwide on any medium if someone follows them can get to know about the recent photo shoots these guys are doing.
There are very famous fashion photographers in and around the world and models crave to be shot by them at one stage or the other and hence they need a professional website to showcase their elegance and persona.
Hence the website should reflect not just their work but them. We have presented to you a nice and elegant and very professional looking photography WordPress theme which when used by photographers can showcase their photos and put the entire focus on photos and multimedia.
And also they are able to change the transparency of the entire template. They are also able to change the color of the entire template.
They are also able to change layout of the pages and posts. They can add fancier content as well with the help of in built shortcodes as well as with the help of additional shortcode plugins or page builder plugins.
Easier to manage and simple to use any type of photographer without any prior experience of HTML or CSS can easily use the template and change and customize it to reflect what they need.
Tags: celebrity, portraitist, camera addicts, camera-man, journalist, photoshooter, artist, videographer, aesthetic pleasure seeker, photo lover, artist, press photographer, photographing, camerawoman, woman, photography enthusiast, photographist, freelance photographer, assistant, independent photographer, camera operator, photomaker, cameramen, artist, camera, photography, illustrated, producer, photoshoper, picture, phototaker
Change Log
Updated November 2023
Working With Latest WordPress Version
Updated Google fonts for GDPR and Other Country Privacy
Updated to work with PHP 8+
Updated to work with at least one page builder (Elementor, Gutenberg or SKT Builder)
Compatible with popular plugins of SEO, contact form and WooCommerce
Updated performance to work with popular cache plugins and Cloudflare