Have you ever wondered that in the ocean of WordPress specifics and add-ons, what are free Elementor WordPress themes?
These themes are absolutely free and enable you to create a terrific web presence for the desired niche.
The peculiarity about them is the drag and drop interface offered by it which is extremely useful for non-technical owners. With this peculiarity customizing the entire layout and other options becomes convenient and simple.
For various parts of the themes, you can become self-reliant in terms of templates and all designing aspects related to it.
Blog posts, header, footer, and all other segments are also covered in the same so that you can add a worthy value to your creation.
In the following segment, we have compiled some of the widely used free themes with Elementor compatibility. Explore its features and select the best one to suffice your online web presence requirements.
This is why you have landed this page. This post shares the hand-picked and top rated Elementor themes that would help to create your website without stress of coding skills.
One of the biggest reasons most business owners don't have a website is lack of coding skills. If you are someone who doesn't need to put heavy investment on a website then free Elementor WordPress themes offers you the best way to get started with your website.
It makes it possible for everyone to create a website friendly from top to bottom. So you see, it's easy! But selecting Elementor WordPress themes is quite a daunting task, when you have many options.
Building a new website can seem a bit challenging for you if you lack the proper skills in coding. To make your business grow faster, it is essential to ensure a WordPress theme that gives your website a nice look and very intuitive responsiveness.
Since WordPress comes with a large number of free themes, it might feel daunting to you to find out the business-niche based themes that suit your website present rightly.
A good Elementor theme thus ensures the proper page building and makes your website more appealing.
Now, you can choose from the given free Elementor WordPress themes that are suitable for your business type. And you don't worry about choosing free themes, because these themes give you exactly what you need. Have a look below:
Best Free Elementor WordPress Themes and Templates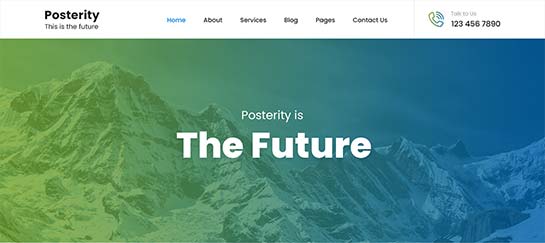 If your goal is to create a successful digital marketing company, web development company, design agencies, and other related firms and IT starts up then posterity is the best free Elementor WordPress theme we would recommend you.
It is the perfect template for you because it is a completely clean and fully responsive theme that fits with any business website.
You can start up with this complete without money and zero technical knowledge. The demo comes with the modules and sections to share the details on your business website.
Posterity is created with an Elementor page builder that makes the website more compatible with the page builder plugins such as WP Bakery, SKT builder, and many more.
It is a creative template that comes with default Google Maps, side menu, one-click demo import, SEO-friendly features, color options, and multilingual plus RTL support features.
If you are struggling for money to invest in the best theme then you should invest in this free platform to get started with your business.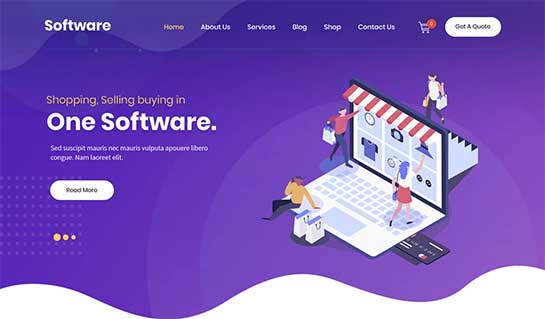 SKT software is a fantastic template created for the people who are interested in creating the website related to software industries, freelancer's website, a professional blog, and corporate business website. It provides you decent features that you haven't seen before.
On the other hand, it is a well-designed theme for any kind of Business and marketing. People who are looking for a high-quality free elementor WordPress theme website without investment should prefer this theme. It is a fully optimized, responsive, and user-friendly theme.
Plus, it is compatible with every browser so that you will get easy searches on Google pages.
Besides, the template includes professional slider images that make a website more socially friendly and easy to share. This is built with css3 and HTML5 that maintains the new WordPress standards.
Further, if you want to add the shopping cart then it is compatible with the WooCommerce plugin, hence your customer's shopping experience will be great.
More features, you can expect including compatibility with full with slide call-to-action-button stops and SEO-optimized templates.
Moreover, its attractive animations make the user more attracted to your content, so that it reduces the bounce rate and you can conquer the benefits from this theme.
Activism Lite is yet another the best free Elementor WordPress theme you can choose for your business related to fundraising, political activity, crowdfunding, and non-organizational events.
If you are looking for a theme that is pretty less complicated, easy to set up, and SEO friendly then you should not forget it. It supports a clean and neat design and also WooCommerce compatible.
The website creates easy events and manages various plugins. Further, it includes a lot of shortcodes such as the contact us page, testimonials, and services.
The donation sections are also created along with the blog section, so you can reach customers globally. Without hesitation, you can start creating your website with that.
If you find any issues, documentation is available that gives full demo content on creating a professional website. 
According to the recent guidelines, the SEO standards have been changed, and this is compatible with the latest WordPress standard. 
The loading speed of this template is just about 3 seconds and as compared to the other theme, the design is highly enriched and provides great functionality as well as standard features.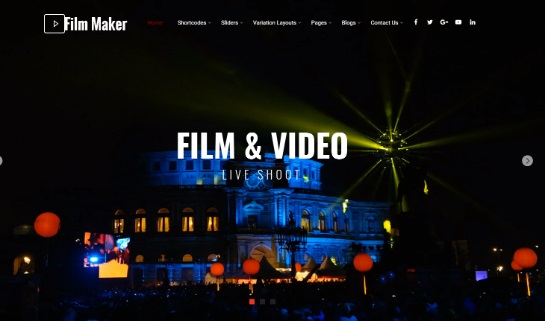 SKT Filmmaker is a highly functional and especially design theme for the websites related BookMyShow, ticket new, rotten tomatoes, and NDTV movies.
If you are looking for the free elementor WordPress theme that supports your editor website then don't forget SKT filmmaker. It is fully compatible and used by anyone, who doesn't have technical knowledge.
This will reduce your cost on website developers and designers because its elements are highly designed and give you fantastic options to generate traffic to your website.
The highlighted features of this theme are standard-compliant, free installation, retina-ready, come with standard options, images, and text changes, and many more.
 
Further, the header Menu consists of social media icons that allow the users to share your content on social media platforms. The services like creative production and TVC production are also added that help you receive more traffic globally.  
SKT Filmmaker is best for free and paid plugins. The contact form plugin is also supported and provides easy access for any plugin. On the other hand, the website will allow you to become more functional and tempting for the customers.
With the use of the My Dog Lite free Elementor WordPress theme, you can create an engaging pet website that shares the updated blogs, posts, and articles. This theme is mobile friendly and allows working on Facebook, intense debate and comments.
On the other hand, it is a completely responsive design that allows the website to be loaded easily on any browser and devices such as mobile, laptop, or anyone.
It is a multiple language plugin supportive themes with various plugins such as translate plugins WPML and more. My Dog Lite is designed with widgets and allows the users to work on various sections such as header, footer, and sidebar.
Further, the theme is loaded with various widgets as per your requirement. Its friendly design approach will provide you elegant content. The page builder plugins such as beaver, Elementor and other plugins are working with this theme.  You can use the same for free.
The inclusion of a larger number of shortcodes can be easily managed and you can improve the functionality of the theme as per your choice. This is very supportive and easy to use by anyone.
Besides, it is a professional appearance website that gives your visitors a special experience in terms of loading pages, sharing the content, and subscribing to your website. Try now!
Martial Arts Lite is a specific free elementor WordPress theme that includes impressive features and premade layouts for martial art schools, martial art clubs, and related websites.
It is a remarkable and user-friendly theme that provides you with the best website that easily grabs the user's attention. It is made with an Elementor page builder that makes the website more functional and load in just a couple of seconds.
With just one click you can expect the setup and import the complete demo content. The header section is made with dynamic approaches that help to add links and call-to-action buttons.
This can manage the contact and the potential customers. Another great feature you can receive the same such as header, testimonial, program details, form, and wide footer area.  
Martial arts theme is highly SEO optimized, cross-browser compatible, and best to enhance a User experience. On the other hand, it is supported with the Wpml plugin and online payment gateways.
The template is designed with martial arts sports in mind. Along with that, Google Map plugin allows users to find your business easily. It is the best and aesthetically designed theme that you should choose to display your business to the next level.
If you are running a kids store, then it will be the best free elementor WordPress theme design for schools, kids fashion store, kindergarten, daycare, and baby care website.
While moving forward with the theme, you will check the beautiful colors, attractive Google fonts, and elegant design that naturally enhance the user experience.
It has many features that will be useful in showcasing the great features and products related to kids. The template of this theme is beautifully crafted and provides the website content very easy to read for users.
The templates are much enriched with colors and encounter technical bugs. The high-resolution content is supported for kids' stores.
Moreover, the site theme is very flexible and easy to extend features with third-party plugins. The theme is highly customized and the logo can be uploaded easily and with an attractive design.
The layouts are mobile-friendly, supported call to action button, professional layouts, and the website looks great on all devices.  Hence, you won't find any issue while assessing your business on this free Babysitter Lite theme. Try now!
SKT Winery Lite is the perfect option for those who are interested in creating a wine store online. This is a super great and beautiful design theme that comes with premade home page templates.
It is used to create several eCommerce websites for different clients and customers. You can say that it is a multipurpose template that can be used for the customers in terms of fashion and clothing, jewelry, comic books, liquor Assets, and many more.
The theme provides your full 24/7 customer support, slider plugin, booking plugins, and many more features that make the User experience simply the best. 
Further, the theme is based on high-speed performance, awesome shopping experience, responsive, retina-ready, and social sharing links that make your website super powerful on the Google search page.
On the other hand, the gallery plugins are also compatible and the theme is optimized with Gutenberg, which offers translation ready, 100% responsive design, and WooCommerce ready features. This theme is fully compatible and gives your business a quick boost.
SKT Industrial Lite is a right and a proficient theme that is based on creating websites related to factories, manufacturing industries, and industries.
It has many features and functionality that suit your business and your user's desire. You can add and edit any kind of information related to your business.
The templates are very easy to use and built with pre-made features and pages.  Also, it provides beautiful colors and demo content that will give you a responsive website quickly. You will get easy access to many color options, so you can customize yourself.
This theme is created by keeping the mobile devices in mind, so that the user will reach you from any device and browser.
The focus of creating an SKT industrial theme is giving the users a full pack of SEO optimized plugins and failures that give you an easy business website.
Along with that, the features you can receive such as 650 + Google fonts, WPML plugin, and compatible features, css3 animations and HTML5, fantastic layouts, and modern design.
If you are looking for a fully responsive Cafe and Restaurant related WordPress theme then SKT coffee is a free elementor WordPress theme you can choose for your business. It is Google mobile-friendly tested and also has passed the Google speed test.
It is integrated with customization tools. Hence, you can make the changes themselves. The SEO plugins and contact plugins are also compatible and inbuilt previously.
The theme is coded with HTML5 and css3. The blog section is also available for the post and it allows the users to use this theme for multiple purposes.
This is also compatible with the latest version of WordPress and includes a slider with 3 slides. If you need a portfolio compatible section, then it will offer you great portfolio plugins too.
Creating portfolios based website for models, artists, musicians, photographers, and similar niches are in high demand.
The irony with these situations is that such individuals are highly-invested in their art form and are always on a tight budget.
Hence, investing heavily in a stunning website and in a professional developer is out of the equation. But the availability of terrific free elementor WordPress themes like this one is a miracle for them.
It enables them to set up a dynamic website and also ensures that all required information and images are recorded. All aspects of such themes can be customized with the help of a page builder which enables structuring your art or portfolio.
It comes incorporated with all basic features and other third-party plugins are compatible to ensure superior functionality.
Moreover, the performance remains excellent and uninterrupted even if it is accessed from different devices or browsers.
The fascinating part is that you can add any number of optimized images along with the awards and recognitions. Standard pages will be offered by default and all you have to do is add valued content before publishing it.
This is a dynamic, responsive, and one of its kind multipurpose theme that is widely popular across the globe.
For small and medium scaled businesses across the globe, this has proved to be a game-changer. For retail shop owners, e-commerce beginners, and startups of versatile niches it has ensured a terrific web presence.
This theme is built with all mandatory and key features that are essential for a responsive and thriving website. Given that fact that it is free does not impact that the kind of performance that it has to exhibit.
The page builder enables users to ensure that one can mold it as per the desired industry or business requirements.
Everything that is expected from a website in terms of revenue and client engagement can be set up conveniently.
It offers full support to all kinds of plugins from third-party so that all desired features for any purpose can be added.
Moreover, the layout, structure, and other optimization options enable you to add all the desired information. Everything related to your product or service can be added with in-depth statistics and related images.
This is amongst the soundest themes with definite features in this collection of free elementor WordPress themes.
It has been liked across the world and used across multiple niches due to its stunning craft of one-page slider. This means that it becomes possible for the audience to manage all sections on the homepage easily.
One also has options to add other additional pages that can be easily managed and accessed from the Menu options. Despite having the potential to record contents of all kinds and types without any limits the user interface is flawless.
Moreover, necessary care has also been taken to ensure that the navigation remains simple and easily understandable.
Irrespective of the kind of business, service, or product that you want to showcase, SKT Parallax Me has a solution for you.
Even if you intend to create a non-profit or donation-based website then also it is easily possible. This happens because in addition to all the basic features it is fully compatible with external plugins.
The site featuring across all kinds of screens, devices, and browsers have been tested successfully.
SKT Build Lite is a prominent theme that has powered websites related to construction companies, builders, architectures, and similar businesses.
The core fact that it supports modification with page builder and ensures smooth modification without technical competencies makes it the best.
Therefore, whenever it comes to fantastically performing free elementor WordPress themes, SKT Build Lite is an inevitable option.
The overall background in the entire theme has been kept to white to ensure that all kinds of colors can contrast with it.
Adequate space has been provided to include all kinds of content so that the brand image can be built as desired.
Adding the logo of your firm and customizing other elements as per your requisite is possible here. Despite being free you will find zero compromises in the quality of development as the performance is excellent.
Mandatory and basic features are included by default and full provision has been made to ensure that external plugins can be included.
Setting up a photo gallery featuring your previous projects, future sites, and awards & recognitions is also possible. If required you can also set up and run a parallel blog along with your site.
Fitness has become an integral part of everyone's daily life after the severe effects of the pandemic. This has also opened doors for fitness enthusiasts and institutes to impart virtual training of the same.
Hence to do that and to promote the core fitness activities that you offer Fitness Lite is an ideal option. This is because it is a prominent and most liked option in this collection of free elementor WordPress themes.
Your only core responsibility is to modify the existing template as per your offering through drag-and-drop from the page builder.
Additionally, the images that are offered by default in the template and in other sections can be directly used as they are copyright-free.
Setting up an online presence related to a gym, meditation center, yoga, or similar niches is possible. It helps you get a complete grip over its modifications.
If required you can also set up online payment options or establish an e-store as WooCommerce is compatible.
Multiple fitness activities and subscriptions related to the same can also be easily hosted here. Explore Fitness Lite and use it for a thriving and dynamic online presence.
Restaurants, fast-food joints, cafes, and similar other food outlets need to add a promising value to attract customers.
Once you add this value it becomes essential to promote it and ensure that existing and new guests know about it.
The best way to do this is through a thriving website. A website can include all such details and convey them in the most promising manner.
Restaurant Lite will help you in setting up a website for your food business without paying anything for the theme.
It is dynamic and one of the most in-demand themes in the collection of free WordPress themes with Elementor.
Starting from the basic template to the rest of the elements everything can be conveniently customized. This helps you in establishing the desired connection with your audience which is in sync with your food specialties.
Moreover, you can easily sync other external plugins like Google Maps, Pricing Table, Menu, etc. so that concrete information can be offered.
If required setting up a payment gateway for accepting food orders for delivery and takeaway also becomes possible. Adding testimonials and a food gallery is also achievable here.
One of the core realizations with business owners across the oceans in the pandemic is the importance of online presence. Bizness Lite is an impeccable theme in this compilation of free elementor WordPress themes.
It helps businesses of all kinds and scale to create a fantastic and dynamic web presence. Not only in terms of aesthetics but with functionality and features also it remains the best.
You can conveniently set up a site for your IT business, digital agency, manufacturing plants, and all other operations.
The default template resembles professionalism and elegance in design and the rest of the elements.
Each segment can record information and the images can be substituted for better projection. By default mandatory functionality is offered along with standard pages where information needs to be substituted.
Adding or removing pages is completely under your control. Adding client portfolio, customer testimonial, recognitions, and every other critical information are manageable.
If required you can also establish a blog or an e-commerce store that runs parallel to your website. Modules relating to the same like simplified user-interface and payment gateway integration can also be done.
Flat Lite is a stunning, feature-rich, and powerful theme in this list of free elementor WordPress themes. It is a multipurpose theme that can be used for creating any website whether personal or professional.
Even if you intend to set up a professional blogging site or a business representation with an e-commerce store then that is also possible.
The best part is that it can be modified with a page builder and further customized with the help of a customizer. This eliminates the requirements of technical proficiency or coding for making changes.
Hence whether you want to create a website for your personal bakery or for your corporate organization, Flat Lite is here for you.
Personalization is always the key and the looked at criteria whenever it comes to setting up an online presence. Here you have full liberty to ensure that you set up an aura that is demanded by your product, service, or NGO.
Therefore reaching out to the target audience and ensuring that they stay and explore your site becomes possible.
Adding third-party plugins to enhance the value of your presence and to simplify things for the target audience is also possible.
Are you looking to create a terrific website for your corner of beverages, natural shakes, or juices? If yes, then Juice and Shakes Lite can help you in setting up a tremendous online presence.
The essential and noteworthy part here is that you do not need to know or write any code for making any changes.
Given that it is a part of the free WordPress themes with Elementor, all aspects of the theme can be managed and settled easily.
You also get the liberty to modify the templates and substitute images and colors. This helps you in setting up the required brand identity for your startup or business.
Customizing it by adding core images of your specialized products can also be done. Also, the modification part is simplified so that you can conveniently add and upgrade details about offers, discounts, and giveaways.
Setting up a photo gallery with detailed information, recipe, and benefits of your dishes can be done.
Every activity that can attract potential clients is possible and adding relevant third-party plugins is also possible.
The last and the concluding option in this read of free elementor WordPress themes is Interior Lite. Interior Lite is a specialized option crafted for interior designers, architects, and agencies related to the same.
The entire theme has been magnificently designed in dark colors with terrific images and shades.
The other elements like the menu bar, slider bar, sliders, widgets, etc. are perfectly combined with contrasting colors for an aesthetic appearance. All textual information by default is kept in white colors.
You can conveniently add all kinds of information related to your expertise and advancements here. Moreover, project details of the past and the future can also be added to ensure that your entire portfolio is covered.
Stunning images of products and versatility related to your profession along with achievements can be added.
In case you are offering consultation then a specific segment relating to the same can be set up.
Basic features are added by default and plugins of all kinds from third-party sources can be added to enhance the overall value. Get this theme and set up a terrific and user-friendly online space for your potential and existing clients.
If you are searching for the most intuitive free WordPress themes, then CutsNStyle Lite is just the ideal choice for you. It works as a free responsive hair salon WordPress theme that rightly presents the hair cutting salons, massages, spa parlor, or similar business.
Such a theme that comes with so many nice salon-based themes work as the best one for the WordPress website that you want to run for your parlor business and service.
It comes with the sliders where you can add up to 5 slides and showcase your services. You can also add several pages like blogs for different haircuts.
You can feature videos to promote your business better. As it is built with the customizer, the WordPress admin part does not clash with it. The theme is much more straightforward and easier to use.
There is no need to add any coding language to set the theme. It comes with full documentation. This theme rightly goes compatible with various plugins like WooCommerce.
It also goes compatible with the pricing tables to showcase the rate chart, location, google map, etc. Here are some of the key features:
Free responsive hair salon WordPress theme
Animated sections on the home page
Goes compatible with SEO plugins
Easy to set up a homepage with few clicks
Easy to customize
Compatible with the contact form 7 for the online booking
Coded with HTML5 & CSS3
Are you looking for a theme that can give your butcher business better growth and a nice look?
Then this plugin is just created for you. This free meat shop WordPress theme comes with a template that you can efficiently run with your business.
Also, this theme lets you market your product. This theme comes with the features and functionality that lets you display your recipes, meat products, demo, online classes, etc.
The theme is nicely-created with the navigation facilities. You can add the rating on each of the services. You can also download the pricing table plugin for this theme. It comes with an exclusive call to action button.
You can easily add coupon plugging to your website. Moreover, it also goes seamlessly compatible with the Yoast SEO plugins. Here are the features that it offers:
Free meat shop WordPress theme
Readymade template for creating suitable options
Swelling option for countless products
It is easy to use for creating any kind of e-commerce store.
Rich and flexible design
Easy to use Elementor page builder for setting up the template
Option for the two-step installation process
All google fonts are supported.
Responsive on the computer, tablet, laptop, and mobile devices
The logo is replaceable with the brand logo.
Are you looking for one of the free Elementor themes that can rightly complement your towing business? Then SKT Towing is just the right one for you.
It is a responsive free auto WordPress theme that meets all your requirements for an automotive website. It comes with a call to action above the header.
The navigation is very impressive, and it looks good on all kinds of devices. The set-up is easier for the users. The homepage comes with 3 elements that are easy to set while starting with a slider. The homepage comes with the welcome text and homepage boxes.
The footer is usually divided into 4 columns that give the option for many elements on the website. The inner page comes with the right sidebar, which is widgetized.
Any free auto WordPress theme goes compatible with various plugins. This one goes compatible with the WooCommerce and Nextgen gallery.
It is also highly compatible with various contacts from the plugin and SEO plugins. The theme is rightly coded while prioritizing the security features. Here are the multiple features it offers:
Compatible with WPML, Polylang, and qTranslate X
Compatible with various Contact form 7
Responsive free theme for automotive towing related business
Google and mobile-friendly
Compatible with Yoast SEO
Coded with WordPress codex and theme check compatibility
Easy sliders available
Available social media icon setup
Are you searching for a theme that is just ideal for your architecture business? Then this free theme is just the right one to pick.
You can easily display your portfolio using this platform. The design and structure are quite flexible and lets you add as many pages as you can.
It goes rightly compatible with the various eCommerce and payment gateway options. This theme helps you create a website for construction and architecture-related business.
You can easily access unlimited colors with 900+ Google fonts. Demo content also comes with the theme.
The website comes with white and clean spaces so that each content appears clearly. The menu is simple and beautiful.
There are better options for navigation. It comes with a properly optimized template that appears nicely on small devices. Here are the features that you can get with this theme:
The intuitive theme for the architectural firms, constructions, architects, etc.
The design is very clean and responsive
You can convert your ordinary website into an online store
It comes with a Nivo slider
It goes compatible with the popular sliders
You can add a logo, images, and multimedia content to it.
Spirited Lite works as an excellent fit for the free responsive corporate WordPress theme. You can use it for all devices and platforms.
It is a very intuitive free Elementor theme for the Corporate WordPress look. This theme rightly goes compatible with the multilingual plugin for various multilingual websites.
This theme is rightly Google and mobile-friendly. This is quite easier to set up as it comes with the customizer. There is a default slider that is included along with the theme.
You can quickly check the changes which are done live as you go for working along with the customizer. There is documentation available for this free theme and also comes along with the Pro option.
There are homepage boxes along with the content and the posts, which are very easy to manage. It comes with Standard pages like 404. It also includes the right sidebar page along with blog, categories, and archives.
The sidebar comes rightly widgetized so that you can easily add anything you want in the sidebar. Here are the various features that come along with this:
It is integrated with the social icons and the one default Google font.
It is coded with the HTML5 & CSS3
There are footer social icons and address which can be changed easily.
It is compatible with the shortcodes and the ultimate plugins for an easy setup of the content.
Compatible with the latest version of WordPress
The theme is compatible with the plugins like WooCommerce and Nextgen Gallery.
SKT Corp is a free business WordPress theme that is very intuitive. It comes with a well-suited slider that has the 5 slides.
It also comes with an image and content slider so that you can have text written along with the read more links towards the inner page. Also, it can be added with the read more links to the inner pages or to the external link along with pictures.
It is usually based on white with green color, which looks professional. It has 3 blurbs under the slider that you can use for displaying any kind of HTML content along with text and images. The 5 slides come with the transition effects.
The home page is straightforward to set up with the help section. There are blog and other page templates that are available for the theme. Here are the various features that it offers:
Available with the blog and other page templates
The theme is SEO and SMO friendly
WooCommerce ready
Goes compatible with the WordPress latest version
Comes coded with HTML5 & CSS 3
There are standard pages like 404 and search
There are Multi-level dropdown available for the theme
SKT Biz is the ideal theme for you if you are looking for one which comes with a business company appearance. It comes with a variety of default sliders along with 5 slides and the transition effect.
The homepage is easy to manage while using the theme options and the sections. It is effortless to use, along with the blog and other page templates. The theme is very responsive and comes with a good appearance for any kind of device.
The SKT Biz includes multi-level navigation, which is easily supported with the 5 drops down levels. It comes with social media integration, which is essential for supporting themes. The theme is intuitive enough as it goes compatible with the top-rated WordPress plugins.
There is a 404 search and the other standard pages which are available. You can easily use this theme for the IT industry or any other kind of formal business.
The background is quite easy to manage using the appearance >> background section and comes with the necessary plugin compatibility. Here are the features that it offers:
It is coded with HTML5 & CSS3
The translation is ready, along with the PO files available.
The theme is multilingual ready along with the qTranslate X plugin.
It goes compatible with the Nextgen gallery.
Contact form 7 and ninja compatible
Compatible with the latest WordPress version.
Created to go compatible with the WooCommerce for shop-based websites
Do you want to make your car rental service more intuitive than this one is the right one to opt for? This one comes as correctly designed as per the free car rental service industry. You can also use this for the repair works for the other sectors.
The most exciting part is this one is very easy to configure and comes with a default slider that allows 3 slides. It allows for the 4 social icons which are famous for Twitter, Facebook, google plus, and YouTube.
There are free versions that have a sidebar layout where you can use the sidebar for the different pages with the Dynamic Widgets.
You can also place location and other details, including phone number social media, for the free car rental services. It is easier to set up the form using Contact form 7 and the ninja forms. You can set up the gallery easily using the NextGen gallery.
You can even set up shop using WooCommerce. The look is very flat and modern and looks good on any other mobile phones and devices. Here are the features that it offers:
Fully responsive and mobile-friendly
There is no need to go back and forth for watching the changes live
It comes as translation ready
Multilingual ready
The colors of the buttons are changeable
Sidebar widget friendly
Movers and Packers is a theme for the transportation and logistics for WordPress, which makes it one of the best free Elementor themes. The theme is 100% free and responsive.
The default comes with the 3 slides. It is relatively easy to use with the plug and play settings. The theme comes with the background, which is easy to change and comes with the image and the color.
There are the top opening hours along with the contact info that makes it a multipurpose website that uses the theme. The navigation supports up to the level of the 5 dropdowns.
It comes with the single page layout and the blog layout along with the search and archives. It is also available with the category page layouts. Here are some of the features:
It comes with cross-browser compatibility and a cross-device browser.
NextGen gallery plugin tested
Tested along with the WordPress latest version and until 3.9
It comes with the GPL license for both the commercial and the personal suing allowance.
Compatible with the latest HTML5 and CSS3 variations
The WordPress theme review is approved for transportation and logistics.
The Nature One comes as a free nature for the WordPress theme. The theme comes with a lovely slider of 4 types for the transition effect. It includes the ability to add at least 5 slides.
This theme works well with the displayed and other 4 icons along with the blurbs displayed, which makes it the best free Elementor themes. The theme recently works as an option rich one for the homepage that can be managed easily.
This theme is much easier to use on the homepage. The 5 of the slides and the transition effects are easy to control. It is 100 5 responsive and cross-device, and cross-platform compatible along with the cross-browser testing.
It is easy to change the colors. There are also easier ways to manage any kind of user. It comes with the translation ready along with the multilingual ready. It also includes the 3 types of Page templates. Here are the features that it offers:
Dropdown level up to 5
Gallery and slider plugin which is compatible for the inner page sidebar
Coded with the WordPress handbook rules
Coded with HTML5 and CSS3
3 types of the page templates
eCommerce ready along with the WooCommerce compatibility
Conclusion:
The above-mentioned free Elementor themes are rightly designed to give your website a very responsive outlook, which ensures a good user experience on your site.
Try out the one that suits your requirement and give your website the flexibility to become more user-appealing.