Poultry Farm Lite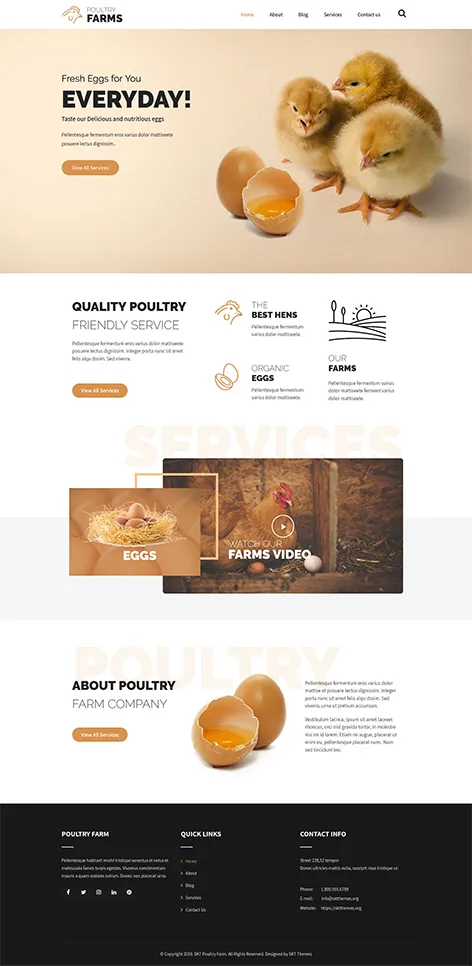 Free
Demo
360+ Themes for $69
Comparison
Free Theme
Less homepage sections
No inner pages
No Support
No Typography Options
No Icon Options
No Header Layouts
No footer Layouts
Less plugins compatible
Less updates
Less flexibility
More Time for Website Build
Features of Free Poultry Farm WordPress Theme
Poultry Farm is a visually eye-opening, cultured and professional looking free poultry farm WordPress theme.
The web template is basically designed for a poultry farming industry.
The design looks perfect on every devices.
Some awesome features are used to create a professional platform for organic eggs farming, selling and producing organic chickens.
Different types of content can be added to the website even in the blog section.
The footer section can be utilized to create a contact is section.
You can showcase some animal farming pictures on the website to express your though visually.
Elementor page builder will enable you to create a website using this theme for different businesses.
Because of the highly adaptive page builder, you can create any type of website very easily.
Number of elements can be used for customizing the website.
Text styling, fonts, color elements, filters are there to make this possible.
With this theme, you will have a chance to convert your free site to the premium membership website.
The demo is packed with some amazing features and functions that would be required while creating a website on your own.
The clean and elegant look a theme will make your website faster and error-free.
Content on the header, footer, sections can be changed to your choice.
Social media plugins, SEO plugins, WooCommerce plugin, contact form plugin and more. all are suitable to use.
The free poultry farm WordPress theme is very easy to set up with a single click import option.
With a few clicks, the complete website will be ready to use.
It is also compatible with different page builders so its upto you what your choice.
The website will work perfectly with the WooCommerce plugin.
International shipping can be done by integrating different payment gateways.
Complete support is given to make your website translation ready and multilingual in nature.
Browsers like Safari, Mozilla Firefox, Opera, Google Chrome, IE11, etc all are totally supportive.
All sections and icons are user-friendly.
The basic requirement of a theme is to have a WordPress version 4.5 or above.
The number of shortcodes is given to make your customization work easier.
W3C validation has been done hence gives high performance with every device and browser.
The website works very smoothly even if you add lots of high-quality images on it.
Free poultry farm WordPress theme is an incredible option for businesses related to agriculture and farming field.
We assure you that you will have an eye-catching website without spending a single dollar.
Animals are the best creatures of a god because they are unselfish, generous, as well as fruitful. However, animals can be used for different purposes. The best way to use animals is livestock farming. The concept of livestock farming is growing rapidly.
And if you really belong to such a field then livestock farming business can be the best-earning solution for your entire life. To target most of the customers from the world you will need a web platform where you can live your businesses and the services. For this, you can take help from SKT Themes. SKT Themes offer you a WordPress theme for free of cost. Free poultry farm WordPress theme will be key to your success.
The web template is properly adequate for animal farming peasants, animal farm outlets, fertilizers, cattle grazers, meat products and the best template for poultry farming. The web page will allow you to showcase all different animals that can be sued for farming businesses for example chicken, cattle dairy cows, horses, sheep, etc. Along with this, you can easily showcase the technique you use for livestock farming for example horse breeding method, poultry farming techniques and cattle grazing method. Plus you can display some products on your website to make them sold. Products like Poultry feed supplements, Cattle feed supplements, swine feed supplements, aqua feed supplements.
Importance of a farming or agriculture businesses.
Agriculture is the only basic source of food for people around the world. Because of advancements in technology new techniques have been involved in producing the best vegetables and crops. As compare to the other businesses, less preference is given to the agriculture businesses because they are unaware of an online presence. If your business also belongs to the farming then also you should make use of a free poultry farm WordPress theme. You can make your services available internationally. A perfect business website can be created that will look professional at the same time because of WordPress CMS.
Why you need a website for farming business?
You know that farming is the best but also a complicated business because it requires human resources and time management to handle all the stuff. Plus it may be complicated because you need extra energy and experience to run the farm and work in gardens.
Hence, you will require a completely functional website that will appeal to your motto and will help you to attract maximum clients and customers towards your businesses. Free poultry farm WordPress theme will do all for you. Because the design of a template is elegant and everything included that would be required to set up a farming business. You can easily sell eco-friendly products and services with the support of eCommerce functionality.
If you ever noticed that few industries such as sweets and fast food businesses spend much more time and money to sell fruits and vegetables as compared to the farming industry, therefore, it is high time to start creating a website for your farming, agriculture, or poultry farming-related businesses. This will be a great platform to make an advertisement in less time and effort.
The theme will give you access to the advanced functionality if you are looking for a long term settle business. But for that, you will be required to get a premium membership. A blog section is another most important feature that is supported by the theme. You can add some important context to the blog section so that your customers will be able to understand you and your motto in a good way.
Also Included with Free Poultry Farm WordPress Theme
Theme FilesTheme files are included in the zip you get when purchased
SupportYou can email us for support of this theme
Tags: chicken farm, poultry holding, poultry factory, chicken ranch, poultry farming, orchard, farm, toft, grassland, barnyard, pasture, poultry, aviary, plantation, chicken plant, farmstead, hacienda, dude ranch, collective farm, truck farm, homestead, farmland, chicken coops, farmhouse, barn, farming, chicken rearing, cat house, bawdy house, poultry farms, poultry division, meat shop, fresh eggs
Change Log
Updated October 2023
Working With Latest WordPress Version
Updated Google fonts