Do you want to give your website an impressive look with modern animation effects and graphical touches? Then you are welcome to do it the right way with one of the best animated WordPress themes.
Qualitative and appropriate animation of web pages is something that pleases the eye on the one hand and is a great assistance in work.
All in all, animation is one of the modern web design foundations and is frequently used to realize different web projects and websites, from anime and illustration to portfolio and design, web development and management to anime streaming, cartoons and movies, 3D animation, etc.
Why animated WordPress themes are so popular is that the interaction of contemporary web users is strongly tied to animation.
It is what can communicate status or value, grasp the user's attention, help the letter see the results of his action on this or that web environment and generally influence the user behavior.
Now, if you are looking for HTML 5 based and CSS 3 animated WordPress themes to make dynamism a part of your website and result in a better user experience, let's first understand what these templates have to offer you.
What you are going to gain with any of these animated WordPress themes is full browser and mobile support ready to present your site's animated property in the most elegant way.
It means that there is no need to worry about your site's presence in case of accesses of diverse portable devices, smartphones, browsers, etc and the way its content is delivered to the user.
Moreover, integration of CSS 3 animations to your site is going to distract the web guests while some content or image is uploaded, new page is opened or something else thus eliminating the chance that they will leave your website before finding whatever they are looking for in your profile.
Still need a more detailed explanation of each template? Let's go for it.
FilmMaker is a animated WordPress theme created for entertainment industry such as actors, producers, directors, small screen actors, etc. With the use of FilmMaker you can create a website such as BookMyShow, BreakMyShow, TicketNew, CinemaBlend, TMDB, IMDB, etc.
With this theme you will be able to launch your own website in few minutes. You can share reviews, can upload movies, publish news, etc. You can use this theme as you want it to be.
With the theme setting option you can personalize the website as per your industry interest. You will also have a access to most important tools for featuring your website in a best possible way.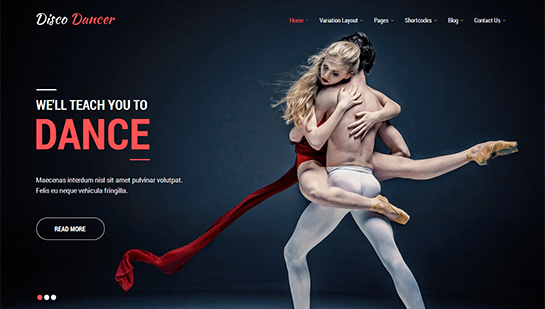 Disco Dancer is a animated WordPress theme. Disco Dancer is the best way to start researching and creating a perfect website for dance studio.
This theme will motivate your concept and will give fun and learning environment for all members. The information of upcoming classes can be posted in a theme very easily.
If you are providing services same as this theme does, then Disco Dancer is a perfect way to get started. With the use of plugins and shortcodes you will be able to give more functionality in less time.
The template has a clean and professional design that gives you an opportunity to take your business to next level.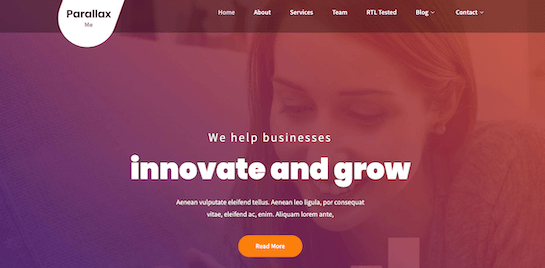 SKT Parallax Me Pro is one of the parallax scrolling animated WordPress themes ready to give any kind of website a unique charm and liveliness.
Given the aesthetically pleasing and CSS 3 animated nature of SKT Parallax Me Pro can be used for a variety of topics and services, from photography and design to animation and illustration, video and audio, animation and 3D particles logo, etc.
You are free to use this template as one page or multipage web solution to match the overall character and disposition of your business, as well as quickly add or remove, style and publish new tools, buttons, elements, CTAs, links in widget friendly areas, etc.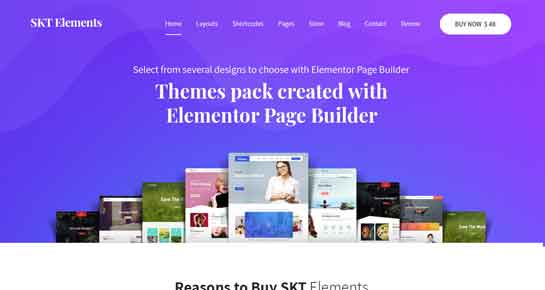 SKT Elements Pro has been developed with modern controls and coding techniques in the theme authors' mind and as such is delivered as a composition of modern web design and development trends.
Cross device and cross mobile compatibility of this theme has been checked and yielded more than satisfactory results which means that your website and its animated content is going to adapt to all the new screen resolutions and browsers, from Google to Bing and everything in between.
Make your site even more user centric and search engine optimized, sell digital and physical goods and services, and build better gallery and image environment with third party compatible plugins, extensions and tools as well.
I Am One Pro is another great one page website establishment system that celebrates default parallax slider for giving your site an engaging look and interface.
Up to 30 homepage sections can be exercised for sharing multimedia content including legible textual materials with Google friendly typography, pixel perfect and high quality images, videos and other animated files, buttons and call to actions, etc.
This modern, HTML 5 armed and CSS 3 animated WordPress theme perfectly knows how to wow your web guests with flexible yet smooth navigation, optimal loading rate and ultimate responsiveness taking the best version of your site across a variety of platforms, areas , browsers and mobile devices.
Share animated video and other materials with strong messages proving your professional skills with Wedding Videographer. Use the versatility of it for marketing animation studio and displaying its portfolio in the most attention seizing manner.
From the creating of simple movements and using subtle animations to presenting your site with multiple animations to win more eyes and attention, Wedding Videographer is well prepared to work perfectly with any kind of content load.
SKT Landing Page is another unique mixture of flat design and CSS 3 animations you are going to love. And this unity is what qualifies SKT Landing Page as one of the best animated WordPress themes at present.
Flat web design is to about keeping the overall form of your site neat and accurate along with focusing on a clear presentation of its content.
What animation does in this case is to give your audience more clues on what your website is all about. Thus, with SKT Landing Page you are the winner in one way or another.
Hence, this clutter free and minimalistic yet modern looking template will guarantee enough space for marketing and advertising your services, goods, projects, multimedia or whatever it is easily.
SKT Stone has been used for hosting different websites and blogs and proved to do an excellent job in this relation.
Use this website building toolkit for a website of any nature and go beyond its default look with unique animation applications to stand out from the rest.
There is a strong framework at the theme's core armed with HTML 5 and CSS 3, dozens of customization controls with the help of Live Customizer, page and post management tools for structuring, styling, scheduling and publishing your unique content, homepage default slider to keep the website user's attention on whatever is important, etc.
Additionally, you can extend the default template with shortcodes, compatible plugins and more controlling tools to be easily added to SKT Stone.