Most businesses are now turning online nowadays its required free WordPress themes for business with slider. Reason is simple people don't go for shopping into malls or nearby stores too often but turn to their smartphones or computers to do shopping on the internet and hence getting a business website is essential and really important.
But just like every other business people don't realize its importance and potential of a beautiful online website can do to their business. They however do know that they don't have any extra budget initially and once a website kicks off their business then they can really think of pouring money into this.
This is for the simple reason that they never had any website and can't think of one to give them more business. But once they realize that this is equally important then only they will be convinced to place more and more money.
Now the easiest way to get a business online is to get a shared hosting and install one of the popular CMS apps in the world. Yes WordPress.
Since learning curve is very less and not much is needed to install just a few clicks from their hosting account and yep you got a default WordPress site with default theme looking right at you.
With tight budget of course you might need to consider some of the free WordPress themes first and hence we are going to present to you some of the killer Free WordPress business themes.
Top 10 Responsive free WordPress themes for Business with Slider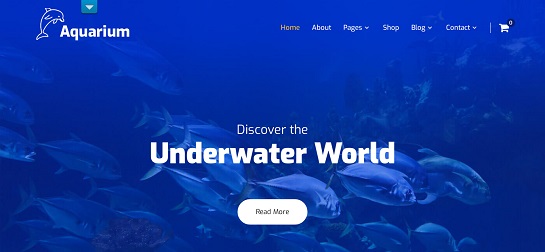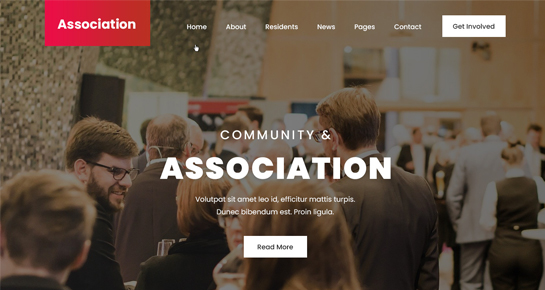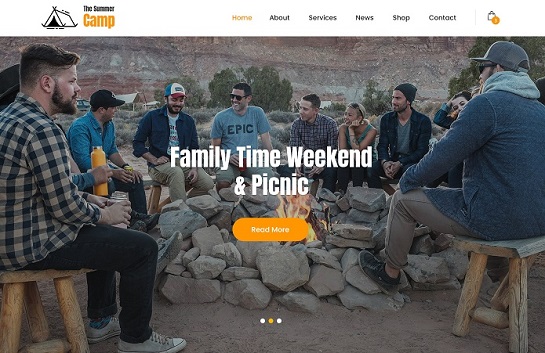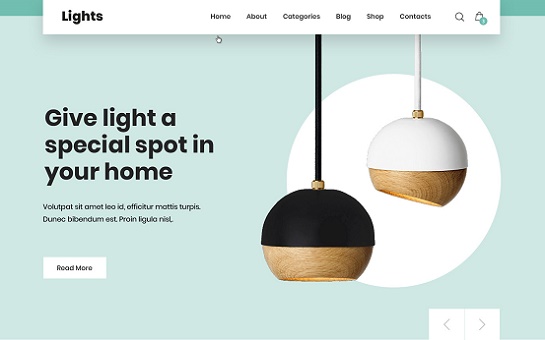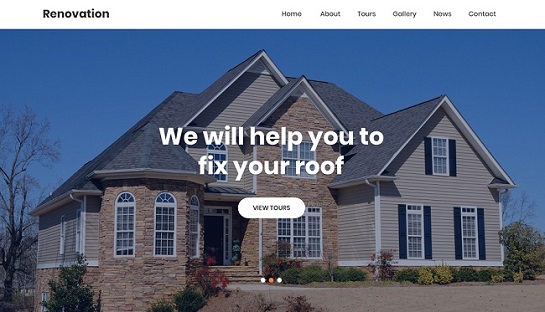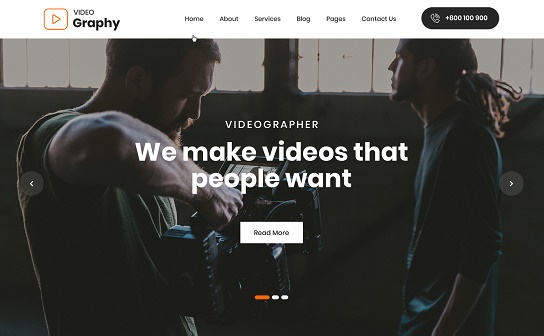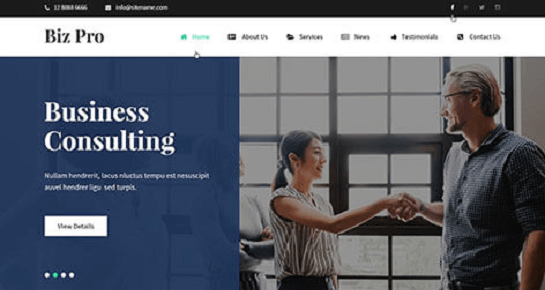 Having a business website does not guarantee you sales or leads and hence it is essential you have a website which looks beautiful and focusses on your info as well as is easy to navigate and has call to action like search, contact and social media icons. All of these conditions get satisfied when you consider SKT Biz theme.
SKT Biz is a purely free WordPress theme for business which can be used for any kind of business or corporate websites.
It is a responsive business WordPress theme for free which comes with a cool slider of 5 slide images. Homepage content can be easily set up and it comes via theme options loaded by default once you activate the theme.
It is also compatible with various popular plugins like Nextgen gallery for gallery or portfolio showcase.
It is also compatible with plugins like WooCommerce for Ecommerce or shop purposes.
It is compatible with various contact forms and chat plugins so that you can have a full fledged website in no time using this free business WordPress theme.
SEO by Yoast, All in one SEO, W3Total Cache and Contact forms like Gravity and Contact form 7 are supported readily apart from the ones mentioned above.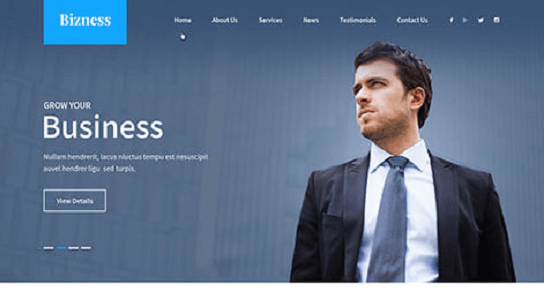 Everyone needs a business website which is not just functional but looks eye soothing so that people or visitors who visit the website get impressed with it in the first shot and hence they are interested in reading more and knowing more about your business.
This is the same purpose that gets solved when someone considers using Bizness WordPress theme which is another business oriented free WordPress theme.
Bizness theme gives you a nice green header navigation with very good call to action like Telephone number, Email address and social media icons of the popular ones.
Also it has a sidebar which is widgetized and can be used to host contact form or other items of importance so that a person can very well check the website, check your contact details and fill form and read info about you.
Slider with 5 slides make you showcase what you do in a quick time so that you can tell the whole world what this website is all about and about your business in very quick time without wasting your prospects time.
Not just that people might check your website via mobile or smart phone and you need them to click on the phone number or check your website quickly which is why this is a free responsive business WordPress theme.
This theme like the SKT Biz is also compatible with the following plugins: WooCommerce, Nextgen Gallery, Contact form 7, Gravity forms, Fast Secure Form, Casengo chat, Yoast SEO, All in one SEO, Breadcrumb among other popular WordPress plugins.
Kraft Lite is one of the most modern and nice and clean looking free WordPress theme meant for businesses around the world.
Since this is a GPL licensed free theme one may use it on as many websites as they want. They can use it for both commercial or personal use and can modify this theme to suit their requirements.
This is one of the rare free business WordPress themes which is integrated with Font Awesome icons so that you can use nice icons on top of your navigation and have a very good impact. Its always important that people who visit your website can navigate easily.
And what if not just text but icons also tell which is contact and which is home and about then the different in look and feel gets to the next level and people tend to navigate through your website thus gathering more attention and making it more sale and lead generation friendly.
Kraft Lite consists of 5 slides which are full wide so that even in wide computers this theme looks great and awesome.
Kraft lite is full compatible with latest WooCommerce so opening a shop is easy. Similarly it is compatible with Nextgen gallery so portfolio showcase becomes a piece of cake.
Contact form 7 with captcha will ensure spam free contacts and Google maps, Youtube videos and Yoast SEO will ensure a fully functional SEO friendly website which looks good and gets you more and more leads.
All types of call to action be it header or in footer are included for easy contact options and social media options.
This pixel perfect design will surely impress a lot of your customers over time.
SKT Corp as the name suggests is an out and out free corporate WordPress theme suitable for all kinds of businesses. With a green color and white which looks just like the business and corporate colors do this theme looks decent.
It also looks good on mobile phones and tablets and hence due to its device friendly nature it can be used to build up a very decent looking clean website.
SKT Corp can be used for various business use be it start up, large corporates or medium sized businesses.
And if one needs to change the colors they can afford to buy the SKT Corp Pro as well. However we will discuss about the free corporate WordPress theme here.
It has got 5 slides as is the case with the others but the slide spans till the edge of the navigation which looks good. Navigation is green.
The footer has a contact address and social media so it does the job of call to action.
Content looks easy to read with and the fonts chosen are good and readable. Overall a nice and decent free WordPress themes for business with slider which you can rely on to develop your online website.
It is compatible with WooCommerce plugin and other eCommerce plugins for shop and it is compatible with SEO plugins as well as video and gallery plugins (except Huge IT). And it is also compatible with various chat plugins and contact form plugins.
SKT White as can be thought from the name is a white based free business WordPress theme which is responsive and looks good on all devices. It passes the Google mobile friendly test and uses h1 and h2 and h3 on the homepage which essentially covers most of the SEO part.
It is a long scrolling single page business oriented free WordPress theme which can be used for any kind of business or personal use. Since white colors are very soothing to eye and blue buttons pop out for call to action this theme is surely both eye catching and looks good.
You have a wide full width slider on the top which slides through showing whatever you want to showcase. A bouncing arrow suggests that just the images aren't enough and you can read below to know more about the company.
So you can use this template to make yourself notice among users by having large sliders on the top and the info on the bottom
It has ready to use 9 sections which makes it one of the most feature friendly free WordPress themes and its rare to have such a nice and big WordPress theme just for free.
It includes around 10-15 social media icons for free so that you can share your social networks with your visitors for them to follow you there.
Compatibility of this theme includes with all major and popular Ecommerce, contact form, gallery, portfolio, slider plugins.
Includes default gallery section, about us section and can be used easily as a single page free business WordPress theme. You should definitely try this one for your business website if you like White color.
Black and green can look good and go hand in hand when it comes to nice business colors for a website and this is what happens when you look at Gravida theme.
This one of the responsive free WordPress themes for business with slider is a definite choice if you want black and green colors with lots of white space for content area.
It has slider on the top and navigation for easy access. It has 4 boxes to showcase your services on the home page.
Footer has twitter feeds, contact details and integration with social media. Other pages are mostly full width.
This theme like others is compatible with most of the popular plugins like WooCommerce, cyclone slider 2, contact form, gallery and SEO plugins. Considering its colors it can be a good choice for people who like these colors for their next business website.
SKT IT Consultant theme can be best described as a white theme with red colors to show what is important. So navigation which is active is in Red. Buttons and links are in red. So importance is shown by that and the rest content is in grey or black and the whole background is white.
It definitely looks really clean and minimal and good. So if you are a fan of content and want to showcase nothing but content then this theme really suits your style.
Of course just like the others it includes a phone number on the top for call to action. Footer has social media integration and contact details. It is compatible with all popular plugins of WordPress.
SKT IT Consultant is based on Customizer so all the changes you do to the site can be checked in real time.
So if you are a fan of showcasing content then this theme should be on your consideration.
SKT Black is a similar WordPress theme to SKT White but in black colors. Instead of blue a nice cool orange is used so that it complements the black color.
It is definitely the first choice for customers who like to have more pictures and want there website to be black since pictures appear more vibrant and nice on top of black colors.
Similar to other themes this theme also has similar features and compatibility with all major plugins of WordPress. This is definitely a nice free WordPress themes for business with slider and of course for free to be used for any business, commercial, industrial or personal use.
SKT Pathway is a multipurpose free responsive business WordPress theme since it has a nice looking homepage which can be modified very easily using theme options area. It also has a testimonials area and clients area.
Has the ability to have a nice background so that not just content looks good but background gives an awesome feel and experience.
It comes with the most templates like full width, left and right sidebar.
It has a default blog to get news and events and other promotional activities listed. A decent footer with 3 columns which are widgetized. And all standard pages are included like 404, search, archives etc.
This is definitely a considerable theme for all kinds of business websites.
They say images speak more than words and its true because what you see always cannot be described by just words.
And what if we have some words to explain along with large full width image how will it looks? Well it will definitely look good and awesome. We show to you this pictorial and beautiful SKT Full Width WordPress theme which is a free responsive WordPress theme meant for any business.
Businesses can showcase what they do and about them with the help of large full width slides and have a nice visual appearance.
This theme has been downloaded the most among all the themes we mentioned till now and has got good praise.
It is somewhat responsive which the author of the theme says Pro version is fully responsive. It has got nice black colors and are with opacity so that you can have transparent sidebar menu which toggles to give the user the choice to view the full slides without navigation.
It also have footer in inner pages which are transparent.
It includes social media and contact details in the footer for call to action. Compatibility with WooCommerce makes it usable as a shop.
Compatibility with nextgen gallery, and other gallery plugins make it usable as a gallery or portfolio website.
Compatibility with various SEO plugins make it SEO friendly and contact forms compatibility is good for capturing visitor info.
If you love images and want to showcase your website in pictoral view this theme is definitely a good choice for your business website.