A stunning assemblage of the lovely, alluring and inspiring exclusive resort WordPress themes.
These exclusive resort WordPress themes can be used for all those destination weddings and venues organizers that want to render their award – winning and stress – free services to all the couples on the way to their marriage.
Choosing the location of your wedding ceremony and organizing tons of details catering to your destination wedding is a double – sided phenomenon, with one side of stressful and time – taking practices and with another side of joy and amusement, since it is going to be one of the most important events in the people's lives.
Nevertheless, wherever the couple selects to be their destination wedding away from home, they'll need ultimate guide and support of professional services and agencies available in the digital environment with their offers, tours and packages.
Offering the best resorts and hotels to stay, and other top – notch services any client will ever need to plan and implement a perfect getaway in accordance with your budget and preferences.
We have worked on the best collection of exciting and motivational exclusive resort WordPress themes for all the destination wedding agencies and companies to create their professional websites and offer their special packages online with minimum investments and efforts, but with the promising outlook.
Finding exclusive resorts for destination weddings and holidays has totally changed with the evolution of the Internet. This makes the application of exclusive resort WordPress themes in your website inevitable.
But what makes this category of themes so special? Themes that you get here are a complete package of features, high-quality ready to use templates, and much more.
Hence, you remain on the cutting edge of the competition without compromising the credibility of your brand. Spotting such bang on options in the vast search results on the internet is not an easy task.
Therefore, explore our researched and filtered options in this category for creating a stunning website.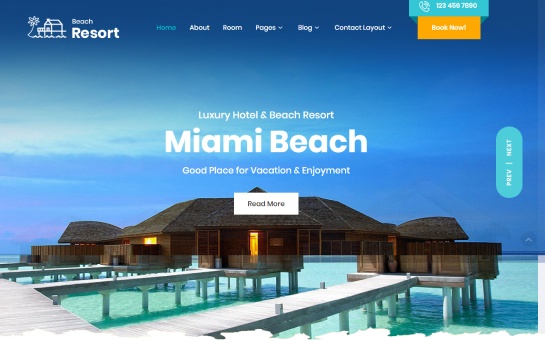 One of the most traveled and preferred locations for destination weddings are near or by the beach. If you own a resort that offers the visitors a mesmerizing entry to the beach then this theme is for you.
SKT Beach Pro will perfectly represent the aesthetics, ambiance, and natural view that your resort has to offer.
The ready to publish templates are dedicatedly designed to ensure that all minute characterization of properties near the sea can be highlighted. Conveniently personalize the template and match the physical presence of your resort in the online space.
By default, inbuilt sections are offered that can accommodate all the required content in a categorized manner. Personalization of all other elements to suit the overall design is possible and easy.
Sliders will help you in featuring the best deals and promotional offers for attracting visitors. There are no linguistics barriers here as it is multilingual and is compatible with the RTL feature.
All other essential features like pricing table, gallery, reservation management, and bookings can be added from external plugins. Why choose mediocre when you can get your hands on the best for your resort?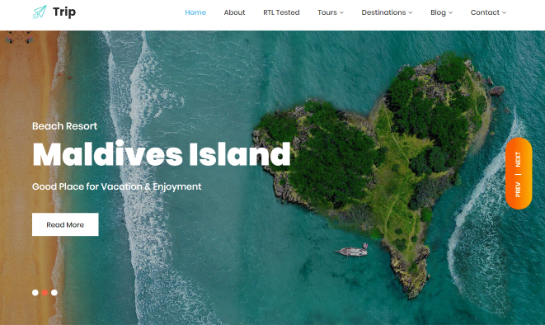 The Trip is amongst the most desirable exclusive resort WordPress themes. All the luxurious and premium resorts that are built at an exotic location and offer world-class service need a thrilling online presence.
This theme will help you achieve that along with many other competitive advantages to serve your customers better. It comes with retina-ready high-definition templates that are perfect for representing your business.
You can easily add your logo, photographs, and other key trademarks conveniently. Offering destination wedding packages and other holiday packages to your visitors can also be managed.
This means that all the details relating to such a package including photographs, facilities, dine-in options, etc. can be included.
Standard pages like About Us, Contact Us, Services, Page 404, etc. are also offered by default which makes your task simpler.
You can quickly add the necessary content and personalize it as required before finalizing. Multilingual capabilities and swift integration of payment gateways are a plus point here that can take you a long way.
All desired features are offered by default and the rest can be managed from the inbuilt shortcodes or through external plugins.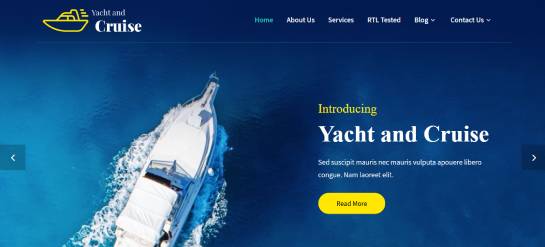 Yach and Cruise is the best option in this collection of exclusive resort WordPress themes that you can ask for.
Given its flexibility to hold content and feature and the adaptability for complete personalization makes it stand apart from the crowd.
It can help you in featuring your resort as one of the most demanding places for destination weddings or holiday stays.
Showcasing your hospitality, cultural background, and ambiance in the most desired manner is manageable here.
The ready to publish retina-ready templates are completely customizable and fully responsive to all kinds of devices, browsers, and screens.
Peculiar kinds of accommodation, rooms, or packages can be included in a segment or inner pages. A chain of resorts hosted by corporate or premium groups can also make the most of their website with this theme.
Plugins of all kinds are fully supported so that in any case you never fall short of any features. Shortcodes will also help you in establishing the desired features and copyright-free images with the template can be directly used.
You get tons of color options, excellent customer support, comprehensive documentation, integrated Google Fonts, multilingual freedom, and much more.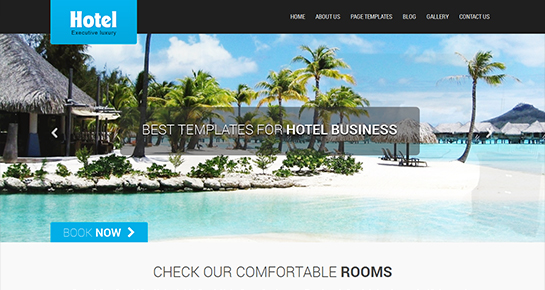 In case you want to spare no efforts to grant the people with tons of opportunities of scanning your website content and finding a top – quality resort for their wedding of a lifetime.
Look no further than Stay Here to show off all your services and location, other attributes and important notions in the most categorized and easy – to – find format.
This dedicated and productive template is affordable for a wedding business of any caliber, even for the small or medium – sized ones, working on limited financial means.
In addition, it is power – packed with unlimited functional and structural options to provide cutting – edge performance and visualization of your digital existence.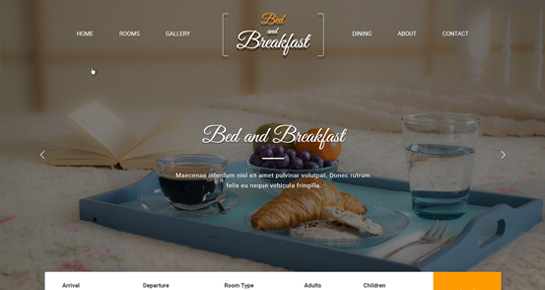 Bed and Breakfast offers a unique design with full flexibility and responsiveness demanded by exclusive resort WordPress themes. It is a worthy and ideal option to represent your stunning resorts in the online space.
The fascinating part is that it is predesigned to host content, design, and visitors of this same niche. Additionally, it offers you full liberty and freedom to cast the final outlook of the website according to your preference.
The inbuilt retina-ready templates are completely customizable with zero restrictions. It also enables you to create fresh templates as per your preference and design from the page builder without knowing how to code.
You are also entitled to complete modification in other elements like color, layout, structure, header, footer, sliders, sidebars, widgets, etc.
Integrating social media handles for connecting with a wide spectrum of audiences is easily manageable and convenient.
Adding pricing tables, scheduling booking, accepting payments for booking, and other similar features are possible with third-party plugins.
You can conveniently add them as required so that no extra features are accumulated on the website that can retard the performance.
You also get access to a one-click import option, where publishing an already setup website as in the demo can be launched within a few minutes.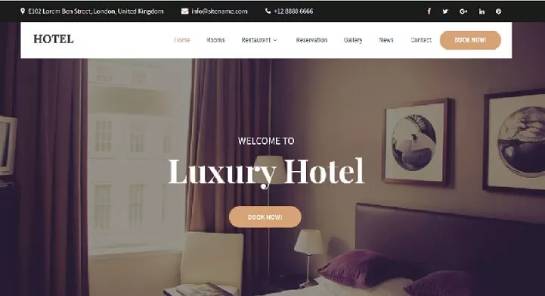 Ele Luxury Hotel is amongst the most finely crafted premium and exclusive resort WordPress themes.
By using this option creating a dynamic, charming, and spontaneous online presence for your resort or group of resorts is inevitable.
It is custom-built to serve the versatile demands of the premium hotel industry and the expectations of its guest. The overall layout is mesmerizing yet simple and fully responsive.
No additional efforts to establish glitter and charm on the website are required when using this theme. All the information relating to different services offered by you can be accommodated in various sections.
You can also conveniently list your client portfolio and the Tier-1 clients that you have served. Making a quick booking or requesting a customized package for a destination wedding or group stays has never been easy.
Testimonials for your clients can be projected and no language barrier restricts you as it is multilingual. Full support is offered from the developers for one year and extensive comprehensive theme documentation is also offered.
There is no limitation to what all you can do like integrating social media handles, swiftly accepting payments, managing typography, etc.
This is a distinct and niche-specific option that has been widely preferred from this collection of exclusive resort WordPress themes.
All kinds of accommodation, resorts, hotel businesses, and other similar services can be quickly represented here. The inbuilt design, layout, structure, and template have been worked upon to suit this niche and the related target audience.
Modifications of all kinds to establish a personalized web presence for a credible brand is manageable.
Not only in the overall template or layout but color modifications and other tweakings in different elements can also be made.
The responsiveness of the design has been successfully tested on a range of browsers, devices, and screens for ensuring supreme performance.
It has already been integrated with the inevitable features of this industry. The other peculiar feature requirements can be fulfilled from hundreds of inbuilt shortcodes or third-party plugins.
Setting up a blog on nearby places and the significance of the place is possible for attracting an organic crowd. You will not turn back or regret using Accommodation for creating a new website or updating an existing one.
Hotel Booking is another finely crafted versatile option in this compilation of best and exclusive resort WordPress themes. Every hotel and resort has a distinct aura that attracts guests.
When creating an online presence it is essential to finely project that aura in terms of templates, layout, photographs, and content.
This theme will help you do exactly that so that the target audience can rightly select your property. The uniqueness of this theme is its adaptability and versatility of performance.
The default templates are attractive, charming, and open to all kinds of personalization to meet your expectations.
Tweaking the layout, structure, colors, background colors, and the rest of the elements for the desired effect is possible here.
Another exclusive feature here is that it offers hundreds of shortcodes integrated by default to add functionality. This helps you in adding only the required features and keeps your website interface clean.
The overall navigation has been kept convenient and is far away from the complex. All the other essential functionalities can be added through external or third-party plugins without worrying about site performance.
This is a one of its kind truly multipurpose theme and last in the compilation of exclusive resort WordPress themes. A resort that enables one to spend the night in the forest is loved by all.
Having a clean and premium property in the middle of the mountain with a terrific view attracts visitors from across the world.
For all such properties that offer world-class accommodations and inevitable views, this is the theme. This multipurpose theme helps you with all the essential prerequisites for setting up or upgrading your site.
The default template is filled with distinct pictures and graphics which are in high-definition and retina-ready format. You can easily personalize them and achieve the desired outlook for your resort.
Full compatibility in terms of integrating plugins, social media handles, payment gateways, galleries, Google Maps, and others are offered.
This ensures that you never remain a step back behind your competitors and offer your visitors the best.
The one-year full support from the developers and complete responsiveness across all kinds of devices and screens makes it the best.
The first destination wedding and venue WordPress template at your fingertips to play around and manipulate for the best results is Nuptials, designed and stylized to win the attention of those people, you are eager to have their dream wedding organized in an unforgettable fashion.
You can easily take the leading position over each and every part and portion of this exclusive resort WordPress theme, use all the convenient sections to showcase your business and its profile with working branches.
Best destination wedding resorts and locations and spots, showcase the list of the important issues, including venue engagement, marriage, wedding and anniversary etiquette and foreign rules and regulations on getting married abroad, as well as any other target and important details to keep everything under control.
For the credibility and comfort of your mobile user clients, Nuptials has passed all the checks of responsiveness and cross – mobile compatibility.
The next highly comprehensive resort and destination WordPress templates for planning weddings and other events away from home is Luxury Watch.
It is truly luxurious and complete in every manifestation and no matter what kind of heavy content is being uploaded. By the great assistance of this uniquely stylized and well developed, mobile and device optimized, eCommerce ready.
Plugin compatible template with a bulk of handpicked theme inner options and elements, including slider possibility, shortcodes inclusion, widget – friendly nature and all the essential aspects of SEO – friendly design.
You can make your website visitors believe, that your service is the best and the most affordable for their wedding, anniversary or honeymoon.
Present your dedicated services and the most picturesque resorts and destinations with the high resolution images or informative texts and let your clients have a smooth and sleek virtual journey through your web pages.
SKT Lens Pro is another inviting and visually alluring, functionally feature – rich and incredibly reliable exclusive resort WordPress theme for your future award – winning and error – free wedding destination service and planning website.
This template has been projected and executed with every single need any representative of such business or agency may need in order to ensure any kind of personalized celebrations of diverse events.
Help every couple to organize a stunning and exceptional getaway or rejoicing tailored to their expectations and visions.
SKT Lens Pro comes ready as a homogeneous unity of all the primary ingredients made and designed for simplicity and precision, be it a color customization wheel, responsiveness and adjustability of the website, multilingual readiness, etc.
Panaroma Pro is deservedly considered as multipurpose WordPress template, ready to cater to any kind of website, hence it has all the potential to be the basis of your resort and wedding venue website to deliver your creative ideas on wedding, its location, invitations, dresses, cakes, accessories, bed and breakfast, etc.
This original and creative, avant–garde and pliable exclusive resort WordPress theme introduces a wide array of highly practicable and user – centric theme features and controls to set your destination wedding or venue web pages apart from any challenging competition.
Feature the most hot spots for wedding ceremonies and events around the world with 5 different homepage slides, let your clients explore the best locations and packages, which goes hand in hand with their financial means, guide them through your informative, but smoothly navigable and fast performing pages and make their fascination be transformed into actions.
At last, Furnish or Interior Pro of SKT Themes is one more type – driven and wedding niche – specific template that leverages utmost operation and truly amazing visualization to generate an extensible platform for all your destination wedding – based content.
The easy to use and advanced options panel allows you to take advantage of your theme and customize each and every element of it to look sharp and precise on every suggested screen, be it a PC or some portable device.
Based on the dependable HTML 5 and CSS3 , Furnish brings about visually awe – inspiring design with spectacularly lightweight coding, so that all the installation and management processes will not take too long to be accomplished.
Whether you are a company that specializes in destination weddings or specializes in providing clients with destination weddings, the one thing that you would definitely need to do is to check out some of the exclusive resort WordPress themes.
Remember that most couples who are looking to have their wedding away from home often want something extraordinary.
Granted that's what most couples want but they also want to be given a choice of exclusive resorts to choose from along with access to a range of additional information, such as a date planner, a wedding planner, caterer etc.
Most companies that specialize in destination weddings, often provide an all inclusive package that covers everything from pickups at home to air tickets to arranging catered food and to even ensuring that the honeymoon goes as planned.
You may want to check some of these companies out and you'll find that most of these companies are based on WordPress, for the simple reason that WordPress happens to be the best when it comes to CMS.
With a good CMS in place, you should be able to customize your website, tweak with the headers, footers and even with the whole layout so that some of the graphics and media concerning your exclusive destinations are displayed, front and center.
This is why you should check out some of our exclusive resort WordPress themes; all of our themes come loaded with layouts with exclusive features and some even come loaded with page builder which makes it all the more easier to add and develop additional pages.
When you are checking out the various themes, you may first want to find out if the theme comes with restricted customization or if you are allowed to customize it as you like; you may want to opt for the later.
And another thing that you should check out is to see how the theme and the layout work for your website. So get a demo done, as that should give you a good idea if the theme in question is worth your time or not.
The important thing to remember where exclusive resort WordPress themes are concerned is to check and see if the new theme is responsive enough and comes with intuitive designing features that actually enhance a user's experience.
Granted that choosing the right theme may take a while with all the demos, but it is worth it in the end since you would be able to settle on the prefect theme of your choice, and one that actually works.
And in case, you should face issues when implementing the new theme for your website, you can always call support. But do note that only premium themes come with round the clock support and most of the free ones do not.
Bottom line, you need a website that displays all the exclusive destinations you have on offer, with all the package details, along with a feature that allows clients to design and customize their own destination wedding.
With WordPress, you should be able to take advantage of the built in flexibility to do just that.