Are you or any of your business operations connected with ecology? Are you passionate about the interactions amongst organisms and their physical environment?
Do you intend to write a blog for the same and get in touch with like-minded readers? If your response is positive for the above questions, then you have reached the right read.
The website is the best medium to connect with a group or segment of the audience who shares the same interest as yours.
For different needs like business, blogs, awareness, interactions, etc. we have compiled a list of best ecology WordPress themes for you.
This will not only help you in creating a wonderful digital space but help in improving the rankings of your website.
Most Powerful & Flexible Ecology WordPress Themes
Nature is the connecting force of all organisms and Ele Nature is one of the best Ecology WordPress themes. It can be used for creative purposes as well as for business needs. It is a perfect match for startups, blogs, MSE, and others.
Users can easily manage to have an enticing look for their website with the help of different customization's and features. To create awesome-looking content you can rely on the popular page builders because it is compatible with the same.
It comes with a fully responsive design and offers compatibly for all kinds of screens and various browser versions.
In terms of page loading speed and SEO, it exhibits exemplary performance. Users also receive documentation which is a technical guide for assistance in different processes.
This will be an organic choice with an elegant look and responsive performance. All the blocks included in various segments are created with standard rules and regulations of WP.
Amongst all ecology WordPress themes Farming helps you connect with the roots of the organism cycle and behavior. It is designed as customizable and can be used for featuring multiple industries.
It is highly extensible and light-weight and enables the creation of any professional design. The personalization is extended with multiple tools, options, functionalities, and features.
It has a power-packed code base that makes the entire process easy and secure. Farming has 100+ types of shortcodes incorporated by default for improvising the functionality.
It offers compatibility for page builder and WooCommerce plugins to ensure that you can create a dynamic webspace. It also includes a blog section by default so that you can choose to launch one at your convenience.
It comes with four splendid layout variations for the header section. It offers compatibility for all latest plugins, WordPress versions, and the coding has been as per codex theme review standard.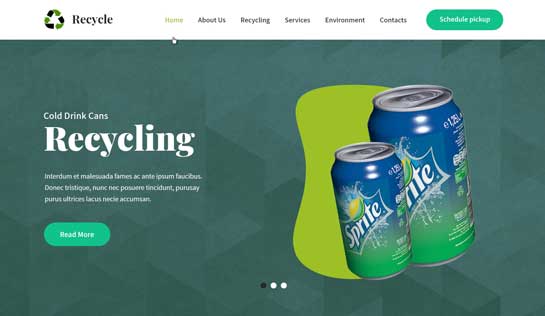 SKT Recycle is next in the list of Ecology WordPress themes. This has been developed with the core idea of representing institutions and organizations involved in green business.
In addition to established firms, it has proven to be highly flexible for small enterprises and startups. It comes with a modern and beautiful interface which makes it an elegant choice for creative purposes as well.
It comes with compatibility for all kinds of screens and hence renders perfectly across a range of devices. Unique pages are designed with Elementor Page builder which makes all of them responsive.
Web page customization is easy and can be completed in several minutes. By default, it comes integrated with Nivo Slider Plugin. If animation effects are required users can switch to the revolution slider plugin.
The tools also include a color picker option to ensure balance across different segments. Above all, translation to a native language is also possible with SKT Recycle.
Lastly, for enhancing content and ideas it offers custom widget support that enables the integration of strong functions.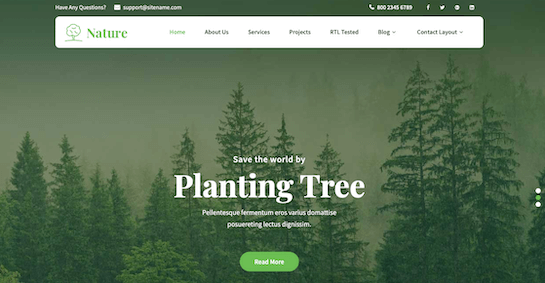 Nature One Pro is one of the widely used Ecology WordPress themes that are fast, beautiful, responsive, and stylish. If you are looking to create a blog, business, or personal portfolio website then selecting it will serve your purpose.
It is lighting fast, customizable, and built with SEO in mind. Designing the site according to the requirements and target audience becomes easy with Nature One Pro. User has the complete control over customization as it is light-weight and SEO friendly.
There is a wide range of option is fonts with the availability of default as well as fancy Google Fonts. All the segments of the webpage are built with CSS 3 for animations.
It is compatible with a range of plugins including WooCommerce, event calendars, and contact forms. The in-built slider permits twelve unique types of transitions.
The templates included in the pack are multilingual and translation ready. It is compatible with the latest version of the CMS and showcases all the services in the service section.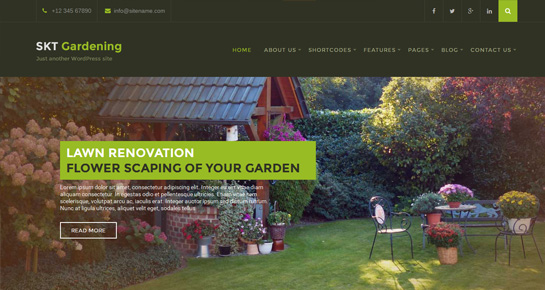 SKT Gardening is one of the most liked and popular Ecology WordPress themes. Users can expect a powerful performance to create an awesome online presence.
It is flexible, elegant, and professional for use in multiple niches and business-related requirements. The best part is that it is coded to perfection for being mobile-friendly and responsive.
It is fully widget friendly and offers five variations for both header and footer. The developers ensure that it is SEO friendly and is compatible with various SEO plugins as well.
It is fully customizable and users can modify the colors of all the segments across the layout. It offers compatibility for WPML and qTranslate which makes it flexible for multilingual use. In addition to that, it also comes with PO ready file making it translation ready.
The club of exquisite features, in-depth customization, and powerful performance make it an ideal choice for use. By default, it includes several essential sections. It is one of its kind and can be used as one page, multi-concept, or multi-page theme.
Your consideration for responsive, high-speed, and multipurpose Ecology WordPress themes must include Go Fishing. It is developed by experts and you are assured of an impeccable coding for a world-class experience.
Irrespective of any purpose or enterprise that you intend to represent it will live up to your expectations. It is SMO and SEO Friendly and offers computability for cross-browser, cross-device, and Cross OS.
The users do not have to rely on plugins for contact form because it is in-built here with captcha.
Customizer enables users to mold the layout and other segments with their choice of colors, text, and style. In addition to the available 800+ fonts, users also have an option to use Google Fonts.
For ease of selection, there are sidebar and full-width layout options available for selection. If you want to set up an online responsive store, then WooCommerce plugins are supported.
It will become easy for beginners, intermediaries, and experts to manage the website and use it from the backend.
SKT Activism is a simple multipurpose theme with a clean and minimalist look to fit for all kinds of websites. Blog and online stores can be easily set up as per the requirements.
The inbuilt templates include topics like environment, wildlife protection, community organization, and others. For a professional internet presence of your firm, art, and creativity this should be an ideal choice.
To build an eye-catchy and unique layout it is integrated with custom widgets and a special donation widget. The customization for the colored content can be easily managed because it is handy in nature for all types of contents.
Any admin with basic computer knowledge can customize the entire website. This becomes possible with the drag-and-drop feature that enables one to make a detail-oriented digital presence.
Modification is simple and the changes can be tracked in real-time for better efficiency. It comes with various sections and elements that can be easily hidden if not required. For a better connection with the audience, social media icons are integrated into the homepage.
Built with speed, usability, and SEO in mind Laboratory Pro is the next theme in this list. It is elegant, impactful, and super flexible for multipurpose niches. It offers in-built templates of professional scientific research and technology.
It is widely used by research agencies, corporate technological businesses, innovation centers, etc. It is built with a page builder which makes the inner designing part simple and quick.
It is compatible with access from any device like desktop, mobile, laptops, tablets, iPad, etc. It is also tested for performance in a range of browsers and with essential plugins.
The functionality can be adjusted as required with the help of numerous shortcodes provided along with this theme. There are 750+ customizer options available that contribute to making a powerful framework.
No technical knowledge is mandatory to use and manage the templates. Above all, dynamic customer support is available that helps users in finding resolutions to any simple or complex issue.
Your quest of Ecology WordPress themes with modern look, organized content, and professional layout ends with SKT Perfect.
It is responsive, fast, and can be used for general or specific topics to promote the site. Users have an option to use the page builder of their choice to make the customization.
All types of translation plugins work perfectly here to ensure that you can focus on engagement based on demographics.
It comes with 100+ inbuilt shortcodes and pre-installed templates of various sectors. The coding is SEO friendly for impeccable performance in the SERPs and optimized for faster loading.
It is retina ready and tested for ease of access from multiple devices and browsers. In addition to page templates, effective blog layouts are also available.
It is widget friendly and supports multiple layouts for header and footer. The users can also select site layouts from the provided two options.
This is a truly multipurpose theme with a clean, sleek, and modern design. It perfectly delivers to the requirements and expectations of Ecology WordPress themes.
Users get sample content, PSD design files, support, additional files, and free installation with this theme. The major background color of the entire layout is white which gives it a rich presence.
This makes it easy for users to highlight important sections with contrasting colors to grab the attention of the audience.
Color picker feature is available to modify the colors across segments, layouts, and elements. There are multiple layouts available for blogs as well.
For font based icons like social media, there are at least 550 icon packs available. In addition to that, it is integrated with 600+ Google fonts.
The learning curve is technically zero because no coding experience is required to use and manage it. Shortcodes can help users to add animated blocks.
If you have explored your options you will easily understand that finding a complete package for your solutions is tough.
Select Complete Pro which is one of the best and popular solutions for making a website for any business, activity, creativity, blog, and others. It is a comprehensive package that is loaded with functionalities in all aspects.
Easy shortcodes can be used for various ready to use sections. The same sections contribute to efficiently managing the homepage.
It supports plugins for extending functionalities and is compatible for use in all browsers and screens. To offer unparalleled regional support it is tested for RTL language use as well.
Users can use the page builder of their choice for modifying the layout, section, and design. In addition to being optimized for page speed, the professional coding ensures that it is SMO and SEO friendly. It is in compliance with codex and theme development norms.
The last in the list of best Ecology WordPress themes is GB Nature. The title itself justifies its Gutenberg-friendly website that can help you generate the desired ROI.
For any of your ventures relating to ecology and its branches, this will be amongst the most suitable options. It has passed the Google mobile-friendly test and is compatible across all screens and browsers.
Silos structured is maintained with proper tags in the coding process. Sharing plugins are compatible here and it is SMO friendly.
It offers compatibility for WooCommerce plugins and users can use the page builder of their choice for customizations.
The structure of the design is gradient less and flat which makes it smooth for various operations. One can easily use the desired plugins and extend the functionalities for better performance.