Are you stuck in deciding the suitable theme for a profile or personal website? Don't worry to resolve this confusion we have come up with this exclusive read that includes the compilation of best profile WordPress themes.
But before beginning do you know what exactly profile themes mean? These are distinctly coded, designed, and structured so that the outline of an individual's niche can be projected.
Moreover depending upon your purpose of creation or target audience, the rest of the elements can be easily personalized. Having a competitive advantage in this era where hundreds of people are relying on similar career opportunities is a boon.
Exceptional design, impeccable projection, and modern approach are the key to developing your profile in the online space. Explore this read, go through all the features, and end up with the best one to create an amazing website.
Personal Profile WordPress Themes to Showcase Your Portfolio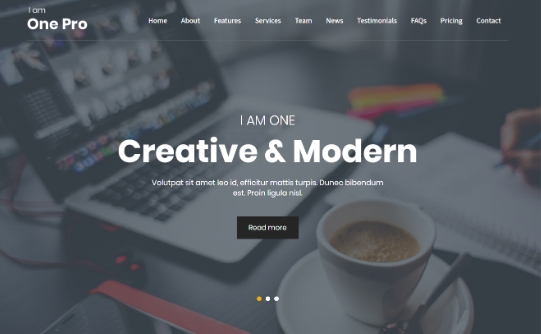 Are you looking to create a profile-based website to communicate your skills, talents, achievements, and other information?
If yes, then I Am One Pro is your perfect catch which fully serves your purpose. Additionally, it can also be used to project the profile of a brand, organization, small businesses, and corporate.
It has a nifty design along with a clean and innovative approach. This gives you an upper hand on setting up an online space and also running a blog.
There are multiple unique design options offered with this theme. You can select one, make the desired customization, and publish it for your website.
Personalization is a key element of focus here and is fully possible as desired. Page Builder also helps in creating a new HD-ready and retina-ready template if that is required.
It is rich in features and offers hundreds of inbuilt shortcodes for improvising the functionality. You can also turn up to other plugins for any peculiar features.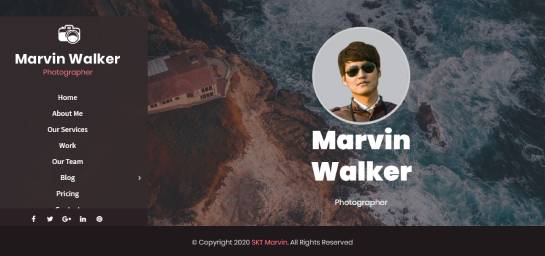 Marvin is one of the best themes in this collection of profile WordPress themes. It is a club of great tools and simple & clean design for creating a terrific web presence.
The design is fully responsive, retina-ready, and multilingual. It has been optimized for fast loading and coded with semantic and valid codes.
Therefore, SEO-friendliness is unquestionable. You can easily modify the arrangement and numbers of segments provided by default.
Colors can also be changed so that you can create the desired aura for your visitors. Integrating your social media profiles and providing a direct link to your LinkedIn account is also possible.
You can also integrate a galley that can include pictures of all your achievements and awards. Projecting special projects, workshops, and seminars can also be done.
By default, it comes integrated with hundreds of Google Fonts so that the personalization process becomes easy. Lastly, it is a modern, advanced, and single-page theme that can do complete justice to your purpose.
Resume Pro is amongst the most stunning profile WordPress themes that you can explore. With a prominent online presence, you can be the best in your niche and stand out from the competition.
In just a little time it enables you to provide a gorgeous and nice website with all essential features.
Given the default layout, it is ideal for professionals who are intending to showcase their portfolio digitally.
The entire customization process is simple and you will not need any professional help with it. In fact, any kind of modification in any element can be done without any coding.
It is responsive, organized, and clean which helps projection across browsers, screens, and devices to be flawless. The visibility on search engines will be the best because it is an SEO-optimized theme.
Integrating references, social media handles, and links to your online articles can be managed quickly. You can rely on external plugins for other features and fully control different sections as per your need.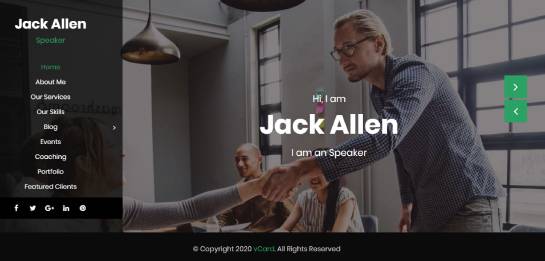 vCard is one of the popular profile WordPress themes chosen by independent consultants and freelancers to feature their profile.
The website plays a crucial role in building your credibility online and vCard will help you do that. You can rely on it to showcase your projects, clients, ongoing work, achievements, etc.
It comes with a cutting-edge and resourceful design crafted in order to acquire the trust of the audience. It has been incorporated with Google Fonts that are hundreds in number to provide awesome typography and font experience.
Depending upon your brand or your personality you can manage to implement the best color scheme on the website.
When it comes to accessibility, it has been tested for compatibility on mobile-devices and other screens. It is optimized for SEO and speed as they contribute towards important ranking factors in search engine's algorithms.
Embedding audio and videos to comprehensively feature your content is also possible. The default layout is finely designed and retina-ready but can be easily modified as required.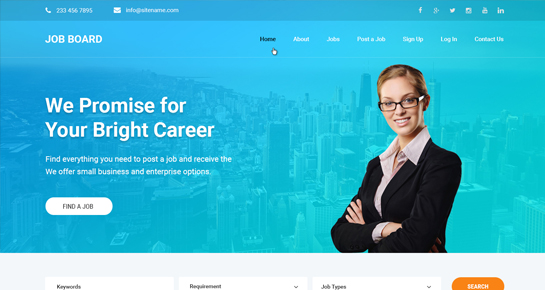 SKT Job Portal is a unique choice in the compilation of profile WordPress themes. It can be used to create websites relating to recruitment, HR consulting, job boards, etc.
The key features of this theme enable you to portray your company profile in the most elegant and professional manner.
This helps in connecting with the audience through your company's vision and establishing trust in them. The color picker feature enables you to customize the colors of all elements and the template to make it brand specific.
RTL and special characters like Latin text have also been incorporated for language handling.
When it comes to sitewide layouts, boxed and full layouts are offered with attractive inbuilt templates. If required you can also set up a company blog and attract visitors with its informative and enlightening content.
Flat and gradient-free designs which are the ongoing trends of modern design have been used. They directly contribute to achieving perfect responsiveness across browsers and screens including mobile-devices.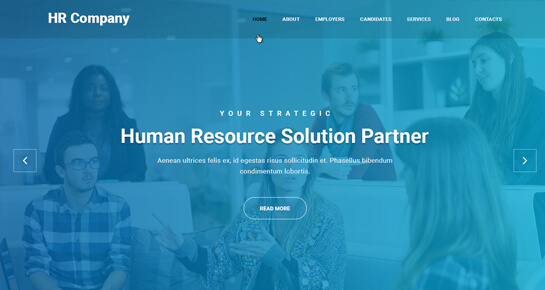 To become the HR solutions partner of reputed companies you need to make a significant choice from the best profile WordPress themes. HR Management is one such theme that can help you develop an elegant, responsive, reliable, and professional website.
Showcasing your abilities and services in the most efficient manner is usually the goal. The tech-savvy and versatile templates and the overall layout contribute to developing a professional approach throughout the theme.
It comes with a reliable set of features that can fulfill almost all your requirements and help you expand the reach. All the essential elements including color, layout, font, logo, etc. can be edited.
It offers full compatibility with WooCommerce and other external plugins so that you never miss a feature. Cross-browser & cross-device compatibility, copyright-free images, social media integration, Google Fonts, and translation readiness are some of its peculiar features.
Standard website pages are also offered so that you do not have to invest time in setting up the basics.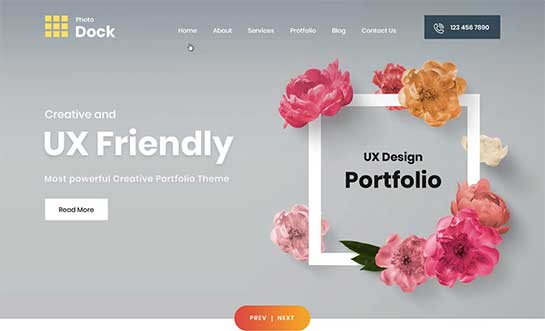 Photodoc is a feature-rich and mesmerizing theme. In addition to passing the Google mobile-friendly test, it is translation ready, multilingual, and SEO-optimized.
The default template is retina-ready and can be straightaway used for creating a model, photography, or corporate portfolio.
Additionally, it offers multiple sliders on the inner pages as well as on the home page. An inbuilt gallery is also offered along with the theme which makes you less dependent on plugins.
You can easily upload images that will be optimized and displayed to your audience. Hundreds of shortcodes relating to contact forms, team members, testimonials, etc. are also offered so that you can add the missing features.
A new exclusive template with a specific design can also be easily made with a page builder. Modifications of all kinds in the templates are possible and are not subject to any limitations. Location map and contact us sections are provided along with the basic structure of the theme.
The next theme in the collection of profile WordPress themes is SKT Landing Page. It has been developed to cater to the increasing need for editable and simple landing pages for launching business and services.
It is clean, minimalistic, modern, and highly customizable with dozens of features for achieving the ideal website. Obtaining traffic from browsers, mobile devices, and all other screen types are possible given its highly responsive nature.
For branding, you can utilize and set up your own color scheme. The entire process of development has been done with SEO-optimization and ease of customization in mind.
The external plugin compatibility is flawless and tested for reliability. The theme offers an inbuilt slider, gallery, and hundreds of shortcodes that can quickly add the required features.
You also get terrific options when selecting from the inbuilt template. Colors from all aspects including the background are manageable. You also get comprehensive documentation of the theme along with one-year customer support.
SKT Black Pro is an attractive and dark option in this list of profile WordPress themes. The major color across all elements and aspects of the theme is solid and radiant black.
This helps you in becoming more creative with your profile to reflect your content in the best manner.
The other colors combined with this theme have been kept subtly bright so that content can be featured in the best light.
Adding photographs, videos, and other animations will result in catchy attractions for the target audience. Setting up a portfolio-based website in this theme particularly can do wonders for you.
It comes under GPL licensed coding and is compatible with the latest version of WordPress. It also offers a sticky menu, mega menu, customizer options, and sidebar widgets.
The integration of social media handles and setting up a blog on the same website is possible without any extra effort.
Black and White is a classic minimal style website theme. Despite the minimal designing approach, it is modern, attractive, and trendy. It can be ideally used by artists, photographers, galleries, etc for creating their website.
Setting up a portfolio or a profile-based website with this theme can create wonders as everything can be showcased in a rightful manner. It is multilingual, translation-ready, and the POT files are also provided for convenient translation of strings.
Modification in every section and aspect is possible. But given the framework and color combination, you will hardly need much modification. Content can be easily added in the respective sections and if required the same can also be personalized.
It achieves outstanding performance in mobile devices and is SMO & SEO-friendly. Your signature styles or peculiar brand value can be easily highlighted on the website with minimal efforts.
SKT Launch Pro is one of the most prominent and feature-rich options in the collection of profile WordPress themes. This is a multipurpose theme that can help individuals, artists, professionals, small businesses, and corporates to set up an impeccable online profile.
With just a few clicks and the least modifications, this will do the work for you. It is highly responsive which increases your chances of mobile traffic acquisitions.
It is translation-ready and all the modification is done through either page builder or customizer. You can easily set up a search option for the convenience of the audience and artistically create a logo area.
For the easy and quick application of the features, the theme comes with widgets. Shortcodes help you in quickly adding the missing features on the website without the help of any plugins.
External plugins are compatible and supported so that functionality wise your website is always leading.
The last theme in the profile WordPress themes collection is Character. It is an outstanding, intuitive, and stunning theme that is rich in features and fully responsive in functionality. Showcasing your skills, attributes, and experience in the most creative manner is possible here.
The default templates provided are all HD-ready and capable enough to project a strong profile with relevant content. To achieve a peculiar designing goal you can conveniently modify the colors, fonts, styles, layout, and even the templates.
For companies and businesses, it provides a soothing and professional platform to project their principles, products, and values.
Service sections, standard pages, WooCommerce compatibility, multilingual, retina-ready, and shortcodes are some of its peculiar features. You can easily add third-party plugins that satisfy the need of any particular functionality or feature.