A straightforward guide to the best diagnostic laboratory WordPress themes can be found in this article.
These are designed for medical and health – related topics revelation online, diagnostic laboratories and their services, lab tests and procedures.
Early diagnostic tests and treatment may relieve anyone from future headaches and uncontrollable heath states. In certain cases it's not only important to carry out diagnostic tests and find out the disease.
It is also important to understand the development of the disease and implement appropriate treatment. And all those procedures are mainly based on the diagnostic laboratory results.
Beyond this significance of diagnostic services and tests, it's reasonable to stress the importance of the online version for suchlike laboratories.
While the fundamental aim of the diagnostic test is to determine the health state of the patients, the fundamental purpose of any laboratory website is to bring those patients close to your services and offers.
In this article we have put together diagnostic laboratory WordPress themes checked and approved by lots of active installs and medical specialists.
Each of the suggested templates perfectly knows how to make digital arena work for your diagnostic practice easily yet effectively.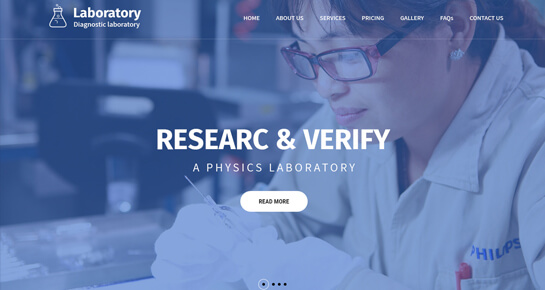 Laboratory Pro theme is a paid theme available at cost $39 only. Diagnostic Laboratory WordPress Themes are specially created for a professional and scientific research related industry.
This theme is created in such a way that it will look clean, simple, with minimum effects, to express more via thoughts. If you need some features you can extend it via installing different plugins.
Research business like a science project, laboratory, research agency, innovation centers, corporate technological business firms can take a benefits of Laboratory Pro features.
Features like eCommerce functionality, 1-year free support via email and phone number, Gutenberg features, widget features, multilingual feature, color picker feature, free complete documentation, and many more.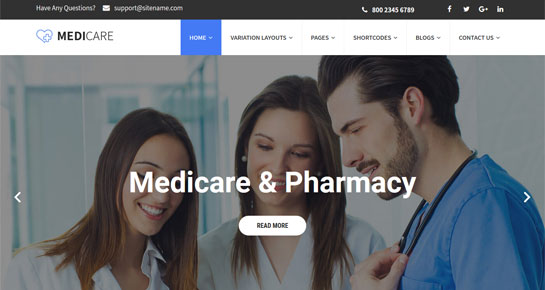 Diagnostic Laboratory WordPress Themes are specially created for wellness purposes. Different sections are provided that are not available in free theme just like
Pricing menu where a pricing plan can be added to the website. You can add more than 8 menus in the header and upto 10 sliders on the homepage. Instead of showing images in the slider image section you can also run your business video.
Different FAQ's Plugins are supported like Heroic FAQs, HTML5, Responsive FAQ, Ultimate FAQ, Arconix FAQ, and many more.
You can add as much as a widget you want in the footer section and sidebar section.
Hence Medicare Pro is customized friendly, developer-friendly, user-friendly, social media-friendly, SEO friendly, etc.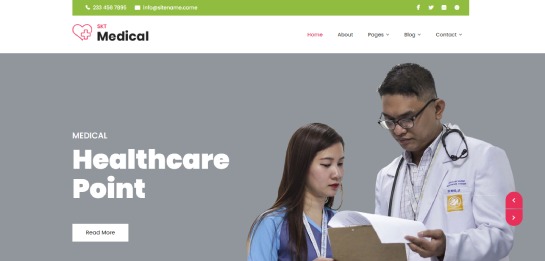 With the help of SKT Medical Pro, you can provide services like cardiology, Dental Care, Eye Care, Neurology, Kidney Surgery, General, Emergency calls, etc.
Patients are the most important factor for a medical type of industry as they may require immediate assistance from the specialized doctor, therefore appointment form has been created as a default to make the booking and get in touch with specialized surgeon quickly.
The design of Diagnostic Laboratory WordPress Themes is done in a simple way so that illiterate people can also understand the flow of the website. Hence call to action is provided at the top of the header page so that the patient must be able to call in just a few seconds.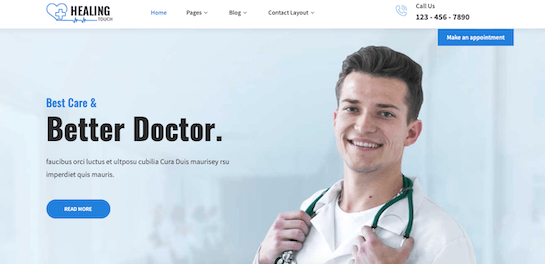 Healing touch pro is built for hospitals, clinics, doctors and health clinics.
More than 509 icons are provided to access it for visual effects. With the help of Nivo slider on the top and the bottom total of 12 animation effects can be provided.
Diagnostic Laboratory WordPress Themes are created with the latest HTML5 & CSS3 code that reduces the unnecessary code and improves the loading speed.
It supports Standard pages like 404, blog, search, archives, and category for more efficiency.
Same for shortcodes more than 100+ shortcodes are provided to set up content easily.
Healing Touch Pro supports Nextgen Gallery hence passed with the Google mobile-friendly test. Testimonials area has created to post client reviews and feedback.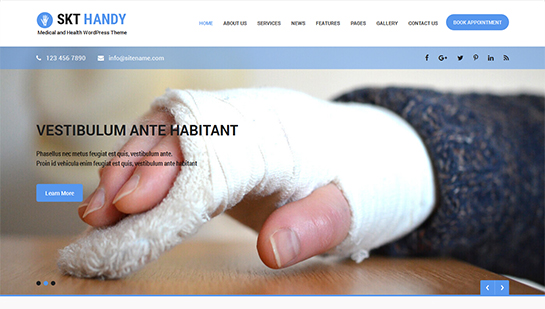 The best Diagnostic Laboratory WordPress Themes is SKT Handy Pro. Because it uses its own page builder i.e. SKT page builder that helps to create a theme and website in a unique style. Hence it looks awesome on all devices.
SKT Handyman Pro can provide services like plumbing, drain cleaning, Gas line, electrical services, carpentry, furniture assembly, etc. No need to worry about the service man's background as a specific section is provided i.e.
Team Members where details can be provided with their past experience. So it will be convenient for your user to hire and choose a serviceman they want.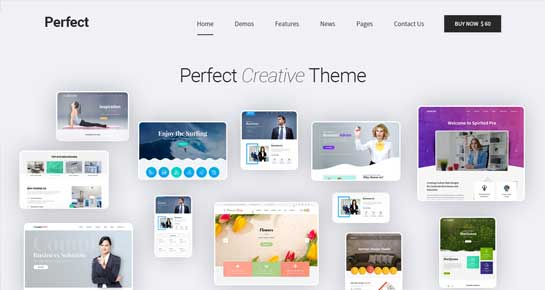 Trust and loyalty are the fundamental components of modern doctor – patient relationships. SKT Perfect has been developed to be the bridge between those two parties based on reliable cooperation online. All in all, it is one of the consummate diagnostic laboratory WordPress themes ready to showcase all your laboratory tests and processes, services and specialists in the nice – looking fashion.
This well – dressed and well – managed theme fosters seamless usability based on do – it – yourself and self – hosted approach.
It means that you can infinitely change and edit the given platform, add or remove whatever is required without sweating hard or hiring professionals to do it.
The theme's responsiveness and mobile – friendliness, search engine optimization, translation – readiness and plugin compatibility are all 100% guaranteed.
The next noteworthy sample in our assemblage of diagnostic laboratory WordPress themes comes composed and launched as SKT Pathway PRO. The patient enters your clinic sick and tired, vulnerable and sad with a hope to find a hospitable medical expert to offer his assistance.
Exactly the same approach holds true to the practice the patient shares on your laboratory or diagnostic, medical or health – related website. SKT Pathway PRO has been coded with this philosophy in the developer's mind.
As a result, it comes as a totally dependable platform both for the admin and the web visitors. Take the given platform, add your own preferences, colors and fonts to it and exemplify your expertise in the field.
Let all your patients feel that you care not only for their health but also for their good website experience – both desktop and mobile.
Patients highly appreciate the ease and simplicity of use of any medical website. Bony has been coded and developed while taking into consideration all the nuances leading to simple and lightweight performance of any website based on it.
Apart from that, patients like the effortless of making online appointments or receiving the results of the diagnostic laboratory tests online. Meet their expectations with Bony and create a wonderful profile with the offered handy toolbox of the theme.
With the website based on Bony any laboratory or its staff will be in the limelight and will stay accessible for daily visitors of the site.
The theme's icons and Google fonts packs together with widget – friendly footer, header and sidebar areas are incorporated in the theme.
Bony as one of the premium diagnostic laboratory WordPress themes celebrates totally responsive and mobile – friendly layout with plugin compatibility.
SKT Dual is exceptionally good for medical industry representations, including also diagnostic and laboratory – related procedures, services and tests.
As such, it can be fairly called as one of the best diagnostic laboratory WordPress themes available for multiservice usage.
Whether it is the patient's first experience on your website looking for some information or a permanent visitor purchasing his monthly treatment course or medicine, your website based on SKT Dual will maintain its informativity and convenience for every single occasion.
This website builder is processed not only for medical information sharing, but also creating a website of quick communications.
In this relation SKT Dual comes with footer and header areas to be the information boards of your website with contact info, address, phone numbers, social media links, etc.
Additionally, contact form plugins are also compatible with SKT Dual for inserting the required contact form so that your patients can easily get in touch with you.
The first step to get your laboratory and diagnostic website closer to perfection is purchasing Condimentum at an affordable price. You don't need to spend extra money to have total dominance over this template and make the most out of it.
The theme is custom – built to take a hit when it comes to clear and accurate deployment of your laboratory – related content in the form of texts and images.
However, the theme is multi – purpose at its true nature and as such can cater to other business and personal initiatives as well.
While the website takes a major role in maintaining the trust of existing clients, most of the modern websites are also directed at gaining new clients and patients and win their loyalty. Hence Condimentum shares all the touches of smooth navigation, quick response time and responsiveness both for desktop and mobile visits.
Lively and energetic, encouraging and creative, Kraft is the last medical – friendly template suitable for different laboratories and clinics, hospitals and health centers, diagnostic services and more. Kraft can be what you have been missing so long to generate more website traffic, gain more web visitors and convert them into laboratory visitors in future.
This website building system displays all kinds of patient loyalty – building indicators – from presentable look and feel, pixel – perfect visualization and high – resolution images to legible text content and calls to actions. The theme is also highly customizable with color, font, icons changes, etc.