The most creative ideas are produced when a group of people sits in a room together. Having a good idea is not enough you have to execute it too.
Coworking businesses know that young entrepreneurs need a hustling business space where they can work with their team to execute ideas without getting bankrupt because of the expensive rent.
You need to find a suitable theme to advertise your coworking business online. The coworking themes are so energetic that many creative websites also use these themes. Here are some of the best coworking space WordPress themes:
It is important to understand the needs of your business before choosing a theme. So if you want to open a coworking space business, you should identify the needs and goals of the enterprise. Once those are clear, you can find the perfect theme from this list.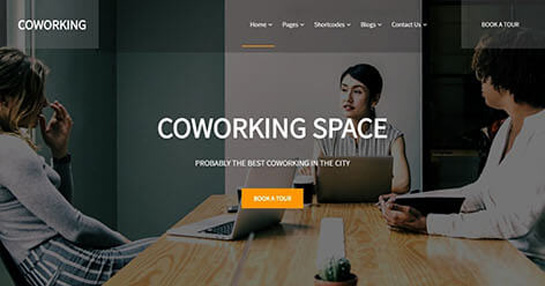 Any coworking space or office business can use this theme. It is easy to modify this theme without any prior HTML knowledge. With this theme, you also get a free installation guarantee.
This is a multipurpose template which means many industries can use it. The header area has four different styles, so users can select the one they prefer. The footer area also has four layout options, which users can choose and customize according to their preferences.
All types of office websites can be created with the help of this template, and coworking is one of them. If you are looking for a theme for your new business, this theme can also serve that purpose.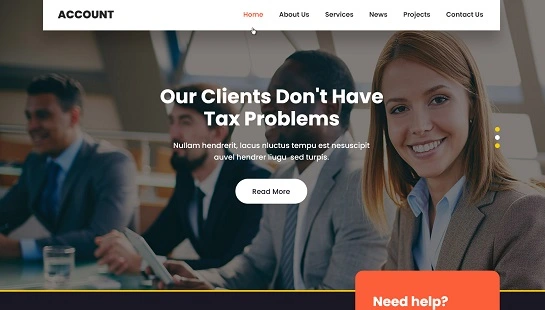 SKT Accounting is one of the most popular finance themes used by businesses that provide accounting services, financial consulting services, bookkeeping services, tax planning, and tax filing services.
This theme is able to provide sophisticated functionality because of the Gutenberg page builder. You can display your experience in the form of statistics that will impress new website visitors.
When your employees' contribution is identified, they feel motivated to perform well. With the help of this theme, you can highlight the brilliant minds of your company.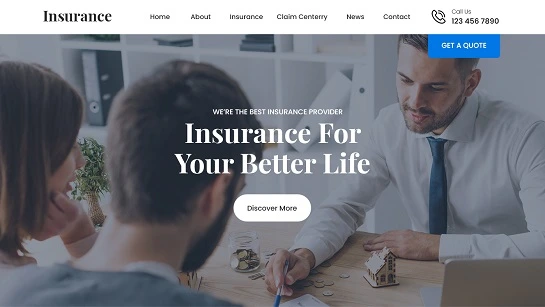 GB Insurance is the perfect theme for insurance companies and other financial services businesses. A section of this theme explains why customers should choose this business.
You can boost customer confidence in the business by seeing customer reviews. When people are looking to sign up for a coworking space, they never know the level of service that they will receive.
That is why checking out reviews from existing or old customers solves multiple queries. Coworking space WordPress themes need to have this feature.
If you want to add a blog to your website, this theme can help you there. Blogs can be used to attract visitors to your website and generate leads.
SKT Specialist is a website theme for business-savvy people. With the help of coworking space WordPress themes like this, you can adequately highlight your services.
You can display statistics related to your business. These statistics will shine a positive light on you and your care for the customers.
This theme has a special section dedicated to publishing client success stories. After reading these success stories, potential clients will not hesitate to work with you. This theme is neat, eye-catchy, and modern, which seriously impresses the visitors.
In the modern era, men and women are working shoulder to shoulder in various business sectors. Most industries are no longer dominated by men alone, and for a good reason, in recent years, the world has seen some great female leaders.
Women have to work extremely hard to ensure their voice is heard. The journey is not as easy as some people think, and they need help.
This theme is for all the great women who have decided to help other women through coaching and consulting. It can be used by multiple other businesses, including a coworking space company.
This theme can be used by financial services companies like investment companies, banking organizations, financial consultancies, lending services, etc.
The SKT Microfinance theme has an extremely clean design, the company which uses this theme will look extremely professional online. Such a theme helps businesses impress investors, partners, customers, and other potential stakeholders.
If you want to solve any queries your customers may have, kindly use the FAQ section, which is available in this theme.
If you run a coworking space business, you want the potential customers to be able to locate your company on a map so that they can consider you as an option. This theme has an option to add the organization on the map.
This theme is well developed, so it will function on all devices. Starting an IT business is a great idea, but your idea will only live up to its potential if you have a great website.
A great website can be created by using the most powerful themes. Because of the leave a message feature, this theme can be used by coworking space companies. This feature is extremely important in coworking space WordPress themes.
Potential customers can leave a message for the company's customer service or sales department. The customers can get the answers to all their questions before they book the coworking space.
Even if you have the best consultants in your organization, you still need an appealing website to attract other businesses.
The case studies feature of this website makes it the best theme for consulting companies. If you have solved the problems of many businesses, you can highlight the case studies in that section.
This theme is incredible for coworking spaces or other creative websites because you can add your entire portfolio to the website.
This theme has an amazing animated feel to it. It is mainly about SEO but can be used by many businesses. If you are in a creative business that aims to get the best results for the customer, just like SEO, then you can use this theme.
This theme is complete in every aspect and can be used for any creative venture. You can change the theme's colors and make it your own. It comes with various ready-to-use sections. This is a suitable theme if you want to start making an impact.
Blendit is a responsive WordPress theme. Every element in this theme is color-changing and can be controlled from the backend by the owner. This is an excellent option if you want something more than just a basic WordPress theme.
It is suitable for small businesses or personal websites that only want to have a few pages for their site. If you run a coworking space business, you may not want multiple pages but a few high-functionality pages that can surprise visitors. If visitors find your site impressive, they may try to contact you or make a booking.
If you have a business in the finance industry, this theme can help you grow exponentially. When you have been in the business for many years and have served the customers with dedication, it is not best to be modest about it.
You can display your business statistics on the website, establishing you as an organization that can be trusted. You can highlight the organizations that you have partnered with so that you can better serve the customers.
While this theme is a masterpiece for finance, it can be used by other businesses too. So if you are looking for a creative or coworking space theme, you should go with it.
This is a powerful, robust, and multipurpose WordPress theme. This can be a good choice for people who want to invest in a website but are not yet sure what their venture will be.
They can decide what they want to do after buying the domain, hosting, and theme. No learning curve is required to apply this theme successfully. It is SEO friendly, and you can rank on search engines with hard work.
In addition, a blog section is available where you can show your expertise in your domain. You can list out all the services that you provide with this theme.
It is better if your potential customers keep in touch by following you on other social media channels. So, do not forget to add social media icons.
The digital agency theme helps you display the services you provide with the help of text and animated drawings. Digital marketing agencies usually work to deliver measurable results.
If you can display some of those results in the form of statistics on your website, your business will soar. If you have been searching for coworking space WordPress themes, this is a suitable choice.
With the help of this theme, you can highlight the different packages you provide. It is necessary for your coworking business to have different packages. This feature gives this theme an edge over the competition.
Choose your theme wisely to unleash the full potential of your business