One of the most phenomenal manners of provoking strong feelings is through colors. Red is energetic and passionate while black is bold and absorbing. You can conveniently allude to the fiery and fun spirit of your business, blog, brand, or portfolio with just a hint of red.
This collection has everything including a pop color theme and a bold layout. You will undoubtedly discover an option that will speak volumes about your brand and catch the user's eye.
This is an exclusive collection of black and red WordPress themes for various businesses, sectors, and personal use. So what are you waiting for? Explore the technical aspects and choose one for your WordPress website.
Why should you choose black and red WordPress themes for a website? If you want to create a magical experience on your visitors then choosing bold themes can take you on the peak of success.
These bold themes offer a guarantee to engage your visitors towards the site as they offer elegance and spark to the eyes.
According to research, we found black and red WordPress themes provide an array of features and functions that further ensures the best performance on the web with fast loading speed.
Besides such privileges, the black and red WordPress themes are best for technology and news website as they offer the best user experience. Also, these are great for portfolios that usually interact with the users and take your website to the heights.
More than that these themes are great to provide various options such as readability, visual content, customizations, typography, and many more.
On the internet, there is a range of black and red WordPress themes are available but finding out the best one is crucial. Hence, we lay down top themes that fit with your business needs.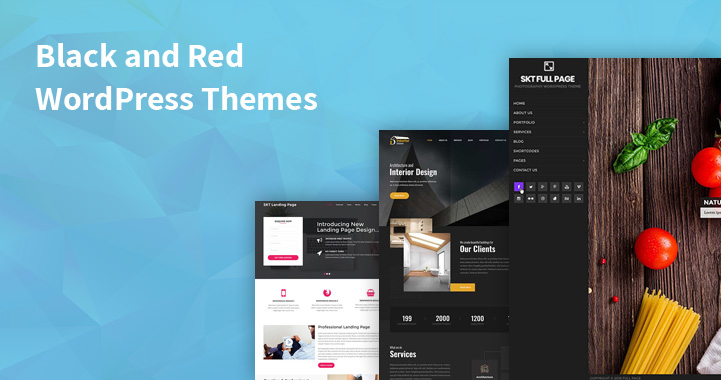 Best Black and Red WordPress Themes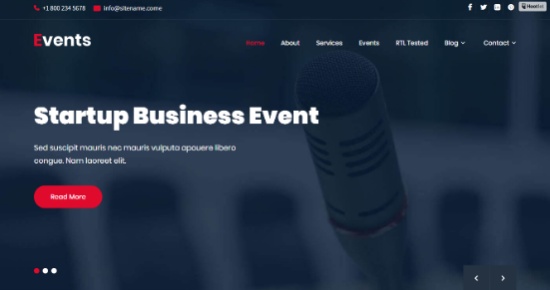 SKT Events is a multipurpose and responsive Black and red WordPress theme used to create the website related to event management companies. This template is designed in a way that it creates a multi-page blogging website that can boost your event business and growth worldwide.
SKT Events theme come up with various templates and schemes that you can use as per your business requirements, and it will help you to reflect your business achievements and the Motto in an impressive way.
The users will take your business to the next level as it is a very engaging and dark theme that easily grab the attention of users. With this multi-purpose WordPress theme, you can add different type of contents on your web site that works on making your theme successful.
On the other hand, you can sell Merchandise goods through the event management website by using the woocommerce plugin. Also, it provides you easy access of 870 + Google fonts. This is easy to use a theme that usually improves your user's experience.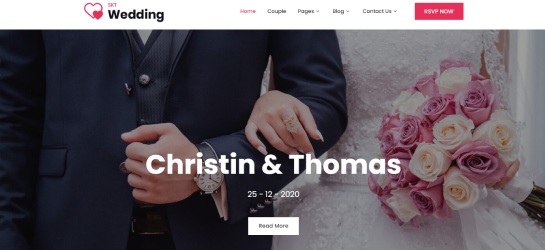 Nuptials is yet another the ample black and red WordPress themes you should choose for your wedding planner company, wedding blogs, etc. It is a highly responsive theme includes easy shortcodes that help your wedding site to set up the content easily.
On the other hand, you will find various sections in the home page like about us, portfolios and many more that grab the user attention towards your services.
Plus it uses an animated slider that showcases your content along with featured images. Also, it is compatible with the latest version of WordPress.
It means the theme is very special and you can make the best out of your wedding website. Nuptials theme is very easy to use and setup and there is no need for a technician.
Moreover, you can add several photos and videos to showcase your customers how good you are in this business. The theme is available on free installation that allows you to access the features.
once you're done with the theme you need to add content and edit the text as per your business requirements.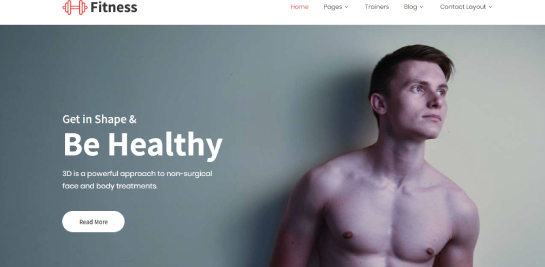 If you are looking for an aesthetic and bold theme that fits your fitness website then look out SKT Fitness pro. It is coded with an Elementor page builder that means this theme is highly responsive and mobile-friendly.
On the other hand, it's come up with the default slider, animations Control features, pause time, and many more. Besides, it is integrated with 675 Plus Google fonts and 800 plus social media icons that support your website on various platforms and the site receive a range of traffic.
This theme is best that include animated sections like two columns, three columns, and five columns which you can add anywhere on the website.
Also, it comes up with simple and elegant characters that conveniently showcase your website. On the other hand, this theme also includes superb call to action buttons, gallery, testimonials and pricing tables that satisfy your user's requirements in one platform.
If you are creating a website related to Icecream parlour or Icecream manufacturing company then Ele IceCream is the best theme you can go with.
The theme has an elegant design and feature that showcase the specific Moto- give an online store to the customers where they can get unique shopping of Icecream.
It includes 900 plus fonts and social media icons that enhance the terms of blog traffic, beauty and accessibility. This icecream theme is designed with CSS3 code so that it can support the latest version of WordPress.
Right now it is available on free installation including premium services. Also, the theme has an updated version that can deliver regular updates and provide 24/7 customer support for 1 year. Try it now!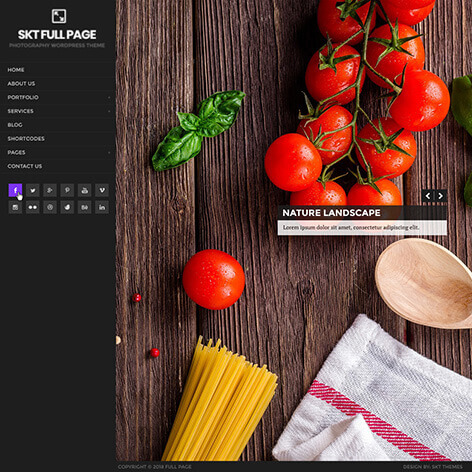 When it comes to a unique design for creative-minded individuals then Full Page Pro is a potential choice. It is one of its kind and ideal theme for a fashion store, photographers, media agency, etc.
Anyone who is intending to showcase professionalism with style can turn up to this theme. It offers pre-defined layouts and templates that can be modified as per your project or even directly used.
They are optimized for SEO and mobile along with being fully responsive. Colors can be modified in all sections as per your preference for creating a digital presence that represents your brand.
In terms of functionality, it can compete with all premium themes in the market thanks to its impeccable coding.
The basic user-interface and navigation for the website will be smooth, interesting, yet simple for the convenience of the audience. Plugins of all kinds including WooCommerce are supported to ensure that all kinds of features can be incorporated.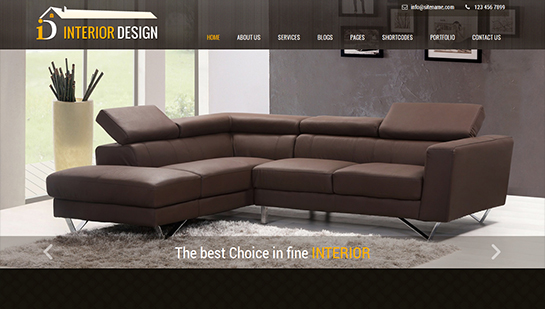 Every interior designer is searching for black and red WordPress themes for developing an aesthetically pleasing digital presence.
SKT Interior pro is one such multipurpose theme that does complete justice to such expectations. It is designed in prolific black with a touch of contrasting colors that helps to make your website stand from the rest.
Because it is a multipurpose theme it can be easily molded for other professions and crafts for fabulous results. Modifications are easy as one can conveniently switch header formats or skin colors to dark and light.
It comes assembled with hundreds of shortcodes and WooCommerce so that establishing an online store becomes easy.
If required adding a blog section along with the website is easy and can be done with a few clicks. In addition to being fully compatible and responsive with all kinds of plugins, it is retina-ready and HD ready.
The perfect combination of a theme comprises an aesthetically charming appearance and a technically unbeatable coding.
This is exactly what SKT Landing Page has to offer. Landing pages are one of the integral aspects of a website and special focus has been given on the same here.
The colors are perfectly combined with bold shades of dark and light for an elegant experience. Information of all kinds and types can be conveniently included without any hesitation of space.
The default layout has been worked out carefully but there is a provision to modify it completely. If required you can also design an HD-ready template according to your imagination with the help of page builder.
Social media integration is easily possible so that your audience always remains connected with you. It also enables you to engage and attract the audience by posting about the activities on your company's social media page and link the same with your website.
Catering is one of the ultra premiums black and red WordPress themes specifically designed for restaurants/retail. There are tons of options with this fully customizable theme to ensure that you can truly make it your own.
Some of the noting features include easy set up of food menu, pricing tables, subscription forms, and others with the help of plugins.
The color options are unlimited and the customization does not take more than a few minutes. For creating a sleek, professional, and versatile website that can charm you existing customers and potential clients this is the best choice.
The default templates and graphics are related to food and catering which can be directly used for your site. All kinds of plugins are supported along with WooCommerce so that establishing an online store is never hard.
It features perfectly on all kinds of devices, browsers, and screen thanks to its retina-ready and HD-ready display.
Creativity, passion, and art are never bounded by anything. All it takes is a simple bold black color to feature it. This is one of its kind additions in the black and red WordPress themes list.
It is minimal in design but yet preferred by a large audience for being mesmerized with its layout and functioning. It can be used for various industries, personal blogs, photographers, and portfolio building.
The best advantage that you get when uploading an image is that all its colors will glow in the aesthetic black setup.
Functionality wise it is no less than any of its competitors and has proved its mettle. Despite being dark it is retina-ready and supports all kinds of plugins.
This ensures that all kinds of screens including mobile perfectly project your site and high quality. It is SEO friendly and offers comprehensive documentation for assistance in setup along with customer support.
Are you a musician and trying to feature the soothing emotion of your songs in the digital space? If yes, then this is amongst the finest black and red WordPress themes exclusively designed for musicians and music studios.
Even if you are a music programmer or arranger there is no better choice than this to feature your work. This is a simple, professional, and dynamic theme that enables you to complete customization with impeccable performance.
Customizers help you in making all the required changes and tracking the same in real-time.
Page builders can help you to modify and create new templates in HD-ready formats that can mesmerize your audience.
All default features like sliders, widgets, header, footers, colors, background, and other elements are customizable as per your need. It offers 100+ shortcodes and blogs can also be set up easily by selecting the desired template.
Musical Sounds is amongst the most preferred, noted, and premium black and red WordPress themes. It is specifically developed for music artists, record label companies, music players, metal bands, and similar niche.
The most interesting and core feature of this theme is that by default it comes with a music player. This player can be modified in various sizes and can be used to play a single track or even a playlist.
Despite having such features it is fully responsive and has been tested for mobile-friendliness.
A call to action button is provided for your convenience that helps in attracting the audience for event registration. The header, footer, background, and the rest of the elements can be easily customized as per the overall layout.
WooCommerce is compatible hence tickets and artist merchandise can be sold through an online store. The event calendar is also included for dynamic engagement with the audience about future events.
Disco Dancer is amongst the most profound examples of black and red WordPress themes. It is designed exclusively for dance artists, dancers, and dancing studios.
It is community friendly and has been tested for community-related plugins. Keeping in mind the various dancing styles taught in a studio, necessary layout and arrangements have been provided.
All these are customizable and if required you can create a unique one according to your studio's style. Not only this but for commercial purpose pricing table plugins have been tested that helps in listing class timings and other schedules.
Testimonials from alumni, students, parents, and organizers can be easily added as it helps in improving credibility. For an HD-ready display, it has been successfully tested with high-resolution devices and screens.
All templates are SEO-friendly and the overall structure has been coded to maintain that structure.
Any local audience does not want to stay on a music producer's website unless the aesthetics are mesmerizing. As music producers, you cannot change the kind of content to be included on your site.
But you can improvise the manner in which it is presented to the audience. The landing page has been designed with full SEO optimization and mesmerizing graphics that will make music lovers fall for it.
It also includes an in-built music player that can play a solo or playlist of songs for your audience. It is one of the finest techniques for releasing new tracks and generating organic traffic.
All the colors in every section are customizable so that your brand image is never compromised due to limited functionality. In addition to this, WooCommerce, translation, social media handles, and all other plugins are supported.
Gaming and games have been an integral part since the 1990s generations until the present time. These are the people that love to play games and are constantly following new game releases.
Hence, Game Developer is the next theme in this compilation of black and red WordPress themes. Gaming companies, game reviewers, professional gamers, and everyone else with a similar niche can use it to create a terrific website.
It is 100% responsive and has also tested the Google mobile-friendly test which ensures mobile-compatibility. It is compatible across all devices and you can also easily set up a blog without any special efforts.
For affiliate earning and advertisements widgets are provided that can be used at your convenience. All the sections are easy to manage and required modifications like adding, removing, and substituting are also easy.
It has been tested for a wide range of plugins and is compatible with them all.
Black and red WordPress themes are usually dynamic in terms of colors and arrangements. Soccer is one such theme and fits perfectly in this list.
All kinds of outdoor sports fans are looking to visit a website that is full of energy and emotions with an athletic aura.
This theme does justice to those expectations as it has been developed exclusively for that purpose. All kinds of sports websites including reviews, blogging, and online stores can be developed on Soccer.
The templates provided by default are retina-ready and HD-ready and can be directly used as required. Footer layout, slider layout, and sidebar layout have different choices so that you can select the most suitable one.
In terms of functionality, it is powerful and tested for delivering impeccable performance with inbuilt and plugin features. A support forum, email support, and comprehensive documentation are provided to the users.
The concept of Dating varies from region to region but the color of love remains the same everywhere. This makes Dating an integral part of the black and red WordPress themes list.
It comes with a unique and loveable layout by default that can lure the users into exploring various services provided by your dating website.
All necessary sections, functionalities, and arrangements as required for the audience can be set up. It can be installed easily, comes with comprehensive documentation, and does not require any coding.
The search option which is a key feature on such sites is provided in two formats of horizontal and vertical types. For viewing the members a specific member's profile section is provided.
Numerous profile fields are also provided so that information of all members can be captured. Group chat plugin is supported and tested along with all other popular plugins.
The last theme in this compilation is Bakers. It is easy, simple, fully responsive, and stunningly designed. All kinds of tweaking and modifications are possible so that brand identity can be managed and maintained.
By default 100+ shortcodes are incorporated that enables tons of functionality for making things easier and simpler. Plugins of all kinds including contact form, subscription form, WooCommerce, Calendar, etc. are tested and supported.
Without any difficulties, it can be linked with social media handles through plugins. Other elements related to social media can also be added to improve audience engagement. In addition to being HD-ready, it is compatible across all devices and platforms.