There are a lot of medical practitioners that can help people in need. However, to provide medical services, you need to be discovered. A simple yet powerful website can help you be discovered. Your patients will be able to book appointments online.
If you have helped patients in the past, you can highlight their testimonials on your website. A website can be a portfolio highlighting your specialties, experience, patient testimonials, etc. However, a website can also be used to do business directly.
Your potential patients will be able to book appointments and check your schedule. You can display your schedule and availability for the coming week. This will help people book an appointment when you are free.
A website can boost your revenue, but it must be developed with the suitable theme. A good WordPress theme for your website will be one that is designed minimally with colors that are easy on the eye. If someone is booking an appointment for a doctor, they are not exactly joyful.
That's why the theme needs to be minimalistic in nature. There are many WordPress themes for doctor website. However, there are a few themes that stand out. As a doctor, you should know about such themes to apply them and stand out.
The List of Best WordPress Themes for Doctor Website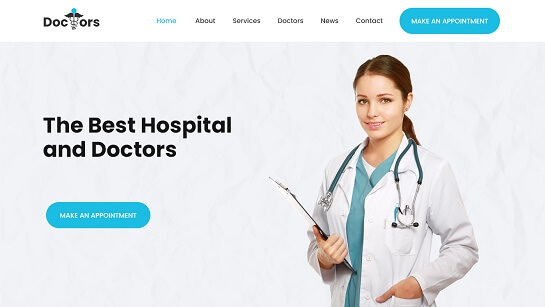 When anyone suffers from an ailment, the first thing they do is visit their physician. So it is obvious that doctors need a website for administration purposes. In addition, they can attract new patients and help them book appointments from their website.
GB Doctor is one such theme that can help any doctor create outreach on the internet. It comes in the colors blue and white. These colors are often associated with the medical field. Once you have applied this theme to your website, you can customize it per your requirements.
Using this theme saves you money as you do not have to hire a professional developer. This theme provides a professional look to your website without any technical development costs. All you have to do is purchase this theme, and you have a professional website you can use.
This theme is trendy because it offers key features like doctor schedules, appointment bookings, opening hours information, testimonial, contact information, and other crucial pages. Your website visitors will have such a great experience because of this theme that they will book an appointment.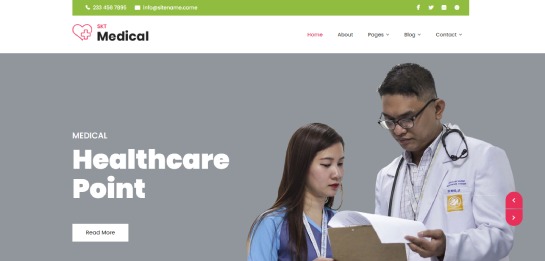 SKT Medical Pro is a responsive medical WordPress theme designed to cater to doctors, medical specialists, pharmacists, psychologists, hospitals, etc. In other words, if you are related to medical science, you can use this website to promote your practice.
The theme's default color is blue, as it represents medicine well. However, if you want to customize the website's look, you are free to do so. Furthermore, you can show pictures of your clinic with the help of the gallery.
In addition, this website has a team section, where you can provide the details about your assisting staff. This theme does not leave any detail behind, which is why it is one of the best WordPress themes for doctor website.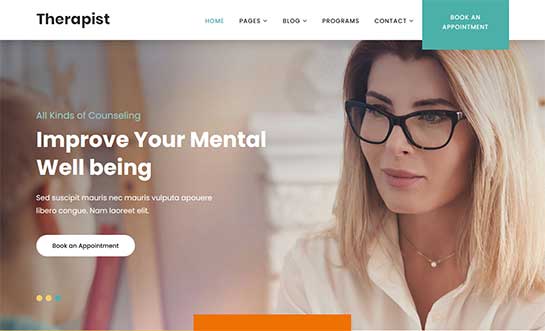 This theme is used by psychiatrists, counselors, motivational speakers, neuroscientists, public speakers, etc. Today, alot of people are looking for people who speak on mental health over the internet. As a therapist, you can benefit greatly by creating an online presence.
You will never run out of clients this way. The excellent thing about this theme is that it can be used by other medical practitioners too. You can add details of all the projects you have undertaken to this day. Nothing promotes your service more than positive customer testimonials.
That's why this theme has an entire section dedicated to that. This theme suits everyone's needs. If you dislike messing with technical aspects, you can activate this theme on your website and make the changes. If you have a team of developers, you can use them to unleash the full potential of this theme.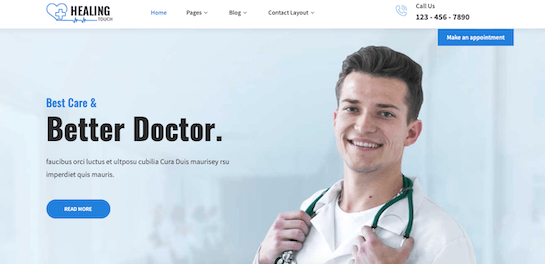 With the help of this theme, you can fully discuss what your process for making a diagnosis is. If people are intrigued by your experience and process, they can book an appointment.
This theme focuses entirely on convincing the visitor that you are the right doctor for them. Because of its sale-oriented nature, it is one of the top WordPress themes for doctor website.
When you use the Medicare Pro theme, you can highlight the services you provide and your specialties. To affirm the claims, you must use testimonials from your old customers.
When someone reads good words from an old client, they are more confident about you. There are a lot of clinics or medical practitioners that can take good care of a patient, what makes you different?
This is a question that many potential customers will ask. If you are charging a price from your customer, you have to justify that price. You can prove your case in the why choose us section.
This theme provides a step-by-step process on how a doctor solves a customer's problem. Originally, it is a theme used by psychologists. However, psychology is deeply related to the medical field, so even you can use it to promote your services.
If your clinic has more than one doctor, it is necessary to promote them too. Someone may be attracted to your clinic because they are looking for a different expert.
You can be a thought leader in medicine with the help of their blog section. When you publish all the recent medicine-related news backed by research, you have created authority in medicine. That's why potential patients will find it easier to trust you.
Dentists generally use the toothy theme to attract potential patients. However, there are so many similarities in the way that dentists and doctors provide services that you can use this theme.
You can highlight all the medical services that you provide with the help of this theme. Every medical practitioner has a mission when they start a clinic.
Some want to provide services to the poor, while others want to help with research. Recognize your mission and state it openly on the website. Patients who understand your mission will be tempted to visit your clinic.
It is important to highlight how much an appointment will cost because this helps people book doctors they can afford. This theme has an entire section where the price is highlighted.
It is functional on multiple browsers and devices. Healthcare is now more accessible because of professionals like you.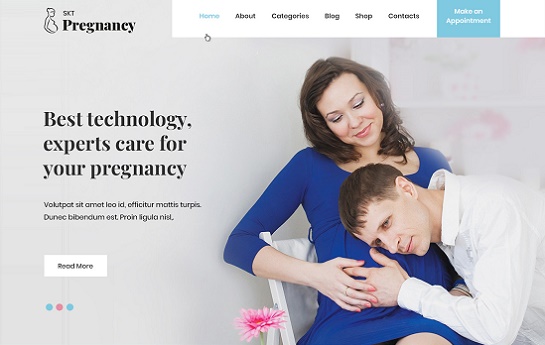 SKT Pregnancy is a pregnancy-related WordPress theme that is mainly used by gynecologists. This theme helps you save time and money as you can develop a functioning website without hiring any developer.
All you must do is buy the theme, activate it, and edit it according to your own preferences. Third-party plugins are compatible with this theme. Visitors will be able to perform multiple actions because of these plugins. Doctors can use this theme because it has all the features that medical practitioners want.
Bony is a responsive WordPress theme mostly used by chiropractors but can be used by other medical practitioners too. It is important to provide crucial information, like opening hours and phone numbers. In the first two sections, you can highlight why your practice is different.
You will be able to get more business by highlighting the advantages of your clinic. Here, you can discuss the approach you take to treat a patient. This theme focuses on components that can convince someone to book an appointment. That's why it is one of the top WordPress themes for doctor website.
This theme looks right for your clinic because it comes in blue, green, and white colors. The footer of this theme is dedicated to CTA's; you have the contact us option, which provides various options to contact your clinic like phone number, address, email address, and web contact.
Other than that, this theme also comes with a contact form primarily used to book an appointment. When you get a query through this form, you should call the patient back as soon as possible.
This theme is used by companies that provide top-quality Ayurveda products. Ayurveda is famous because of its health benefits, that's why health experts can also use this theme. In the first section of this theme, you can inform the visitors about the advantage of selecting you for healthcare services.
Use easy-to-understand words, half of the job is already done as you can publish animated graphics related to the content. There are a lot of medical practitioners out there. What is your unique selling proposition?
Have that ready in your mind because you have the opportunity to put your USP in front of all your visitors. Accessing healthcare services using the internet can be difficult, you can explain how a patient can book a session step by step.
There is an entire section dedicated to this, so even if your potential customers are confused, they will get the right answers. It is important to stay in touch with your patients and visitors. Now, you can do that with the help of a newsletter plugin. The newsletter plugin helps you target a potential lead.