SKT Appointments Pro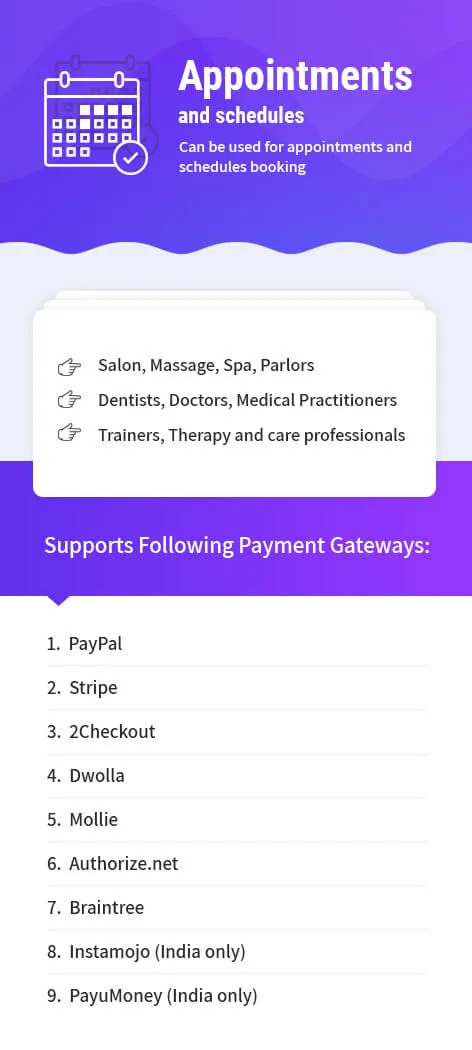 For

$69
Demo
350+ Themes for $69
Features of Appointment booking WordPress plugin
Exceptionally comfortable to use and handle
Soft and flexible to alter any changes
Appropriate plugin for every kind of businesses
Settings and bookings will be saved to your database
Will not require any other account(third party account)
The design of calender is adjustable
Developer friendly hence easy to use on any devices and screen resolutions
You can manage a complete booking system on your own
Very simple to configure and integrate within your website
Booking buttons or shortcodes are be inserted to any page for example in a home page, post page, etc.
Free online documentation for complete plugin setup.
Free 1 year support via the forum, email, skype, etc.
The plugin allows you to print appointment list
Multiple page calender
Supports elementor and Gutenberg
Supports multilingual functionality
Supports widgets
Inherited with more than 20 languages
Permitted to check multiple date format
Manual and automatic CSV reports
Proper form validation is done
Email notification is customizable
Supports automatic price calculation
Allowed to select multiple services with a different pricing structure
Timings can be managed
Timing duration can be changed
Holiday dates, working dates, invalid dates can be specified
Visually strong and effective
SKT page builder is used to create a forms fields
Supported with more than 8 popular payment gateways
All payment gateways are SCA ready
Addons are given for reCaptcha, MailChimp, WooCommerce and more
Permitted to set the user role
Admin can accept or reject the booking
Easy access to a dashboard to view booking
Appointment booking WordPress plugin can be used by
Beauticians(Hair, skin, nails. Tanning studio, etc)
Wellness and Fitness(Gym, Yoga, etc)
Medicine (clinic, doctor, medical, dentists etc)
Gyms and Health Fitness Clubs (yoga classes, gymnastic, dance, zomba etc)
Professional Services(IT services, consultancy, web developers, designers, carpenters, personal coaches, etc)
Photographers(artist, videographer, painters, etc)
And can be used for other services and industries.
Your website visitor will be
Able to select any category name
Able to select multiple services shown with the price tag
A visitor will be able to select a booking date from a calendar with availability
Able to submit the selected date
Able to book a time from availability
After submitting the time they will proceed to the payment option
Multiple services will be calculated at the end automatically
You will be able to
You will be able to change the categories list.
You can modify a list of services at any time.
You can show your availability on the calendar with a specific time and date.
Plus you can change the payment method by integrating another one.
Any of the fields can be added or deleted.
The fonts can be modified by selecting from the Google fonts option.
Change language to your native language.
You can keep track on booking history plus you can check the status of a client
You will be able to change the email address and password
You can add or you can remove any user from appointment
Benefits of using Appointment booking WordPress plugin
Saves lots of time
Easy to navigation with effective user interface
Less input data only some clicks required
Very responsive form
SMS and email notification allowed
The list of currencies supported by this plugin are
USD
EUR
GBP
AUD
CAD
CHF
COP
CZK
DKK
HUF
HRK
PHP
UAH
RUB
THB
JPY
TWD
CNY
And more..
We have contributed all our efforts and thought an idea out of the box to deliver you an effective appointment booking plugin to fulfill your requirements. Just you need to activate this plugin and need to insert some shortcode of booking to any page and you will get started with bookings.
SKT Booking is basically a WordPress appointment plugin that is invented intentionally to book appointments online. This plugin accepts the payment via online payment gateway integration or option is available for cash on the counter for easy user experience. Therefore, doctors, hospitals, salons, spa, massage, therapists, trainers, gym, teacher, architect, lawyer, and any consultant can make use of this plugin to book appointments.
Your website visitors will be able to check the availability of room, apartments, houses, etc to book services online. This plugin is very easy to use. Within a few minutes, visitors can book multiple services at a time and can move forward for online payment. For effective appointment experience, your website visitor will have an option to do a payment by selecting payment gateway from multiple options such as Stripe, PayPal, Mollie, Dwolla and more.
Users can book an appointment as per the availability with a specific date and time. The time and date will be selected by the end-user. Plus user can experience different services with a single appointment plugin.
Consider an example for a hospital, SKT Booking plugin will allow your patient to book multiple services such as a special ward, breakfast, dinner, medicines, AC Room, etc. Hence the total price will be calculated while proceeding with payment.
Appointment booking WordPress plugin actually provides you thousands of options and features to create an appointment form for any type of business.
This plugin is very easy to customize so you can add or remove any field that you want. Plus you can change the complete background color. You can design an appointment form in such a way that the form will go with your website design and structure.
No technical skills are required to set and configure this plugin. We have tried our level best to create a plugin that will be very easy and fast among the all.
To support the multilingual functionality this plugin is compatible with WPML plugin. This plugin is developed for a large scale businesses and small scale businesses. Local business or a entrepreneur can use this plugin for offering various services to the users.
Change Log
Updated June 2023
Working With Latest WordPress Version
Updated Google fonts