Here is a search based assemblage of wonderful WordPress themes to fire up any kind of website with unique look and feel.
All of them are unbeatably powerful in their true nature, and are rolled up by exquisite visual design.
Of thousands of templates included in the modern repository of WordPress, anyone can find the one that will be up to the requirements and standards he or she prioritizes.
However, if you have ever tried to scroll the directory of WordPress themes up to its end, it had probably given you a headache. In order to narrow down the possible reasonable choices for you, here we are with the most wonderful WordPress themes for near perfection level and attention seizing website establishment and maintenance.
Moreover, if you are not going to loosen your purse strings and be more liberal with your expenditures, those templates will be ideal for you.
Each of them is available at one time reasonable price while providing you with an exceptional platform with constant updates and improvements without additional costs.
The philosophy of those wonderful WordPress themes is not about making your personal or corporate website stand out from the crowd. It is also about making your site mobile friendly, user optimized and compatible with the modern digital world.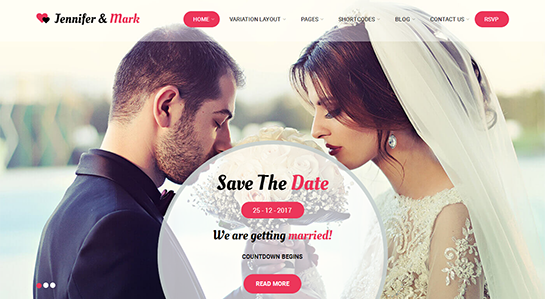 Wedding Rituals is productive and aesthetically pleasing, safe and sound template for multipurpose usages.
Although it is designed and launched mainly for wedding and matrimonial, dating and engagement, as well as anniversary websites and wedding agencies, any other topic or niche will be seamlessly showcased through this template.
Without any shred of doubt, Wedding Rituals celebrates a responsive design meaning that your content will be well laid out on any given platform, device or mobile.
It also maintains high rankings among its users thanks to its admin friendly dashboard with handy features, homepage slider to host your slideshows, shortcodes, fonts and colors management throughout the website.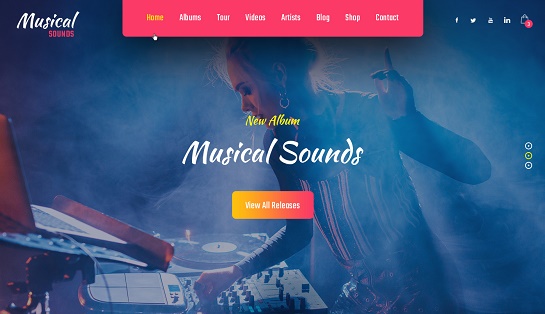 What makes Musical Sounds a template including in the list of wonderful WordPress themes it its unusual dark based visualization combined with strong inner performance across different platforms.
It shares a plethora of practical features and elements to speed up your workflow and save your precious time.
All in all, there are several page templates at your fingertips, footer and header variables to choose the best one matching your style, as well as tons of calls to actions for the website viewers and visitors to get in touch with you.
The theme is as simple and accessible in usage as it is strong and adaptive in its responsiveness and cross mobile compatibility.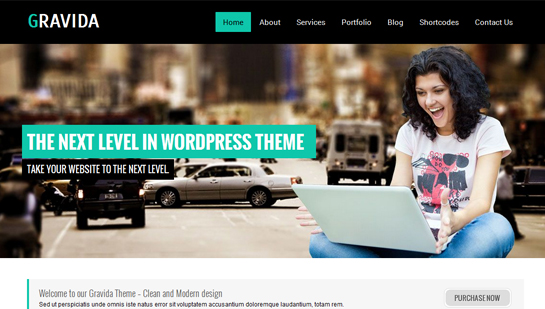 Gravida is another modern and creative, alluring and visually pixel perfect template with tons of customization options. Those controls and options are enabled for you to take your website performance to a higher level of operation and client engagement.
It took all the creativity and professional qualities of our staff to generate this template and polish it to perfection. Multidimensional and all inclusive, Gravida is developed for the business world and its units, be it a company, corporation, agency or shop.
It is also ready to provide you with constant flows of mobile web visitors since the theme mobile version is as usable as the desktop version.
Elegant color combinations are used within the theme, but you are not limited to those colors at all. Use the given color picker and change them whenever needed.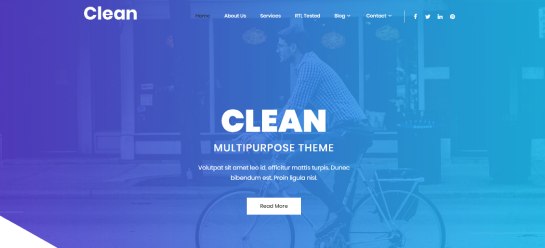 Clean Pro is excellent in its simple, yet modern and unique form. As one of the top notch and wonderful WordPress themes you can find right now, this website builder is bloated with smart and intuitive framework ready to adjust to any admin management controls.
Unique demo version is also accessible for you to feel the whole potential of Clean Pro, as well as all the working strategies of it you can adopt for your needs.
Filled with interchangeable features and elements, Clean Pro shares improved HTML5 and CSS3 based framework, which is responsible for the responsive performance of your site, as well as its legible face.
Blendit is another highly versatile and robust product stylized with wonderful style and coding. The unbeatable composition of this template will let any kind of business or personal undertaking stand out among many others with all the bells and whistles of your unique website.
Whether you want to materialize your business plans through your site, show off the best pieces of your portfolio, run an online store and sell your digital and physical products, Blendit is constructional enough to match your plans.
This superbly crafty and confident website tool comprises controllable backend with color changing and other options, beautiful homepage slider with animation, pause time, etc., as well as SEO optimization with SEO plugins and more.
Photo World Pro is among the top seller general purpose wonderful WordPress themes. Based on a fluid architectural base, this theme is balanced between tranquil look and advanced technology based inner stage.
Cutting edge homepage slider is put on the action for you to organize the online exhibition of your photos and images, as well as other portfolio items.
Social media icons are added to Photo World Pro to contribute to the socialization of your site and its content.
Spectacularly attractive and cutting edge, I Am One Pro is the output of the best efforts of our developers and designers to grant you with a bombshell.
We have managed to create and launch a digital experience that unites modern and wonderful design style, ecommerce ready platform, strong and stable coding in compliance with the current trends of web development.
Element and icon placement, color controls and shortcodes usage are all balanced to give rise to a premium quality website that will also be well optimized for mobile usage.
In case you need more shortcodes or contact form added to your site, there are also relevant compatible plugins to be added to this theme.