Are you looking for the wine WordPress themes that are suitable for your pub, restaurants, and cafe? Wine is something that just refreshes your mood and makes you happy in every situation.
Hence, if you are making a website for your wine shop, vineyard or other wine-related projects then the given themes can help you to find the best theme that matches with your style and brand of wine products.
Most themes given in this article are well optimized and have a collection of various templates that could help you to create the best wine-focused website without hard efforts. It doesn't matter what your objective is. If you want to create a stunning colour and user-friendly website then you will have plenty of theme options below.
Just like choosing the right wine for your body, you have to choose the right wine WordPress themes that will take your business in huge profits. Your wine website needed to look fantastic to get success, so let us explore the collection of wine themes.
Best Winery WordPress Themes for Your Wine Business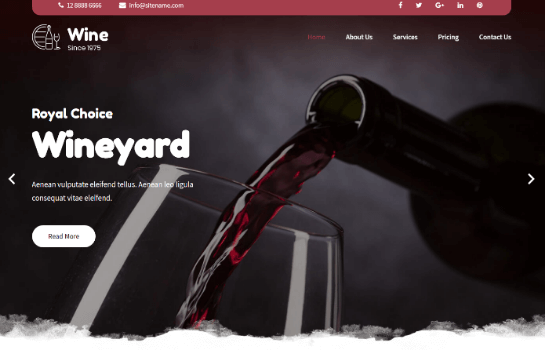 Wine Pro is a versatile wine WordPress themes for your business. This theme is designed with colour changing and brewery WordPress theme to designed numbers of websites related to wine brands, wine shops, and pubs. Thanks to it designed who coded Wine Pro theme with the codex, which makes it consistent with multiple forms of plugins.
It is a translation and multilingual ready theme. However, the homepage of the theme is designed to manage the multiple sections. It is wholly trusted and a multipurpose theme that keeps the essence of the wine and gives you a simple and professional website appearance that is somewhat classy too.
Moreover, the theme includes several types of testimonials to showcase your client satisfaction with your brand and the quality of wine products you have delivered.
Wine pro also comes with the multiple options panels, robust and packed with changer options to better your needs. This theme can help you to promote your wine shop or products in the right way.
Key Features: 
Thoroughly documented WordPress theme.
Include slider controls with animation.
Easy to use and manage
Include eight-plus page blog templates
Available at free installation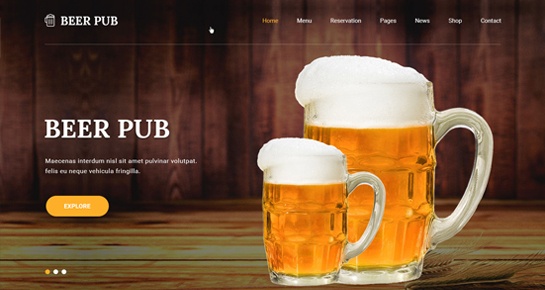 Beer and pub is one of reasonable wine WordPress themes designed for selling wine products, local wine brands, and wine services. It includes several types of page layout options that are easy to use, and you can set up the WordPress theme precisely in the way you need it.
In this theme, you will get blog layouts which give you the independence of setting and sharing your blog regarding wine benefits, tips etc. The theme supports the woocommerce plugin, so you can sell your wine online easily.
On the other hand, Beer and pub theme is designed for every restaurant and the food corners to showcase their services. It is user- friendly and Google Analytics supportive theme, so you can easily track your audience just like the way you imagine. Yet, it is responsive and has multiple cross-checked themes, so that you won't get trouble in the future. 
Key Features: 
Include the default content that can help in setting up the theme quickly.
You will receive 24/7 customer support for one year.
You will receive the content from plugins like Ninja forms, caldera, and others.
The inner pages can hold the maximum of material such as image, text, video, etc.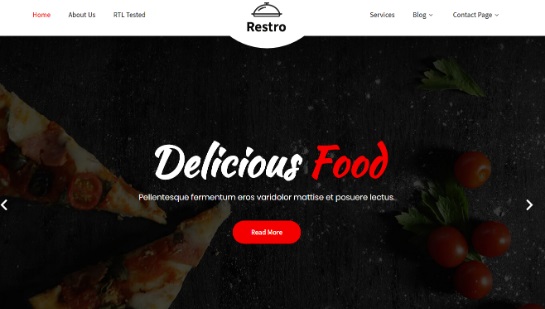 If your business is related to Cafe restaurants or a pub, it can be the best theme to support all types of your business. Restro is developed with the elementor page builder that shows the gallery area impressively via displaying the food and wines offers available in your pub.
With this theme, one thing is sure that you will have a powerful impact on your audience. This theme includes powerful customization options, you can easily modify it according to your criteria. The blog area can be promotional and compatible with the latest WordPress standards.
This theme comes with a delicate flavour of colours and appearance that simply matches with wine flavours. It is a well-designed website theme to cater to all your needs related to the wine shop, food corners, and cafes.
In this competitive world, it is essential to give your audience exactly that they are looking for. Thanks, beer and pub theme who have all the features your business needs for promotion. Further, this theme is highly appreciated by clients. Hence, if you are looking for an attractive and responsive wine theme, use Restro. 
Key Features:
Include the number of PSD and designed files
The well-suited theme for cafe and restaurants
Include homepage slider with effects and transitions
Include the powerful framework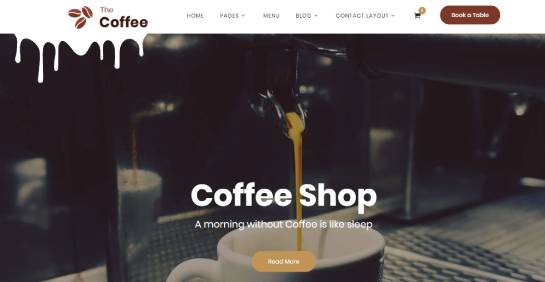 The coffee shop is a multipurpose theme used for vineyard, food businesses, restaurants, etc. to showcase the services. It is a cross-checked theme compatible with NextGen gallery. For the wine portfolio purpose, this theme comes with 100+ Plus shortcodes as well as integrated with natural colour changing option.
This is highly responsive, and SEO optimized theme for every restaurant, food recipes, and other category businesses.
It includes the contact form 7 that consists of an inbuilt call to action button to support your contacts. Similarly, it includes the standard page's categories of 404 pages and consists of a fully customizable slider and animation management.  
Key Features:
Include the inbuilt gallery to showcase the services and the price list
Compatible with several plugins such as e-commerce
Loaded with 10 slides and animations
Easy to set-up and free installation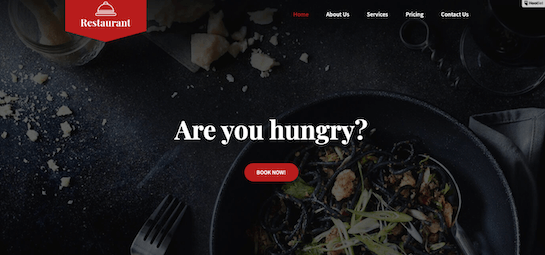 Ele restaurant theme is highly recognized as a foodie WordPress theme designed by the elementor page builders. With this theme, you can simply create your best wine website precisely the way you want. Here you'll find the modified options from its height to its fonts.
This can help you create a fully functional web site that can easy to set up and used by any technical or non-technical person. It's animation effects give your wine and wine-related products more attractive look.
Additionally, the theme supports.PO and.MO files so you can reach the audience from the different states without any barrier to language. One of the most significant advantages you will receive from using this theme is that you can make the communication better with your customers.
This easily influences your conversion rate and revenue. Its contact us page is highly approachable with the customers with captcha code.  
Key Features: 
Integrated with social media icons
The theme is co-ordinated with Cyrillic and Latin subsets
Include more than 10 slides
Support various plugins with updated features.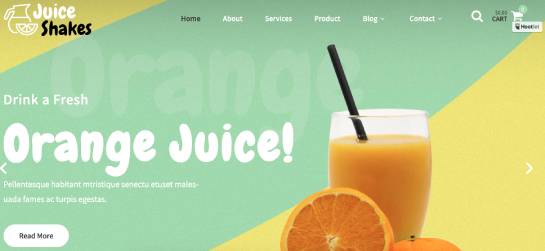 If your business is related to juice packaging, selling wine products, fruit store, and shakes cafe, then juice & shakes theme will be the best to get started with. It is a licensed theme that comes with updated features and mostly compatible with each plugin to support your wine marketing online.
The theme is packed with essential files such as PHP, CSS, javascript, and other packages. The colour combination of this theme is just perfect for grabbing the attention of users.
Its every background page and template has a dark colour. Moreover, it is a budget-friendly and smart theme to grasp the benefits of taking your wine business online. 
Key Features: 
Easy to publish content and optimized with plugins as well as code.
Get full control over the theme
Testimonial section available
Default brand name that you can modify as per your website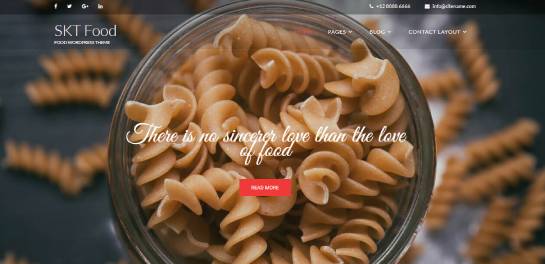 SKT food is the best wine WordPress themes, which can be used for any kind of business as well. If you are looking for a theme that is easy to load, compatible with Gutenberg and WordPress standards, then it can be the best to use.
This theme is coded with elementor page builder and cross-check with different devices and browsers, so you can sell your wine products with little efforts.
However, This is a perfect theme for the wine & food bloggers. It includes an inbuilt slider that has a number of features. Along with that, the blog option has a different layout, so you can change and adjust accordingly.
Though social media is also compatible so you can reach your audience in huge extend. It is a multifunctional WordPress theme that is nice and gives you the best results. 
Key Features: 
Include the sample content which can help you easily set-up and documentation.
Provide you with the neat and best design
Include 580 + social icons and 650 + fonts
Tested with different browsers
it is yet another the best wine WordPress themes designed to sell wines, wine-related products easily online. The bistro is a multipurpose theme that can be used by food bloggers from restaurants, cafes, coffee shops, and recipe sites as well.
This is dynamic with images. The bistro theme is fully encrypted and defaults with a number of SEO plugins, so you would need to use it to cover all pages related to wine and foods.
Although, the bistro is a customizable theme includes a number of fonts and typography changes features, which is very simple and easy to understand. The theme can be used by anyone. One of the best feature you will get booking plugins to get the orders and deliver the wine services. 
Key Features: 
Get the inbuilt gallery to showcase your food or other items.
Include a calendar plugin that uses modern technologies and includes a header that converts into banner video HTML and others.
The free installation of the theme is available.
Include woocommerce plugins that will make you independent.
Ele Ice Cream is also a specific best WordPress theme which can enhance the beauty of your blog. With this theme, you will receive different styles of layout and column section to show your varieties of wines, ice cream, and food items available in your store.
You will create a stunning website that supports the different colour system and engage your audience quickly.
Its unusual layout can be used to position your article or a blog. Moreover, it implements to show comments that can be easily shared. Nonetheless, it's multilingual functionality theme can support different languages, so you will earn from different countries.
The web template is simply used to advertise your wine business, and you can market your business correctly. 
Key Features:
This theme is designed to sell different flavoured ice cream online.
It will guide you step by step to create a website.
It will support you to showcase your different products related to ice creams such as smoothies shakes and other recipes.
It includes different inbuilt pages about us, pricing, services, and more.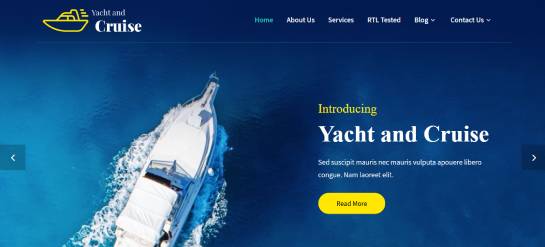 It is a perfectly designed theme for luxury clients who love to spend time drinking wine and exploring nature. Yacht and cruise are highly managed and have a different theme that includes a set of templates and header layouts in four different channels to support different pages of and services.
Furthermore, This allows you to set the logo and navigation menu on the top that makes navigation easy for the users. If you are a beginner to do this, you will receive a step-by-step guide menu to create your website easily. This is a full WordPress theme that has several types of supportive widgets such as footer and header.
On the other hand, it includes a POT file which provides four different templates related to the languages. Yacht & Cruise is social media-friendly and extensive documentation theme.
Hence, it supports the number of plugins, such as calendar, gallery, eCommerce, style, etc. It is material and flat design them that also includes blog layouts. 
Key Features:
Compatible with woocommerce
Expand your business with greater efficacy with the theme.
Design with modern technical languages presents your theme content outstanding.
Entirely friendly and featured theme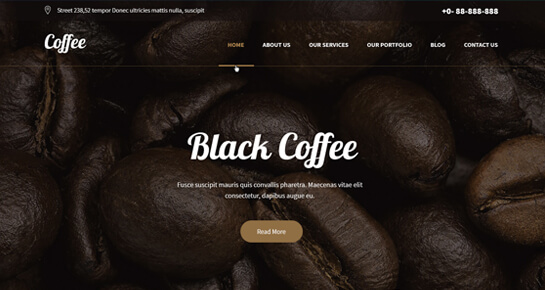 SKT Cafe Pro is also the best wine shop theme which is suitable for the number of websites related to wine shops, restaurants, and fast food and another related site. It comes with documentation, so there is no risk of legal issues.
Also, it has standard pages like search, archives, categories and pages like 404 that will make your work easier. Everything in this theme, you can easily tweak any element and design your website according to the way you want it.
More than that, its support plugins like Google analytics, gallery slideshow, etc. Hence, you will keep an eye on your audience. Moreover, cafe pro theme consists of number page builders such as elementor, visual composer, Divi, live composer, and more. with this, you can simply design your website related to anything. 
Key Features: 
It includes by default three slides, which you can modify according to your choice.
Design to work fantastic with different operating systems as well as devices.
An excellent way to get customers and attain satisfaction.
Include a lot of advantages and features