One of the most significant times in everyone's life is when they hear the wedding bells ringing.
Creating a wedding website might not seem to be the first priority during such an occasion as they are a lot of things to be managed. But when you are good to go for the D-Day, consider if a website can make the process a little easier.
If you go with one of the themes that we have included in this collection then it will be pretty simple and fun.
This collection of best wedding WordPress themes includes templates with powerful features and designs that can be managed by even beginners. Keep reading and you will definitely find that one perfect option for your special occasion.
The most mesmerizing and exclusive milestones in life include the Wedding day for almost everyone. But,
How has the Wedding WordPress themes impacted this significant day?
Wedding celebrations have evolved from time to time and with easy access to online space, it has become phenomenal.
Creating personalized websites featuring pre and post-wedding moments has become an unsaid norm. Hence, themes exclusively designed for wedding help in going live to the online space with little efforts and in several minutes.
We understand that such occasion needs a lot to manage and therefore we have compiled this exclusive list for you.
Best Matrimonial and Wedding WordPress Themes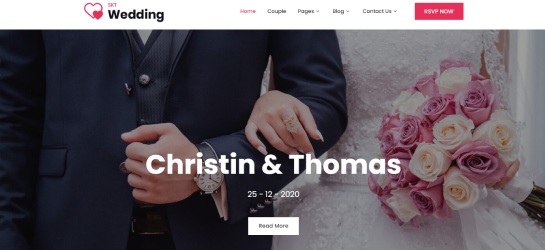 In a digitally governed world, one of the best practices is to accumulate everything related to your wedding online.
This helps your visitors to find everything in one place and enables you to keep an accurate track of all the information. 'Nuptials' is one such theme that helps you in carrying out all such activities.
The best part is that it has been particularly designed for weddings which make your work a lot easier. The layout, colors, backgrounds, and all other elements have been worked out thoroughly.
You have the option of completely customizing everything, but only replacing actual information and photographs will also do.
In terms of functionality, it is fully responsive and compatible with mobile devices and browsers of various kinds. The installation process is simple and documentation is provided as assistance.
The one-click demo will help you in exploring it completely before you make your choice. In little time and with no knowledge of coding you can create a stunning and SEO sound website for your wedding easily.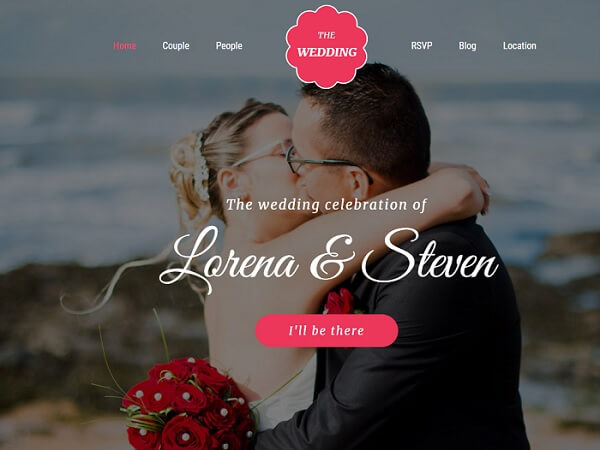 Ele Wedding is amongst the most popular and liked wedding WordPress themes. When looking for professionally designed premium options for your wedding website this is the best choice.
It is an easily customizable and hassle-free option for creating a matrimonial site or featuring any kind of event. In addition to being responsive, it is retina-ready, HD-ready, and multilingual.
You can easily add call-to-action or tap-to-call features that make the site efficient and interactive. Even if you are not sound technically in coding you can manage modify and manage it swiftly.
All kinds of content including textual, audio, and video files are supported so that you conveniently add information in all forms.
The slider is offered by default that ensures that all major announcements and updates can be highlighted easily for the audience.
Social media integration is also possible so that the profiles of the bride, groom, or your company can be linked. Without any difficulties, you can add plugins, elements, media, and content to make your site eye-catching and fascinating.
All customs, celebrations, and arrangements related to the wedding day are tough to manage. The occasion is one of its kind and once in a lifetime moments for two souls and needs special attention.
Hence, wedding planners, venues, food, music, and all other arrangements need special care. Banquet Hall Pro is one such awesome theme that enables individuals and wedding planners to showcase their expertise in it.
You can conveniently insert all the essential information in the provided default sections and create new ones as needed.
Everything from colors to layouts can be customized without undergoing any coding process. In most cases, you will not need customization of any kind as it is a wedding-ready template.
It has been optimized for faster loading speed, SEO, and accessibility from mobile devices. This ensures that even if you use it for the commercial or personal purpose it will perform excellently.
Plugins of all kinds including events, calendars, animation, and WooCommerce are supported. This ensures that all complex tasks can be automated with the help of required plugins.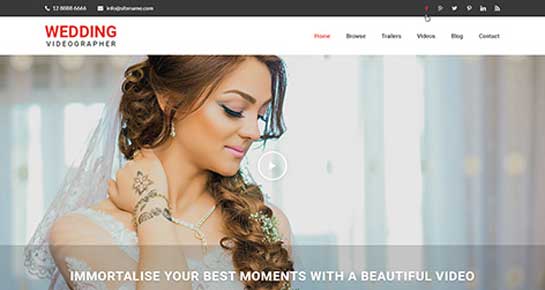 This is next in the compilation of wedding WordPress themes. Video shooting of emotional, fun-filled, and most awaited moments during the wedding have become a trend.
To capture such moments it requires enormous skills, experience, and expertise. Hence, to ensure that the world knows your skills and for attracting more clients you can choose this theme.
It can help you in setting a generic portfolio for images and a separate media library for showcasing the video shoots.
The default provided templates are serene and directly feature the core event of the wedding. Other sections like engagement, reception, and other celebrations can be easily added.
Media of all kinds can be uploaded without worrying about the upload size and quality. Proper care has been taken regarding the management of the optimization of media files.
You can also easily embed videos from your social media handles or popular channels like YouTube. This process does not require you to be a pro at coding as any novice user can manage the same.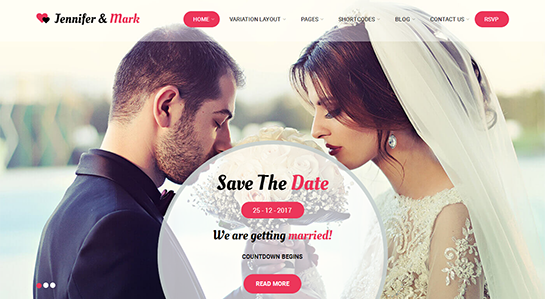 One of the most important agendas of wedding WordPress themes is to establish a link between skilled photographers and clients.
The other essential motive for wedding WordPress themes is to store, capture, and cherish all precious moments and information. Wedding rituals does justice to both the motives and can be conveniently used for both of them.
This is possible because all the elements, layout, templates, and other factors are developed exclusively for this occasion.
Molding it for a personalized experience becomes a simple task that can be performed by anyone. Moreover, creating a portfolio, wedding album, event, and RSVP is also easy.
If at any stage you realize that an integral feature is missing then it can be added through plugins. It has been tested for compatibility across various plugins and devices.
You can also actively blog from your site without the need for any extra features. Sidebar and widgets are provided and social media handles can be added as needed. All plugins related to SEO can be installed as it is SEO-friendly and on top of that is retina-ready.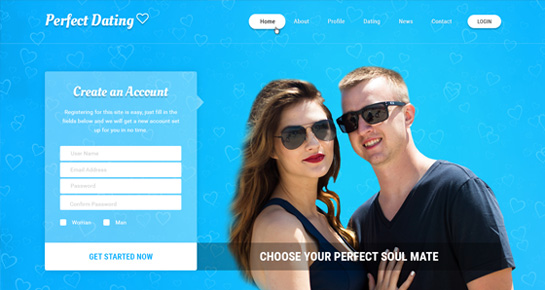 Dating is a crucial and life-changing experience for millions. Usually, it is only dating for a considerable period before a couple decides to get married.
Hence, this theme has been included in this compilation of best wedding WordPress themes. We assure you that this will have you spoilt for choice.
It comes with premade layouts and templates that can be not only used for a dating website but directly for announcing your wedding.
Not only this but if you are into the business of offering any bridal services or products then the same can be featured here. Elegant typography and plenty of white space ensure that the sole focus remains on the content.
Feedback, testimonials, and other comments can be easily captured by designating a particular section/space. All customizations can be easily executed from the admin panel like colors, fonts, and other functionality and visual elements.
Integration with social media handles, Google Maps, and other features is possible. Lastly, it is multilingual, retina-ready, and fully responsive.
Wedding WordPress themes are an integral and essential part of the wedding industry across the world. SKT Lens Pro is a unique theme that can be used by professional photographers and for featuring an elite wedding on the webspace.
It will help you in accessing dozens of website elements along with the demo.
In reality, the kind and type of customization options offered are vast and are not limited to only layouts and designs.
Hundreds of components contribute to making the site perfect, unique, and versatile. WooCommerce support is also offered so that you can bravely attempt in setting up an online store.
To ensure that you do not try your inexperienced hands at the source code hundreds of shortcodes are packaged by default. For revealing the happy couple all the images, templates, and layouts are displayed in HD-ready and retina-ready formats.
Such arrangements do not compromise with the display across devices, browsers, and screens. The most fascinating countdown timer can also be arranged on the homepage itself through fascinating plugins.
The entire even of marriage is holy, enthusiastic, and filled with excitement. This happens to be amongst the most awaited occasions for not only the couple but also for families.
Hence, to ensure trust, credibility, and assurance to such clients Event Planners Pro is the perfect theme. Advanced developers and users who are novice can use it efficiently without any difficulties.
The prebuilt invitation and featuring templates are HD-ready and retina-ready. You can simply replace the picture and make minor modifications before publishing your site.
All other additional features like RSVP form, widgets, guestbook, countdown timer, and others can be easily added with plugins. By default, a slider is provided which gives you an upper hand for adding images of successful projects.
Customizers and page builders will help non-coders to create desired templates without coding. Multiple resolutions are supported so that perfect display can be obtained irrespective of the device and browser types.
Google Fonts enables you to unleash your creativity and with an advanced social media icon pack, you can maintain impeccable aesthetics.
Pieces of jewelry are an inevitable part of Weddings across the world. Therefore, this theme has made it to the Wedding WordPress themes collection.
Jewelry has to be such that can be easily combined with the attire of the bride and groom. Hence, maintaining a large collection is mandatory. When you create a digital presence for your store individuals can easily explore your wide range of collections.
This theme comes with WooCommerce support which helps in paying the token or full payment for the product that is liked by clients. Comprehensive documentation is providing so that if at all you face difficulties during the installation process, then it can be resolved.
It can enable you to maintain your search engine rankings because it is optimized for SEO and faster loading. Creating a beautiful gallery of your most-loved collection or a blog for connecting with the different audiences is also possible.
Call-to-action buttons can also be added at different locations as required to create the engagement dynamic. All plugins related to social media handles and its elements are also compatible.
Fashion has gradually become an essential part of weddings across the globe. This evolution has made this theme a perfect one in the compilation of Wedding WordPress themes.
This theme can not only feature the bride and groom outfits but also for families. It can help you carve a perfect outfit for all your closet relatives and friends.
This becomes most useful for weddings with dress codes or similar concepts. When you have a spontaneous and dynamic website highlighting the same it can ensure that your capabilities as designers and creators can reach a wider audience.
All components including ones for setting up an online store are included here.
Customizations of all kinds as required to facilitate the needs of your target audience is possible. The default provided layout and templates have been worked upon carefully so that you can use it straight away.
It has been tested for a wide range of plugins and is compatible with the same so you never fall short of features. It will be one of its kind modern choices particularly for the attire of special occasions.
The last in this collection of best wedding WordPress themes is PicArt. This is a specially developed multipurpose theme that can be used to create a website for your special day.
Creating one such website means including hundreds of photographs before and after the event. It helps you come up with a virtual flow of memories for yourself, family, and friends.
This theme has been optimized for displaying high-quality images without affecting the loading speed. Embedding your videos from popular platforms is also possible.
By default, the image slider is provided which helps in highlighting the best moments on the home screen. Transition and pause time of the same can be controlled as desired by you.
Integrating social media handles or setting up a blog for each of the events is also easily possible. For installing, operating, and managing it you do not need to be a pro or advanced coder.
It can be done easily without any knowledge of codes thanks to the documentation and stellar customer support.
Destination weddings have become a household name when it comes to celebrating grand and larger than life marriages. SKT Beach Pro can be an ideal theme for your site if you are planning to get married by the bay.
The peculiarity that you will enjoy with it includes predefined colors, layouts, and copyright-free images. The tone of contrasts and the layouts are perfectly segmented to add any kind of content.
Despite this, modification of all kinds in the default beach templates and the structure can be made. Customizing it or modifying the elements does not demand any technical or coding knowledge.
The page builder and the customizer are at your rescue so that you can independently create a stunning site.
All essential features are already a part of this theme by default. You can add a countdown timer and also include an RSVP feature to avoid physical confirmations. All details about the venue of your wedding including dress codes, if any, can be mentioned.
A short and elegant profile of the bride and groom will enable distant families to know them well. Stunning pictures of the entire function can be added to the gallery for access by all the guests.
The prominent features that everyone looks for in wedding WordPress themes are flexibility and personalization. 'Yacht and Cruise' is flexible, customizable, and fully responsive to create a wedding-based site.
Most of the sites are accessed from mobile devices these days which makes responsiveness an integral factor. Additionally, this theme can also make a stunning website for event managers in the marriage domain.
The ready to edit inbuilt templates offered here are retina-ready and HD-ready. If you are planning for a confined ceremony then the theme is multilingual and translation-ready. There cannot be anything best than connecting with your loved ones in your native language.
For all these and other exclusive features, you do not need to be technically sound or experienced. All the modification, editing, adding, and removing tasks or operations can be executed by anyone.
The other integral part is that it does not consume a lot of time. Given the flexibility of molding all the parameters in the simplest manners, the website can be launched immediately.
By default, it has been integrated with Google Fonts and ample shortcodes that can contribute to including missing features.
'Filmmaker' is a distinct multipurpose option in this compilation of best wedding WordPress themes. For all the glamorous weddings out there, Filmmaker can help you in creating a stunning and exotic web presence.
This will although do more justice to the event managers and event management firms for featuring their unique projects.
Apart from the peculiarities offered in the features it also offers stunning templates for a mesmerizing outlook. Such aesthetics helps event managers and photographers showcase their definite projects.
The gallery can be integrated for adding any number of optimized images. This will add more credibility to your portfolio and help in getting more clients.
It is also compatible with WooCommerce that enables you to set up an online store for marriage exclusive products. You can conveniently manage different aspects of setting up a store and managing the same.
The comprehensive documentation will help you tackle any problems faced at any time. Moreover, you also get one-year full support from the developer so that no stones are left unturned to get the resolution of your issues.
You can conveniently opt to modify all elements, layouts, and structures for an enhanced outlook of your website.
SKT Spa is a dynamic and well-developed theme that has all the prerequisites required for this niche. In fact, it has the potential and elements to beat exclusively developed wedding WordPress themes.
SKT Spa helps you in creating a beautiful, elegant, and mesmerizing landing page that will keep your guests excited. The default templates include designs that are minimal and segregated across a wide range of colors.
You can choose one and quickly modify it in the desired format for projecting photographs and related content. This will not consume more time or demand expertise as the page builder will be there at your rescue.
These templates even after freshly creating one or modification will remain retina-ready. Hence, its responsiveness across all screens and devices will be flawless.
The itinerary in brief and flow of ceremonies in detail can be captured in a new segment. Animation in various sections and dedicated transitions will add a polished touch for the visitors.
All necessary features will be found on it and if at all you require any other then it is fully compatible with third-party plugins. Integration of Google Fonts and the inclusion of copyright-free images are add-ons that can make the modification process bliss.
Flowers are inevitable in weddings across all cultures throughout the world. Hence missing out on a flower-specific niche in this exclusive collection of Wedding WordPress themes is undesirable.
Flower Shop has been designed and handcrafted dedicatedly for florists and shop vendors. Everyone always needs exotic flowers at weddings that can establish a soothing aura for the couple and the family.
Despite having the potential to ship such flowers there are many who remain unknown. With a search engine optimized dynamic website, the scenario will not remain the same. One can easily add all the varieties of flowers that they can sell.
WooCoomerce support will play a prominent role in ensuring that you can establish an impactful online store. All parameters of the store can be quickly settled and the checkout window can be simplified for user's convenience.
The default templates are completely related to this niche hence minimum modification will be required. Images included in the layout can be straight away used for your flower shop website as they are copyright free
You can completely rely on external plugins for enhancing features.
The venue is amongst the most crucial part of wedding planning. Although having prime importance it is often underrated.
Holy Church is one of its kind serene, spiritual, reliable, and responsive theme in this collection of Wedding WordPress themes. The space that each church can offer for a wedding venue varies substantially.
But captivating them in the online space helps in enhancing the reach and also generating the required donations. With this theme, you can easily include the entire spiritual aspect and history of the congregation/church on the landing page.
Other details including prayer meet and such wedding arrangements & schedule can also be featured. This helps in enlightening the visitors and guests about one of the offerings from your end.
The detailed description can be added to other internal pages with photographs and videos. The basic template has been consciously designed and will not need major modifications.
Even if it does you can easily execute the same with the help of page builder. Full personalization is possible so that connecting with the visitors and featuring the right spirit of the holy place is possible.
Hotel Booking is a premium and power-packed option in this collection of Wedding WordPress themes. For wedding planners, event managers, and hotel reservation facilities during a marriage this is an ideal pick.
All the bookings, reservations, and scheduling of the same can be conveniently managed with the impactful features offered here.
You can personalize this theme as required to meet the demands of the visitors and to maintain a brand identity. When it comes to peculiarities its most like functionality is 100% responsive across all kinds of devices, browsers, and screens.
This ensures that all kinds of visitors can explore all the services and most of the technical errors are avoided.
Besides being customizable the template is fully compatible with a wide range of plugins including WooCommerce. This helps in adding any kind of features that can improve website performance.
It offers RTL support and is integrated with Google Fonts by default. Language no longer remains a barrier for connecting with the potential audience as it is multilingual and translation-ready.
Standard pages are provided and comprehensive documentation is also offered relating to the theme.
The last in this exclusive compilation of best wedding WordPress themes is SKT Christmas. This is a multipurpose theme that is reliable, dynamic, and filled with vibrant colors. Creating a wedding-based website here is convenient, quick, and swift for any novice user.
It is integrated with Google Fonts and other compatible sections in the layout. When it comes to responsiveness it is well-built and performs exceptionally well.
The best part is that it offers full customization in all sections and still remains retina-ready. One can add optimized images in the gallery and even a countdown timer to create the thrill & excitement.
Projecting the event timeline for the couple is possible with the default slider. Integrating social media profiles of the family members enables visitors to swiftly connect with you on various platforms.
RSVPs can be directly managed from the website itself and an itinerary for the registered participants can also be included. Quickly establish a blog that includes messages from the guests or from your partner.
Embedding videos and high-definition images of the wedding after the event will ensure that everyone can grab a glimpse of your best day.