Do you have a business or craft that you are good at? If you want to showcase your work for the world, a proper website is required. Your target should be to engage more people to your website.
So the Themes you are using should be attractive, meaningful, simple, yet full of curiosity. If the website is excellent, people will undoubtedly visit that. But you need to convert them into your loyal clientele.
Here we have a list of well-constructed Video WordPress Themes to work on.
Video WordPress Themes are available at your fingertips now. So, having a website is very easy and convenient these days.
You just need to pick up the right Theme and start working with it. Here we have selected 14 Video WordPress Themes for your convenience. Choose the one that meets your requirements, and the sky is the only limit for you!
If you are looking for well-constructed video WordPress themes for your video website then you found the right suitable theme i.e. SKT Videography Pro. It supports different types of content including images and videos on your website.
The gallery template is handy in nature so that you can share amazing visuals or related content. With the SKT Videography Pro theme, the Slider Revolution plugin is made compatible. Even some more options are provided to showcase media in an impressive way.
The theme has everything that you will require from building a website to video news, from vlogs to magazine-style websites.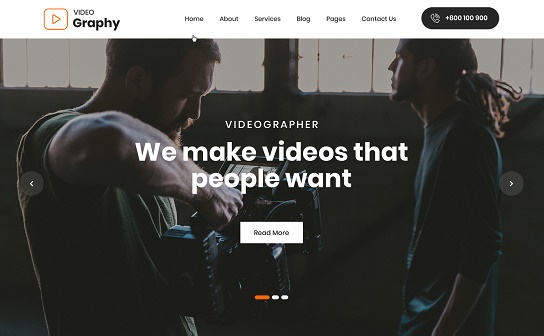 Some of its amazing features are:
Monetizing website
Stylish and modern website
Flexibility and lightweighted
Full support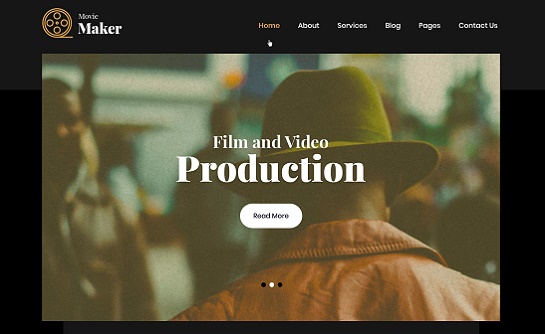 Whether you are looking to set up a perfect professional-looking online portfolio, build a homepage for your clips, create a website for a video blog, or any other thing, SKT MovieMaker is just the right choice for you.
MovieMaker theme is included with easily importing content as well as full support. The content hosted on different sites such as Facebook video, YouTube, Vimeo, etc also can be imported easily.
You will find plenty of options for embedding files in your pages and posts. Along with the SKT MovieMaker, you will also get access to comprehensive documentation. Also, you can add video backgrounds very efficiently to capture your visitor's attention.
Some of the outstanding features are:
Pre-built content.
WordPress customizer
Easy dashboard
Multipurpose and flexible theme
Third-party plugins support.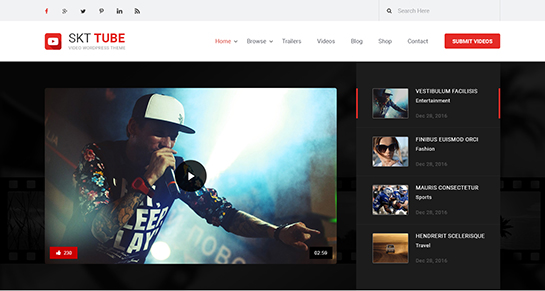 Editing your video for YouTube was never easier! With the SKT tube, you can edit your slider page in 32 different styles. Apart from video sliders, image and image with video sliders are also available.
Visual Composer, Live Composer, Elementor, etc. Gutenberg Editor also work wonderfully with this particular Theme. Video templates are available in multi-languages. So, now you can engage your local followers more!
People from different demographic areas and people of different ages can understand this Theme. SKT Tube is easy to understand and easier to use. Higher resolution videos can be done with this Theme. With the SKT team's help, you can get any kind of assistance during or after the editing.
Amazing features:
From the date of purchase, 1-year support available.
Higher resolution and HD ready templates available.
Social sharing pluginare also available.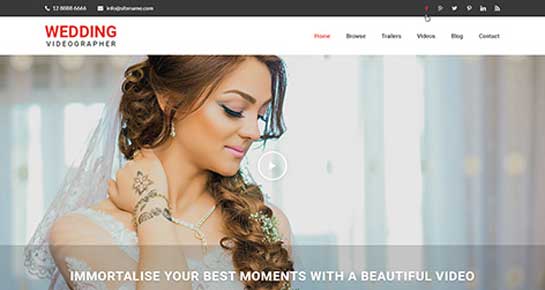 Weddings are the most fantastic occasions of a person's life. All the best moments should be captured for the future. Make your website in such a way that it reflects your thoughts about marriages. Viewers should understand how incredible marriages are and how beautifully they can be portrayed through online cinematic videos themes.
Wedding Videographer presented here is both computer and mobile-friendly. With each page layout, you are going to get sidebar choices to make.
A Woo commerce plugin is available that enables the website to be e-commerce friendly. An image slider and a wonderful video slider are also available. The top slider can be edited in more than 12 types of versions. The whole thing will look amazing. The Wedding Videographer theme making team is pretty helpful and will be there to save your back.
Amazing features:
PSD format file is available for the designer.
Support via Skype id also available.
Extensive documentation is available.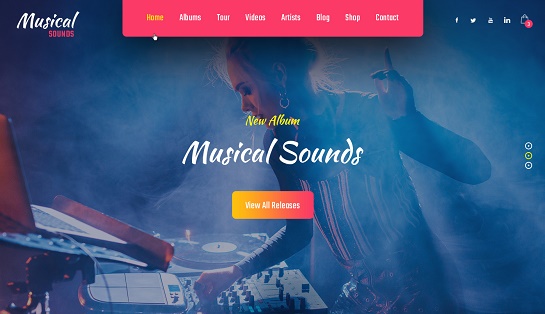 Music is the soul of a person. No matter if you are happy or in distress, music can soothe your problems. This Video WordPress Themes is made for music lovers, music-making companies, music directors, lyricists, bands, metal bands, and everyone out there.
In the main slider of Musical Sounds, a default music player is available. You can play the whole playlist here, or you can only play a single file. Provision for different music players is also given here for the convenience of the user.
Musical Sounds is the most versatile technology available at arm's length making it easy for making any type of website as and when needed.
The woo commerce plugin helps to sell merchandise of different artists. If you are arranging shows and musical nights, the tickets can be sold from the same window.
Shows can be appropriately organized with the Event Calendar plugin feature available here. Slots of different artists are mentioned with their time. This will increase the audience engagement to the website.
Amazing features:
Coded with HTML and CSS3 for a wonderful finished look.
Pre-built and pre-designed layouts are available which can be applied to your website.
Easy to customize according to one's requirements.
Ensures a top quality product each time it is used.
It can be used for all types of websites irrespective, so equally good for all template sizes.
One year full support from the Theme manufacturer end is available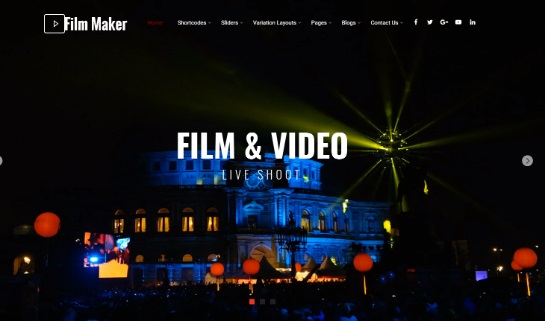 If you are searching for a hotel, you need a clean and simple website. You just need to check the rooms, view, and the tariff. FilmMaker Theme enables all of it, and the design is very simple and neat.
More than 1300+ fonts are available for the designer. At the same time, you are going to get 4 types of header design features. The designers have a vast canvas to work on. For a clear call to action feature, CTAs are given at every corner of the website.
SEO pluggins, discount coupons, dates of the booking, maps to the hotel, etc are very user-friendly and platform compatible.
The designer can find lots of shortcodes. The Video WordPress Themes is self-sufficient, but there's always room for improvement.
Hence, the shortcodes are provided in the FilmMaker theme for enhancing the design. Support from the SKT end is still available through the live chat. One can make calls or texts on the given number for Theme related support as well.
Amazing features:
SEO friendly
SMO friendly
Social media icons are also available
A navigation dropdown menu feature is available.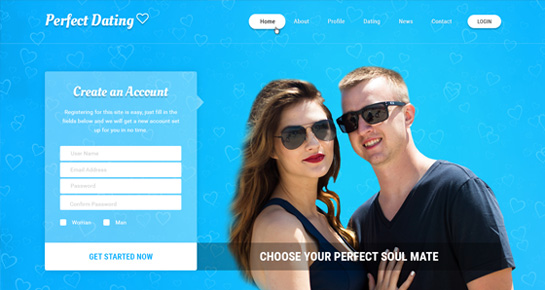 Dating websites should be pretty attractive. Young boys and girls generally visit these websites, so the Video WordPress Themes should be attractive.
The website should be responsive and quick. This Theme is responsive, passes google phone friendly test. Lots of free fields are there on both horizontal and vertical sides to provide the details of people.
The vast areas are available so that lots of profiles get showcased beside one another. Group chat plugins are available. Forums can be prepared quickly. Active members will be shown online to others. Dating theme is aMembership plugin is also available with an added blog feature.
Headers can be edited as per the designers choice. There are 4 types of footer layout available for the convenience of the designer. Real-time changing features are available if a profile edited any information that will be delivered to all of his contacts and others present on the website.
Amazing features:
The Video WordPress Themeszip file is also included.
Upon activation, the homepage is loaded automatically.
Compatibility with Woo commerce is also available.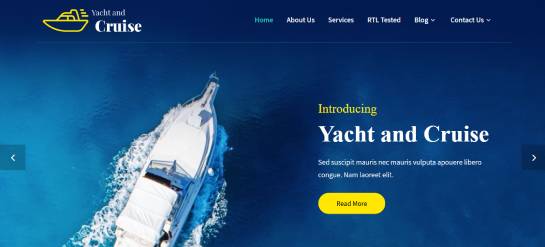 People who book a yacht or cruise are generally on the economic graph's higher side. Yacht and Cruise Theme is targeted at those high-end people. More than 800 fonts are available for the designer to work on. The whole theme is filled with widgets and can be added to any part of it.
4 layers options are available for both header and footer. Visual composer, beaver builder, live composer, elementor, etc. page builders are available.
Qtranslate x, polylang, etc. Multilingual plugins are available for the designer to work on here. SEO, friendly templates are also available. RTL compatibility is also available with Yacht and Cruise. So, the website can be prepared in Arabic and Urdu languages as well.
Detailed documentation is also available for the designer. At the same time, date, booking details, slots, features, etc. plugins are also available.
Amazing features:
Full demo content with free installation available.
WordPress codex compliant coding available.
Extensive documentation is provided with customized editing options.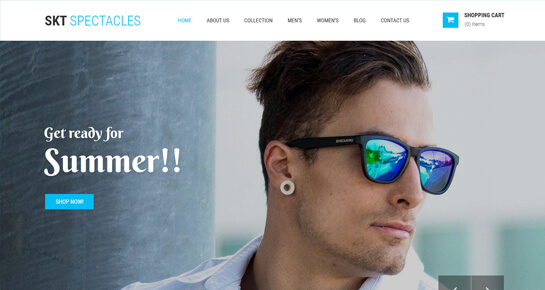 Who doesn't love spectacles? But when you are going to get one for yourself, which should look good on your face. So, the website you are creating for targeted shops that must have this feature included available at Spectatcles.
The buyer should get a clear view of how they will look in that specs. CSS3 enables website for a better view of the visitors is available here.
An online buying option is also available as a plugin. More than 100 shortcodes are given in Spectacles theme. The gallery is open, and the size is enormous for the convenience of the designer. SEO and SMO friendly with blog features available for people that need more information.
Amazing features:
Woo commerce compatible.
An event plugin is available.
Sidebar and blog layouts are available especially.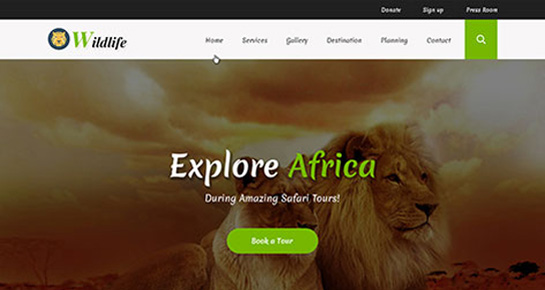 Templates can make different websites; government websites, zoo, eco-friendly websites, activist websites, circus, organic, nature, and what not! The step by step guide is well documented. So you can edit it on your own with WildLife. Free installation is also available for this template. One year full support is available from SKT end.
From the date of purchase to one year, all kinds of technical supports are provided for the designer. The support can be obtained via chat, e-mail, etc by WildLife theme developers. Many headers and footer editing options are available multipurpose templates available for different fields and paths and different kinds of business houses.
Amazing features:
High-resolution monitoring via mobile available.
HTML, CSS3 used pages are perfect for every user.
Social plugin options are available easily.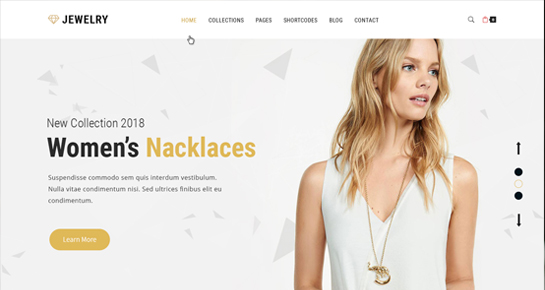 Jewellery is the best friend of a woman. Women spent a lot of time praising the piece. Hence the website template is pretty responsive from all the angles. The women are going to check the design of the jewelry in detail.
Everyone can use this Jewellery Theme; the shop owner, boutique owner, and single artists. Site layout and page layouts are smooth and responsive. The idea is straightforward and easy to use. If there are any kind of confusion or problem managing the Theme, tech support is always provided from the SKT end for every user.
Amazing features:
Zip files are available that can be uploaded.
Full support from the efficient tech team provided.
With any problem occurring, a free installing facility is available.
Jewellery is the best friend of a woman. Women spent a lot of time praising the piece. Hence the website template is pretty responsive from all the angles. The women are going to check the design of the jewelry in detail.
Banquet halls are used for different occasions; wedding, corporate meetings, events, naming ceremonies, engagements, anniversary, and what not! This Theme is thus prepared for multiple users. Lots of interfaces are available to choose from.
From the people booking the banquet, event managers, planners, wedding planners, event organizers, and guests, everyone can easily access the website. Header and footer have 4 types of layout options in Banquet Hall Pro. Color, font, etc. templates are available for attractive website making.
Page layouts and post layout options are also available for the designer. Besides all these, all types of technical support are available from the SKT end.
Amazing features:
Multipurpose templates are available.
Page builder plugins available.
Support from an efficient tech team is given for 1 year from the date of purchase.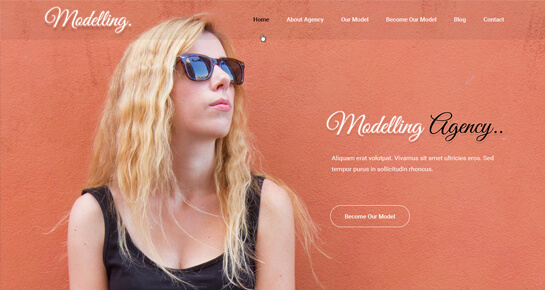 Modelling Theme is prepared for the agencies and modeling institutes that want to flaunt their talented youngsters. 4 types of header and footer editing options are available.
The footer section is purely widget friendly. Lots of shortcodes are available to make additional templates on the website. Portfolio shoot pictures can be added here.
Provisions are given for customization. If a change is done at any part of the website, that can be seen easily by the Live preview option provided by Modelling theme. Cross-device performance, Cross-browser resolution is checked. Mobile compatibility is also checked at the same time.
The color code and screen resolution are also checked for a fantastic view of the people visiting the site.
Amazing features:
Sample XML content available.
Fully customizable PSD files are available.
A lot of content can be loaded as the homepage section provides such provisions.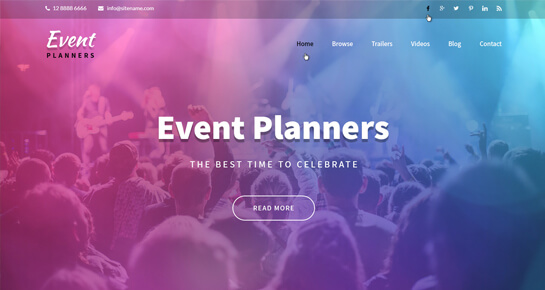 The Event Planner Theme is gorgeous at the same time simple to work with. It is prepared for seminars, weddings, meetings, anniversaries, yearly festivals, and what not! Color, layout, font, etc. Event Planner Pro can be customized as per the customer's requirement and the designer's choice. Header and footer layout options are available.
Several parts of the Theme are widget friendly for the convenience of the designer. One year support will be offered from the company end. If you find it tough to handle at any point, the expert designers from the SKT end will help you out.
Amazing features:
PSD design files are provided for the designer.
XML files are also available in the documentation folder.
Free installation is available.
Support is also provided for one year.
These are the fantastic Video WordPress Themes available for the designers out there. Designing all these types of websites is pretty easy now. By using all the plug-ins and templates available in the Themes, you can easily edit the website. Thorough documentation is also available for the budding designers.
Every part of the Themes is user, friendly, and accessible. Widgets plugins are suitable as per the requirement of the designer. All the Themes are mobile-friendly and tested for the same.
All parts of the Themes are pretty responsive and well-constructed. For any kind of problem or assistance, the SKT team is available 24X7 for one year from the date of purchase of the Theme.