WordPress is a beautiful platform for creating, designing, developing any WordPress themes, websites, articles, blogs, etc., here in this blog we are going to discuss best online cinema WordPress themes which will help you to make websites for your business related to film industry, cinema, and so on.
It offers you with language choices, responsive layout, shortcodes and plugins, slider, perfect header and footer options all fully customizable thus offers you to edit it in many aspects.
SKT Perfect is one of the fine WordPress themes. Multilingual translation ready, post options, color settings, WooCommerce compatible, Gutenberg compatible, this theme can be used to design a site for the film, video, portfolio, cinema, film industry, online business, startups, etc.,
All of the above-listed themes are best for cinema and film WordPress sites. With features and multi-functionalities incarnation, these themes provide you support, security, multipurpose, customize, responsive and well-coded properties. Have this blog for your business growth.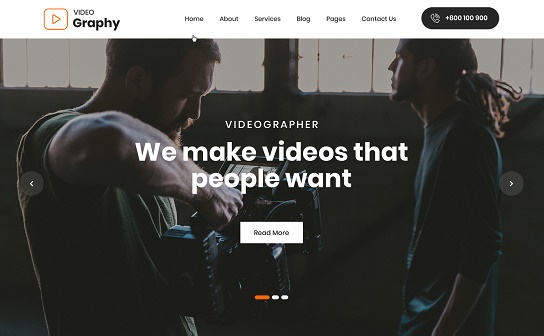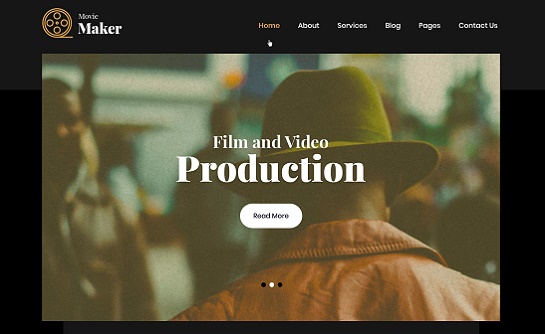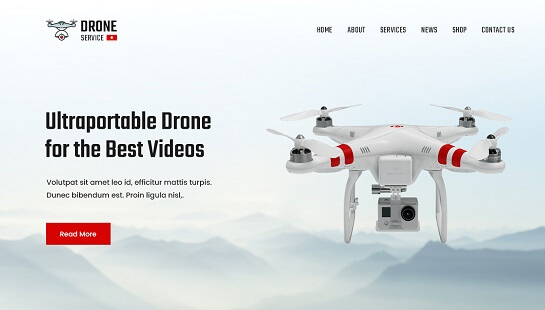 The FilmMaker is one of the topmost and widely used among SKT Themes. This theme is best for designing websites for film, cinema, full screen, youtube, video, film production, cinema industry, etc.,
The FilmMaker is one of the fine online cinema WordPress themes with lots of features incarnation and hence nicely designed for any new beginners. A FilmMaker with layouts and designs soothes one's eye and provides you with options and various functions.
This theme with the production team, latest news, latest trailer, clients reviews, services, and lots of more features offers you various designs layouts where you can easily make your own business sites well.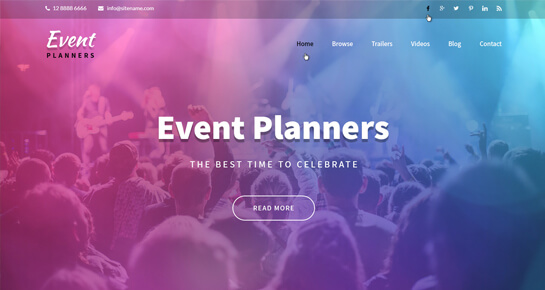 Event Planners Pro is well suitable for industries, event management, fashions, modelings, cinematographer, events, parties, functions, video, carnival, award shows, after party, etc.,
You can use Event Planners Pro for online cinema screening, throwing a success party, award-winning functions, and a lot more. With updated and latest features this theme comes with inbuilt frameworks and functionalities. The features of the theme are simple, elegant and hence easy to use.
User-friendly this theme helps in designing sites for your own business. Provides ticket booking options, latest show options, various color options, Google fonts in-built and so forth. The theme is very simple, stunning and perfect for any type of film and cinema sites and business.
The music producer is one of the best online cinema WordPress themes, as the music is a part of any movie, without a song the movie is like having biryani without salt.
Music Producer is coded with HTML and CSS with there latest versions and hence provides you with attractive layouts and homepage designs.
The theme is best for a music concert, music directors, film industry, online business, music producers, events, video, songs, audio, sites. Multilingual translation ready Music Producer offers you with lots of language options and hence you can have it on any preferred and required language.
Music Producer is simple to use. Nice and well coded, this theme is mobile-friendly as well. Runs on any handy and high-resolution devices.
SKT Tube is best for any video, screening, video slider, Dailymotion, film, cinema, movie, online videos, Youtube, etc., fully responsive and multipurpose theme.
With newest videos, featured videos, upcoming shows, latest videos, updates, etc., SKT Tube is simply an outstanding online cinema WordPress themes.
WooCommerce compatible, Gutenberg compatible, various shortcodes incarnations, plugins, layouts, and designs make the theme stand out from the crowd.
SKT Tube is simple to use and easy to understand and more prone towards users, kids, etc., with high resolution ready this theme, runs well on any high graphics resolution devices, pixel perfect and clean and clear retina ready SKT Tube is an amazing one.
Melody is amazing, specifically build for film campaigns, and movie marketing sites. With music to directors, actors to producers, this theme is beneficial in every aspect for creating your own music band which helps to lead your business career high in music as well as in film industries.
Melody utilizes in-built features of WordPress, making it really easy to use and setup. Video background, infinite scrolling on pages, audio player, Youtube, Vimeo, self-hosted and MP4 video support features added with this theme.
Melody provides a complete solution for looking to have a modern, clean and robust website. Designed from dozens of options and unlimited colors to display your content in a unique and customized design.
Musical sounds are one of the good online cinema WordPress themes as best suited for any video, film, cinematographer, music bands, audio, etc., Musical Sounds offers full-color customization and fonts control so you can create a website of your choice for your own business within a few minutes.
Musical Sounds is a clean, carefully designed theme that offers you with most powerful features and functions. Featuring multiple landing pages, styles, designs, layouts, embedded media support, and custom, well-designed elements ready to use any time.
As like to any music and songs, dance is also an option you can go for any websites designs for films, online business, online cinema, choreographer, dancer, actors, movie, etc., sites.
Disco dancer comes with most intuitive plugins and shortcodes. Disco dancer is a perfect theme for any dance classes, film industries, and so forth.
It does not matter if you know absolutely nothing about code or if you are a seasoned developer, Disco Dancer is simple to understand and easy to use. With one click demo importer, full video support, easy color, and fonts customization, this theme is simply perfect and cushy to understand.
Art is a fine, clean, clear, pixel perfect and one of the best online cinema WordPress theme. Perfect for arts and artists, photographers to cinematographers, fashionista to fashions icons, actors to directors, online business, film, movie, cameraman, etc., the theme is simply amazing and outstanding.
The art is an easy to use picture perfect streaming WordPress theme with features including an e-commerce membership platform, photo gallery, drag and drop page builder, and so on.
The theme is perfect for any film industries and cinema theater. It offers pixel-perfect images and pictures with retina and HD ready.
One can build there own film and cinema business websites through Lifestyle. This theme is multipurpose and responsive with full customer and experts supports.
The theme comes with Google fonts in-built and fonts awesome icons. Best for videos, images, fashions, blogs, cinema, etc., the theme premium sliders, hence one can add slideshows to any page using the built-in slider elements.
Translation ready this Lifestyle is easy to customize in any language. One can have full control over how your website looks on the device. Runs properly on any browsers and on various operating systems.
One can design their own cinema and film websites with SKT Perfect. This theme with perfect landing pages, perfect layouts, perfect designs, news, and posts, offers you tons of features and functions.