If you ever come across the question of adding video materials to your homepage and ensure your website viewers are "caught" right from the start, our assemblage of the best video slider WordPress Plugins are right here for you.
The effectiveness of the site is almost entirely dependent on its content as the visitor comes to the web resource first and foremost for useful information he or she is interested in, Qualitative, interesting and unique content of the site is already half the success of the profile in the Internet based environment.
When it comes to practicing the most efficient ways of content presentation, video materials stand out from the crowd. The usage of video clips and tutorials, advertisements and other materials allow improving the behavioral factors of your site in terms both in terms of client engagement and search engine optimization.
On the one hand, video and image based content is more likely to attract your client and customers as well as keep them longer on the pages hosting video materials. On the other hand, Google places a great value on video armed content, so that the integration of such video content on your website will do good to your site's SEO results.
With these advantages of video packed websites and not only, we are going to share some of the most practical and dynamic video slider WordPress plugins to enjoy thousands of benefits of them.
While tons of WordPress powered templates and themes already come with default homepage slider for you to use, not all of them are optimized for videos.
Therefore, finding the simplest way of adding videos to your site's main page with any of these video slider WordPress plugins is what you need.
Master Slider is one of the effective ways to bring to whole charm of video materials into your website without any difficulty.
Easy to deal with and add to your WordPress hosted website or blog, Master Slider is one of the responsive and cross mobile compatible video slider WordPress plugins coming with dozens of useful features and controls.
Creating wonderful slideshows to welcome your website guests has never been so easy. With few simple couches and configuration controls, you are going to enjoy the pixel perfect presence of the target video materials throughout your profile.
The benefits of this plugin range from SEO optimization to intuitive user interface, autoplay timing options, HD video background support, beautiful parallax effect with scrolling and much more.
All kinds of old and new browsers are going to showcase your video slider in the most accurate fashion since Master Slider is cross browser checked and supported.
Soliloquy is a plugin that is well popular among both experienced and non experienced WordPress users. What makes this theme so demanded is the powerful framework that can be controlled with simple steps and interventions to result the overall video packed look of your site you aspire to.
This quick in performance, legible in the appearance and admin friendly in usage plugin is powered by drag and drop functionality. It means that you don't need to make heads or tails of the web coding in order to embed images or videos into your homepage slider.
If you are looking for a speedy and quick in performance slider to save the viewer's time and be accurately displayed across all the popular platforms and mobile devices, be sure Soliloquy is going to completely satisfy your high demands.
Moreover, this plugin seamlessly cooperates with other plugins and add ons to make your online workload or online storefront more productive and feature rich. Among such plugins are commercial ones to create product slider videos and promote your merchandise.
A high quality video can take your posts and pages to a completely new level of performance and attention seizing. Smart Slider 3 is another top product to be found in the current library of video slider WordPress plugins and to be added to your existing or future website to make your overall web performance enviably good and traffic yielding.
Whether you are going to display images or videos on your homepage slider, that process is going to be unspeakably easy with Smart Slider 3 that comes with responsive coding and unlimited slides possibility, slider and lightbox, arrow and hover effects.
It also supports the most popular and frequently visited video destinations like YouTube and Vimeo which means that you can embed videos from these portals into your slider without any difficulty.
Check out Image Slider by NextCode – Photo & Video SLider if you are looking for something special yet affordable, powerful in performance but user friendly in management.
You can reach the best results with this adaptive and cross browser and mobile optimized slider and be sure your videos and images are delivered to your site's mobile users as pixel perfect as they are for the desktop users.
Once the slider content is uploaded, you are free to manage additional features and controls of it like typography, transition effects, width and height of the slider, background color and more.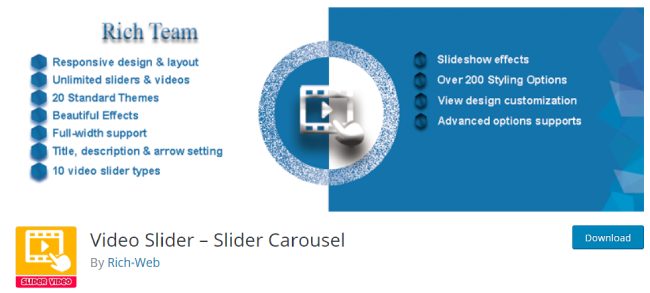 A truly revolutionized way among the best video slider WordPress plugins to be paired with your WordPress supported and function impeccably comes as Slider Revolution.
This straightforward and simplified in usage plugin comes with prebuilt responsive coding and simple drag and drop functionality to organize the presentation of your visual materials as quickly as possible.
Although this superb quality plugin is full width numerous options and controls, even the novice in the digital field can feel competent enough to make the most of this tool.
Beautiful and intuitive user interface, image and video, HTML and shortcodes support, multimedia content and perfect security are waiting for you with Slider Revolution.
Another important aspect of this plugin has to do with the integration of other dynamic and social platform streams into your website. As such, Slider Revolution supports social media platforms, YouTube and Vimeo video based systems and more.