This time we are going to shed light on the very best veterinary WordPress themes developed and updated for serving the needs of veterinary clinic and animal shelter, pet rescue and pet training, grooming and walking websites, as well as other animal and animal care related businesses online.
The world is full of miracles and one of them is the animal kingdom. It is a kind of wonderland with diverse creatures that need special attention, care and protection, from wild to domestic ones.
Most people think that there is an infinite number of wildlife animal representatives, but the truth is that their number is constantly decreasing, and if nothing is undertaken, many species will be at risk of extinction or even worse – will eventually disappear.
Well, the domestic animals and pets also need the same care and protection. The modern calamities, illnesses, the life of wanderer and starvation threaten them as well. Here is where animal shelters and pet rescue centers, veterinary clinics and pet trainers come to the fore.
The biodiversity of animals has a great deal of value for healthy and functional ecosystems and it is directly related to the human life.
Hence, if you are an enthusiastic animal protector, nature preservation program manager, veterinarian or an animal shelter owner, you are doing a great work in keeping the harmony in a contemporary world.
And, for sure, your business needs to be more prosperous and productive with the help of any of the veterinary WordPress themes you can find in our article.
These animal care and best veterinary WordPress themes are modeled and created with care and special attention to all the important details.
It means that you are going to enjoy a fully presentable and dominant framework that is custom built to elevate a website you have always dreamt of.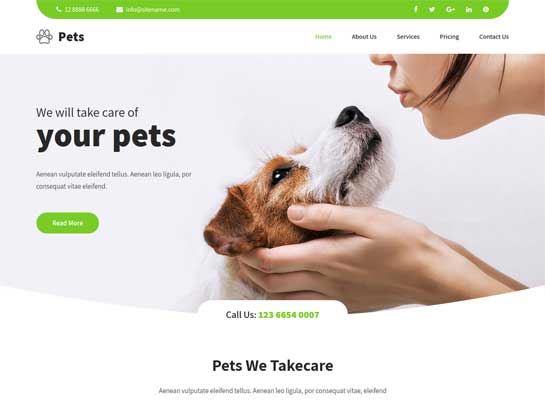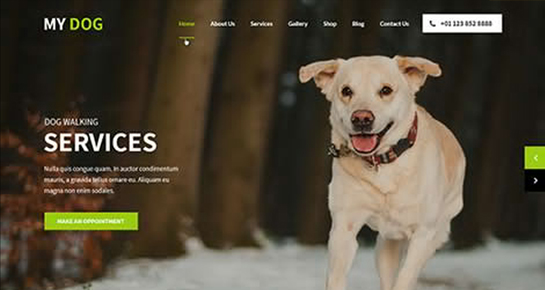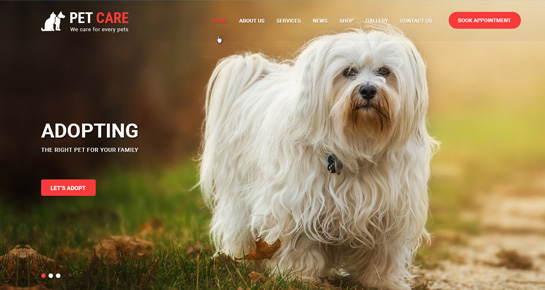 Productively worked out and elegantly stylized, Pet Care is one of the competent and mighty animal and veterinary WordPress themes for demonstrating any kind of animal centric information, services, offers, products and programs to as many people as are within the framework of the virtual domain.
Prove your website guests what their furry friends will be safe and secure under your care and protection. Provide them with a full list of your services and offers, training sessions and packages so that they can save their time on searching the best variants for their best friends.
Responsive design is what makes your website adaptive to any suggested screen size or browser requirements so that anyone can follow your site's updates with his or her hand held device or mobile.
Donation is the next inspiringly beautiful and cost effective template that can be turned into something valuable and frequently visited by hundreds of daily users.
This superbly versatile and elastic website template is suitable for a wide range of animal centric charitable and donation, adoption and legitimation programs, events and not only.
Manipulate with the preloaded features and elements of the theme while putting your creativity into action and inventing new color approaches, typography changes, image slides added to the homepage slider, control of widget friendly areas, post scheduling and more.
The theme is also ready to serve as a commercial environment or online storefront for selling your relevant products and merchandise.
If you are delivering high quality pet care or veterinary services, want to market your clinic or animal shelter, club or something else, Healing Touch is waiting for you.
As one of the properly managed and well formatted medical and veterinary WordPress themes the modern repository of WP themes offers for the public usage, this template manifests maximum flexibility and requires minimum learning curve from the website admin.
The goal of this fantastic website tool is to economize your time and efforts when it comes to showcasing your professional skills in the theme's content zones and areas. Blog section is also exercisable for keeping pace with the active digital world and its demanding users.
SKT Dual is the one that balances between serious and elegant look as well as cutting edge technology.
Simplicity and durability, perfection in performance under different conditions and reliability. These are the best assets of SKT Dual ready to make your virtual life of the website admin much easier and interesting.
Stylish and fluid, this template will boost your creativity with tons of customization controls and the ability to tweak to the theme's backend any time needed. You are free to play with pre enabled shortcodes, page and post layouts, fonts and icons, deploy call to actions, add slider to the homepage slider, etc.
The theme is also guaranteed to work with additional tools like commercial and translation, SEO and SMO, page builder and portfolio plugins.
Veterinary clinics, teaching hospitals, shelter medicine program authors, veterinary behavior analysts and other medical experts can greatly benefit from Simple.
All kinds of medical, emergency and extended care, preventive and surgical services, vaccination programs, nutritional counseling and other important information can be easily published via the homepage sections with accompanying imagery.
Widget friendly zones can also be easily controlled and armed with the needed information, social media links, working hours and contact details.
The authors of Condimentum have done the hard work of creating a thoroughly pliable and smart product that now can be undoubtedly included in the round up of the top veterinary WordPress themes.
You will be really inspired by the neat and minimalistic design style adopted by this theme's designers. What can be more enjoyable than using a clean and uncluttered space to bring your online ideas into life? Of course, you are the one to add certain shades and colors to your theme for the customer oriented look of your site.
This SEO and SMO friendly template suggest all the necessary content parts and management options for you to share your volunteer, shelter, animal adoption, veterinary and other services in an accurate fashion.