One of the most trustworthy collections of multi concept and universal WordPress themes is shared with you for more views, more sales volumes, more client engagement and more satisfaction.
Whether you want to let go off the traditional web solutions and designs and create something astonishingly unique and new, run a single niche website and focus on the main topic your business revolves around.
Make use of a modern e commerce based functionality or something more, each of these universal WordPress themes will be a blessing for you.
The universality of these website builders is a true advantage when it comes to utilizing different layouts, structures, page and post controls, or achieving the needed web look or feel with the help of tons of customization options which are enabled right from the start.
Additionally, they are quite extensible meaning you can get a grasp of completely new functions and web capacities with the help of new tools and plugins which are all compatible with these universal WordPress themes.
The real catch about these multipurpose and universal WordPress themes is their affordable nature enabling a website owner of any financial state to afford himself to purchase one of them and start a wonderful journey with it.
Hence, you are going to save money even before you are going online with your powerful and all inclusive, fully fledged and multi dimensional website of any kind.
In addition to the picture we tried to draw for you, there are still many other advantages these universal WordPress themes share and from which you can really benefit from.
Thus, there are reliable coding and modern web styling touches, a bunch of pre enabled elements, fonts and shortcodes floating out there, easy to use and control admin dashboard for customization and maintenance options and this is not the whole package of them.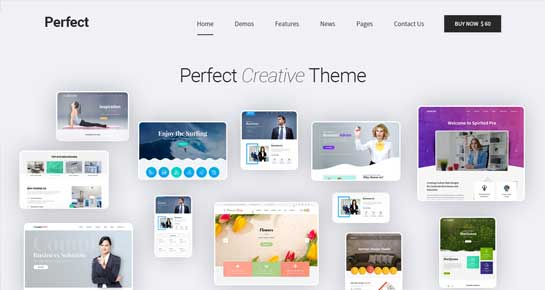 When it comes to creating a presentable website for different purposes and for covering different topics, it's hard to beat SKT Perfect.
Seriously crafted and professionally developed, frequently updated to keep hand in hand with the changing virtual reality, SKT Perfect is considered to be a crafty and universal website builder ready to match even the highest demands prioritized by you.
Awesome shortcodes and fonts pack, useful and practical homepage sections to host high quality content in the most accurate way, modern HTML 5 coding and CSS 3 styling pinning your site's versatility and responsiveness across diverse platforms and areas.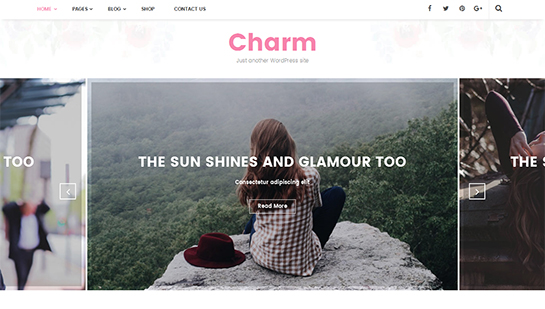 Charm is another universal and comprehensively developed blogging and website building platform you can customize and use for absolutely any kind of web presence, from personal and hobby to professional and business, blogging and online sales, service provision or whatever it is.
Cultivate your digital presence properly from the theme's backend and customize each and every part of it to match your preferences, tastes, desired look and functionality, colors, typography, content zones, image selection and more.
The theme has also been tested for its cross mobile and browser compatibility, powerful SEO and SMO preparedness, multilingual content support with compatible plugins for having multilingual content and thus international friendly character, etc.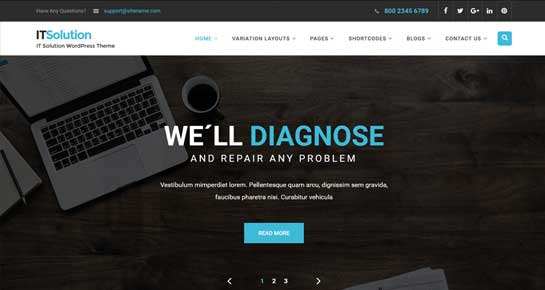 Whether you are a seasoned digital expert or IT specialists, web developer or a startup freelancer, experienced merchant or a retail newbie, enthusiastic blogger or gamer, or a representative of a popular financial or any other business, you are welcome to check what IT Solution has to offer you.
Thanks to its multipurpose character and universality, IT Solution feels free to support all kinds of websites catering to different niches and themes, different perspectives and missions, etc.
Along with rich functional base and features pack, IT Solution is also full documented which means you are going to have a practical guide at your disposal to answer your questions along the way.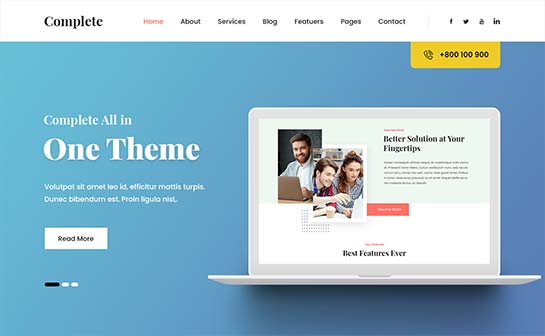 One of the reasons why Complete Pro is so impactful and why it is considered to be one of the most popular WordPress powered website building solutions is its universality and versatility ready to wear the form and generate the functional base you need for making any kind of website a winner in the digital platform.
If you are among the people who believe elegant yet seriously worked out interfaces are the ones having the maximum impact on the website guests, you are definitely going to love Complete Pro. Along with impactful look and eye catchy appearance.
Complete Pro is also shortcodes based and completely customization ready with live customizer at its core, responsive for crafting mobile optimized version of your site along with the desktop one, and finally, e commerce friendly for different commercial undertakings.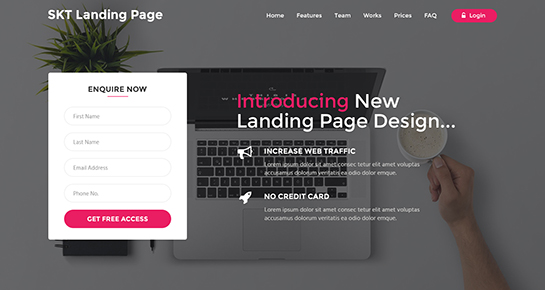 SKT Landing Page is a lovely mixture of minimalistic design style and modern web development strategy to result in a truly reliable website builder for as different websites and blogs as you may like to build.
It is characterized by an accurate and clear look focused on removing all the excessive elements and extra shades which, in its turn, makes your website look flat on the screen.
This one page structured responsive and mobile optimized template is also open for diverse management and customization options so that you can make SKT Landing Page look exactly the way you need for your niche specific website, blog or online portal, e commerce based online store or whatever it is.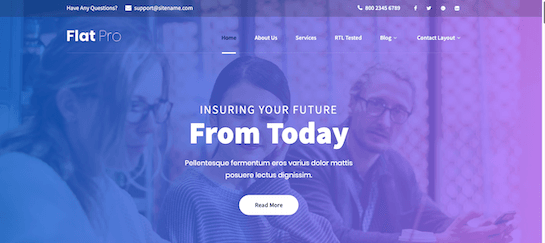 Flat Pro is one of the best designed and developed universal WordPress themes in HTML 5 and CSS3 generating a premium quality modern flat web design.
The designers and developers of this template have managed to find a good balance between ultimate look and reliable functionality on the one hand, and user friendliness and simplicity in usage on the other.
Compatible with shortcodes and contact forms, gallery and portfolio plugins and management tools, supporting various call to actions and widgetized areas, packed with a nice looking full width homepage slider, Flat Pro is a template that really worth your money.