Sports and fitness plays an important role in our society today; in fact most consumers participate in one sporting activity or the other and though their motivations could range from peer pressure to actually keeping fit.
So, if you are running a sports shop and are planning to set up shop online, then these sports blog WordPress themes are the ones that you need to check out right away.
The themes themselves have all been designed to be effective and should help your website get more traction online. They have all been designed by experts and are 100% responsive so your users can access your site from any device – from laptop to android.
And what's more, once you have checked out all the themes listed below, you can move on to the next stage of the process and help set up your website.
And with it, upload your content and you should be all set to market your website and get the message out there. But keep in mind that the framework can make all the difference between success and failure so spend some time on research.
Find out about the latest trendy designs, layouts and choose the theme that seems to be a good fit, after careful analysis.
SKT Karate has a great-looking design that provides a lot of customization options for molding the sports sites or a blog the way you want. It is a multipurpose, top-quality, and modern sports blog WordPress theme that will take your sports club to the extreme level.
Some outstanding and modern options provided by SKT Karate are third-party plugin compatibility, custom shortcodes, widgets, different styles, 5 level drop-down menu, and more.
The parallax effect is a trendy feature and finally, this feature is provided in this theme. The template is designed with the latest technology to make sure it is SEO friendly and quick to get better rankings in SERP.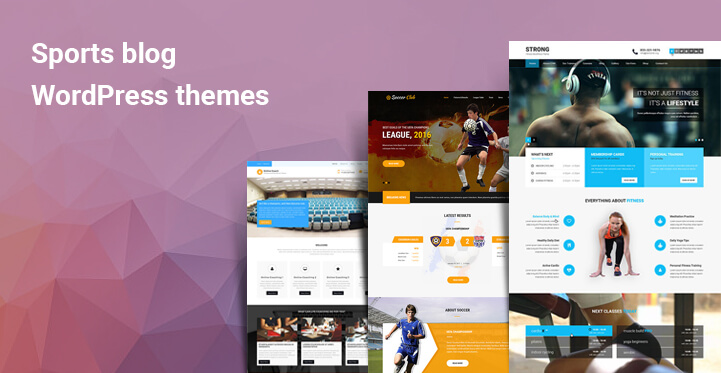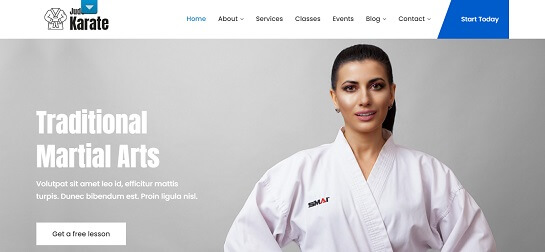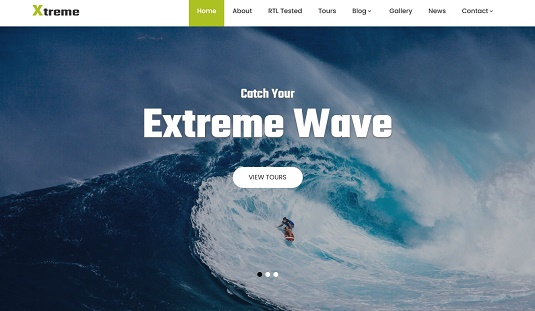 Let us tell you that you are very close to creating a pretty sports website or a blog with the next marvelous theme i.e. GB Extreme. Extreme means all the options you need to make your website or a blog successful.
Every type of sports website can be created with the layout provided. A wide range of customizing options are provided so that you can design a website or a blog for your football clubs, sports pubs, news sites, schools, and many more.
GB Extreme is combined with the Elementor page builder plugin which makes it more versatile from a visual and design point of view. The theme looks good on devices and browsers.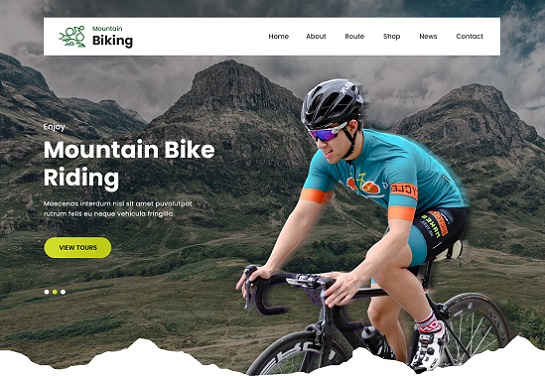 Mountain Biking is another fantastic template to create sports or adventure-related blogs as well as websites.
You can start building your website immediately by just importing the demo content with a single click. Your hassle will be saved with the advanced built-in drag and drop page builder. You will get access to the gorgeous home page layouts along with the menu styles and headers.
Its responsive design and user-friendly touch will make your website seamlessly visible and accessible on any device. The theme comes with the support of an appointment booking plugin to create a calendar for online work schedules. However, Mountain Biking is easier to use and an excellent choice for any sportsperson.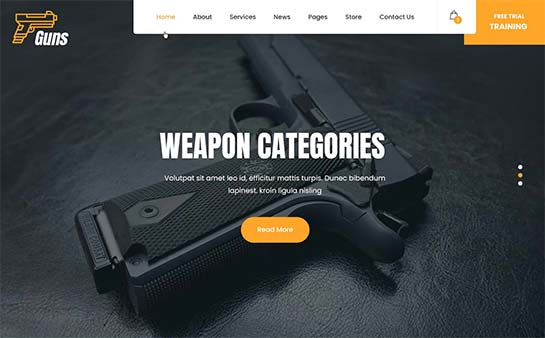 SKT Guns is a dynamic, bold, and vibrant sports blog WordPress theme. This theme is meant to be multipurpose and multi-use so it can be used to create a sports blog, website as well as store.
With so many useful plugins, SKT Guns is compatible. In one click you can incorporate functionality such as MailChimp integration, customizable Google Maps, appointment bookings, and many more.
There are so many pre-built pages to display details about your club. With one click you can import the demo content and start customizing it quickly. However, the SKT Guns is a highly customizable template that comes with the layout for galleries, portfolios, and so on.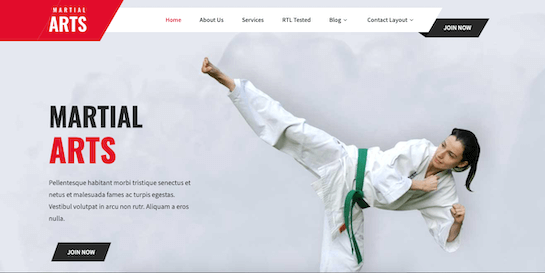 While creating a website for your sports agencies the main thing you wish is that maximum visitors should be able to divert to your club. And to make it possible it is important that your website designing should be done in a proper and well professional way.
Your brand should be recognizable on the web. The best thing that you can do to achieve all your aims is by finding a template that offers so much customization option. Such as Martial Arts.
Martial Arts has been primarily focused on physical fitness like karate, Kung-Fu, martial arts, etc. It also works with a number of sports-related niches for example one can use Martial Arts to create a website for soccer, basketball, fitness, badminton, marathon, etc.
This template allows you to create custom event pages so that you can manage events on your own. You can take the help of the Event Calendar plugin for enhancing functionality. Your audiences will get updates on your latest games.
Moreover, it supports Contact form 7 and WooCommerce plugin to get connected with visitors and allow them to shop their choice without any barrier. You have control to create dedicated pages for games, events, teams, etc.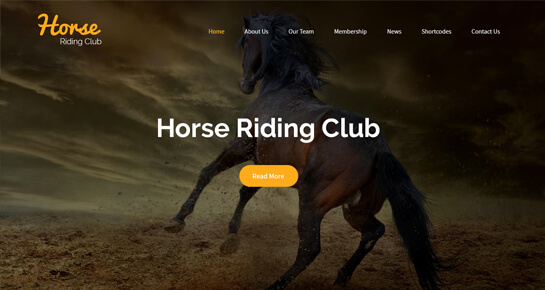 Horse Riding is a sports blog WordPress themes that comes with a simple, yet elegant design that fulfills all your designing needs. Because of its simplistic look, the website you create will be viewable on any devices and browsers.
Horse Riding comes with clean typography and a dark color combination that gives you a feel of reality. It also comes with the integration of social engagement features so that you can target visitors from your social media platforms.
The page builder gives you authority over the complete layout. It comes with the wordpress customizer so you can use the live customizer option to check the changes.
It comes with the support revolution plugin, contact form plugin, gallery plugin, WPBakery, and Elementor. Also, SKT Popup plugin, and so on. With the help of plugins available in the wordpress directory, one can enhance website functionality as they want.
The main features of Horse Riding is AMP ready, premade demo content, responsive design, WooCommerce ready, footer and header builder, lazy loading effects, etc. This template is also compatible with WPML, TranslatePress, GTranslate, PolyLang plugins to support multilingual features.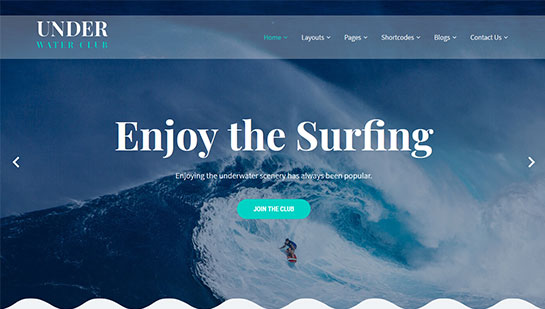 One should choose Underwater Pro to organize different types of underwater events online such as sports diving, freediving, Aquathlon, underwater ice hockey, underwater football, spearfishing, etc. It comes with multiple header and footer styles that help you to create an attractive header to engage more visitors.
The dashboard is developer-friendly which means even if you are a non-tech person then also you can customize the complete website without any problem.
Underwater Pro is totally compatible with the shortcodes so that you can add functionality on your own. With shortcodes, you can this information wherever you want to which includes player lists, fixture lists, team lists, etc. You can also include a countdown timer on your web page.
To give a nice touch you can utilize beautiful typography, colors, widgets, and sideshows. It comes with the support of the WooCommerce plugin so that you can sell items and products related to your sports niches. For example, you can sell customized swimsuits, sportswear, water stone, etc.
The main features of Underwater Pro are 4 different page and posts layouts, responsive design, custom widgets allowed, slider option with pause time and animation time, color options, compatible with third party plugins.
BeFit Pro is a flat and glossy sports blog WordPress themes. This template comes with plenty of tools that will be very useful for building your professional online presence that can be called a blog or a website. To customize BeFit you do not need to have any prior development expertise and no coding knowledge.
All you require is just basic computer knowledge and a few clicks. It comes with the demo content to help you set up the page quickly. The complete theme is optimized so you don't need to worry about its speed.
BeFit Pro is compatible with Nivo, crelly, and revolution slider plugin to make smooth slideshows and exhibit your business content in the most impressive way. BeFit comes with the right combination of color that is red and black but you can modify it as you want.
You will find everything that you wish if you choose BeFit Pro for example to translate your website into a different language WPML plugin is supported, to target more clients, social media plugin can be integrated, you can provide customer support to your clients live via live chat option and so on.
SKT Gym Pro is a lightweighted and compliant template useful for all sports professionals. This template provides access to all required tools that are needed to set up a fully functional and impressive sports website without writing the code. It comes with a suitable demo and page template that helps you to set up a website quickly.
If you want you can use that demo content to create a fitness blog, fitness portfolio, or a fitness store. Customizing options are provided to you at your fingertips.
You also get free access to comprehensive documentation which will behave as a guide while personalizing the website. Thus the branding and customizing part becomes easier that enhance your website visibility on search engines.
SKT Gym Pro is SEO optimized and enhanced your website speed for loading your web pages faster. You can translate the complete theme into various languages because it is multilingual and translation-ready. Your website content will be visible on different devices as it is mobile-friendly.
With custom post formats such as audio, video, and gallery you can manage your blog posts. More than 1000+ Google fonts are supported by the template. By purchasing BeFit Pro you will get free installation, One-click demo importer option, valuable support service, free update and detailed documentation.
Sportsman Pro stands out from the rest of the sports blog WordPress theme on account of its simple and yet elegant design as well as its interesting layout. The theme comes with a home page + 12 page templates that you can utilize for your other pages along with the fact that it also comes with external plugin compatibility.
Moreover, you can change/ alter/ modify any page element with ease, including the background by utilizing the 50+ short codes. And if you want to tweak your website further, you can always install a shortcode plugin and add more short codes for the same.
Sportsman Pro comes with three header variations along with footer, sidebar and layout variations, which you can tweak and make your website, stand out for the right reasons.
It also comes with default slider as well as two galleries that you can use to showcase your high resolution images as well as videos. If you wanted to host a slide show or a web cast of some sporting activity, you can install an advanced slider for the same.
Studies have shown how consumers are more likely to react to videos and high resolution images than they are to text. You can also install several user-centric features on your website and in the process, rank better for SEO. This is why the price tag of $39 is a real bargain in more ways than one.
When it comes to sports blog WordPress theme, this one stands out for all the right reasons. SKT Golf is easy to use and even a novice should not have any issue in setting it up and moreover, it comes with a 100% responsive, intelligent and intuitive design.
The layout is great and it also comes with drop-down menus and the minimalist look automatically focuses the user's attention to relevant parts of your webpage.
SKT Golf is also cross browser, cross device and cross platform compatible; it also comes with compatibility to 3rd party plugins as well. As a result, you can set up analytics on your website, get the latest data so that you can tweak your current strategies as and when required.
Similarly, you can tweak the various page elements on your website from the color to the page element itself by using the built in short codes. And if you need more short codes, all you have to do is to install a short code plugin and get what you need.
With these short codes, you should be able to change any page element and reshape your website the way you wanted to. It also comes with header, footer, sidebar and layout variations and you can use the same to display your content, just the way you wanted to.
The theme comes with a price tag of $48 which is quite reasonable, given the advanced functionality,
Soccer ranks among the top twenty when it comes to sports blog WordPress themes. For starters, it comes with a robust and attractive design that's responsive as well and it also stands out on account of its ease of use.
Soccer theme is widget friendly and you can use the same on the footers and sidebars, and thereby help improve your website's functionality.
This theme is a multipurpose one and can be easily repurposed for most niches; it also comes with compatibility to external plugins which you can use to provide your users with advanced functionality.
With these plugins, you should be able to set up an integrated shopping cart for your clients, set up a portfolio of all your products and even generate an official receipt in seconds.
You can also optimize your website by installing both SEO plugins like RankMath, this should help you provide your users with better content as well as help improve your SEO rankings. It comes with a price tag of $39 which is more than reasonable when you consider all the advanced functionality that's available on site.
When it comes to sports blog WordPress theme, this one stands out as a dynamic and resilient WordPress theme with an elegant minimalistic design. Adventure theme comes with intuitive features such as Five level drop down menu which makes it easy for users to navigate your website.
The theme itself is 100% responsive and comes with advanced functionality, mainly due to the fact that it supports external plugins. It is also compatible to woo-commerce so you can easily set up a shopping portal for sports related goods and products, along with an integrated shopping cart as well as WooCommerce Stripe payment gateway.
But what makes the theme stand out is the fact that it is highly adaptable and customizable; you can use the built in short codes to change any feature. And moreover, it comes with a built-in customizer so that you can preview the changes as you carry them out.
With Adventure theme, you can provide your user with advanced functionality from enabling them to login using their social media credentials to being able to track their orders online. You can also get your pages to load faster by installing cache plugin and this is why the current price tag of $39 is a real bargain in more ways than one.
The responsive sport WordPress theme stays true to its tag and is indeed responsive. SKT Marathon is also completely scalable and has been tested for various resolutions and even for Google mobile friendly test.
The theme is simple enough that even a novice should not have any issue in tweaking this theme; furthermore, as the theme comes with several built in short codes, you can use the same to develop custom built pages, to alter and modify any page element and much more.
It also comes with 1300+ integrated Google fonts which you can use to tweak the typography on your website and help make it more attractive.
SKT Marathon comes with home page, templates with different layouts as well as blog template which you can use for your press releases and to communicate updates with your customers. It is also compatible with woo commerce, next gen gallery and you can set up an integrated shopping cart with ease.
As the theme supports external plugins, you can increase the functionality of your website by providing your uses with several user centric features and even utilize widgets for the same purpose.
All things considered, the current price tag of $39 is indeed a steal in more ways than one. With this theme, your website should stand apart from the rest, for the right reasons.
I Am One Pro theme, which incidentally is a single page WordPress theme, ranks among the very best when it comes to sports blog WordPress themes. The theme is simple and yet elegant; it comes with a responsive design, and can be easily customized – from the layout to the color.
You can use the built in short codes for this purpose; apart from this, the theme also comes with default sections like gallery, services, about us and much more. As the theme is compatible with third-party plugins for optimizing your blog content. you can use the same to install advanced page builder plugins and develop extra pages for your website.
On the whole, the design is effective and should definitely make your website stand out for the right reasons. I Am One Pro theme comes with a nicely designed home page + 30 sections and you can even use the template for pricing table. The theme comes with a price tag of $39 which is quite reasonable given its advanced functionality.