Robotics can be defined as a branch of technology that deals with the design, construction, and application of robots. They have come up in a huge way and are not something to meddle with. It would not be wrong to say that this world of robotics depends on its use.
If you look around, you would probably see the use of robots in industries and even private businesses. They are undoubtedly a type of tool which can make one's products and services shine.
On the other hand, you would not want a slow theme that can terribly affect your website. All one needs to do is create a sophisticated website using the right theme so that one can be on the right path of attaining the goals.
So, are you thinking that it is going to be a daunting task to find the best robotics WordPress themes? Well, not anymore!!
Are you looking forward to creating a new digital branding vision for the robotics venture? Well, then this robotics WordPress theme called Robotics from SKT would be a perfect fit.
Being covered with great sophisticated web design, you would get a chance to showcase your work to the world. It is powered by Elementor page builder to create awesome customized web pages as per your needs, wisely optimized, and strategically curated to provide an exceptional user experience.
Other than that, this theme is SEO-friendly, fully responsive with one-click-demo importing facilities. It will help in replacing the task of creating a new website from scratch. Just a number of clicks, and your website would be created in the blink of an eye.
Here are some of best robotics WordPress themes listed below, which could surely cater to your needs
It comes packed with some exceptional features that one can barely imagine.
Therefore, to be precise, the features include:
Highly compatible with mobile devices
Create a website from scratch easily just by making a number of clicks
Allows to crop and edit images
Totally accessible, touch-ready, and completely user-friendly.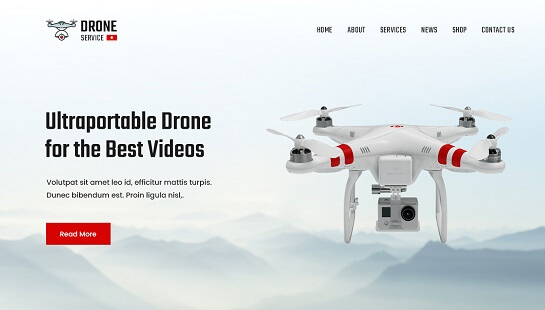 Guessing you want to upgrade as a photographer and beat the competitors behind?
Then it is time to choose SKT Drone robotics WordPress themes from SKT. This website theme will help you to approach in an excellent way to build a dedicated website.
This theme helps in building pages in JavaScript, HTML, and CSS. It allows one to earn from similar photos over and over again.
Being packed with predefined tools, you would be able to capture new leads and sell services too. What's more?
Let's walk through the features this theme comes with.
Highly responsive and compatible with different devices
Allows users to add details about projects, prices, services, contact forms, and others.
Usage of Nivo slider plugin for free of code
Has tons of prebuilt themes which can help to craft your website at an affordable rate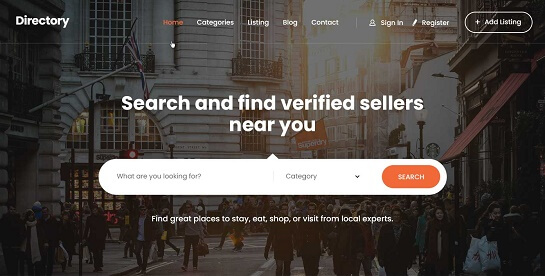 It is unarguably true that directory websites are gaining much more popularity than any other these days, and it has been a trendsetter nowadays. If you have been planning to create such a website, then nothing can be better than choosing the Directory theme from SKT.
With this theme, you would be able to create an easy-to-use website without needing help from any professional. It allows one to create different listings, including paid, featured, membership fees, advertisements, etc. The pre-built log-in page showcases exceptional features that come packed with powerful tools.
Moreover, it comes packed with some exceptional features, including:
It offers a front-end submission form at the top of the homepage.
The theme is fully supported with different payment gateways.
Comes integrated with Elementor page builder plugin
has the most popular plugins, including Gutenberg, WooCommerce, Backup, etc.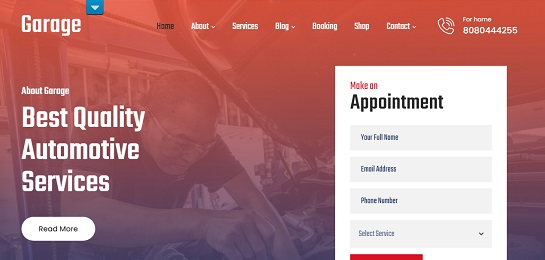 If you understand how the world goes as the car goes, then probably the automobile industry has got your attention.
So, what can be better than building an online presence to expand your business with the best robotics WordPress themes like SKT Garage? This theme completely corresponds to all the types of payment gateway options.
Besides that, it comes with pre-built demo content to try out different things, where you can have a layout along with blogs and portfolios.
Moreover, some other features that this theme comes with includes:
Shortcodes available to make your website look creative
It is kept multilingual and translation ready for a good SEO.
Allows you to create unlimited domains and websites
It is fully optimized for good navigation and speed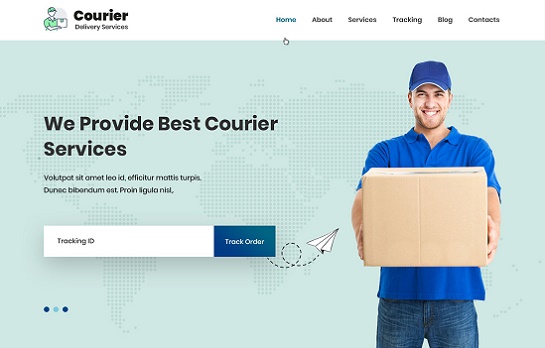 If you belong to the courier service industry, then creating an online presence would help you to gain customers.
However, to be on the digital platform, your website should equally amaze people, just like your services are to be expected. This is when you should use themes like SKT Courier.
Using this theme would ensure the Fast speed of the website and a one-year guaranteed technical support. Other than that, it is RTL ready, and files like CSS, HTML, JS are included.
It comes packed with some more features like
Comes with WooCommerce, sidebar, custom sidebar, and widgets
It is translation-ready and WPML compatible.
Has dozens of built-in icons and social sharing features
Comes with unlimited color options and Google font options.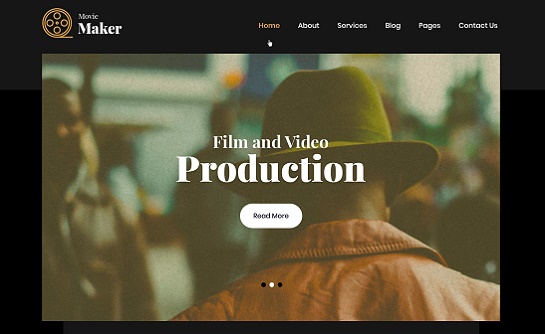 Interested in becoming a blogger or being a part of the film industry? Then start with creating an online presence by using the Moviemaker theme from SKT.
This robotics WordPress theme is a great option to generate revenue and market service all over the world to gain clients.
It comes with a one-click data importer option and WPML plugin incorporation, which can convert film websites into native languages.
Besides that, it comes with additional features, including
Highly compatible with Google AMP for higher engagement.
Has Elementor page builder that helps in creating multiple pages depending on your needs
Comes with a Nivo slider that helps to promote the homepage
Featured with video background, multi-page demo, parallax effect, and free installation.
Looking for a single type of template which can fulfill all the requirements and demands? Sounds impossible? Well, not at all. If you want a theme that can meet all your needs, then check out Posterity Pro.
This website theme is known to fulfill the demands of agencies to freelancers, and it has proven to be helpful in setting up small organizations. It comes with outstanding template designs and is highly flexible in nature.
Posterity pro suits well with the WooCommerce plugin that make it fully equipped while it would boost productivity to the maximum.
The features it comes with includes:
Comes with customization options, prebuilt pages, multilingual options, etc.
Has a user-friendly design
Integrated with Elementor page builder, WooCommerce, Nivo slider, etc.
Has more than four predesigned pages, including home, about us, services, contact us, etc.
Home improvements are needed every now and then as people strive to be a part of the modern world. Thus, lighting is a vital part of any change that is brought into the homes.
If you have started a new business of selling lighting accessories, then it is recommended to switch to a digital platform using themes like SKT lights.
This theme is included with well-documented CSS, JS, and PHP files. It is also compatible with RTL besides having retina-ready icons.
Additionally, some more features it comes loaded with includes
A powerful admin panel
Full support to the newest browsers
It has been passed with all W3C validation
Comes with both dark and light versions as whichever suits your needs
Those who are searching for a high renovation WordPress theme should check out the Repairman theme from SKT.
This theme is truly flexible and adjustable on every device and browser. It is fully responsive, SEO optimized, and comes with easy customization.
Also, this theme offers one year of customer support to ease your problems until you learn to handle them yourself.
Some other features that this robotics WordPress theme is loaded with includes:
It is Gutenberg optimized and widget-ready.
SKT repairman supports social sharing plugins totally
Users can get unlimited domains and websites at an affordable rate.
It is incorporated with JS, CSS, and PHP files.
Started a video production company and still not getting much appreciation?
Guessing it is because you have not yet created a website using a theme like Videography Pro from SKT. This theme gives the permit to embed, download and upload video content.
It has more than four sections included that can make your website engaging. Besides that, it is already speed-optimized and retina-ready.
Some other features that this website comes with includes:
You can change the website's appearance using color scheme options.
Has an attractive and impressive default design
Totally supports high-resolution content.
It is SEO-ready and widget-ready
If you are looking for a car wash theme that can help you with the next project, then check out Car Wash robotics WordPress themes from SKT.
This theme will make your website and business look professional without needing a technical expert by your side.
It is widget-ready, SEO-easy, and comes with a one-click installation.
Other than that, the features which this theme comes packed with include the following:
Has 100% multilingual language
Highly responsive and user friendly
Comes with more than five prebuilt pages
It supports awesome fonts.
Making the brand visible online is one of the major goals of any business. Isn't it true?
Sometimes it may look like too much hard work. But with themes like SaturnWP Pro, everything can be expected to become easier. Being loaded with exceptional features, SaturnWP pro can be used to make your website more visible on the web search.
Therefore, to be precise, the features it comes with are:
Integrated with drag and drop builders like WPbakery, Elementor, Gutenberg Editor, and more
Easy to import and customize
Supports the features of eCommerce
Gives users access to a live WordPress customizer
Those who are willing to start a business of auto parts should count on website themes like Motorcycle. This theme allows customers to easily navigate through the website without any trouble. It comes packed with unique footers and headers.
Besides that, creating a website is easier as all one has to do is make a click to import the demo content.
Therefore, some more features that this theme comes with includes:
It is lightweight and created with HTML3 and CSS3.
SEO-friendly, content-optimized, and loads quickly.
It supports high-quality images.
Comes with unlimited color options to make the website suit the brand logo.
Looking forward to creating a website for household appliances, electronic stores, grocery stores, electrical goods shops, or others, then check out the robotics WordPress themes like Appliances Pro from SKT.
This theme provides free updates and a one-year's customer support. It is very easy to change the theme color with the color picker option.
Besides that, the other features it comes with includes:
It has a featured sidebar, header, and it is footer-friendly
Has a customized 404 page
It is totally based on HTML5, CSS3, and modern design standards.
This theme is a flat and material design-based
If your software company needs a website, then there's no chance that you can stand with the wrong template.
So, this is why choosing robotics WordPress themes like SKT Software Pro is recommended that can add a touch of professionalism to the website.
It is compatible with all the WordPress versions, and it is accessible to custom CSS that makes an awesome interface.
Moreover, this theme comes loaded with features, including
Complete 24 x 7 customer support
Four different header layout options to design the website
It is fully responsive to target mobile users and other device users.
Allows to save the changes easily and move on to the next page
Here comes another best type of theme that you can use for different niches is Black Pro from SKT, which is coded with HTML5 and CSS3.
It has a "Services" section, manager section, team section, testimonial section, contact section, and others.
This is an easy-to-use theme option with color, font, text, color, and background text.
Furthermore, it comes with some additional features like:
SEO-friendly and coded, keeping in mind the wordpress.org theme guidelines
It has hundreds of shortcodes available that are ready to use in the content area.
This theme is Retina ready and is easy to use
It has been created using the Elementor page builder.
Wrap Up
It is still a big mystery if robots will ever replace human power entirely or not. But surely, using the robotics WordPress themes will help you design your website beautifully and take over the online platform.
They come with smooth performances and exceptional features. So, if you think that it's time to level up the game, then choose any of the themes mentioned above.
Not to mention, they are the first choice of the maximum digital experts across the world.