A list of the reliable and perspective organic farming and food farm WordPress themes to consider for the herbal or organic food and industry – based topics online.
Organic farming as a modern and alternative agricultural system continues to record speedy growth in the relevant industry, thus providing lots of incentives for the new businessmen and farmers.
By strictly following all the standards stated to allow the use of natural substances and considerably limiting the synthetic pesticides, those organizations and farms are strictly following a productive way through which herbal and organic products are grown and processed.
Subsequently, their primary concern is the disposition and realization of their healthy products by the application of all the possible commercial channels, markets, destinations and venues.
In this situation, one of the most practical platforms to be exercised fully in order to gradually increase the consumer's number and achieve more popularity around is the running of a premium quality website, based on one of the most convenient organic farming and food farm WordPress themes.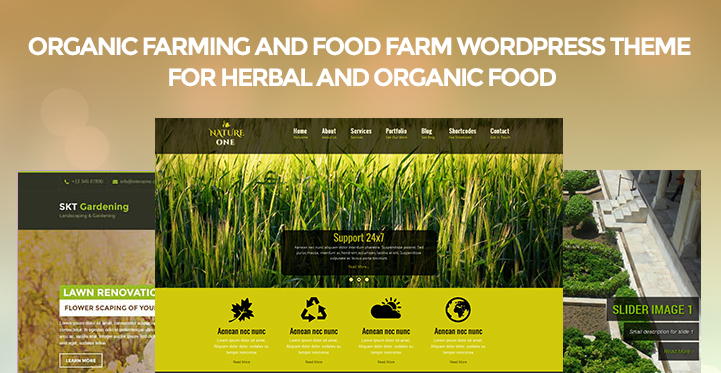 The truth is that all the below – referred templates have been crafted not only in a standardized method to meet the challenges of the current digital and economical world, but also keep pace with the ever – growing digital market with tons of novelties and advancements over and over.
Let's cast a glance at each of them separately and acknowledge all their pros.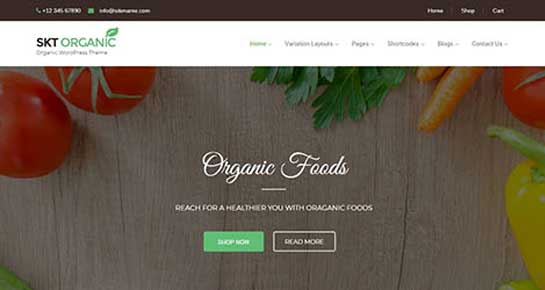 Organic is a organic farming and food farm WordPress themes that has clean and easy to use design elements that will suit your green business niche such as recycling, waste removal, cleaning, gardening and more.
The template has retina ready design that will surely make your website visible on search engines. Plus it is SEO friendly. You can use this template to market your business services by integrating some social media plugins.
Third party plugins are suitable with it. Thus it is by default integrated with contact form plugin, slider and WooCommerce plugin. Without worrying you can modify the complete website.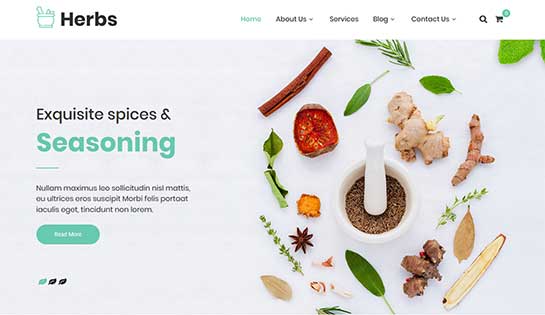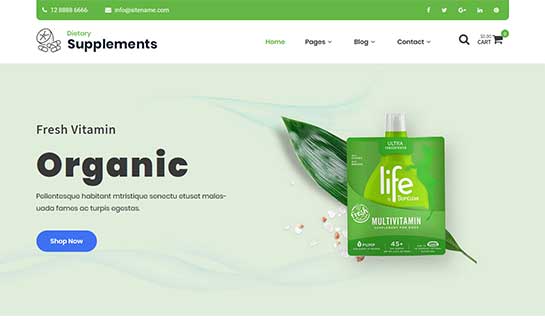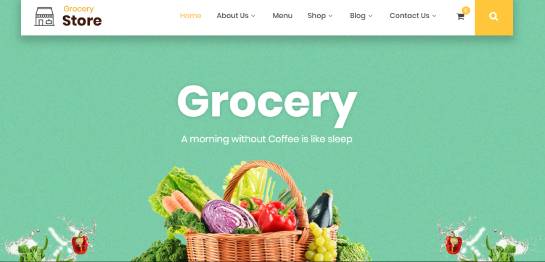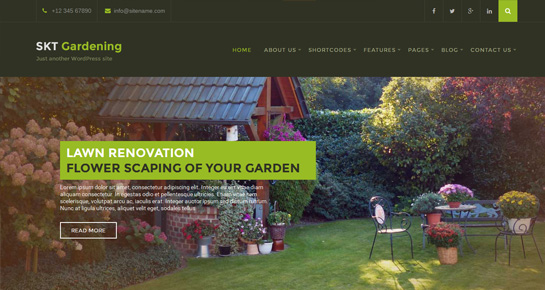 Niche – specific and conceptually unique, visually and graphically fresh and green, wholly smart and polished, SKT Gardening Pro is a great way to start your organic – friendly website right from the scratch and complete all the further compulsory processes very quickly as scheduled beforehand.
Once your website is up and running, you are free to manipulate it as per your standards and wishes, customize, add or remove whatever is needed, extend the website functionality and add diverse commercial, SEO, portfolio, contact form and other plugin
To sell your nutrition – reach and healthy products and earn substantial sums of money.
Play School with it multipurpose nature has been developed to cater to any niche or topic. What makes this smart and secure template so worthy and presentable is the complex – structured.
Yet easy to perceive and utilize character, packed with custom – built features and options tailored to meet all the high standards and structural peculiarities of any organic farming and food presentation in the digital world.
From dynamic and lively design to credible and truly customization – compliant template, shortcodes inclusion and slider integration, Play School can be a first – wave business marketing channel to raise the bar and appear as one of the most professional and sophisticated organizations experienced in that field.
If you are a farmer or organic food specialists on a mission to deliver healthy, non – toxic and organic products to your local and foreign customers, Diet and Nutrition is an organic farming and food farm WordPress theme at your total disposal to review and acquire at an affordable cost.
With this amazing and organic product – specific template you can showcase your best – selling production, write posts about their quality and other properties so important for physical and mental health.
Use the prebuilt slider or add some other slider and display the most alluring photos of your farm and plants to take the website visitor's breath away and yet much more to come with this tool.
In case you are looking for a simple and lightweight, yet fully versatile and powerful template available for your herbal, natural and organic food – based online profile, consider Simple as the initial step towards your successful journey in the worldwide networking environment.
Since the theme is perfectly compatible with WooCommerce plugin is ready made to render truly eCommerce experience, you will be lucky enough to establish and run your online organic food store and shop to bring a sense of joy, convenience and comfort in food shopping.
Display your services, special offers, discounts, new products, etc in the most neatly categorized fashion, so that all your clients will be able to save their time and find whatever they are searching for in the shortest time possible.
The next green – based and nature and farm – centric, functionally advanced and amazingly resourceful template of WordPress production is Nature One Pro.
Offer your organic food online, organize the delivery straight to the door irrespective of the client location, provide the website visitor with the most surprising hospitality, from fast – loading content to impeccable navigation levels.
Be available without any technical errors in 24/7 format, let your portable device users to access your website with their mobiles and tablets, etc.
All the practices and online methods realized by the help of SKT Full Width Pro as the next super template in our list of the top – rated organic farming and food farm WordPress themes will be welcomed by each and every representative of organic food community, be it a potential client or partner.
This herbal and healthy food – related template is not dependent on the web admin experience in the programming or design at all.
It comes integrated with ready structure, sections and easily applicable options to personalize and stylize the look and feel of the online existence without the need of making additional investments or hiring expensive professionals to achieve the expected results.
Create and run your competitive and challenging edge through the expertise of the authors of Charm. Coupled with the core understanding of the field, easy to follow admin dashboard and intuitiveness of the overall template.
Every farmer or food expert can take the future farming or organic food website off the ground and pass it to a state that accommodates diverse useful and practical plugins for bettering the web pages operational rates.
With Charm you can be sure, that your website content better responds to the needs of your multi – device users, so that they browse the website on their devices and mobiles and enjoy the most precise look of it.
Organic farming and food farm WordPress themes some of the common features
1. Look and feel: Look and feel has been kept to mostly greenish and herbal kind of textures and earthy tones to have the authentic look and feel of a herbal or organic styled website.
2. Simple backend: We can't expect farmers to be technology savvy at least for handling a website. Hence we tried to keep it as simple backend as possible so that it appears just a few clicks for them and does the work like color changes, text and image changes, social media links and others.
3. Uncluttered designs: Uncluttered designs would mean that fonts come our bigger and better and information can be read without any fuss and confusion. Any food farming and organic WordPress theme would want to have this kind of look so that it focusses more on the information rather than on the design.
4. Quality: Organic products are costlier many times because to get the best quality product and livestock farmers need to work hard and create a healthy and happy product out of crops.
Modern agriculture methods and tools have made it possible for organic stock growers to have a quality stock with them and that too developed naturally and with herbal methods thus giving it full organic breeding.
A website is an effective way to reach out to your customers and be online 24X7 and 365 days a year and have your contact info shown to others all the year around to generate revenue and business connects.
A good website done with the help of faster loading and SEO friendly organic farming and food farm WordPress themes may give you more attention in online medium and will generate good prospects and clients.
Organic way of farming is the way to go these days. With more and more healthy ways to grow crops and plants are popping up every day that, it becomes more easy for users or consumers to have increased trust towards something that is not artificial or toxic.
Organic farming is not only providing huge incentives for the farmers, but also the businessman as well. Without using any kind of harmful pesticides or insecticides, organic farming can achieve much better results.
Therefore, in order to create more popularity and increase consumer awareness, you need to create a website – a website that will look premium and will be a step in quality from the rest. And for that, you need the Food Farm WordPress Theme.
Right off the bat, the website will be fully customizable, according to whatever kind of design or colors or templates you like. It can be changed upon your requirements and preferences.
The website will have immense functionality, along with various ways to diversify the website's commercial structure. This will help in bringing in huge amounts of money and thus make the business grow even further.
Moving on to other tools, like SEO support will also be there. SEO means Search Engine Optimization, and with its help, your website will be right above, at the top of Google Search results, if any of your customers search for organic farming.
In that way, the customer will find it easy to discover your website. There will also be support for various kinds of plugins as well, thereby improving the functionality a lot more.
With this website, you will be able to showcase your beautiful products, all organic, in a nice and more efficient manner.
There are image sliders on the website customization options as well, so if you want, you can also showcase your products via attractive pictures, so that customers will come to know about what you're trying to sell, and the quality of products as well.
There is also support for WooCommerce plugin as well, so that commercialization of the website wouldn't be any difficult job. It will help your customers to shop seamlessly and easily on your website.
With various special offers, discounts, etc. more new customers will be attracted towards the website. In this way, customers don't have to go and search for the products they like, and instead can outright buy them.
The website will look very simple yet clean and modern looking. The simple design will attract a lot of customers to the website. Combined with that, it will be up 24x7x365, so that you can be there for your customers whenever they need you.
Apart from that, customers will have the option to order online and get the products delivered to their doorstep.
It's no doubt that food farm WordPress theme is just exactly the tool you'll need to introduce massive important components to your organic farming website. From numerous features and functionality, you really can't go wrong with this brilliant option.