When it comes to online marketing, nothing is simple and nothing remains the same for more than a month. In other words, if you plan to market your business online, then the first thing that you need to do is to spend some time on research.
For starters, you need to clearly identify your target demographics, so that you can develop a website that designed to appeal to them more.
From a marketing perspective, developing content that's tailor made for your audience should result in more traffic and a larger customer base.
Given the fact that most online users hardly spend more than a few seconds per page, it is important that you design a website that appeals to your audience, make it appear creative and innovative and features content including products and services that they are likely to be interested in.
Once you have a good idea of what your audience base needs, you can set about selecting a framework form one of our many music maker WordPress themes for your website.
All our music maker WordPress themes are responsive and multipurpose and can be reused for any niche/ specialty, with ease.
There are plenty of music maker WordPress themes are available, but the problem is to find the best theme for your business. So, how to choose Music maker WordPress themes for business growth? Let's find out!
With the increase in the online streaming industry, there is a need for a business that delivers a fantastic platform to the users that boost their user experience.
So you need to look for a theme that caters to all the features such as selling music, videos, licenses, packs, and digital products in one place.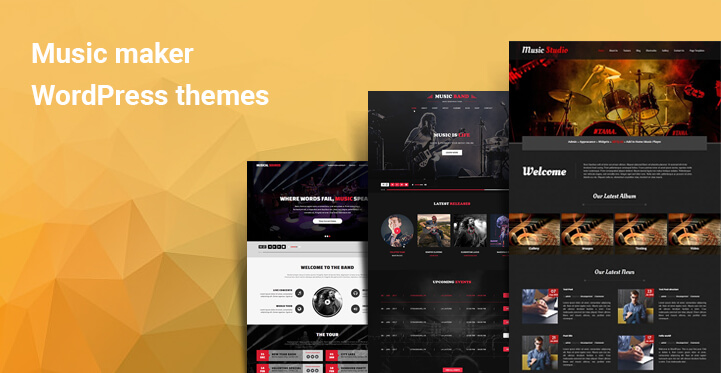 More than that features like frequent updates, customer support, and high-quality graphics can help you to engage users across the globe.
I think you get a clear idea now what music maker WordPress themes you should look into. And you will be glad to know that you do not need to stress about looking at various themes.
Here we have collected top music maker themes that fit with your business requirements. Have a look and choose the best for you!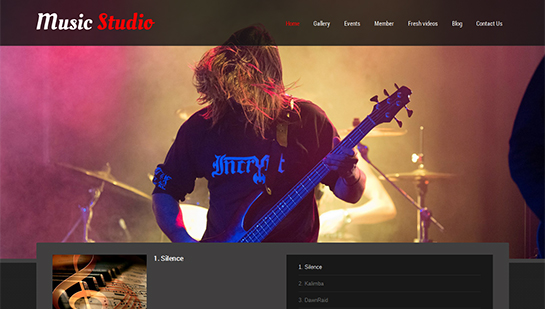 The one thing that sets this theme apart from the other music maker WordPress theme is its sheer simplicity and the effectiveness of its overall design. From an aesthetical point of view, it is truly stunning and of course it is customizable.
Which means that you can change anything from the color to the page element itself, with ease. You can even tinker with the background and opt to use something else, and the fact that the theme comes with over 100+ should help you do so without having to code anything.
The theme comes with several header, footer, sidebar and layout options that you can utilize to display your content the way you prefer to but more importantly, it is also widget friendly.
You can set up widgetized footers and sidebars which should enable you to increase the functionality of your website.
It is compatible with woo commerce, and supports exernal plugins and even comes with default slider with 12+skins which you can use to showcase your high resolution images.
And as the theme is compatible with third party plugins, you can use select SEO and SMO plugins to optimize your website, cache plugins to enable your pages to load faster and even install others to provide your customers with more user centric features.
This increased functionality should enable your website to get wider traction online and even help boost your SEO rankings in the process. It is available for only $48 which is indeed a real bargain, in more ways than one.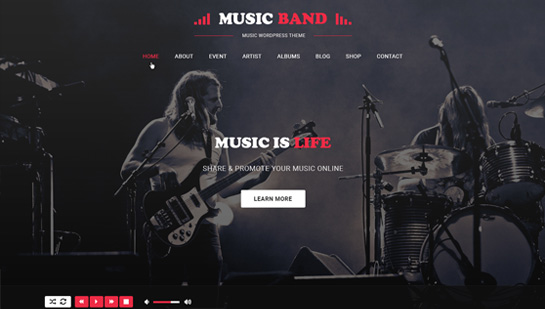 Granted that if you were in the music production business and needed a new framework for your website, then this one, which incidentally ranks among the top ten of music maker WordPress themes, would be the perfect choice.
But what makes this theme stand out is the fact that it comes with all the requisite bells, whistles and is a multipurpose theme.
Even though it was designed specifically for the music production niche, it can be repurposed and used for most businesses online.
The theme itself is simple enough but elegant at the same time; it comes with a dark background, with intuitive and intelligent design features such as the five level drop down menu.
It also comes with 800+ Google fonts along with RTL compatibility and is customizable as well. And to make it easier, it also comes with 100+ short codes along with compatibility for external plugins.
So you can customize, tweak, alter any page element without the need to code anything and add in more short codes by utilizing a third party short code plugin.
It also comes with several header, footer, sidebar, layout options along with a nicely designed home page with several templates for add-on pages.
You can also use page builder plugins to develop custom built pages for your website and even set up an integrated shopping cart, as the theme is compatible with woo commerce.
Moreover, the theme is 100% responsive, and is cross device, cross browser and cross platform compatible. And since it comes with a built-in customizer, you can live preview any changes as you carry them out.
It comes with a price tag of $48 only, which is a steal, when you consider all the advanced functionality that it comes with.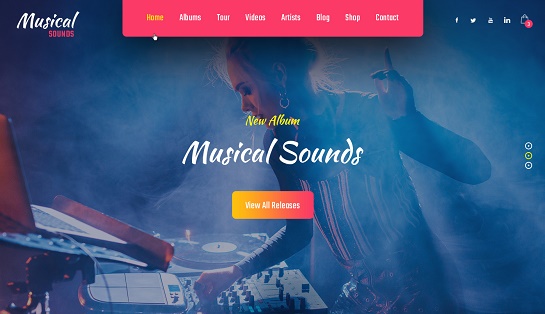 When it comes to music maker WordPress themes, this one sure stands out for various reasons – from its simple but effective layout to its functionality and its design features.
It comes with an intelligent and intuitive design and your users should be able to navigate the various pages of your website with ease.
The theme itself comes with a built in music player along with all the requisite header, footer, sidebar and layout options.
And as the theme is completely customizable, you can tinker with the same and have greater say over how you would like your content to be displayed to others.
You can alter any page element feature, including the font with ease and what's more, you would not be required to code anything as the theme comes with built in short codes.
It also comes with a customizer so you should be able to live preview the changes as you carry them out and even refine the same. It is also compatible with woo commerce as well as external plugins.
You should be able to provide your users with advanced functionality, by installing social media plugin and enabling them to login using their social media credentials.
What's more, you can leverage the various social media platforms by making it possible for your users to share your content across various platforms in real time.
Given all the advanced functionality that this theme comes with, the rate of $48 is indeed a real bargain in more ways than one.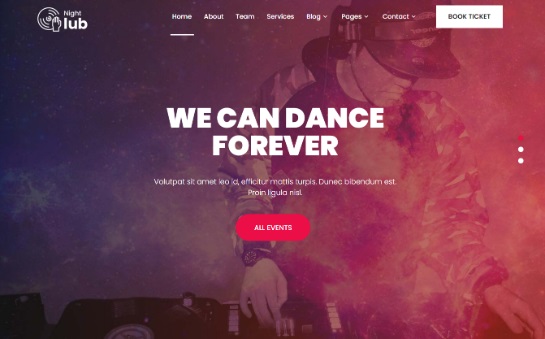 SKT Night Club theme is usually considered by people having a designation of filmmakers, directors, film producers, and many more.
You can have stylish font sizes with relatable information and attractive animations like the slideshow of the movies, some movie reels made by an actor, a motivational quote by a theatre artist.
The SKT page builder manages the homepage and thus simplifies the content of the page. 
You can easily add widgets, links, and footer, header to add any content on the website and also to take the customer directly to the site.
You can add a section for taking appointments and providing your address with contact no. This theme is retina checked which means it is ensured that it will cause no eyesight problem. 
You can choose the color, font, and text type according to yourself and make it more and more attractive. So why wait, go and give it a try!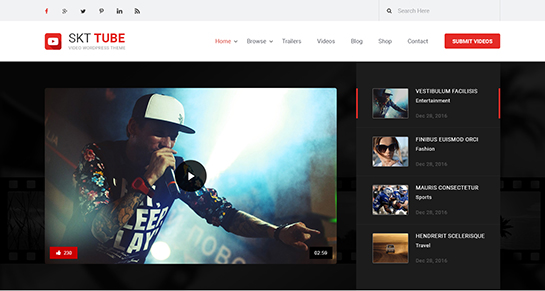 SKT tubes theme is used by the website which provides videos and movies to the people.
Talking about this theme, it provides HD quality videos to the customer and various footer and header variations. You can add videos to the galleries with the help of the theme. 
With HTML5 and CS53, CS53 animation can be added to your website very easily. It is fully customizable and you can select the color contrast and font according to your need.
Want to try SKT Tubes music maker WordPress theme? So, get the experience of its features. 
It is SEO friendly and SEO plugins like Yoast, Squirrly. With its easy user interface, you can easily change its color and background. This theme is usually used by sites like Daily motion, YouTube, video call apps, Vimeo, and many more. 
SKT Actor is another best music maker WordPress themes that gives you complete control to promote your events worldwide. It comes with retina ready and full-width header layout.
You can showcase details on your upcoming events to your audience. With an easy drag and drop interface, you can create bold landing pages very easily.
SKT Actor gives access to the call to action button so your customers can get connected to you without getting distracted.
You can create a more impressive event page by adding a beautiful header image and link to Google Maps. A countdown timer is also supported with this template so that you can add time, date, and venue details.
Any individual dancer, singer, model, etc needs a professional website so that they can share their portfolio and get hired. Using the right template, the task of website creating and portfolio promotion can be easier.
Disco Dancer was created with the page builder to give you easy access to every option. You can utilize the Gallery option to showcase your skills.
SKT Themes have used the best combination of colors, typography, effects to highlight the important content. Plus it has used eye-catching elements to make it unique.
You can easily set up the appointment or booking forms. Thus the Disco Dance is compatible with Visual Composer, Elementor, and WPBakery page builder. We suggest you check its demo to know how it feels and appear on different browsers and devices.
With around 600+ fonts available in Nuptials, you can customize your musical website and make it more attractive. With easy color changing feature and easy animation, you can change it according to your theme and style.
Moreover with advanced software, you can insert attractive animations and also have easily color changing feature. 
An option of 'about us' is given to enter the information of the host and about their family. With HTML5 and CS53, now you can add features like calendar, contact us option, and events notice.
The animated slider can help to showcase a content list along with their images. It also has an option to write your thoughts in the writing section provided by the theme. Isn't interesting? Try this & make your final decision.  
Wedding videographer is the best music maker WordPress theme mainly used by the websites that are in the business of wedding videographer, events, etc.
You can view this theme on different devices like mobile, laptop, and desktop. You can choose up to 4 footers and headers for your site. 
Its sidebar is fully widget friendly and you can put many widgets as possible. You can add other shortcodes to make the site more attractive and fancier without the help of other plugins.
You can add special characters with the font to improve the font type and also change the color of the theme. Moreover, it is SEO- friendly and also SMO compatible theme that take your business to the next level.
With the help of CS53 animations, Banquet Hall Pro theme works like a charm. You can add many functions and also have so many font sizes ad font types to improve the website.
To increase the traffic of the website, various footers and headers are given. 
As it is mainly used by banquets, party planners, event management, etc. you can add a column of contact details along with updating galleries of your work.
The interface is simple so that anyone can change it according to their preference without the need for any expertise. 
You can also pick a color with the help of the color picker feature. You can connect your website with social media platforms. The sidebar is widget friendly and has high-resolution screens tested. 
A FilmMaker is the best template from the collection of music maker WordPress themes that help you to get more money by promoting your concerts, dance videos, audios, portfolio,etc online. It allows you to sell your physical or digital products, plus allows you to add blog posts and pages.
If you are looking to add extra features to your website then you can make use of third party plugins. It supports different payment methods so that you can accept the payments for bookings online. The template will work great on tablets, computers, and phones because it is mobile-ready.
You can also create coupon codes to boost your business sales, plus it allows you to offer discounts as per your priority. It allows you to add the most required plugins i.e. Yoast SEO, contact form 7, SEO plugins, etc.
To impress clients most of the successful artists prefer to work harder by working on high-quality marketing but most of the time they run with the time.
Thus they only have a solution to promote their concerts, videos, and events on social media but do not worry as we provide you the bestest solution where you can promote your business and events seamlessly.
SKT Events is a multipurpose and flexible template that help you to promote your business and share information regarding to it on the internet.
Some of the best features provided by SKT Events are customizable options for background color, text color, typography change option, user friendly, SEO optimized, compatibility with major plugins, beautiful animations, and much more.
Ele Wedding is a responsive and elegant looking music maker WordPress themes that can be used to organize a wedding event, photography, musical nights, night clubs, and more. You can notify people about upcoming events regarding your wedding or any other events with this template.
With minimal configuration, you can add Facebook and Twitter widgets. Thus your guests or visitors can know about your Live events going on.
From the dashboard, all can handle the complete website appearance. From there you can also add image galleries, event information, map, video with YouTube, and so on.
This template is adaptable to any type of devices. Thus you can say that Ele Wedding is the perfect match for your requirements as it is easy to use. It also comes with free support and comprehensive documentation.
Ele Agency is a multipurpose and clean WordPress theme that can be used to create music or non-music related pages. It will save you time as well as money as you can setup the complete website without spending hours or days on customizing.
You will be able to create a strong impression on your visitors as it comes with all those features which make a website more alluring and existing.
By adding a large slider on the homepage you can grab the user's attention easily. This theme is also supported by video and audio content.
The theme design is easily adaptable to any device. Thus, it comes with retina ready image and WPML translation support.
Most of the events organizer, owners of bars, and NightClub have accounts on different social media. They usually manage all these social media profiles just to target more customers by updating people about upcoming events and live concerts.
If you are one of them and if you struggling in managing different accounts on your own then Event Planner Pro might be the most helpful theme for you.
Event Planner Pro will help you to manage all social media accounts from a single place. This template will allow you to share updates on your events and enable your website audiences to check updates of social media from different platforms.
It has an elegant design which is important to the brand and get recognized in this competitive world. it is also compatible with the event calendar plugin so your visitors can view your scheduled date and book an appointment with you as per your both convinces.
This theme ranks among the very best, when it comes to music maker WordPress themes. For starters, it comes with an elegant design, and a nice layout along with drop down menus which should help facilitate navigation.
It comes with the requisite header, footer, sidebar and layout variations as well as with compatibility to woo commerce as well as third party plugins.
So, you should be able to set up a integrated shopping cart with ease as well as provide user centric features along with advanced functionality for your customers.
But what sets this theme apart is the fact that it is extremely easy to use and even easier still to customize as it comes with complete documentation with step by step instructions.
The theme is customizable and you can use the built in customizer as well as the built in short codes to live preview the changes as you carry them out.
You can also use various page builders to custom build additional pages for your website and opt to use the default slider to showcase your images and video or utilize advanced sliders for the same purpose.
This theme should enable your website to stand out for all the right reasons and given the advanced features that it comes loaded with, including social media integration, the price tag of $39 is a real steal.
This theme ranks as one of the best when it comes to music maker WordPress themes, from its sheer simplicity to its ease of use.
The overall design is simple and yet, classy, with an elegant layout along with drop down menus that can help your users navigate the various pages with ease.
But what sets this apart is the functionality that it comes loaded with, and of course, all the additional add-ons.
The theme itself is 100% responsive and completely scalable – meaning that your users can access your website from any device on any browser/ platform without any loss of functionality.
In addition, it is completely customizable, so you should be able to change, alter any page element with the help of the built in short codes.
It also comes with default slider with 12+animation effects along with pause time control effects, and as the theme supports external plugins, you can use more advanced sliders and galleries to showcase your images.
On a scale of one to ten, this theme ranks at 8 for functionality and at 10 for ease of use and it comes with a price tag of only $39.
The personal WordPress theme comes with a lovely design, a great background and an elegant layout; more importantly, it comes with cross browser, cross device and cross platform compatibility, meaning that it is 100% responsive.
Moreover, it is completely customizable, and comes with 100+ short codes that you can use for the same.
And as the theme supports external plugins, you can install advanced sliders on your website, offer your customers more advanced user centric features such as enabling them to login with their social media credentials and much more. And all of this is available for $39 only which is a real steal.
Shudh Pro theme can be used by modeling agencies on their website to hire actors, models, and artists for their work.
This music maker WordPress theme can be used as a portfolio of an actor where he/she can display their journey through pictures, videos, and slideshows with messages. You can use over 900+ Google text fonts on this theme. 
This theme includes two options as one is box filled and the second is full-screen type. If you are hiring for your model agency, then even you can add a registration form or login option.
All the options in this are customizable and you can add color, text, and font accordingly. Also with the advanced version of HTML, you can get control of new elements and new features. 
Thinking of starting a portfolio center or wanting to hire a new model, then this theme is very opting for your website.
You can have videos with high resolution and with proper timing section. In the SKT Beach Pro music maker WordPress theme, the dance theme is something that is 100% responsive.
A search section will be given to search for all kinds of dance forms with videos and steps. You will be given a pricing table for information like class timing and fee structure along with contact details. 
Inbuilt shortcuts are provided to add content to the website in a much fancier way. Gallery plugins are provided to set up your gallery for the website to attract more traffic to the site.
You will have 2 kinds of site variation i.e. box typed and full-wide type. With the features of putting video and photos on the theme, it attracts more customers. 
Those who are in the business of event management and wedding planners know the importance of having an attractive theme on their website.
This theme can be used to design a website for wedding events, concerts, seminars, conference meetings, and more. With its multipurpose designs, you chance the size of the font, color and also customize your font for the website.
 
With mobile responsive, you can view your agency from any device like mobile, laptop, desktop, etc. these themes works fine with page builder plug-in like beaver, visual composer, Gutenberg, and more so.
Hence, Clean Pro is the best music maker WordPress themes will be the best choice for Event Planner Company.
This theme works well with all popular browsers like Chrome, Opera, and Firefox. Therefore, this theme can be worked well and with convenience also. As it is coded with the latest HTML and CS53, this theme opts for your company.
SKT Parallax Me Pro theme can be used to manage multiple events on a single platform. If a person wants to boost their event business then they should opt for this theme. 
You will get templates that have predefined information and sections like events, schedule, and video section, and many more. 
As the theme is made by advanced technologies, now you can easily edit your font, color, and customize the design according to your wish.
Also, you have the option to add maps, YouTube videos, forms and registration, and other types of content. So, choose music maker WordPress theme to boost your business.
 
The theme comes up with stylish and innovative headers and footers. This theme is compatible with Contact form 7 which secures the website from spam comments. You can also book an appointment because of the booking appointment plugins. 
Flat Pro is an impressive ready-made template specially created to target the entertainment industry including modeling, singing, dancing, music, etc.
It might look simple on the browser but it comes with so many powerful features that can be used for customizing template o satisfy your needs.
This template gets load faster so you don't have to worry about the bounce rate as all images, and other content is optimized for best speed and performance.
Mostly the demo content of this theme will go best for musicians but it can buy different entertainment industries.
The Flat Pro is made compatible with powerful page builders including Gutenberg editor. To know more about this template you should read out its feature.
Music Makers WordPress themes FAQs
Why Use Pre-designed Music Makers Templates?
The owners related to the music industry are unknown to the coding stuff. To create a website from a scratch, it is important to have technical skills or a high budget to hire a professional developer or designer.
At this time pre-designed music makers templates come into the role as it helps you to create a website on your own without hiring any developer or spending a lot of bucks.
Pre-designed templates offer a huge range of options for layouts so that you can customize the template as per the look and features you want.
Are the music makers' themes translation-ready?
Yes, all the music makers' themes mentioned in this blog are translation ready. Thus they come with the POT files which can be used to translate the theme into your native languages.
The template is also supported with third-party plugins that help you in translation i.e. WPML, TranslatePress, GTranslate, and many more.
Thus with the translation-ready feature, you will be able to target international users too.
Can Music Makers WordPress themes be customized in the visual mode?
Yes, one can customize the music makers WordPress themes in visual mode. To customize this theme you can make a use of theme option which is accessible in theme customizer.
By using some options how you can change the visual to your theme, it provides a default way. Remember that the custom options are basically the options which are made available by the author of a theme.
FAQs Q1. Where Can I Get a WordPress Theme for My Music Project?
To get a WordPress theme for the music project, you just need to go to the SKT themes and type MUSIC on the search section and then choose the best theme accordingly. 
Q2. What Features Should I consider when choosing From the Best Music Maker WordPress themes?
It should be compatible with every device and browsers
It should be user friendly 
Provide 24/7 customer support
Give frequent updates & license
Provide full-fledge portal for selling music videos and other digital products.
Q3. Are music maker WordPress Themes SEO-friendly?
Yes, most of the music maker WordPress themes are SEO- friendly that would help your business to generate maximum revenues you want.
Q4. How Much Do Music Maker WordPress Themes Cost?
The cost of the music maker WordPress themes is $39-$99. Depends on the popularity and features present at the theme. You can try the demo and then decide which theme is more beneficial for you to buy.