The travel industry has seen a huge boom because of successful COVID-19 vaccination drives around the world. After being starved of adventure, people are now ready to start travelling. However, to have a good travel experience, many people need to start planning the trip beforehand.
That is why booking motels and cabs beforehand is becoming popular. If you are a motel owner, the smart thing to do is register your business online. This way, people can reserve rooms for themselves on the internet.
Your motel rooms will never stay empty, and your business will serve at its full capacity. This will increase revenue. To see this boom, all you have to do is create a website for your motel.
With the help of these themes, you can build a website that will help you dominate the tourism business. All these themes help you highlight the differentiating factors, take bookings online, be transparent with the customer, provide details about your business, and proudly display positive customer testimonials.
These themes also have a great animation or color combination with a great set of features. All of them are responsive and mobile-friendly. It is difficult to manage your own tourism business, especially during COVID-19.
However, with elementor, you can easily build a great website while also managing the business. All you have to do is drag and drop elements to build a great website which will attract tourists to your business.
Check out these motel WordPress themes to create your website at WordPress. Each of these themes will be suitable for your business's website. However, which one you pick depends on your taste and business needs.
This theme suits your needs if you run a luxurious resort or hotel. It depicts all the aspects of a luxurious stay in a lucrative manner. The HD imagery of the beautiful resort will make you want to take action.
That is why they place a call to action on this theme. Not every customer will want the same room type; that is why you can describe the type of available rooms with this template.
You need to lure the customers with aesthetics, that is why this theme has lots of space for an image gallery. In this space, you can upload pictures of your beautiful resort. When people look at the beauty, they will want to make a booking.
SKT Sushi is a great responsive theme for restaurant owners who provide oriental delicacies like sushi. If you have a website and want to promote your restaurant, you must convince people that your food is delicious.
The only way to do that online is by providing detailed pictures and videos. Before making a booking, people need to be able to see the menu. With this theme, you will be able to upload your menu online.
This will make the life of the visitors easy, as they will be able to determine whether they want to dine at your restaurant or not. This theme also has the appropriate booking plugins with which people will be able to reserve their tables.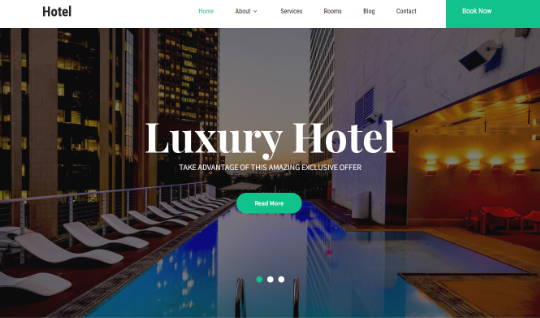 Differentiate your hotel from others by displaying a list of your services. When customers read about all the services they will get, they will feel a little more comfortable while making a decision.
Display all the room packages you provide and let the customers decide which package is best suited for them. This theme lets you highlight positive client reviews, which boosts the business. Client testimonials is an extremely important feature in most motel WordPress themes.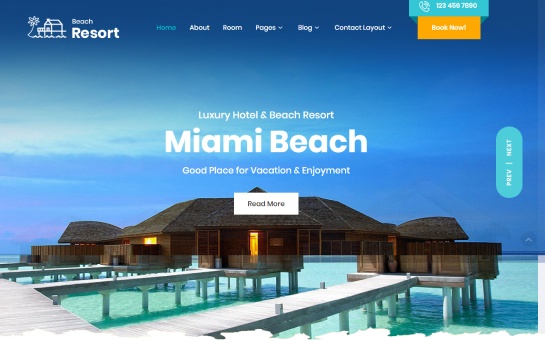 Differentiate your beach resort from others by highlighting the extra services you provide. Comfort is extremely important for some customers, and extra services like taxis may become a selling point.
Customers save money if they book a vacation package instead of paying for a room per night. That is why this theme provides you with the opportunity to create your vacation package. If you provide vacation packages, then you may see a boost in your sales.
Give potential customers a complete video tour of your beach resort. This theme has an email and support forum, so if any of your customers face an issue, they can bring it to your attention.
It is better to face angry customers than to lose them. Many motel WordPress themes are available, but this is perfect if your property is near a beach.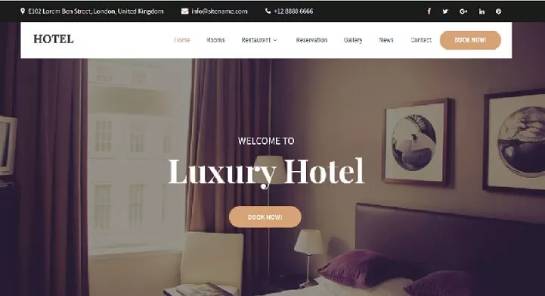 This theme is mobile-friendly, so your customers will be able to make bookings from their phones. You can make changes to this theme by using Elementor. Your customers will be able to make online reservations.
People who run homestays or guesthouses can use this theme. Flaunt all the services your business will provide tourists and make a great first impression.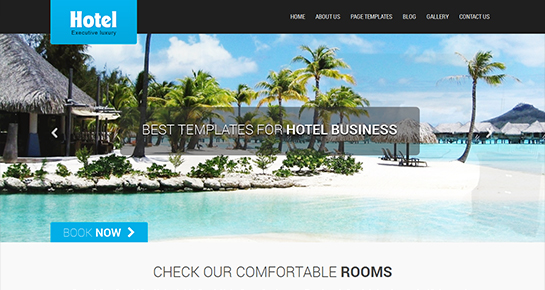 In this theme, you get the call to action in the header itself. So make sure that the header image is attractive. The idea is that customers will drag down to check all the information and then drag upwards towards the call to action.
This theme provides equal attention to written information and pictures. You can write to convince them on why people should book your property for their vacation. But the written data is not enough; that is why you can add the most attractive pictures of your hotel alongside.
Be transparent with people and highlight a room's price and the services your guests will get.
Red, black, and white are the colors included in this theme. The colors of this theme make it perfect for a restaurant. Once this theme has been applied, you can make any changes you want with the help of elementor.
This theme is famous for its unique color combination that attracts viewers. Every page of the website makes it clear to viewers why you should choose this restaurant to dine at. At the site's header, you can add your brand's logo.
Creating your logo and displaying it on the website will help build your brand. While many motel WordPress themes are available, this theme is perfect if you run a food joint.
This theme is perfect if you want a template to ensure a room sale. It provides you with the space to list services that make you truly exceptional and different from your competitors. People often travel to a hotel but are disappointed with the hotel kitchen.
In this theme, you can list your hotel menu so that people will know what to expect when they check in. Looking at the reviews of satisfied customers pushes away doubts from the mind of your potential customers.
With this theme, you will be able to publish reviews of satisfied customers. This is a great option if your hotel has been lagging in sales and you want to use a theme that increases the same.
This theme can be used by cruise or yacht companies on their website. It focuses on numbers, the number of customers served, the number of yachts available, the number of destinations, and more.
People planning a vacation must look over those important numbers before making a decision. With a slider, people can check out the boats you provide. The theme has a contact us form, which your customers can use to get in touch with you.
You can highlight the top destinations and excite every vacationer who visits your website. The same concept is applied to this theme as the other motel WordPress themes.
This theme is as fun and unique as your amusement park. It is easy on the eyes, provides the needed information, and helps people book a ticket to your amusement park.
A stay at a motel is a lot like an adventure that's why you can use this theme for your motel's website too.
This theme clarifies everything about your bed and breakfast business for the consumer. They can check out the menu, different types of suites, services you provide, pictures of your property, and customer reviews.
After viewing all this information, customers can book a room on your website. Out of all the motel WordPress themes, this is the most elegant one.
The Accommodation theme has a simple design and an intuitive layout. This theme can be used by motels, hotels, resorts, Airbnbs, and other accommodation providers.
Now you can directly deal with customers instead of relying on third-party businesses to get a booking.
This theme is perfect for tour operators to display their packages and top destinations. You can use it to design a responsive website that is also functional on mobile phones.
Vacationers are always in a hurry, so this theme loads extremely fast. You can add any type of slider you want, as this theme is compatible with too many of slider plugins. Add the contact form to get inbound leads for your business.
You can dominate the tourism business with these themes!